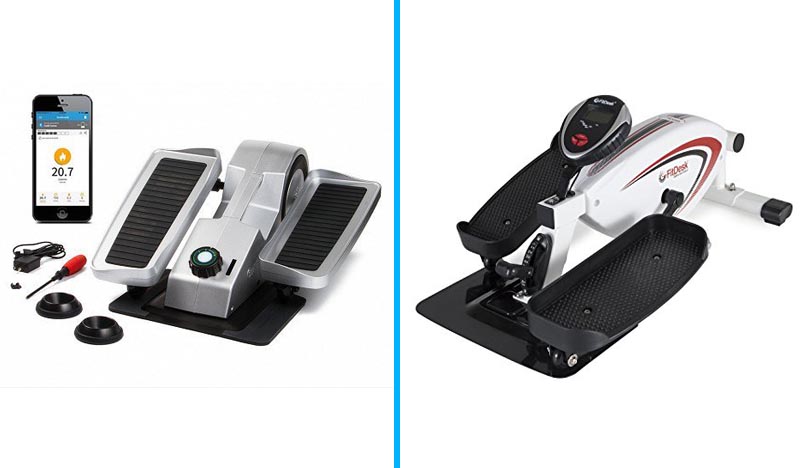 Under desk ellipticals offer the best way to get some exercise while you are sitting at work all day. Cubii and FitDesk are two popular names in this category. This article compares these two to help you determine which one best suits your needs and preferences.
Quick Overview of Cubii and FitDesk
Cubii under desk elliptical is a smart mini elliptical that you can conveniently use in your office while at work and burn calories quickly.
The elliptical is Bluetooth enabled which means you can easily connect it with an app on your smartphone e.g. Healthkit, Fitbit, etc. Cubii has its own exclusive app as well.
Using the fitness app will allow you to read your workout stats such as time, distance, RPM, calories burned, strides, etc. as well as control your workouts on the go.
Cubii has 8 levels of resistance so you can adjust and control the intensity of your workout.
Furthermore, this mini elliptical features an ergonomic design that maximizes the user's posture and offers optimal angles to engage user's muscles. It does not place any strain on the muscle joints and provides a smooth motion.
Another thing worth mentioning about Cubii is that it is very stylish, slimline, and lightweight. This provides you with a silent, unobtrusive exercise option that can be used anytime, anywhere.
Apart from this, the mini elliptical also has wheel stoppers that offer stability when you are using the trainer with chairs that have wheels. The elliptical is quite portable thanks to its built-in handle.
Cubii under desk elliptical is quiet, so you can discreetly use it in your office without disturbing anyone around you. It is also quite easy to assemble.
FitDesk offers a great way to integrate exercise into your working day. This mini elliptical works in the same way as an average full-size elliptical and also allows forward and backward motion.
Since the pedal rotation height of FitDesk is lower than a traditional under desk cycle, you can use it to exercise without any risk of hitting your knees on the desk.
Furthermore, it features a large pedal platform for easy and comfortable foot placement. To allow for a quiet and smooth pedal motion, FitDesk elliptical features a high-velocity flywheel. There are 8 magnetic resistance levels to choose from. They can be adjusted via the foot-shifter, allowing you to control the intensity of your workout while keeping your hands free.
As far as the console is concerned, FitDesk comes with a 6-function digital display meter which you can use to monitor your workout progress. Some of the workout stats you can monitor include distance, speed, time, calories burned, etc.
Additional features of FitDesk include built-in grab handle and wheels for easy portability, built-in rolling-chair wheel lock that will allow you to keep the elliptical and your chair from separating while you are working out, and a built-in rolling foot massager to help soothe your aching, tired feet.
Let's look at the Specs of each
| | Cubii | FitDesk |
| --- | --- | --- |
| Resistance Levels | 8 | 8 |
| Flywheel | N/A | N/A |
| Stride Length | Short | Short |
| Programs | Smart | Smart |
| Incline | N/A | N/A |
| Dimensions | 23″ L x 11″ W x 9″ H | 34″ L x 20″ W x 12″ H |
| Weight Capacity | 300 lbs | 250 lbs |
| Display | Android/iPhone(Bluetooth) | Digital Meter |
| Warranty | Lifetime Warranty | Parts: 3 years |
| Price | Check Price | Check Price |
Maxi Climber vs. VersaClimber (Detailed comparison)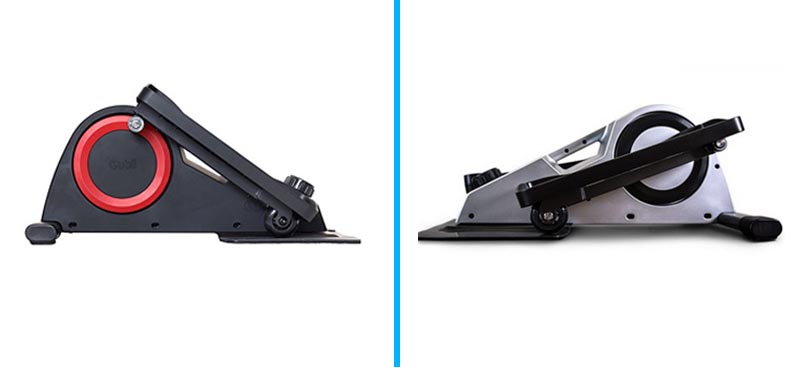 The internal frame of Cubii under-desk elliptical is metallic. However, most of the external parts (except pedal shafts) are made of high-quality PVC material. The plate that supports the pedal wheels is also made of PVC.
FitDesk under-desk elliptical has a steel frame. Most of its parts are made of high-quality polymers, these include the resistance system, guards of the flywheel, and pedals. These steel parts are coated with anti-corrosive paint for durability.
Both under desk ellipticals use a manual magnetic resistance system. Also, both have 8 distinctive resistance levels that allow you to change the intensity of the workout according to your needs. On Cubii, the resistance levels can be changed via a dial while you can change the resistance on FitDesk via a lever.
Cubii features a small balanced flywheel and a belt drive system. While the momentum this elliptical offers is not extremely consistent, the overall pedaling motion is steady and smooth. You can also pedal in reverse.
FitDesk also features a belt-powered drive system. For stable and smooth pedaling feel, the elliptical is equipped with a small, balanced flywheel. Just like Cubii, you can pedal in reverse on FitDesk as well.
Both ellipticals are really quiet and are ideal to be used in an office booth.
Workout Monitoring and Tracking
Cubii does not have any fitness meter. However, it has an RPM sensor and it also supports Bluetooth connectivity that allows you to connect it to your smartphone and use the Cubii app to monitor and track your workout progress.
FitDesk features a basic fitness meter that monitors calories burned, distance, speed, and time.
Cubii is a fairly small elliptical. Its footprint is 23-inch length x 17.5 widths. It should easily fit under most desks. It weighs approximately 27.5 lbs.
FitDesk under-desk elliptical has a relatively large footprint. It's approximately 34-inch length x 20-inch width. It can fit under desks that have 25-inch clearance underneath. It weighs around 31 lbs.
Most of the parts of Cubii elliptical come already assembled. You will only need to assemble the pedals. As compared to this, FitDesk requires some assembly but it isn't very complicated. You will need to assemble the fitness meter, rear plate, front base, and pedals.
Cubii comes with a lifetime warranty while FitDesk has 3-years warranty on parts.
Cubii Under Desk Elliptical vs. FitDesk Under Desk Elliptical (Pros and Cons)
Cubii
FitDesk
PROS

Cubii offers an easy way to burn calories while you are at work.
Built-in handle for easy portability. It is relatively more portable as compared to treadmill desk or cycle desk.
Lightweight and compact design allow you to easily store it under your desk.
8 levels of resistance allow you to adjust the intensity of your workout.
Bluetooth enabled, so you can connect the elliptical to your smartphone and track your progress via a fitness app.
Easy to assemble. The assembly shouldn't take more than 5 minutes.

Sleek and compact design. It can fit under most desks without any issues.
Highly portable. You can use it at your home as well as at the office.
Features a huge metal plate that keeps the elliptical at a place and prevents slipping.
Noiseless operation thanks to magnetic resistance.
You can change the resistance levels with your foot. You won't have to bend or reach under the desk to change the resistance.
Provides comfortable pedaling/cycling.
Built with sturdy, durable, and quality materials.
Built-in rolling foot massager.
Easy to assemble.

CONS

Without connecting it to Bluetooth, you won't be able to track your workout performance.
Some users have reported that they tend to bump their knees a bit on their desk.

No workout programs.
Lubrication may be required from time to time.
How do you choose between the Cubii or FitDesk?
You might want to pick the Cubii if:
You are looking for a convenient way to integrate light workout while sitting at your office desk.
You want a quiet elliptical so you can easily use it in your office without disturbing anyone around you.
You want a smart elliptical with Bluetooth connectivity so you can monitor and track your workout progress on your smartphone.
You are looking for a lightweight, compact, and portable under-desk elliptical.
You want to purchase a high quality and durable elliptical and price is not a concern.
You might want to pick the FitDesk if:
You want to buy a sturdy and reliable under-desk elliptical at a reasonable price.
You are looking for a quiet machine that also features a foot massager.
You want classic elliptical motion and don't care about smart features e.g. Bluetooth connectivity.
You like the idea of changing the resistance of elliptical trainer with your foot.
You want to buy a quality under-desk elliptical and don't care about the workout programs or heart rate monitoring.
In conclusion, both models offer great value for money.
If you want an under desk elliptical that features Bluetooth connectivity, compact size, and various monitoring options then Cubii is the right choice for you.
On the other hand, if you want a reliable mini elliptical but your budget is tight, then FitDesk is a more suitable option.