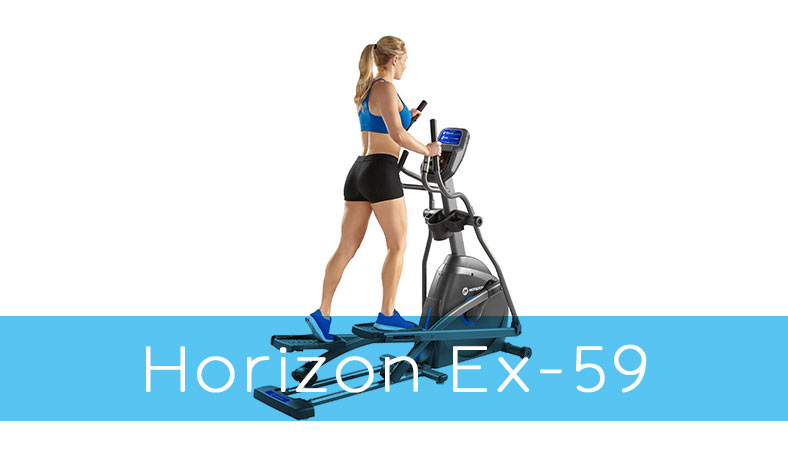 There are not many low impact machines you can use with little to no training. The classic elliptical trainer is of the exceptions. If you want to get in shape, the Horizon EX-59 is what you may find the easiest to use, both at the gym and at home. There is one area that truly makes the elliptical trainer stand out.
The Ex-59 is made with low body impact protecting your back and knees while exercising. If you are struggling to run on treadmills due to the increased pressure and discomfort on the joints, you may find hope in Horizon's trainer.
Many people give up exercises altogether due to the shocks their body has to go through while running. But not many know elliptical trainers can be at least as useful at burning calories. But why would you choose the Ex-59 to get in shape while protecting knee joints over its alternatives?
Horizon created this special design with reduced space between the pedals to promote natural movements. Even before you start training, you notice how your upright posture is correct and how your legs sit naturally on the pedals.
What is an elliptical trainer?
An elliptical (also called an elliptical trainer) is a hybrid workout machine simulating walking, running, and climbing stairs. It differentiates itself from all other fitness machines with its movable arms. It engages the whole body and it also comes with the distinct advantage of having grounded feet during the workout. Unlike treadmills, the elliptical machine comes with pedals that are in constant contact with the feet to reduce joint impact.
A complete pedaling cycle on an elliptical is known as a stride. This is important as most elliptical manufacturers use different strides (from 18 inches to 21 inches). Smooth workouts that mimic natural walking and stair climbing are highly dependent on the effectiveness of the stride, which may come with resistance, based on the flywheel weight and the programming of the elliptical.
Ultimately, the goal of the elliptical trainer is to get users in shape with as little impact on the body as possible. In the gym, the elliptical trainer sits close to other cardio workout machines such as the recumbent bike.
Who is the ideal user of an elliptical trainer?
If you struggle with extra weight and excess body fat, the elliptical trainer is made for you. It is estimated that you can burn hundreds of calories per hour simply training on an elliptical. From here onwards, each machine becomes different according to the design of the manufacturer.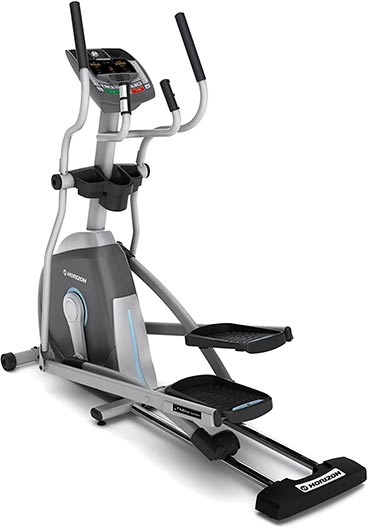 Made with a 14.3lbs flywheel with continuous motion
Designed with reduced spacing between pedals for natural movements
Installs within 30 minutes
Characterized by 18-in stride length
Runs on 10 levels of magnetic resistance
Includes weight loss and interval training programs
Connects to your smartphone using Bluetooth
Includes small speakers
Designed with a USB charging port
Covered by lifetime frame warranty
Assembled dimensions of 68″ x 25″ x 64″
Maximum supported weight of 300lbs
Made with a small 4.5" LCD
Tracks heart rate and calories
The most affordable elliptical from Horizon (Compared to Evolve 3 and Evolve 5)
It features fixed and movable arms
How the Horizon Ex-59 is used in fitness?
The Horizon Ex-59 is the most affordable elliptical from the popular manufacturer. It can be interpreted as a release made to get people into fitness, more than being an elite-level gym machine.
Even at a very low price, it still offers a wide range of features and benefits. If you want to train at home, the Ex-59 is just the right option from the brand as it has the lowest price barrier of entry with plenty of advanced features even if you have been already training for years.
Top Features of the Ex-59
The elliptical is not as perfect as most of its alternatives. But it certainly offers a long list of features. Above all else, you should consider the moving arms and the upright position which simplifies fitness training as much as possible.
Movable and fixed handlebars
There are 2 sets of handlebars added to the elliptical. The inner handlebars are fixed positions which means you only hold them for balance while moving your legs. The outer handlebars are movable which helps you burn more calories by engaging the arms in the workout.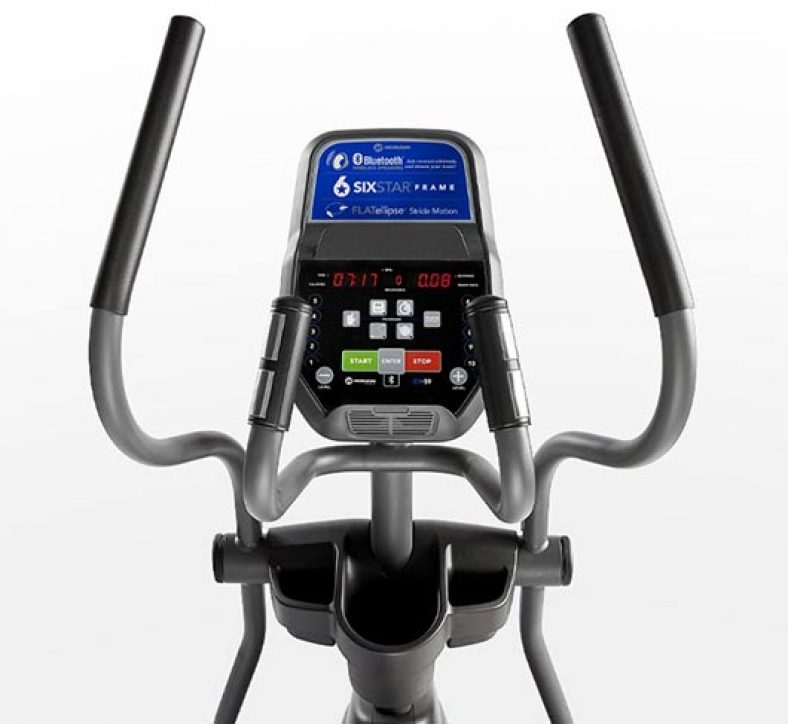 Both of these can be used during the same workout. If you aren't keen on getting fully into the workout and you just want to get moving, the fixed handlebars are a good option, to begin with. When you decide to push calorie burning a bit more, you can use the outer handlebars for extra torso involvement.
On the inner handlebars, you also notice metal insertions on the grip. These insertions are pulse grips which indicate heart rate and the intensity level of the cardio training. You need to hold the metal plates and the handlebars for a few seconds for your real-time pulse information to be displayed on the 4.5" LCD.
Upright training position
Another advantage of the trainer is its upright training position. While some of the most advanced elliptical trainers (such as the Horizon 7.0 AE) come with up to 20 incline levels, the Ex-59 offers plain flat training only.
This shouldn't be an issue for most users as it is still the preferred training position for the reduced knee and back impact that allows users of all ages to train freely as long as they want every day. This can't be said about many other fitness machines.
You can follow your workout along by browsing the data displayed on the backlit screen. Here, you can see the time you've been training for instead of relying on stopwatches. You can also view an estimate of your burned calories for a quick workout involvement overview. It's also on this screen that you can select one of the preset workouts which target very specific fitness parameters (such as training at a specific heart rate only).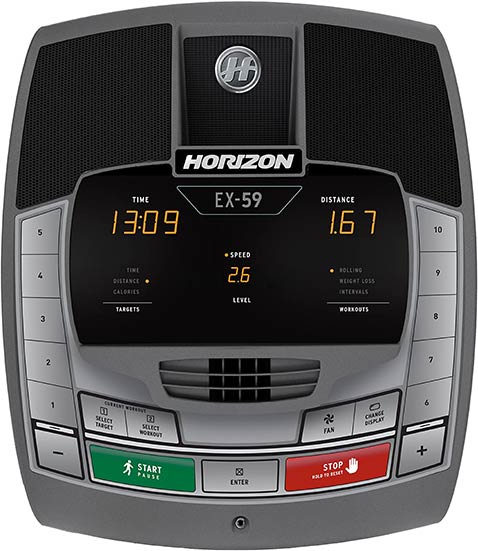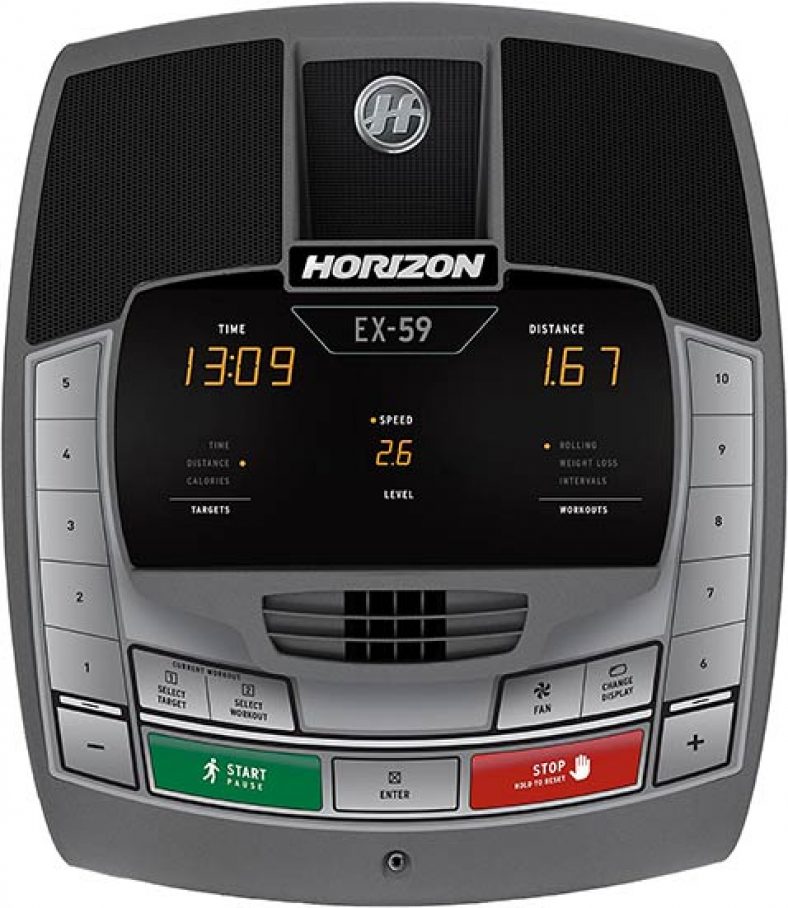 Consider the limitations of the Ex-59
The basic functionality of the elliptical trainer is impressive. Most users don't need any other features to get in shape. However, there are a few basic limitations you should be aware of if you're comparing the trainer with its alternatives.
Prepare for a short stride
The 18inch stride on the elliptical machine is the shortest from Horizon. The Evolve Series alternatives feature a 20inch stride, which may be a bit more helpful for anyone into serious training. A long stride is normally better at mimicking natural movements. However, it is also specific to gym trainers as they need to accommodate taller users as well.
Horizon Passport is a virtual training extra that works with some elliptical machines and TVs to carry users through popular locations while training. It plays a role similar to virtual cycling. However, this extra is not available on Horizon's cheap elliptical trainers.
How Horizon's elliptical trainer compares to popular alternatives
No purchase can be complete without first looking at viable alternatives. While the Ex-59 is a solid trainer with a lifetime frame warranty, there are other options to consider from Horizon, albeit not at the same price.
The Ex-69 elliptical trainer comes with extra settings and adjustability. For example, it features 5 levels of incline, which allow the user to train from various angles. The stride is also longer, sitting at 20 inches. These are the characteristics of a commercial-grade trainer and the Ex-69 might be an option for those training with a specific purpose in mind, such as building cardiovascular endurance.
Users relying on the complex Ex-79 elliptical trainer usually know exactly what they want. Since it features smoother stride, it might even be used by those suffering from various injuries or physical limitations. A few users even recall choosing this elliptical trainer for its smooth operation to deal with Plantar Fasciitis (and uncomfortable foot condition).
A heavy 25lbs flywheel is used on the E35 elliptical trainer. It comes with even lower strain on knees with its smooth operation. The machine also works for overweight users featuring 375lbs weight capacity.
The Horizon Ex-59 elliptical trainer features a short Q-factor (the distance between pedals) which makes it comfortable even with a short 18in stride. You can count on the fitness machine to get in shape at home on a budget.
Before purchasing the elliptical, you should know that it only features a lifetime warranty for the frame online. Parts and labor aren't covered for life. However, given the good reputation Horizon enjoys in the fitness world, its fitness machines are known as durable.
If you haven't used assembled one before, you need to follow the user manual for step-by-step installation. Unlike other elliptical trainers, the Ex-59 can be assembled without previous knowledge or special technical skills. It can be interpreted as the user-friendly trainer you can use to replace gym workouts. There's even a 30-day money-back guarantee which ensures a full refund if you're not satisfied with how it performs.