Maxi Climber and VersaClimber are two popular vertical climber machines.
This article compares the different features and aspects of both these models so that you can learn the key differences between them and buy the one that best suits your preferences.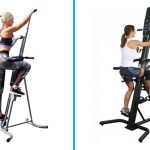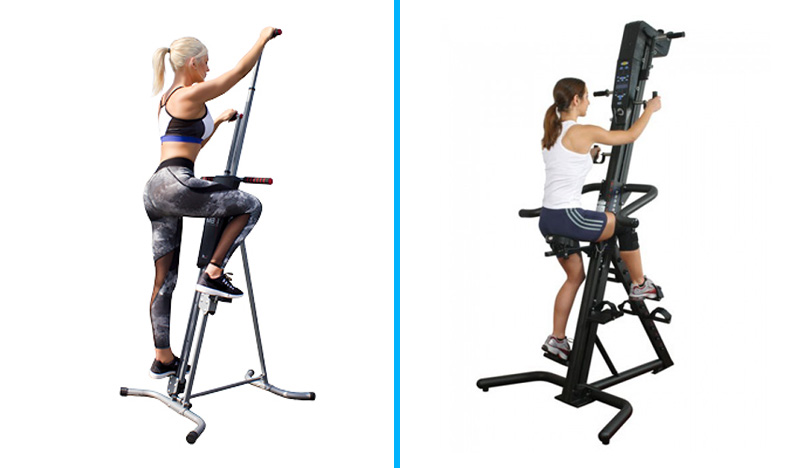 Maxi Climber vs. VersaClimber (Overall comparison)
Maxi Climber is a special mountain climbing equipment. You can use the machine to mimic mountain climbing action in the comfort of your home. The device is designed to exercise all the muscles in your body by setting them in motion.
Maxi Climber has a vertical orientation, thereby making it easy to imitate the mountain-climbing motion. The design is ergonomic and can add to the décor of your home. You can also adjust the height in line with your preference.
Many of the brands feature a personal workout timer with which you can monitor your workout. You can burn up to 500 calories using this machine. Aside from burning calories and removing excess weight, the product can also help you to acquire your desirable body.
The Maxi Climber is one of the most effective workout machines on the market today for several reasons.
The first reason that the Maxi Climber is worth your time and money is that it allows for a full-body workout. It combines cardio and resistance training for the optimal workout. It accomplishes this by using the resistance from your body weight combined with cardio from the climber aspect. The benefits from this style of workout are that it efficiently burns calories, tones the muscles in your body, works your abdominals, and increases your overall health.
Another reason why the Maxi Climber is worth it is that its compact, sleek design allows for it to be used in virtually any space. It can be used in small apartments to small in-home workout spaces. The compact design combined with compact folding allows for easy and efficient storage. It can be stored in spaces such as closets, garages, the list goes on. Even stored in a corner of any room, the sleek design will prohibit it from taking up too much floor space or making the room appear cluttered.
A final reason why the Maxi Climber is clearly worth it is the affordability. This presents itself in numerous ways. The obvious way is that it only runs for $99 on Amazon. A lot of workout machines are highly expensive for even just working out one part of your body. This machine gives you a full-body workout for an affordable price. Since this works out your whole body, you save money by buying this because you won't need to spend money going to the gym or on a gym membership. Also, you won't need to be buying several workout machines for different parts of your body. This one machine simply does it all.
Maxi Climber vs Maxi Climber XL
Maxi Climber has 2 versions. The Maxi Climber Classic and the Maxi Climber XL are its versions you can use at home. Largely similar, these workout machines also have their differences.
First to the market was the Maxi Climber Classic that revolutionized how we train in this upright position. The Maxi Climber XL was released after a few years, increasing the weight capacity of the fitness machine. The manufacturer recognized some of those new to fitness might be dealing with extra weight and the XL version of the Maxi Climber was released.
It comes 90% pre-assembled
Made for user weights of up to 240lbs (up to 300lbs in the XL version)
Maximum height adjustability of 6'2"
Backed by a 30-day satisfaction guarantee policy
It uses the same movements as in rock climbing
Compatible with the Maxi Climber app
It ships with the Maxi Climber Waist Trimmer for weight loss
Nearly 50% cheaper than the Maxi Climber XL
Based on 12 levels of adjustable resistance
It supports user weight of up to 300lbs
Height adjustable to 6'6" (compared to the 6'2" of the Maxi Climber Classic)
Made with a foldable space-saving design
Versaclimber also works like Maxi Climber and equally works all the muscles in your body while imitating the mountain-climbing motion.
The machine is designed for those who want to get rid of excess fat in the body. It is the perfect exercise machine for burning calories fast, and it can improve the health of your heart.
Versaclimber is perfect for cardio exercise and is best for a complete body workout experience.
While Maxi Climber can only lay claim to burning 500 calories, the case is different from Versaclimber, which can burn four times more calories than a treadmill. It is, therefore, better than the Maxi Climber, if you're looking to shed some weight.
The height is eight feet, and it can accommodate up to 350 pounds body weight.
20 minutes on the VersaClimber burn the equivalent of 40 minutes on the elliptical
Made with adjustable tension control from 1lbs to 500lbs
It supports user weight of up to 350lbs
Designed with a 75 degrees climb angle
It fits rooms with a ceiling with at least 8'
It supports speeds of up to 300 vertical feet per minute
The console is powered by a 9V battery
Maxi Climber vs. VersaClimber (Detailed comparison)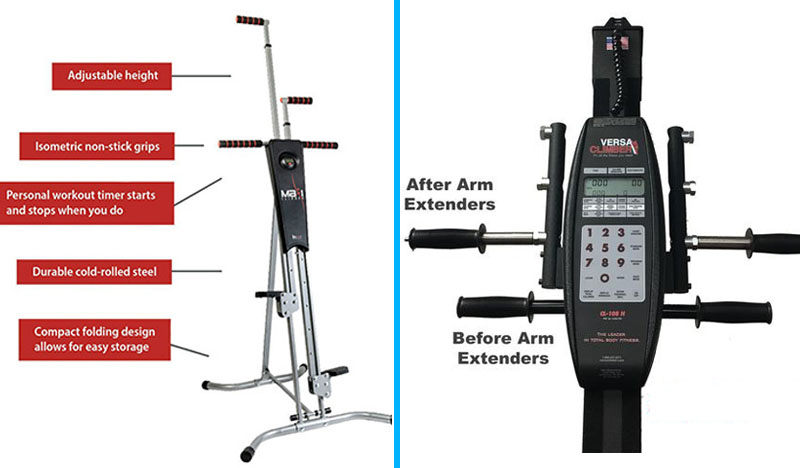 | | |
| --- | --- |
| Maxi Climber | VersaClimber |
| According to Maxi Climber, you can burn 500 calories with regular exercising. | VersaClimber claims that you will burn four times more calories than a treadmill. Further tests are required to verify these claims. |
| | |
| --- | --- |
| Maxi Climber | VersaClimber |
| Maxi Climber is designed to combine muscle tone, aerobic exercise, and weight resistance in a single package. It features a durable steel frame with isometric grips and adjustable height settings. However, you cannot use Maxi Climber barefooted. | In comparison, VersaClimber has a similar design as it contains pedals for the feet and has handrails to hold onto. Additionally, it has a better grip and extra swivel foot paddles. When it comes to material, VersaClimber has been designed with aircraft quality aluminum. In terms of durability, VersaClimber is better but Maxi Climber is not far behind. |
| | |
| --- | --- |
| Maxi Climber | VersaClimber |
| When it comes to console, Maxi Climber has basic features. It has a calorie counter as well as a step count. There are no programs in the console of Maxi Climber, which makes it difficult to measure your progress. | VersaClimber, on the other hand, has a console that offers 3 modes of operation. Furthermore, you can view different stats such as calories burn rate, distance, workout time, etc. When it comes to programs, VersaClimber has 16 of them. You can also adjust the console according to your height. |
| | |
| --- | --- |
| Maxi Climber | VersaClimber |
| On Maxi Climber, you can perform a full-body workout in order to burn calories with muscle toning. By regularly exercising on this vertical climber, you will lose weight, burn calories, and acquire the body that you desire. | In contrast, VersaClimber combines both upper and lower body exercises and replicates the movement of climbing a mountain, allowing you to carry out the natural vertical climbing motion. |
| | |
| --- | --- |
| Maxi Climber | VersaClimber |
| Maxi Climber weighs about 33 pounds without packaging. It takes up 57 x 10 inches of space. Furthermore, you can fold this vertical climber easily and quickly. When folded, it can fit into a small closet or slide under a bed. | VersaClimber is relatively heavier as compared to Maxi Climber as it weighs about 86 pounds with packaging. It takes up 36 x 44 inches of space. Similar to Maxi Climber, you can also fold it for easy storage. |
Maxi Climber vs. VersaClimber (Pros and Cons)
Maxi Climber
VersaClimber
PROS

It is built following a revolutionary concept which puts you in a position for a challenging exercise for weight loss.
It can work all the muscles on your body thereby enabling you to achieve any desired physique using this machine.
It is vertically oriented and gives the impression that you are climbing a mountain.
The design is ergonomic, which makes it just the perfect addition to the home.
You can modify its height to fit your preference.
It features a personal workout timer.
It can be trusted for building a toned, lean body.
It combines muscle toning with calorie-burning cardio
You need to use it for only 10 minutes of exercise three times a week.
The machine focuses on your core muscles, upper and lower body.
It can burn fat from various body parts, like the butt, legs, triceps, biceps, and abs.
It is highly affordable; you can get it for less than $300.
It is made of cold-rolled steel. Consequently, it can last for long

It provides the ultimate body workout, which gives it an edge over several other cardio types of equipment.
The brand name is reputed globally.
The machine works on both the upper and lower part of the body.
It has a vertical climbing orientation for fast calorie burning.
It works better than other machines, like bikes, steppers, elliptical, and treadmills in burning fat.
It can melt fat, burn calories, and boost weight loss faster than other machines out there.
You only need to use it for 20 minutes per session.
The machine can burn four times more calories than a treadmill.
It can accommodate up to 350 pounds of body weight
It is easy to store, and it can fit perfectly into small spaces in the home.

CONS

The build is not so sturdy.
Necessary information not provided about maximum user weight and other essentials. Consequently, overweight individuals may get injured while using the machine.
You may have to struggle while folding it since the holes will not line up for perfect alignment.

End-users may encounter problems with the installation due to its height.
The machine is relatively expensive; the price ranges between $2000 and $4000, making it somewhat beyond the reach of individuals living on a budget.
No information is provided about the material with which it is made.
Should I Buy the Maxi Climber or Versaclimber?
You might want to pick the Maxi Climber if:
You are living on a budget and need a machine within your financial capability. The machine costs less than $300.
You do not have excessive body weight.
You need a tool that can tone your body and focus on both the upper and lower parts of the body.
You are considerably tall.
You need a machine with an adjustable height.
You need a device that requires a short period per session; you only need to use this machine for 10 minutes per session, and you can burn up to 500 calories each time. You only need to use it three times a week for fast fat removal.
You might want to pick the Versaclimber if:
You do not mind the high cost; the price of each unit goes varies between $2000 and $4000. However, you will get top value for your money
You need a machine that can be easily folded and stored in small spaces in the home.
You do not mind the limited Range of Motion.
Your body weight is not more than 350 pounds.
You do not mind the installation difficulty. You can, however, follow the instructions provided in the user manual to get it installed or get in touch with professionals for the installation.
You need a cardio exercise machine that can burn four times more calories than a treadmill.
Another Option: Merax Climber
Excellent value for money as you don't have to pay as much as for other vertical climbers.
It burns more calories than a treadmill.
It's a low impact exercise machine keeping your joints safe.
There are a digital workout timer and a calorie counter on it.
Made with adjustable height (5 different heights).
No products found.
The information above can act as the perfect guide when you want to buy a mountain climber.
Both of them have their peculiar benefits, the same for demerits. You should carefully consider the merits and demerits above when considering which of the two to buy for your workout at home. Both are minimal in size and can be installed at home for your private use.