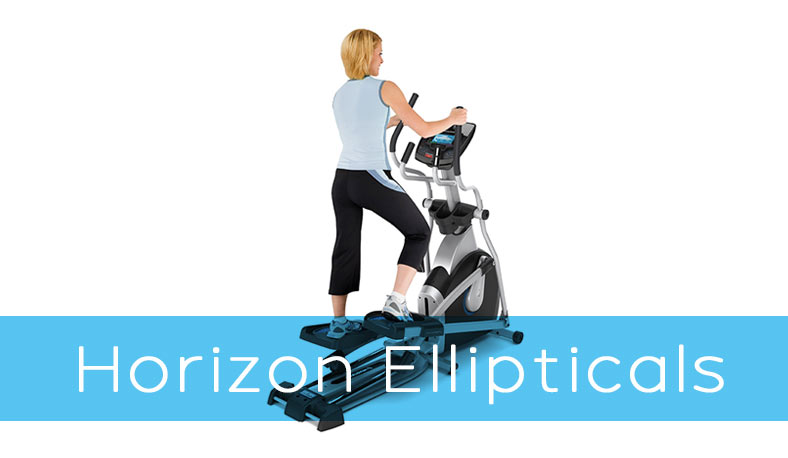 The Horizon Fitness EX-59 Elliptical is one of the best buys out there for a durable workout tool you can count on every day. The EX-59 has been around for a long time; Horizon Fitness introduced the design in 2011. The outstanding features and high quality are what have kept buyers returning to the EX-59. But how does it compare to the two discontinued models you might find for sale online?
The EX-69 and EX-79 were both ellipticals built by Horizon Fitness that have been replaced with new models. We will look at the features and let you know what the best choice you can make will be. We will also compare the EX-59 with several other contemporary ellipticals to give you an idea of what types of features manufacturers include today.
Details about the EX-59 Elliptical
The EX-59 elliptical from Horizon Fitness is an affordable elliptical intended for use in the home gym. It is a fixed, non-folding design with a heavy-duty steel frame that is very stable and sturdy. The elliptical uses a 4.5" yellow-green LCD screen to provide the user with information about their workout.
Key Features of the EX-59 Elliptical
The EX-59 is a full-size elliptical with a non-folding frame. It uses the Horizon Fitness' trademarked SixStar frame. The elliptical weighs 145 lbs, making it one of the lighter ellipticals around. The assembled size is 68″x25″x62″, which is relatively compact for a full-size elliptical.
This elliptical has a low step-on height of 10″ and a stride length of 18″, making it ideal for users 5'7″ or shorter. Taller users may find the short stride to be inadequate for their workout needs. The EX-59 features several programs, including rolling hills and a cardio workout, to provide exciting ways to exercise.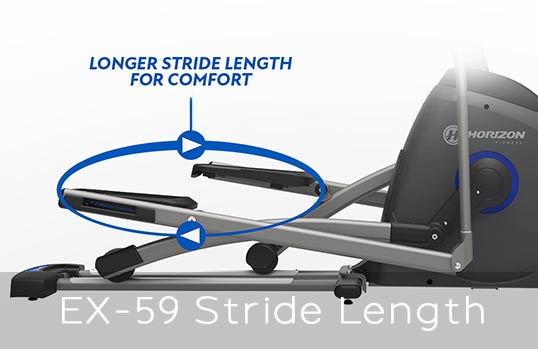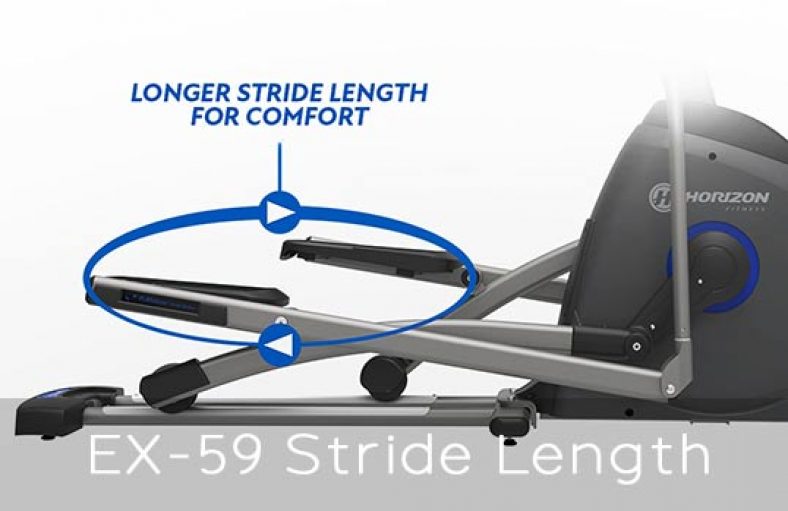 Horizon Fitness includes built-in speakers with the EX-59. The speakers can be connected to your phone or tablet through a Bluetooth connection. It consists of a 4.5″ LCD screen.
Resistance can be adjusted through a range of 10 settings. The EX-59 uses a magnetic resistance system and a 14.3 lb. flywheel.
This elliptical is shipped in numerous pieces the user must assemble. Most owners state that assembly looks more complicated than it is, and report that the equipment can be assembled in 1.5 to 2 hours.
Maintaining the EX-59 is super simple; there is nothing really that needs to be done to keep this machine working for years.
The EX-59 sells for $599, making it one of the most affordable ellipticals on the market.
Horizon Fitness includes a 1-year warranty on parts, labor, and the brake, along with a lifetime warranty on the frame.
Low priced option
Sturdy, durable frame
Lightweight, easy to relocate
1-yr warranty
10 different settings
Short stride length
Low-weight flywheel limits exercises
The EX-69 was the mid-range elliptical in the EX-line. It features some of the same technology as the EX-59 but was designed for taller users. Some of the improvements made over the bottom-of-the-line EX-59 include 20 resistance levels and a five-position manually-adjustable incline.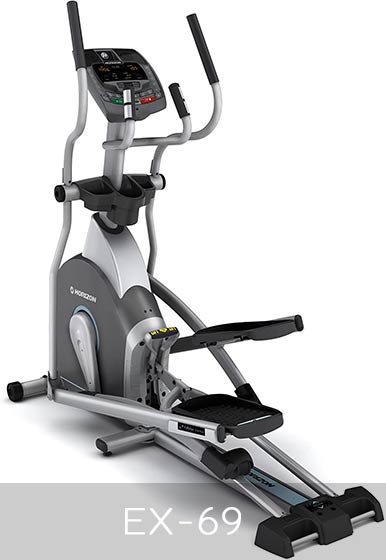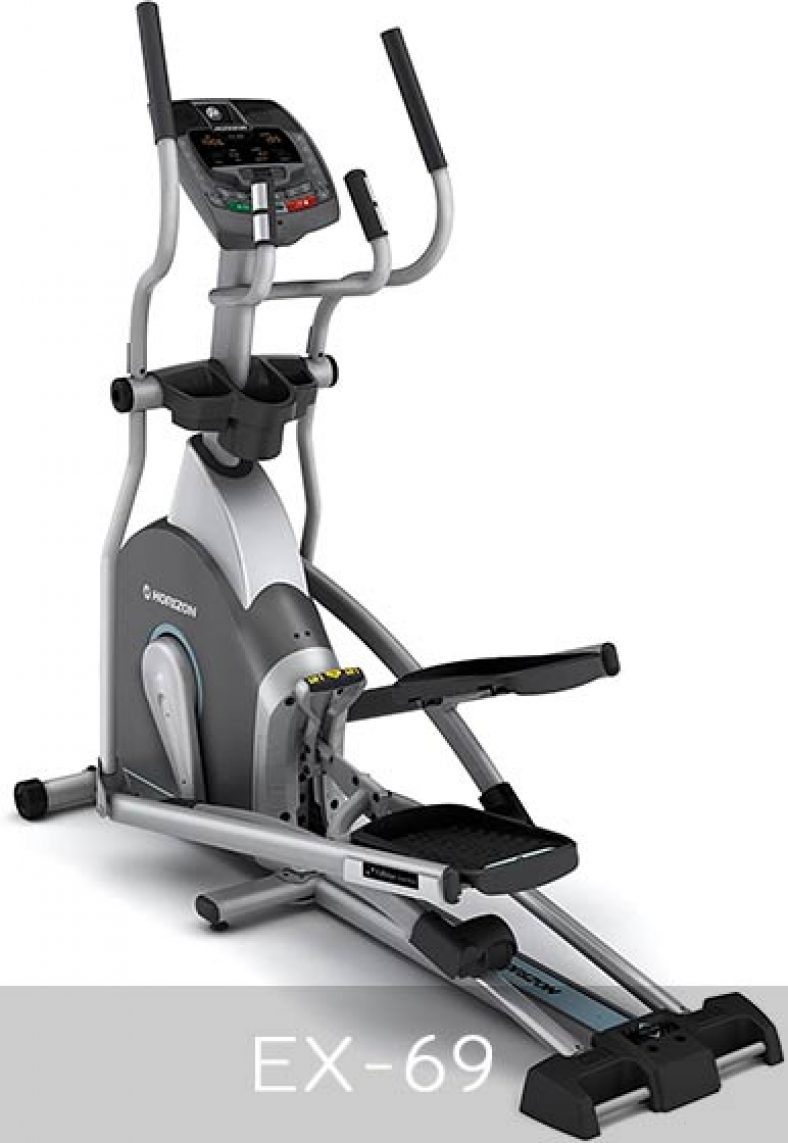 Key Features of the EX-69
The EX-69 was a full-size elliptical that used the SixStar frame. It was a non-folding design with a weight capacity of 300 lbs. Because it does not fold up, the EX-69 takes up considerable floor space.
The EX-69 used the same 14.3 lb. flywheel as the EX-59, but had a longer, 20″ stride. The long stride makes it an excellent option for taller users who do not want a super-heavy flywheel but want to be able to get some cardio in a while exercising at home.
Bluetooth speakers and a 5.75" yellow-green LCD screen kept users connected to their workout.
Resistance could be set at one of 20 levels. Resistance was generated by a magnetic brake that provided smooth, comfortable motion that could be easily adjusted to suit any workout.
Assembly was required, but users stated that it wasn't hard to put together. Very few buyers had trouble understanding the instructions to assemble the EX-69.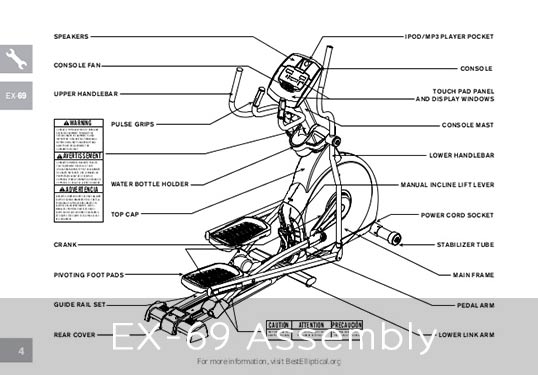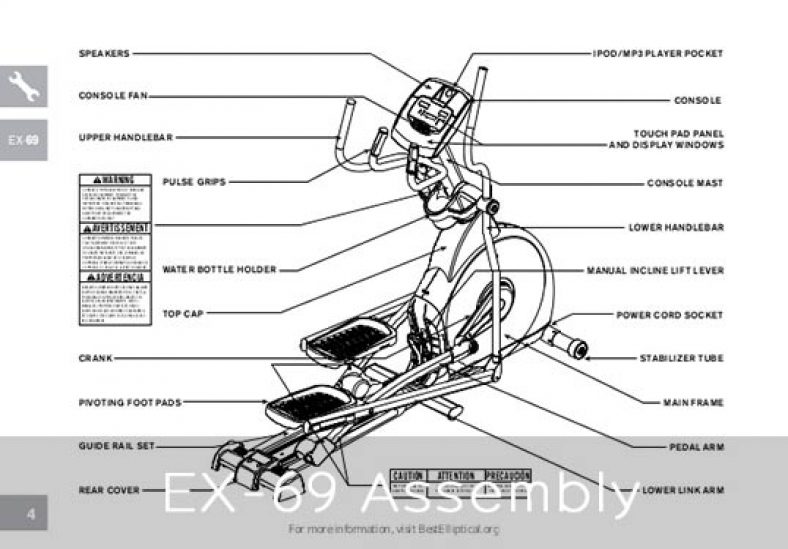 No maintenance is typically required on this model.
The pricing is unknown at this time. This is a discontinued product that is no longer available. You might find this elliptical at a garage sale or online for a great price compared to buying a new elliptical.
This elliptical is not available any longer, so no warranty is included when you buy a used model.
Sturdy and durable, professional-quality machine
Excellent mixture of value and technology
Easy assembly
Bluetooth accessibility
Discontinued item, so only available used.
The EX-79 elliptical was the top-of-the-line elliptical from Horizon Fitness until it was replaced by Evolve 3. This was a gym-quality elliptical in its day. The EX-79 is a full-size elliptical but lacks some standard features modern ellipticals today incorporate. For example, there are no heart rate monitors, but the elliptical does have performance tracking capabilities. It had a built-in fan to keep workouts fresh and included a book holder.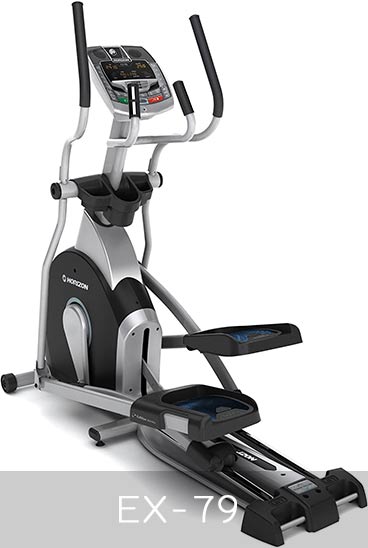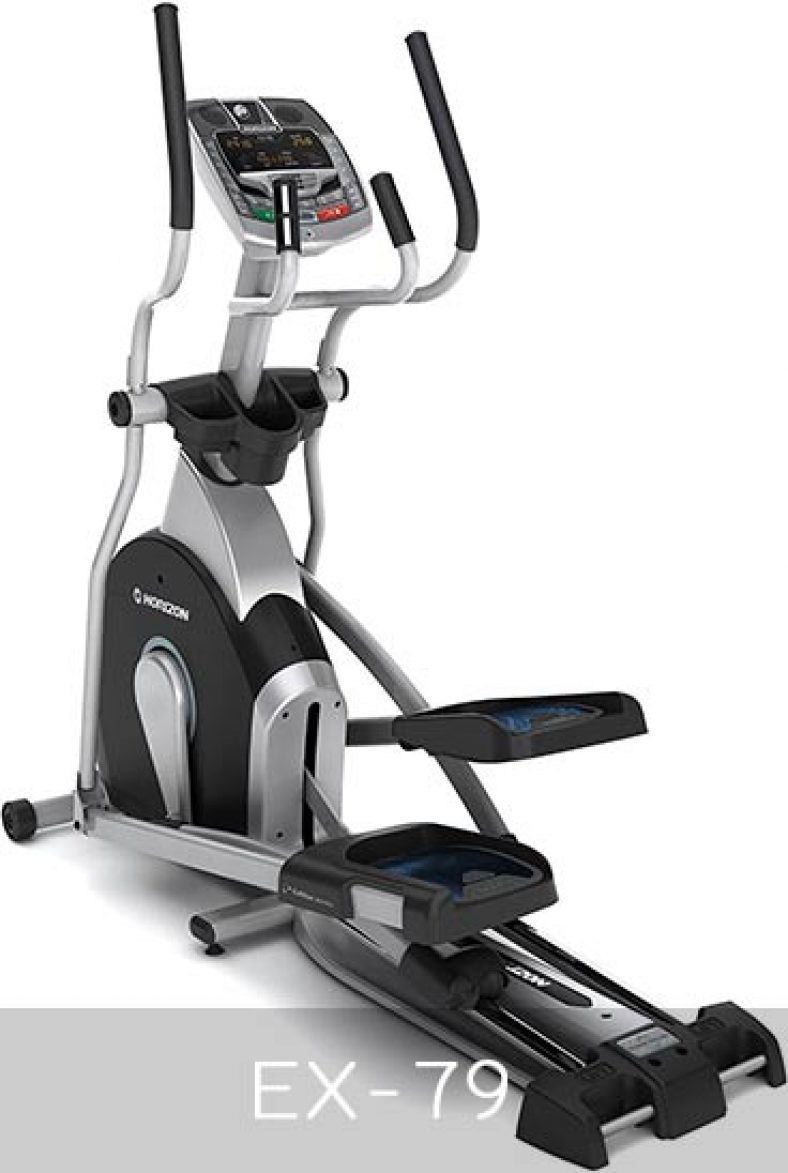 The EX-79 looks like other EX- ellipticals. It uses the SixStar frame and does not fold up for storage. The frame is heavy-duty and has a weight capacity of 326 lbs. This made it suitable for heavier users.
The EX-79 featured a low, 10″ step-on height and a 20″ non-adjustable stride. This is ideal for users over the height of 5'7." The footpads were cushioned, unlike many of the ellipticals that were on the market at the same time.
The EX-79 had Bluetooth speakers and a blue backlit LCD screen for tracking your workout.
A 17.6 lb. flywheel provided resistance. A magnetic brake controls resistance, and it gives a smooth, consistent motion with little noise.
The EX-79 can be taken apart to move it. When new, the user had to assemble the device, though most buyers had no trouble putting it together.
There is no maintenance needed.
This item is no longer available. You will find these ellipticals used online and at garage sales, where you may be able to get an outstanding deal.
There is no longer a warranty because this elliptical cannot be purchased new.
Cushioned pedals
Goal Center Performance Tracking
Easy assembly
Full-size elliptical
Flywheel weight is somewhat low for the level of equipment.
The Differences between the EX-59 EX-69 and the EX-79
Both the EX-69 and 79 featured a more extended, 20″ stride that produces a better workout. The short, 18″ stride of the EX-59 is better suited for shorter users.
Other Current Ellipticals
The Sole E35 is a professional-quality elliptical you are likely to find in a gym. It was most recently updated in 2019. This elliptical uses a heavy, 25 lb flywheel and has a full 20″ travel for a better workout. It features Bluetooth speakers, a large 7.5″ backlit LCD screen, and provides 30 levels of incline for excellent resistance training.
Users can connect workout data from the elliptical to their FitBit or other exercise tracking device. Two user-customizable programs are available for users that want to design their exercise routine. This is a big machine that takes up 82″x31″ of floor space. With an MRP of $2,799, the Sole E35 is significantly more expensive than the Horizon Fitness EX-59.
The Sole E95 is one of the top-of-the-line ellipticals on the market today. New for 2019, it features an adjustable stride up to 22″ of travel. The flywheel is one of the heaviest in use today at 30 lbs. This provides an excellent opportunity to work out. It has Bluetooth speakers, a USB charging port, and an integrated tablet holder.
The MSRP price of $3,399 reflects the level of quality this machine is built to meet. It includes a five-year warranty on parts and labor. This elliptical has unique, moveable armbars to add upper body workouts to your elliptical routine. Fixed handles include a heart rate monitor so you can quickly tell whether your workout is working.
The Bowflex Max Trainer M8 combines the fluid, low-impact motion of an elliptical with the challenging workout of a stepper. This machine provides an excellent exercise for your lower body and is a great cardio machine. It features 20 levels of resistance and has customizable programs for up to four users. This is one of the more high-tech elliptical trainers on the market today.
The Bowflex app allows users to have custom workout programs. The price point of the Bowflex M8 places it in the mid-range of the market. The MSRP is $2,299. Bowflex includes a three-year warranty, but only covers labor for 90 days.
---
Comparing Modern Ellipticals to the EX-59
The biggest thing to understand about the difference between the two Sole ellipticals, the Bowflex, and the EX-59 from Horizon Fitness is that the EX-59 is an entry-level elliptical. It is about as basic as you will find, and provides a simple, easy workout without the fuss. The ellipticals from Sole are professional-quality, and that is reflected in the price -they are around four times as expensive as the EX-59.
The Sole and Bowflex units are intended for a physical, challenging workout, and are adjustable so that anyone can get the level of exercise they seek. The EX-59 is a light-duty machine in comparison with a flywheel about half the weight of others. The unique elliptical-stepper hybrid design of the Bowflex provides one of the most intense workouts of any equipment while taking up significantly less space than the EX-59.
Buyers who are seeking an elliptical for cardio workouts and don't want to invest a fortune for a professional-level tool will be perfectly happy buying and using the Horizon Fitness EX-59. It will do what most users need safely and stably. If you happen to find an EX-69 or EX-79 for a reasonable price at a garage sale, you might want to consider picking it up. In its day, these two were among the best entry-level ellipticals you could get.
Buyers who need a serious workout will be better off buying a higher-priced, new elliptical. The Bowflex M8 is among the best options any user could pick. It provides a superior workout, takes up less space than a traditional elliptical, and has a mid-range price tag that many people can easily afford. If you have the money to burn, the Sole E95 is the best elliptical on the market today, even though the integrated Bluetooth speakers are below standard.