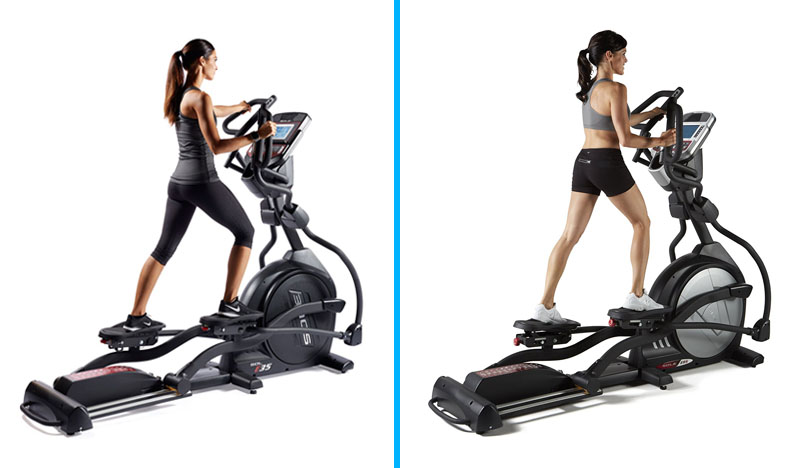 This article compares Sole E35 and Sole E95 ellipticals.
You will learn what makes each of these products unique, what are their pros and cons, as well as some reasons why you should buy either of them.
Quick Overview of Sole E35 and E95
Here we have the complete comparison of the interesting features that you will find in Sole E35 and E95.
The flywheel of E35 is 25 lbs whereas that of E95 is 27 lbs.
The resistance level of E35 is 16 and that of E95 is 20. Remember that higher the resistance level smoother performance you will get from the machine.
Both Sole E35 and E95 have the incline length of 0 to 20 degrees. You can increase the incline for a better performance.
E35 and E95 both have the same stride length of 20-22 inches.
There are 10 workout programs and Sole E35 and E95 that will allow you to change the type of exercise that you are planning to perform.
The dimensions of both elliptical machines are 82 L x 31 W x 67 H inches.
There is no folding facility available in the machine which means that these are not portable. Once assembled you will have to disassemble it to change its room.
Sole E35 has the display LCD of 7.5 inches whereas E95 has 10.1 inches display that will show you more options.
---
Sole E35 vs. E95 (Overall comparison)
Sole E35 is equipped with many unique features that are not found in most other ellipticals available on the market.
It features a 25-pound flywheel, the whisper-quiet drive system and high gear ration system. Combined, these features contribute well to a highly effective full-body workout.
With a power incline feature, you can target different muscle groups. The whisper-quiet system allows the trainer to perform silently and smoothly. With the help of an adjustable ramp angle, you can easily adjust the plane up to 30-degrees and target all your lower body muscles.
With an affordable price tag, E35 offers features that are comparable to some high-performance ellipticals available on the market.
Sole E95 is a complete elliptical trainer. Although relatively expensive than E35, it comes with advanced features that make it a professional-grade option.
The elliptical is equipped with adjustable foot pedals, multiple static and movable handles, as well as an easy control panel.
It offers full body workout as well as targeted lower body workout that is smooth and offers a natural feel.
One of the best things about E95 is that it works for both forward and reverse movements so you can diversify your workouts and also use the trainer for warm-up routines.
Sole E35 vs. E95 (Detailed comparison)
You can get a smoother feeling ride with the help of a heavier flywheel. For the added stability it will help you to anchor the machine. Remember that the harder you want your workout routine to be, the heavier flywheel you will have to get on the elliptical bike.
Sole E35
Sole E95
There is a 25 pounds flywheel in Sole E35 that is perfect for those who are planning to maintain their body weight with little exercise.
However, with the 27 pounds flywheel, Sole E95 will provide you a better resistance.

This slight difference in the weight of the flywheel will have a huge effect when you are exercising.

For heavier use, Sole E95 will be your perfect choice because it will help you manage a tougher workout routine that will help you lose weight quickly.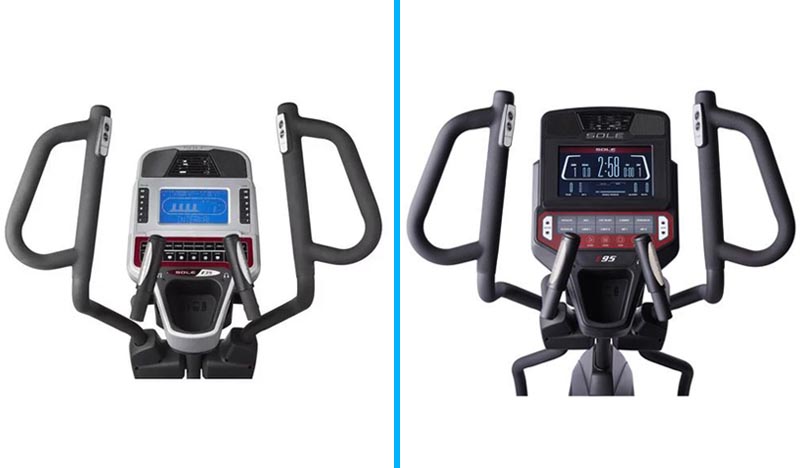 You will get all the feedback related to the essentials of the exercise like.

Heart rate
Time
Calories
Program
Much more
Sole E35
Sole E95
The console of Sole E35 is backlit, easy to read and straightforward. Even if there is no light you will be able to easily read the console because of the backlight.

The biggest attraction of the Sole E35 is that it has a built-in fan to assure that you are kept cool as well as the iPod dock and speakers to allow you to enjoy your music while exercising.

Sole E95 has many amazing status feedback facilities like buttons, stats, and programs. You will get the iPod dock and fan in it.

The only difference that you will find is that console of Sole E95 is bigger as compared to Sole E35 and that is how reading the workout stats become easier on Sole E95.
One of the most important things you have to consider is the assembly of the elliptical bike that you are planning to buy. When it comes to assembly you will get two options, self-assemble or call a professional.
Sole E35
Sole E95
The assemble of Sole E35 is easier and you can easily do it yourself if you have the right tools and you know how you can follow the instructions.
However, in case of Sole E95, the assembly is relatively complex and it can be a little challenging if you have never assembled a machine before.

For Sole E95 it would be a better option that you call a professional for the process.
While buying the product it is better than you know your own weight so that it will get easier for you to select the one that can easily tolerate your weight.
| | |
| --- | --- |
| Sole E35 | Sole E95 |
| 375 pounds | 400 pounds |
The cost of Sole E35 is $1399 whereas that of Sole E95 is $1799.
If you are on a tight budget it would be better than you invest in the Sole E35. However, if you are looking for a heavy-duty machine then Sole E95 will be the perfect option.
To give customers the satisfaction and peace of mind both Sole E35 and Sole E95 have
The lifetime warranty for the frame of the elliptical
On the parts, you will get the 5 years warranty
For the electronics of the elliptical machine, there is 2 years warranty.
Sole E35 vs. E95 (Pros and Cons)
Sole E35
Sole E95
PROS

Quiet and smooth operation
Customizable features
Stride up to 22 inches
Heart rate strap is included
Apple and MP3 compatible
Constant resistance through every stride
Sturdy design
It can handle a 375-pound body without any issues
Reasonable pricing

Silent and smooth operation
Power adjustable stride
Adjustable pedals that depend on comfort and requirement
Bluetooth technology, easy to sync with mobile phone fitness apps
Easy-to-move armbars
Heart rate control workout
MP3 port with good sound system
Water bottle holder
It can handle a 400-pounds body without any issues

CONS

It is large and heavy, making it difficult to carry and use in a compact space
The on/off switch is hard to locate as it is located in an inconvenient location

Heavy and large elliptical machine. Requires a spacious room
Tedious assembly
Should I Buy the Sole E35 or E95?
You might want to pick the E35 if:
You are on a budget and want to buy a silent elliptical.
You are not a heavy person and want to buy an elliptical for light cardiovascular workouts.
You are looking for a durable yet affordable elliptical.
You want to buy an elliptical that is equipped with great comfort features.
You might want to pick the E95 if:
You need an elliptical with solid performance and best connectivity features.
You are a heavy person and are looking for a durable elliptical.
You are a fitness enthusiast and want to buy a feature-rich, professional-grade elliptical.
You want to buy a high quality elliptical and also have a budget for it.