For those of us into fitness, elliptical machines are one of the most preferred exercise machines.
At the same time, personal training and in-house gym setups are rising in popularity.
Schwinn 430 and Schwinn 470 are two well-known ellipticals available on the market.
This article compares them so you can learn what makes them unique, what their pros and cons are, and why you should buy either of them.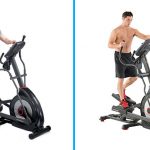 Schwinn has been around for an exceptionally long time, marking their 128th anniversary in 2023, and they are considered as one of the best bicycle/elliptical bike brands in the world. Nowadays, the Schwinn 430 and 470 are their best-selling models.
Appearance-wise, the Schwinn 430 and 470 are alike, both are made by the same manufacturer and with the same design style.
They also both have the same Maximum User Weight, 300 pounds (136 kilograms).
Their drive system (flywheel) and stride lengths of 50.8 cm. 1'8", and display readouts are all identical.
When considering features, both models have pulse handles, loudspeakers, and fans.
Schwinn is also very generous, in their warranties, offering up to 10 years frame warranty on both the 430 and 470 models.
The primary features of an elliptical machine are the levels of magnetic resistance present, its workout programs, incline, and displays. All of these are slightly different when you compare the two models.
For starters, the 470 has superior 25 resistance levels when compared to the 20 of the 430.
These resistance options are easily adjusted by the electrical controls on the 470 whereas the 430's needs to be adjusted manually.
While the 25 levels on the 470 are obviously better than the 20 that the 430 has, but 20 is more than enough for most athletes, especially beginners.

The same applies for the incline feature, both ellipticals max out at 10-degree inclines.
Still, while the 430 can only be adjusted manually in 6 distinct positions, the 470 has a motorized ramp that can be adjusted on the go with quick keys, a significant plus relating to convenience for the 470 allowing for a much smoother experience overall.
When considering display, both have DualTrack 2 LCD Window systems, but the 470's is backlit.
On this screen, one can see several workout programs: 22 on the 430, and 29 on the 470.
Another essential accessory is heart rate monitoring. To know your heart rate, you can hold the 430's handle which has a built-in sensor, and this will give you your heart rate on the screen display.
The 470 also has a wireless heart rate monitoring chest strap, that will allow you to leave your hands free. The 470 can also connect via Bluetooth.
Both machines have user profiles that allow you to share, and compare between friends/family, with the 470 having 2 additional user profiles, for a total of 4.
Schwinn 430 vs. 470 (Specification details)
| | Schwinn 430 | Schwinn 470 |
| --- | --- | --- |
| Workout Programs | 22 | 29 |
| Resistance Levels | 20 | 25 |
| Incline Mode | Manual | Powered |
| User Profiles | 2 | 4 |
| Display | LCD | LCD |
| Weight Capacity | 300 lbs. | 300 lbs. |
| Stride Length | 20″ | 20″ |
| Bluetooth connectivity | No | Yes |
| Dimension | 28" x 63" x 70" | 28" x 63" x 70" |
Schwinn 430 and 470 Elliptical Assembly Manual
Here are some general steps for assembling the Schwinn 430 and 470:
1. Remove all the packaging materials and lay out all the parts in a clear, flat area.
2. Follow the instructions in the manual to assemble the base of the elliptical, which includes attaching the pedals, stabilizers, and flywheel.
3. Assemble the handlebars and console, making sure they are securely attached to the elliptical frame.
4. Attach the resistance cables, if applicable, according to the instructions in the manual.
5. Adjust the handlebars and pedals to the desired height and position, making sure they are tightened securely.
6. Check all the bolts and screws to make sure everything is tightened properly.
7. Test the elliptical by pedaling and adjusting the resistance to make sure it is functioning properly.
It's important to carefully follow the instructions in the manual and to make sure all parts are tightened securely.
In addition to the manual, we have also created assembly videos for your convenience. These videos can be used as a reference to help you assemble your elliptical.
Schwinn 430 vs. 470 (Overall comparison)
Schwinn's 430 and 470 are by far their most popular elliptical machines, offering a 20-inch stride length and dual-window LCD display.
As well as this, they both have a charging station to keep your devices on full battery throughout your workout alongside a 3-speed fan to keep you cool.
Want to learn more about Schwinn ellipticals? Check our expert team's comparison review of the Schwinn A40 and the Schwinn 470.
Schwinn 430 is one of the most popular ellipticals available on the market.
Because of added resistance to the strides, this elliptical offers an effective cardiovascular workout experience. Furthermore, you can create the strides in such a manner that is natural and will keep you stable and well supported. You can switch between different resistance levels via its quick start function.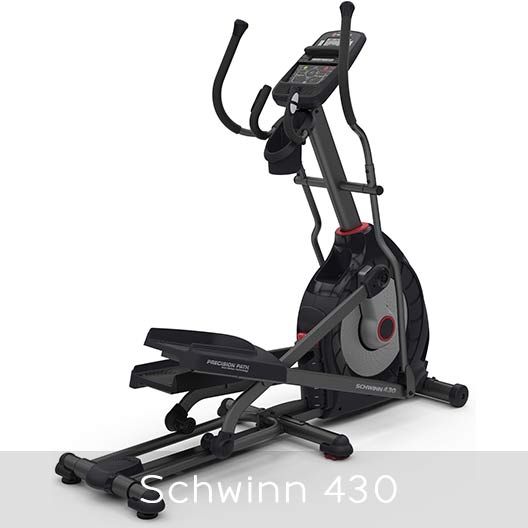 There are 22 workout programs to choose from and the elliptical offers a 20-inch stride that is ideal for most users. Other ellipticals available on the market have 22-inch strides which could be too much or 16-inch strides which can be too little.
Although there are other ellipticals with 20-inch strides, they feel restricted or bouncy. Schwinn 430 is truly unique in this regard.
---
Schwinn 470 is one of the quietest ellipticals available on the market that is equipped with many high-end features.
There are 29 preset workout programs to choose from. This allows Schwinn 470 to offer you different workout formats and customizations.
While most ellipticals offer one or two user profiles, Schwinn 470 offers four. Because of this, it offers different forms of workout that are also customizable.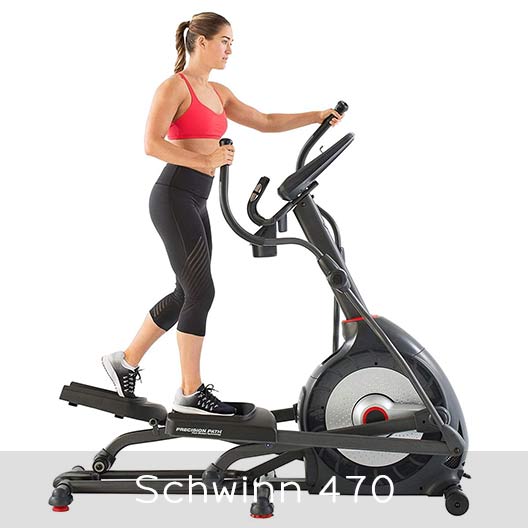 You can keep track of your workout data via two backlit LCD display consoles. Bluetooth connectivity is one of the best features of this trainer as it allows you to connect the elliptical with the MyFitnessPal app, UA, GoogleFit, Apple Health, and MapMyRun/Ride via Schwinn Connect. Because of this feature, you can track, exchange, and share your workout data quite easily.
This machine costs $899, but with all of the features it comes with, it's a fair price.
All in all, Schwinn 470 is capable of satisfying the needs of any fitness enthusiast and offers great value for money.
---
Schwinn 430 vs. 470 (Detailed comparison)
Schwinn 430
Schwinn 470
22 exercise programs:

9 profiles
8 heart rate control
2 custom
2 fitness test
1 quick start

29 exercise programs:

12 profiles
9 heart rate control
4 custom
2 fitness test
1 quick start
1 recovery test
Now, Schwinn uses an extremely high-speed flywheel for smooth and natural rotations. The biggest issue with many elliptical machines is that the movements become clunky or stilted. This is because of poor design which doesn't correctly mimic the way that our body moves. However, the 430 and 470 completely override this problem to combat any shakes, jerks, or uncomfortable strides.
As well as this, due to the stride length being 20 inches, you can maintain an upright posture which can help with your spinal and joint health.
Schwinn 430
Schwinn 470
The designers have also made sure that the machine itself is comfortable to use when standing, getting on, and getting off.

Each of the pedals is suitably wide and is set at a good height for easy mounting and dismounting. There are dual handles, too, for holding onto as you run to keep your arms moving or a static option to focus on the lower body.

Possibly the most significant benefit of the 470 over the 430 is the motorized ramp, which many elliptical machines don't feature.

Because it's motorized, you can easily adjust the incline throughout your workout, as opposed to having to stop moving so you can adjust your machine.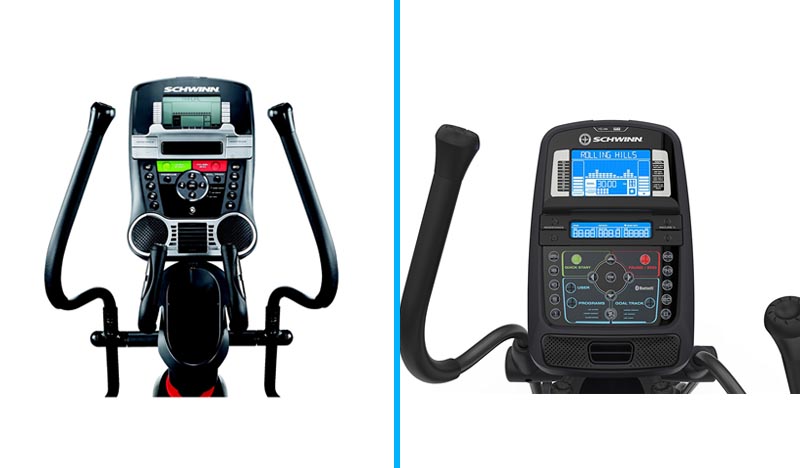 When it comes to entertainment, there's a platform that can hold a tablet or other device so that you can listen to music and watch videos. It's even equipped with some speakers so you can blare your favorite tunes as you get a sweat on.
There's also a water bottle holder so you can stay hydrated while you exercise.
Alongside this, the display screen monitors distance, speed, time, pulse, and calories, the last of which can be adjusted based on your age, weight, and height for a more personalized experience.
Schwinn 430
Schwinn 470
The 430 and 470 offers tracking options to keep you on target for your goal which can be downloaded onto the Schwinn Connect app to carry your data with you wherever you go alongside some detailed analysis of your progress.

Schwinn has also coupled with MyFitnessPal to combine your workout and nutritional data into one place for a well-rounded view of your health and fitness.

The console of the 470 is backlit, making it easier to read from all angles which can be extremely beneficial for those who have issues with their eyesight or are in oddly lit areas where the light can reflect off the screen and make it difficult to read.
Schwinn 430
Schwinn 470
Starting at the lower price point, the 430 carries a unique and individual design which separates it from the rest of the market. Featuring a leveler and stability bar, the 430 allows you to stay stable and steady throughout your workout.
The 470 costs quite a bit more than the 430 by hundreds of dollars. For this extra money, you get a better screen, a motorized ramp for easier adjusting of the incline, more resistance options, more workout programs, and the ability to store data for multiple individuals as opposed to just two.

If you have a large family or are expecting to have quite a few users of the machine, then the 470 could be the better option.
Schwinn 430 and 470 (Pros and Cons)
Schwinn 430
Schwinn 470
PROS

Variety of useful fitness programs for customizable workouts
Two sets of handlebars; moveable and static
Two profile settings
20-inch stride length is ideal for most individuals
Sturdy design
Tablet holder, fan, and speakers are included
Enhanced workout stability due to center frame design
Supports up to 350 lbs. weight
Cheaper price point

Large pedals for reduced risk of foot soreness and foot injury
29 workout programs, 4 user settings
Customized workouts thanks to a motorized ramp with six positions
Intuitive controls
Lightweight and portable
Easy to assemble
Fan fitness system
Flexible and smooth workout thanks to durable frame design and incline

CONS

No backlit display makes it difficult to read in low light
Adjusting the incline manually is inconvenient

Not recommended for short users because of its fixed stride length
Large size. Requires spacious room
Should I Buy the 430 or 470?
You might want to pick the 430 if:
You want to buy a versatile elliptical that offers customized workouts.
You are looking for a reliable elliptical that offers high-end features at an affordable price.
You want a well-built trainer that is comfortable and easy to ride.
You might want to pick the 470 if:
You want to buy a professional-grade elliptical and price is not an object.
You are looking for an ergonomically designed elliptical trainer.
You want to buy an elliptical that offers a fair amount of workout programs and resistance levels.
Now you should be able to make a choice on which one is the best for YOU! Both models are great elliptical machines, and the choice of which one to get should solely depend on you.
The 470 is an all-around improved version of the 430, and at only $100 more(In December 2022, I revisited Amazon and compared the prices of the Schwinn 430 and 470.), it might be the perfect fit for you.
On the other hand, the 430 is still an excellent, relatively simplistic, and still has outstanding value for money machine.
If you are looking for a smoother, more technologically advanced model, I would go for the 470.
Still, for most athletes, especially beginners, then the 430 is all they need … highly similar to the 470 with a few exceptions.
The Schwinn 430 is more than enough to work out on while the 470 has some extra features and accessories for a slightly higher price.