Working out is more enjoyable when you use the right tools. Cybex Arc Trainer is one of the best pieces of advanced exercise equipment designed for everyday strength and cardio workouts. It is a tool that can be used both by experts and newbies.
Are you contemplating getting the Cybex Arc Trainer? Are you wondering what it has to offer? This article will explore the benefits this exercise equipment offers and how to get the best out of this equipment.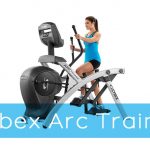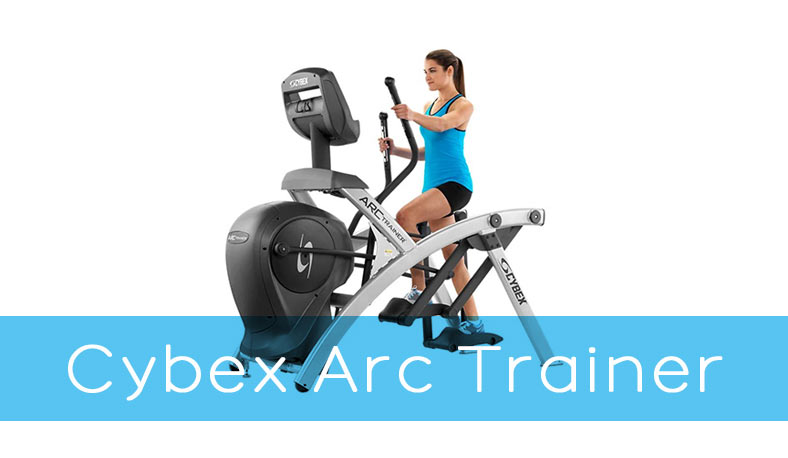 Features of Cybex Arc Trainer
The Cybex Arc Trainer comes with several features that help it work better for you. It professionally combines the best elements of skier, climber reverse, elliptical trainer, etc.
Additionally, it has eight presets and nine custom programs; this makes it easier for you to decide how you will exercise. The full split-level display makes controlling the machine easier.
This unit features a break of brushless eddy current with a generator. It has a resistance range of up to 900W and an incline level of 21, making it more suitable for everyone. The device also features a double step-up drive type.
This arc trainer is the best one for use in your home. The trainer has an overall dimension of 36.75 x 62.5 x 77 inches. For your comfort when working out, this trainer has a stride length of 24 inches, suitable for short and tall individuals. The arch trainer has a maximum load capacity of 400 pounds, making it a trainer for everyone. The arch trainer has an overall weight of 519 pounds.
The Cybex Arc Trainer comes with several built-in features that make it work best for you when working out. The big display screen (8 x 15 LED Matrix) makes adjusting and selecting the different operation modes possible.
The trainer features a built-in wireless heart rate receiver. Contact heart rate monitoring function. It also features a dual water bottle holder and dual-speed fan. It also comes with a detachable TV monitor (not in all situations).
The Cybex arc trainer features long input arms that help produce a linear path. The footprint is also large enough to accommodate your feet when working out. The pedal of the Cybex arc trainer is cushioned and adjustable, which helps you remain comfortable while working out.
The bar graph the machine displays shows a graphical representation of each exercise routine. The heart rate indicator gives a clear and detailed report of your heart condition.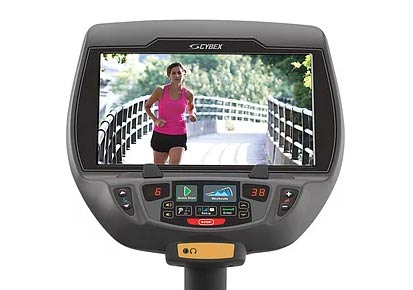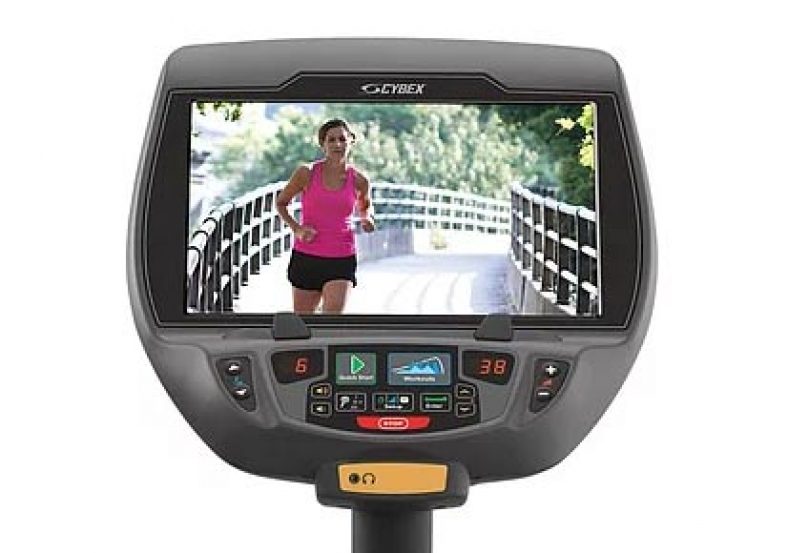 The small resistance screen on display helps you know the amount of resistance you are working on.
You can set the resistance level and select the desired level of exercise with the keypad on the trainer's display. The time and incline screen will help you monitor how long you have been working out, and the incline level.
The price of the Cybex Arc Trainer varies and depends on the unit you are buying. The Cybex 750A Arc Trainer is offered at $2,999.
Multi‐models of Cybex Arc Trainer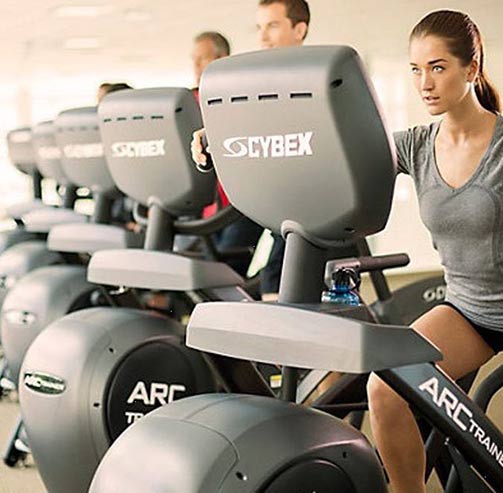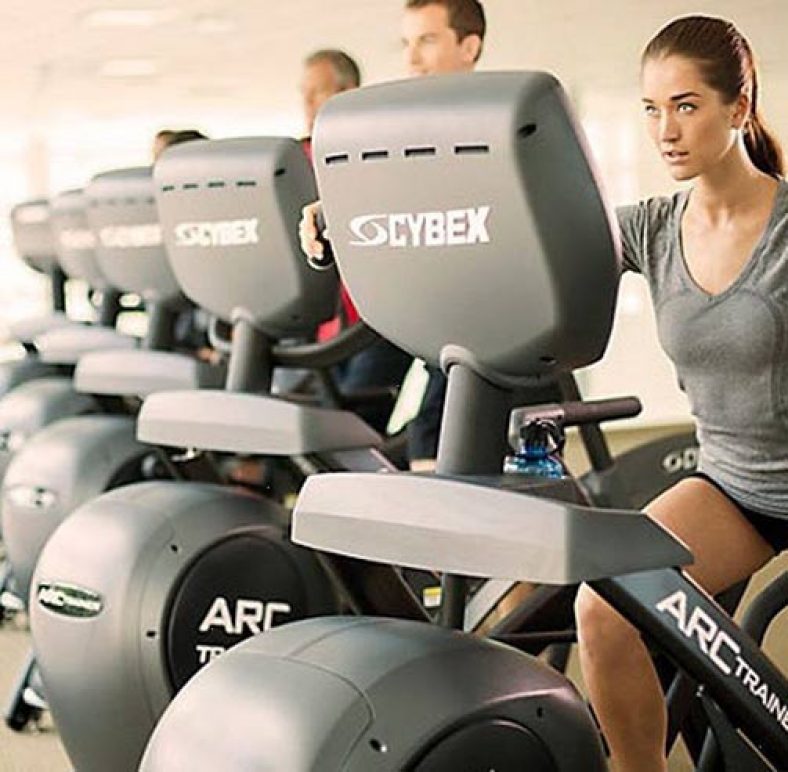 | | |
| --- | --- |
| Cybex 350A | This machine is designed for working out, and it comes with 11 incline levels and 20 resistance. It has a maximum load capacity of 300lbs. |
| Cybex 425A | This is another elliptical trainer that features 11 incline levels and has a stride length of 23 inches. The resistance range is up to 600watt and has a maximum load capacity of 300 pounds. |
| Cybex 525AT | It features a clear LCD of 8 x 5 inches. The trainer has 21 incline levels, and it scales its resistance to your weight professionally. It is best for building and working on your muscles. |
| Cybex 610A | This high-quality machine features 11 incline levels and has a stride length of 24 inches. The resistance level stands at 900 watts, and it is designed to make exercise more detailed and beneficial. |
Pros and Cons of Cybex Arc Trainer
There are numerous good and excellent things about this trainer, they include;
Suitable for climbing, gliding, and striding.
Perfect for cardio, muscle toning, strength training, and weight loss exercise.
Features a muscle map that helps you see your muscle target for each exercise session.
Low impact on the joints.
Comes with a safety enhancement.
Has a wireless and contact pulse monitoring system.
Comes with heart rate control and has an incredible 21 incline settings.
The display is basic compared to other types of arc trainer.
Thanks to the magazine rack, blocking the screen becomes easier.
The unit does not come with a cooling fan.
How to use Cybex Arc Trainer
This fitness workout machine is very easy to use. Thanks to its wonderful features, this trainer can be used without experiencing any sort of pain.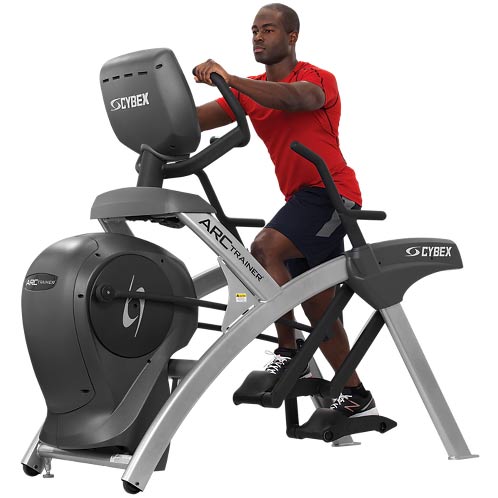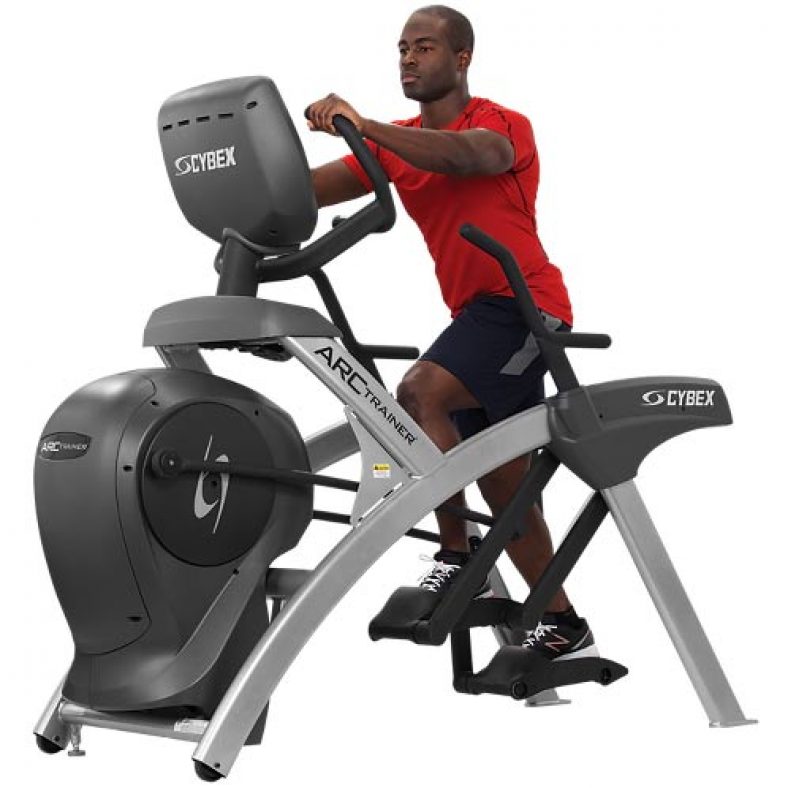 To begin general workouts, you can push the quick-start button on this machine. You can then proceed to customize the machine based on your weight and fitness goal. You can easily set the resistance level and incline setting that is perfect for you. You can stand straight and tall or sit down on this machine.
With the incline setting, you can target different muscle groups, working on your glutes and hamstring to the maximum level.
This workout tool comes with numerous functions. The quick start makes it easier for you to exercise; you can also explore the program mode to work out the way you want. All these tools work with the same principles and make the workout more interesting.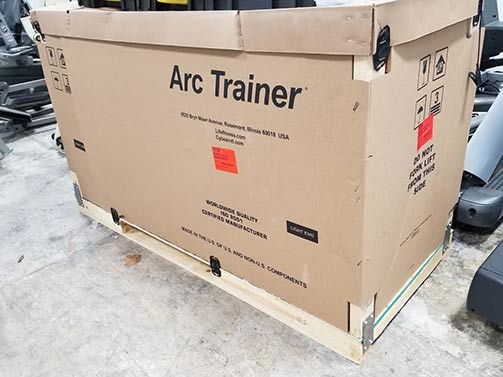 Before you set up this trainer, you should read the assembly instruction delivered with the trainer. Assembling the trainer is easier, thanks to the instruction that comes with the machine.
The next step is to unpack the contents of the package. Ensure that each part is complete before you proceed to assemble the unit. To assemble, you will need to make use of screwdrivers for fixing the parts of the trainer.
The final step is to carefully follow the instructions provided in the manual. The instructions are clear enough, and most of the complicated parts are constructed already.
It is important to allow qualified personnel to help you maintain and service the machine. Carrying out maintenance on your own can result in injury. Before you perform any cleaning or maintenance procedure on this trainer, it is best to unplug it from the electrical outlet; this will prevent electric shock.
Use a clean cloth with a mild cleaning agent like water or soap solution to clean the machine. Wipe the unit carefully and ensure that water is not left in any part of the machine. When cleaning the display area, ensure that the cloth you are using does not leave water on the display as this can cause permanent damage.
For more detailed servicing, you can find professionals around you, as Cybex does not carry out a regular inspection on your machine.
While it is a piece of excellent exercise equipment, few users have complained about this trainer. Many feel that the trainer is supposed to come with a longer warranty than the five years it features. They believe devices of such quality and price should have at least a ten years warranty.
There were complaints of high need for maintenance by some users. The truth is, this is often influenced by the way individuals handle the trainer. When used well, you will not need any serious maintenance. Some feel the casing in front of the machine is not made with high-quality material as it can easily begin to rock back and forth when you work out consistently.
Frequently Asked Questions About Cybex Arc Trainer
Here are some frequently asked questions and answers about the Cybex Arc Trainer:
1. Does it come disassembled?
Many who have small doors in their home often wonder if this trainer comes assembled or disassembled. The answer may vary depending on where you are getting the trainer. Some come assembled, while some are not; consider information provided by the seller to be sure of the condition.
2. Does it come with a warranty?
Would it not be shocking if a trainer of this price and quality does not come with a warranty? The trainer comes with a ten-year warranty on frames, a three-year warranty on parts, and a 1-year warranty on labor, which is perfect for a trainer of such quality.
3. Does it affect the joints? 
The impact the cross trainer has on the body and joint is another factor to consider. In truth, this trainer exerts less stress on your joints, and it is designed to help prevent your toes from stretching beyond your knee.
4. What height range is the machine designed for?
The Cybex arc trainer is designed for people of varying height. If your height is between 4'10 inches and 6'5 inches, you can enjoy working out without limit on this trainer. Even those taller than this height can still make use of the machine.
In this review, we have talked extensively about the Cybex Arc Trainer. We have considered some of the unique features it offers and why you should consider buying this unit. This machine is the key to you staying healthy and getting stronger, and its high quality will last for years; get this trainer now!