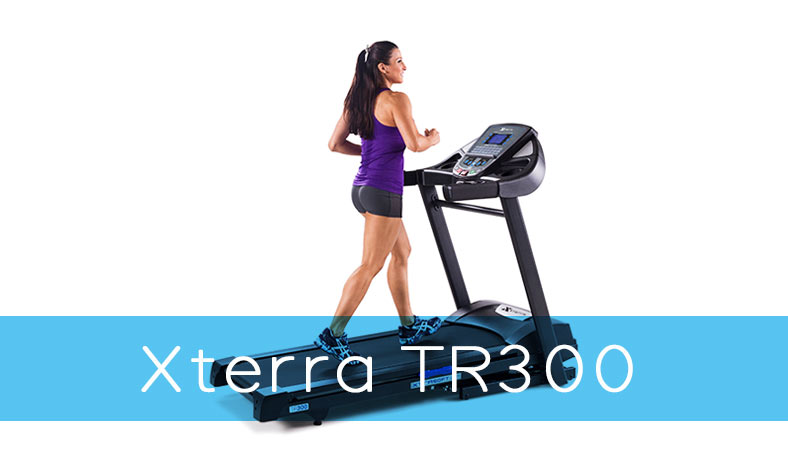 The Xterra Fitness TR300 is the perfect treadmill for weight loss and muscle toning that you can add seamlessly and affordably into your home gym. With it's easy-folding and space-saving design, this treadmill wheels easily to a storage space out of sight until you're ready for use!
There are many reasons to choose the Xterra 300 over its competitors. With Lift Assist and Safe Drop included in the design, you can effortlessly fold your treadmill up and down without breaking a sweat. Other features included in this model:
Handlebar controls and direct access controls for ease of use
Xtra-soft deck for ultimate runner's comfort
Shock absorption for athlete's benefit and joint health
5.5" Blue backlit display that features: Speed, Incline, Time, Distance, Calories, Heart Rate
Audio Jack and Cooling Fan
Built-in Speakers and Media Storage on deck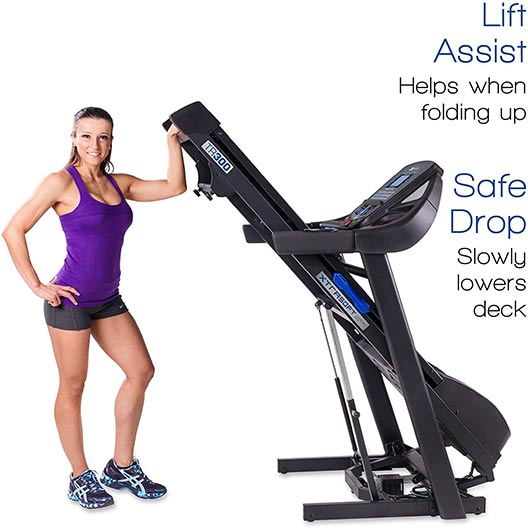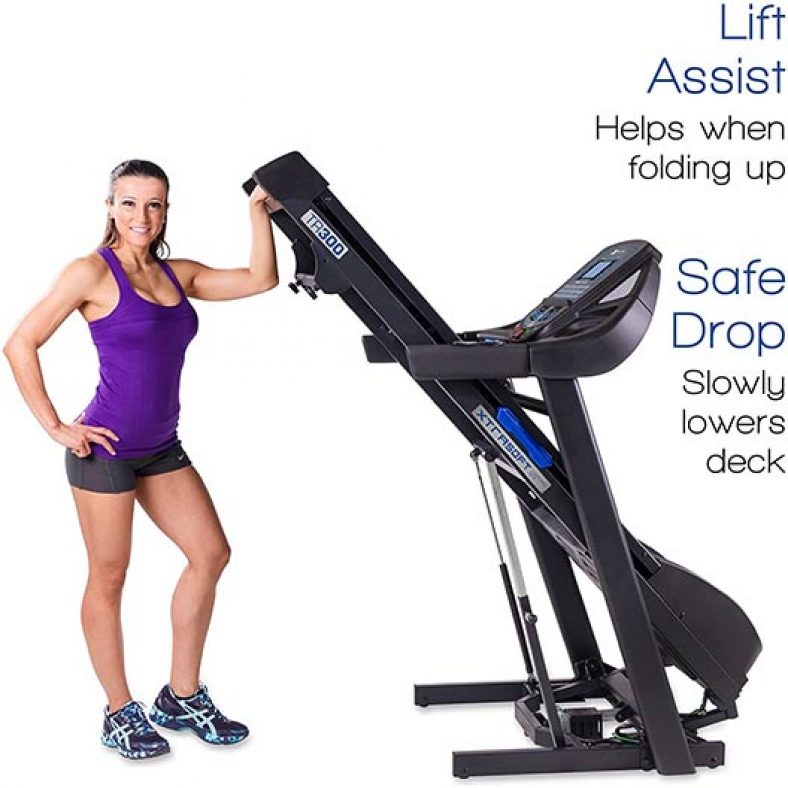 Upon finishing your home workout, you simply lift up on the back of the deck until it locks into place. When ready to use again, push in and let the deck down until it gets to about waist level. At that point, the deck will safely lower by itself, and you are ready to go!
---
Benefits of the Xterra T300
The Xterra T300 can help you reach your fitness goals in both weight loss and muscle definition. With 24 pre-set exercises, you will be more than equipped to tackle your workout! You can also take control into your own hands with manual settings, including options up to a 10% incline and speeds from .5 mph to 10 mph.
More Features and Benefits of the Xterra T300
Not only does this treadmill guide you through workouts and provide easy storage, but it was designed for maximum efficiency and comfort during the workout.
Safety Tether Cord stops operation within two steps upon being triggered
Built-in fan and audio assist with comfort and entertainment
Sturdy design and spacious deck makes it perfect for anyone to use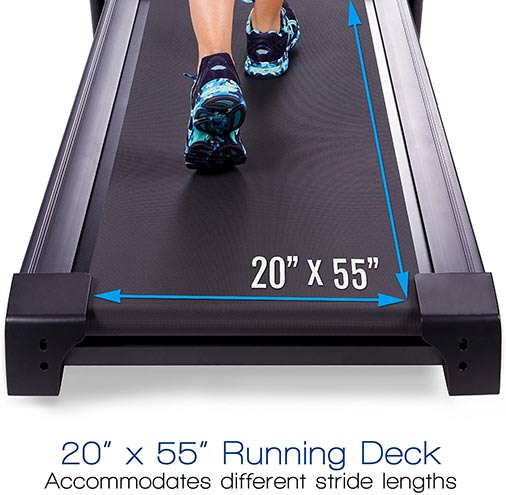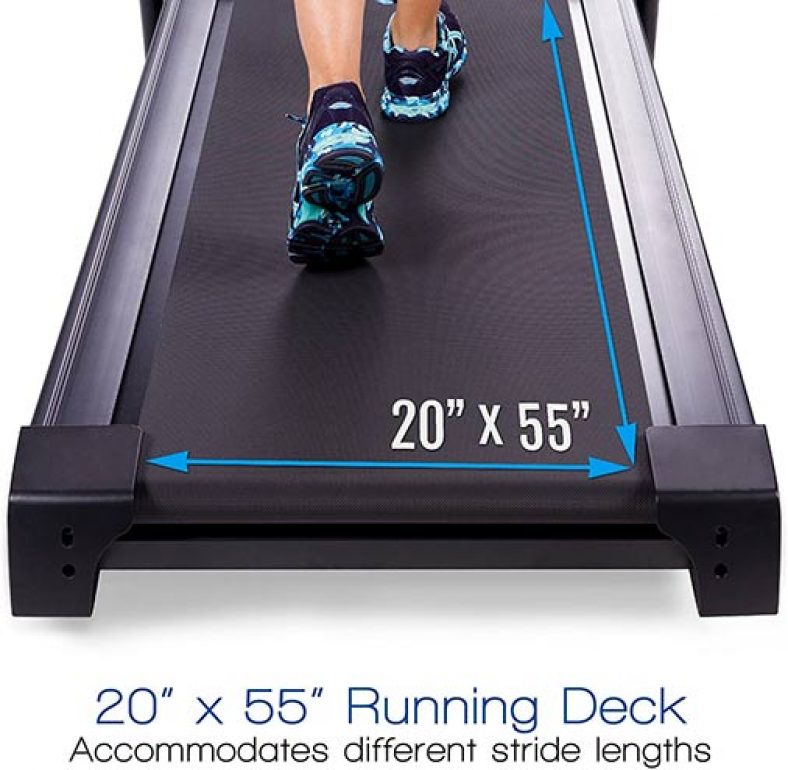 Below are some pros and cons found from previous customers and current users of the Xterra TR300 Treadmill:
| Pros | Cons |
| --- | --- |
| Incredibly smooth transitions between inclinations and speeds | Limited volume with built-in speakers |
| Shock absorption for joint health | Can be difficult to move across carpeted surfaces, best on hard floors |
| 24 stress-free guided workouts | |
| Direct access buttons for speed and incline, as well as handlebar controls | |
| Easy storage and handling | |
| The motor provides a quiet and smooth ride | |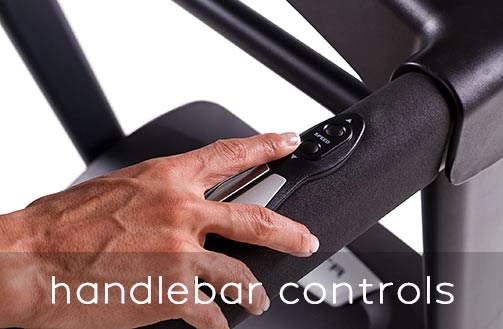 The Xterra T300 Treadmill comes with a Lifetime Frame and Motor Warranty, as well as a 1 Year Warranty on its other parts and labor. Some assembly is required and would be easiest put together by two people. When fully assembled, the machine weighs around 200 pounds, which is easily transported by the four wheels revealed when the treadmill is locked in its upward position. All materials required for assembly are included.
Performance Comparison with Similar Models
Xterra Fitness offers some smaller models with lower price points, which may be perfect for some customers! For example, below are the features and descriptions of the Xterra Fitness TR150 and TR200 models. Additionally, we are comparing the TR300 with the NordicTrack T6.5 Treadmill below.
Xterra TR150
Xterra TR200
NordicTrack T6.5 Si
Xterra TR300
Price
$399.00
$549.99
$1,299.00
$799.99
Basic Features
5" Display, 3 Manual Incline settings
5.5" Display, Shock Absorption, 3 Manual Incline
Interactive coaching available, 1 Year iFit Training, 10" Display
Direct access and handlebar controls, easy storage, Lift Assist
Built-In Programs
12 Programs
12 Programs
24 Programs
24 Programs
Weight/Size
108 lbs
63"x 29" x 51"
99 lbs
63"x 29" x 51"
209 lbs
67" x 36" x 73"
207 lbs
72" x 54" x 35"
Running Surface
16" x 50"
16" x 50"
20" x 55"
20" x 55"
Comparisons to the TR 300
Not as many features with a lower price point and smaller size.
This model adds the same shock absorption found in the TR300, with a smaller size and fewer features.
More expensive machine, but comes with interactive features and a larger display. Also with folding storage.
After assembly, this machine guides you through every workout to make a healthier lifestyle a breeze!
You'll notice that the Xterra TR150 and TR200 are at a lower price, but they are also smaller in size and come with half the programs that the TR300 does. In addition, these two smaller models only come with three inclination settings, which have to be selected manually instead of with the controls of the TR300. What all three of the Xterra models have in common is the easy and foldable design, which is mirrored in the Nordic Track's T6.5 Si Treadmill.
The Nordic Track Treadmill is more expensive and slightly larger, with more features including a 1-Year Membership to IFit's programs and a 10" Display. Many of the features included in this treadmill are found in the Nordic Track T300, although the price points are quite different.
---
Factors to Consider while Choosing Your Equipment
The importance of your treadmill in your daily life is a huge factor when it comes to purchasing your product. For more avid athletes, you may need a different treadmill than who exercises three or four times a week. Your fitness goals are also something that is necessary to consider – if weight loss is your goal, you may find yourself leaning towards a different model than someone aiming to train for a marathon!
There is nothing more annoying as a consumer than overpaying for things you won't use, and shopping for your fitness equipment is no exception. It is important that you know what your needs are before purchasing. There isn't a reason to spend more money for the same features. Luckily, the price points on the Xterra machines have something for everyone.
Before you start looking for your perfect treadmill, write down the things you need from your machine vs. the things you don't need to help you shop smarter!
---
Another thing to watch out for is things in the fine print, like warranty labels and labor costs for upkeep and maintenance. Some machines do require more upkeep, while some more simple machines that aren't used as often may not be as hard to maintain. Again, your purchase of a treadmill should largely depend on who is using it, and what features are necessary for you to be happy with your purchase.
Lastly, it's important to think about the layout of your home. This treadmill can accommodate almost any space, but it is important to make sure that it will fit seamlessly and comfortably in its new home. Some factors to also consider before purchasing are the weight of your machine, it's length, and it's storage options.
Questions You May Have About the Xterra TR300 Treadmill
1. Can this be put together by myself?
While it is possible, some parts of the assembly will go much smoother if you have assistance. Another option is to have it assembled while delivered, eliminating the need for any heavy lifting, or putting together yourself!
2. Can I plug it in anywhere?
As long as the outlet you are using is grounded, or you have an adapter to ground the outlet, this treadmill can be used anywhere in the house!
3. Can you roll the treadmill before it is folded?
For your safety, the four wheels only come down when the treadmill is folded and locked in that position. The wheels retract as the running surface comes down, making it stable and dormant before use.
4. When folded, what are the dimensions of the equipment?
When folded, your machine will measure approximately 48" x 35" x 61", as compared to its dimensions while unfolded: 72" x 54" x 35".
5. Are there payment plans available?
Yes! Plans are currently available from as low as $36.92/month when you order on the XTerra Fitness website.
6. What are the warranty labels on this treadmill?
The frame and motor come with a lifetime guarantee. The parts, motor, and in-home labor come with a 1-year guarantee.
7. Does this machine have a weight capacity?
This machine is equipped to handle users up to 300 lbs for safe use. Other models are available to accommodate all customers as well.
---
None Better than the XTerra Tr300
Now that you have all the information you need choosing the Xterra T300 should be no problem! Easy storage, dependability, direct controls, and a cushioned running surface make for the best addition to any home gym.
In the end, it is important to consider every factor before buying your own treadmill. With the Xterra Fitness Tr300 Treadmill, you get the best features at a great price point in comparison to other models. Take a step in a healthier direction and purchase your very own Xterra machine – you won't regret it!