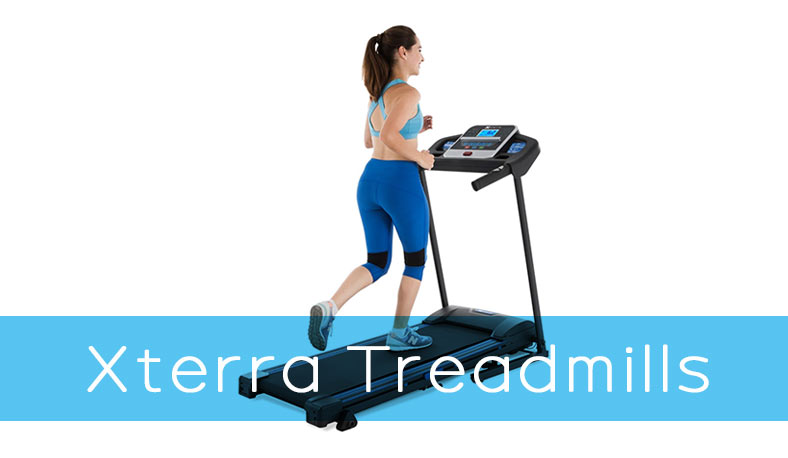 Xterra treadmills have been growing in popularity. 9 treadmills are available to order from the manufacturer. The TR150 treadmill is an Amazon exclusive and it's comparable to the widely available TR200 and TR300 treadmills.
The treadmill manufacturer is known for its affordable products first. Many people simply can't afford to spend thousands of treadmills and the TR line offers an alternative to the running machines found on the market today. While all 3 treadmills are affordable, the TR150 is even cheaper than expected. However, it doesn't feature the same characteristics and ruggedness as the TR200 and TR300.
Understanding the small differences between these 3 treadmills requires taking a closer look at what they offer. TR150 and TR200 are similar and TR300 is superior to both, but it also costs more. It's worth seeing their pluses and minuses according to what runners who own them have to say.
Xterra Fitness TR150 features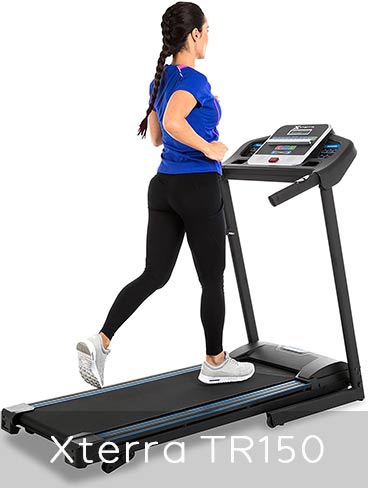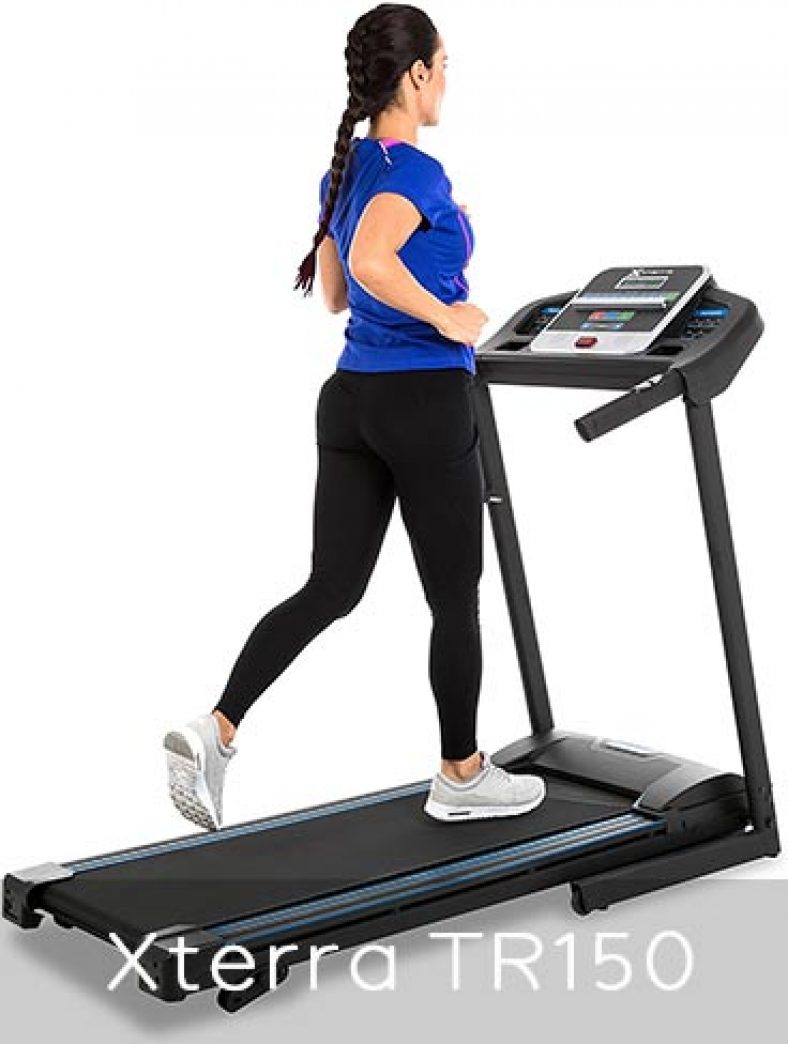 Made with a 16″ x 50″ running surface
Runs on a 2.25 HP motor
250lbs maximum weight capacity
Made with 1-ply 1.4mm belt
Features 3 levels of manual incline
Supports a maximum weight of 250lbs
Weighs 97lbs
Designed with a 5" LCD display
No heart rate programs support
Made with built-in EKG pulse grips
10mph maximum running speed
Backed by a 1-year motor warranty
Sold with 90-days parts warranty
Lifetime frame warranty
---
Xterra Fitness TR150 benefits
The affordable treadmill comes as the first option to get into treadmill running. It's difficult to find a similarly-priced alternative on the market and for most users, it's a chance of staying fit without losing time driving to the gym or money with expensive membership plans.
Affordability

The treadmill is mostly seen as an affordable product and this is key when judging its characteristics. It doesn't feature fancy elements such as electronic incline adjustability. It only comes with 3 incline levels you have to set by hand.

But those who love running or who want to start running are perfect users of the treadmill. With a similar running deck to the TR200, the TR150 is still comparable in cushioning.

Low weight

At 97lbs, the treadmill is not too heavy. Its folding design allows it to be stored away from the busiest areas of the house and you can simply roll it away from the middle of a room at the end of each workout.

Simple console

Another issue newbies have with treadmills is with complex consoles. Some don't even allow users to run until they subscribe to monthly online classes. But Xterra Fitness TR150 is very different in its simplicity.

Stop, start, and program buttons are the 3 elements users see on the console. Speed adjustment buttons are the only other rocker users need to worry about which is a major advantage for beginners who simply need to focus on running technique.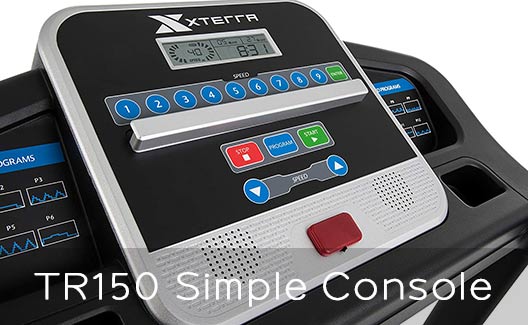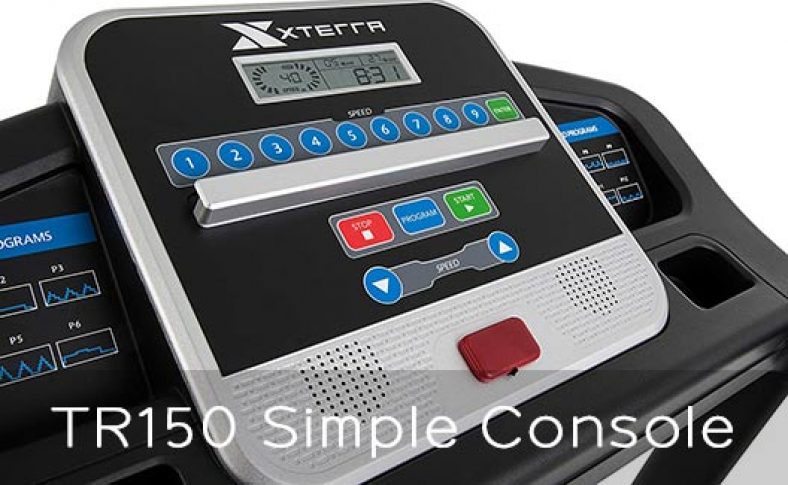 While the treadmill is very affordable, it comes with a few drawbacks. Users note it doesn't feature the best cushioning, which is expected at such a low price. Its 10mph maximum speed limit is also problematic when moving towards a fast pace running.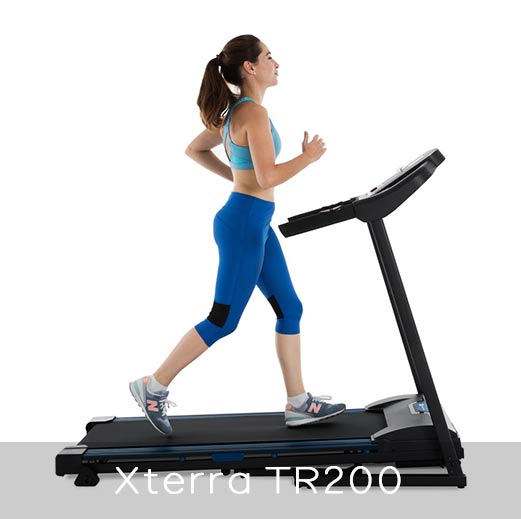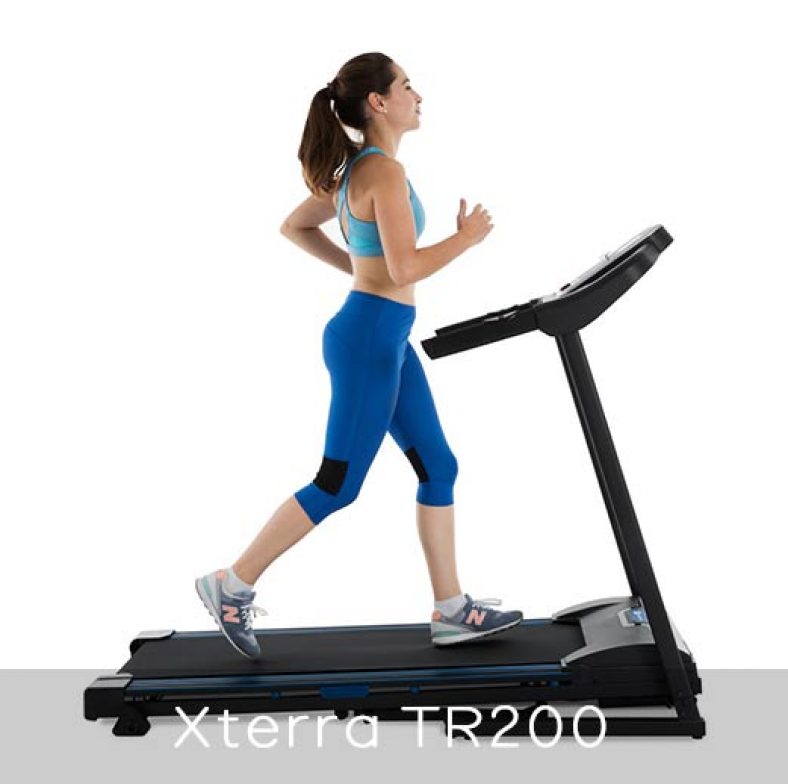 Made with a 2.25 HP motor
250lbs maximum weight capacity
Made with 1-ply 1.4mm belt
It runs at speeds between 0.5 and 10mph
Designed with 3 levels of manual incline
16″ x 50″ running surface dimensions
10mph maximum running speed
Made with 10 running programs
It doesn't support heart programs
Lifetime frame warranty
---
With high responsiveness, the treadmill offers one of the best-balanced options on the list. It even features a better screen and better shock absorption compared to the TR150 treadmill.
5" backlit display

The backlit display is sharp and visible in low light. If you like running early in the morning, you can still easily see parameters such as consumed calories or overall running time.

XTRA soft cushioning

The cushioning system of the treadmill is the same as the one used on the higher-spec TR300. It already feels more comfortable and it isn't as loud as the one on the TR150.
The treadmill has its limitations in terms of functionality and pricing. Users expected a bit more from Xterra as most choose the TR150 treadmill instead.
Manual incline

Since there are no electronics to lift and lower the running deck, limitations are considerable on the treadmill. There still needs to be plenty of versatility from the user to accept this manual height adjustment. However, for the sole purpose of running, the deck might be sufficient for its relatively low price.

Similar to the TR150

The biggest complaint runners have about the treadmill is its features' similarity to those of the TR150. Some even note the motor on these 2 treadmills is the same. When spending more, runners expect to get more features and even see a different running belt size, which isn't the case with these 2 treadmills.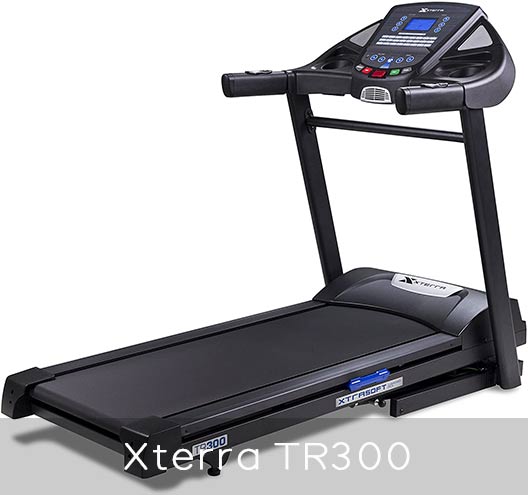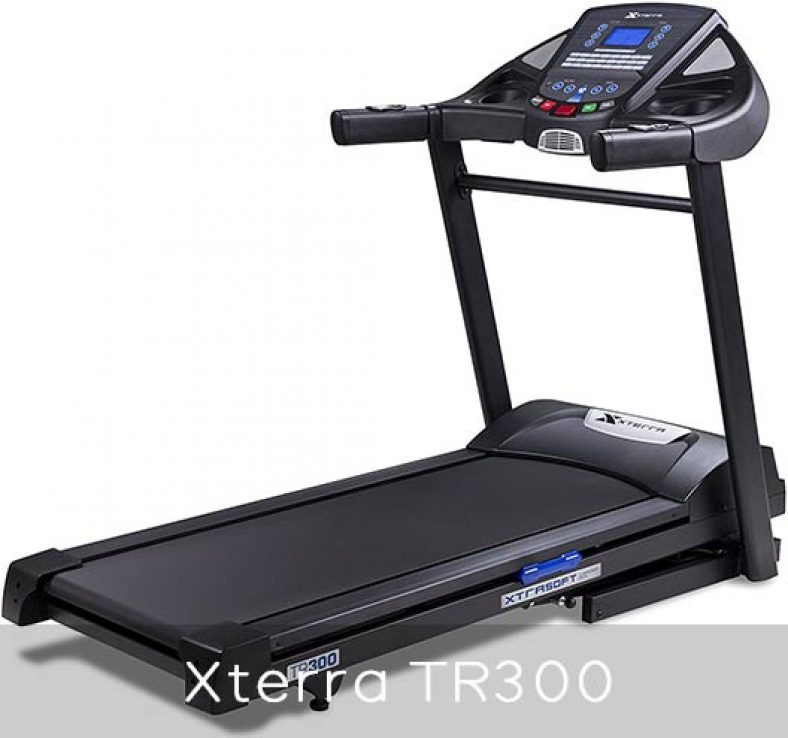 Runs on a 2.25HP motor
Designed with 72.2″ x 35″ x 54.1″ dimensions
Made with 2-ply 1.6mm belt
300lbs maximum weight capacity
It supports 1 custom program
Supports 10 incline levels
1-year deck warranty
Backed by a lifetime frame and motor warranty
Includes 24 preset programs
1 supported heart program
10mph maximum running speed
Made with built-in speakers and an audio jack
---
With the highest specification, the TR300 is the treadmill to consider when asking more from fitness machines. It might not be the perfect treadmill but it offers excellent workout variation.
Multiple preset running programs

24 preset programs recommend the machine for daily running variation. You can enjoy a new workout every day and one of them specifically targets heart health.

High weight capacity

At 300lbs weight capacity, the treadmill represents one of the most interesting additions to the TR line. It even works for overweight users who might struggle with the TR150 and TR200.

Strong treadmill belt

With 1.6mm thickness, the running belt is a bit stronger than on the 2 other treadmills. This also means it handles fast running paces a bit better. If you're the type of runner interested in sprints, it might be the best choice out of the 3 machines.

Runners who want to use various running shoes can also rely on this treadmill with its thick deck belt. It resists abrasion the most and even the most rugged running shoe outsole comes with little impact on the rubber running belt.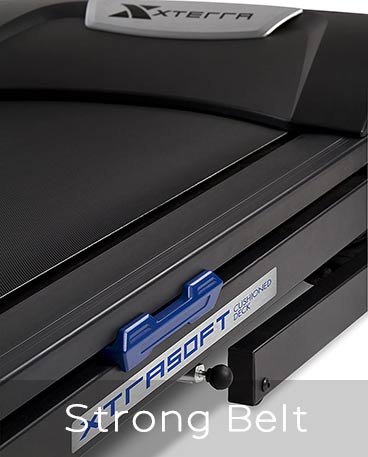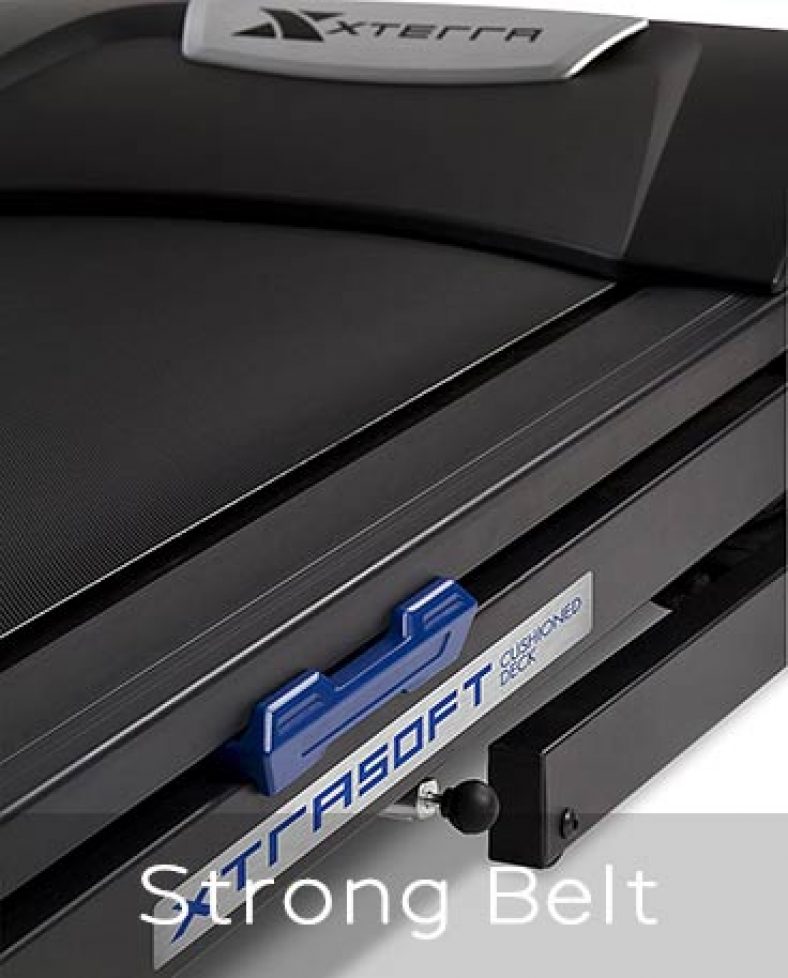 Even the high-spec treadmill has its limitations. Users can't understand its 10mph speed limitation and its noise level.
10mph maximum running speed

Without ever reaching 12mph, the treadmill is a bit below the leading performers at this price range. Most users don't have an issue with its speed limitations but experienced runners demand a bit more from the motor.

Noise level

By all standards, the cushioning system of the treadmill is too loud. It won't work for parents living with small children as they prioritize the quietness of the treadmill over all other characteristics.
Read our full Xterra Fitness TR300 Treadmill Review here.
How the treadmills compare to other Xterra releases
With so many great treadmills to choose from, Xterra seems to cover a wide range of skills. However, the brand now offers solutions for the dedicated runner as well.
With a larger 55" running area, the treadmill is made for serious running sessions. Most importantly, it features a more robust motor that supports a running speed of up to 12mph. Those interested in a frequent fast running pace are going to find it a bit better than the treadmills of the TR series.
The 6.6 treadmill also supports the running speed of up to 12mph. It features a larger 7.5" display which also makes it a bit easier to use. But the lift assist folding mechanism also recommends it for easier moving to and from the storage.
---
The Xterra TRX series includes TRX1000, TRX2500, TRX3500, and TRX4500. These 4 treadmills are built using 2 motors of 2.25 HP and 3 HP. The smaller motor used on the TRX1000, and TRX2500 is useful for the average user who only needs speed adjustability between 0 and 10mph. The larger 3 HP motor is a bit faster and it supports maximum speeds of 12 MPH for those who like sprinting.
Part of the Dyaco group, Sole treadmills can be an alternative to the Xterra Fitness treadmills. The Sole F63 and the Sole F80 treadmills are 2 of the popular options from the manufacturer.
Both treadmills offer superior running performance with a top speed of 20kmh. This enhanced speed of the treadmills is based on the 3 HP and 3.5 HP motors used in these treadmills. Furthermore, there are 15 incline levels to count on with these potent treadmills.
Which Xterra treadmill is best?
Occasional runners such as those who run every other day or just 2-3 times per week can rely on the TR150 or the TR200 treadmills. Those who want a bit more versatility and who might train every day can also consider the TR300.
Runners who want treadmills similar to those used at the gym will have to spend more to purchase the Xterra 6.4 or the Xterra 6.6. These treadmills are ready to support hours of running and they even come with the most comprehensive warranties.
For those who paying the treadmills in full price is not an option, there are various monthly payment plans in place to choose from. For the price of a gym membership, users can enjoy a treadmill at home.
---
Xterra Fitness treadmills are an affordable alternative to premium fitness machines many can't afford when building a home gym. Since they are so affordable, they can be used as alternatives to road running when the weather is far from perfect.
Running is known as one of the most efficient methods of burning calories and Xterra proves it doesn't have to be an activity depends on the weather or cost. For most users, the brand is the first contact with treadmills and this is why they're not overly complicated either. They might not be the quietest treadmills, but at this price, there's not much as which can be seen as a major drawback to worry about.