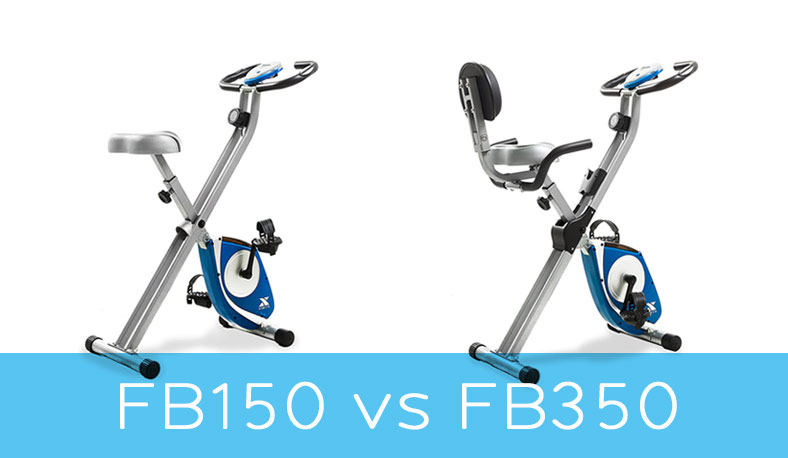 Choosing between the XTERRA Fitness FB150 and the FB350 Folding Bike is not as easy as it seems. Both fitness bikes support daily training with various levels of resistance. At the end of the workout, both of these bikes fold away for storage.
One of the biggest differences between the 2 recumbent bikes is their folded size. The bikes also feature different seats and different accessories. But at their core fitness training purpose, they are very similar. Here's how they compare in detail.
One of the visible differences between the 2 exercise bikes is given by their folded size. The Xterra Fitness FB150 Folding Exercise Bike has folded dimensions of 50.79in X 18.1in X 18.1in. The Xterra Fitness FB350 Folding Exercise Bike has folded dimensions of 50.5in X 20in X 20.5in.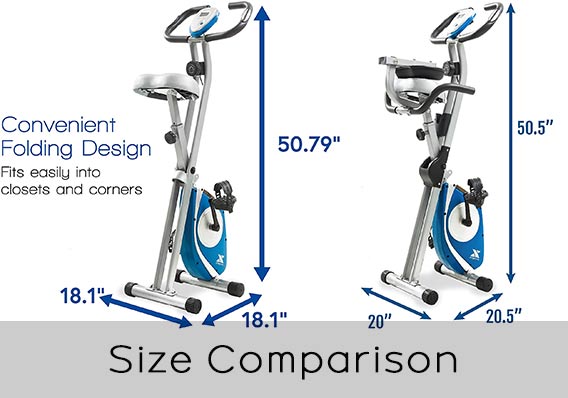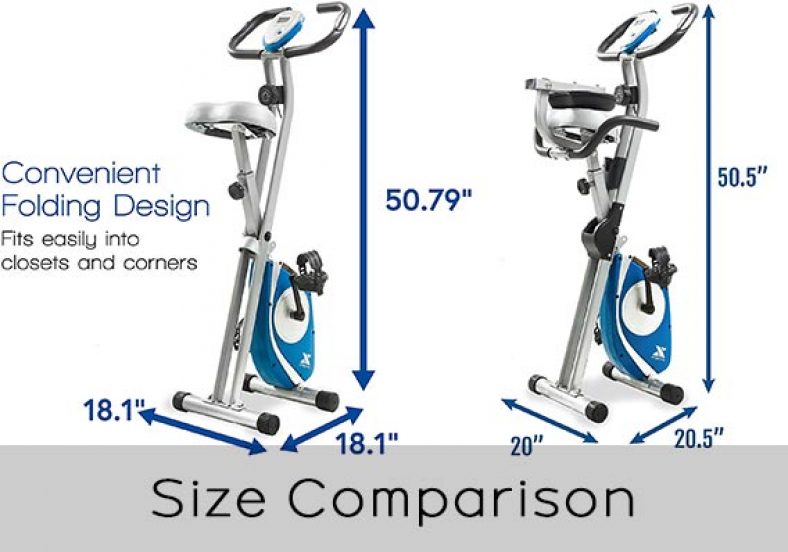 The size differences are small and they might not be a characteristic many users care about too much. An exception might apply to those who store the fitness bike in a closet or in tight spaces where the 2in in savings of the FB150 bike can make the difference.
However, even if the bikes have different sizes, they still both use reliable construction materials. The result of these materials is a high weight capacity of 225lbs on both bikes. While it might seem that FB350 is more robust due to its larger size, both bikes have the exact weight capacity.
Both bikes are powered by magnetic resistance. This type of resistance is known for its long-term use. It requires no maintenance as the magnet is unaffected by its flywheel proximity.
8 levels of magnetic resistance have been implemented on fitness bikes. However, these are not sufficient for anyone into serious training. Cycling professionals will not be able to get the most efficient workout they need out of these levels of resistance.
It's the home user that's going to benefit the most out of these magnetic levels of resistance. Furthermore, both bikes offer the type of adjustability which is suitable for the residential user. A plastic knob needs to be turned to increase or decrease magnetic tension and resistance.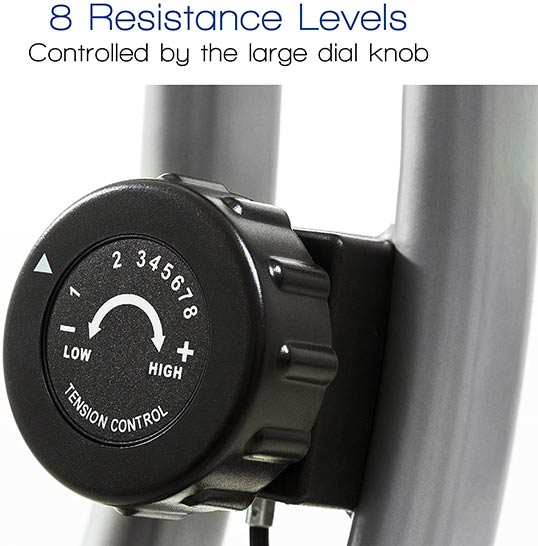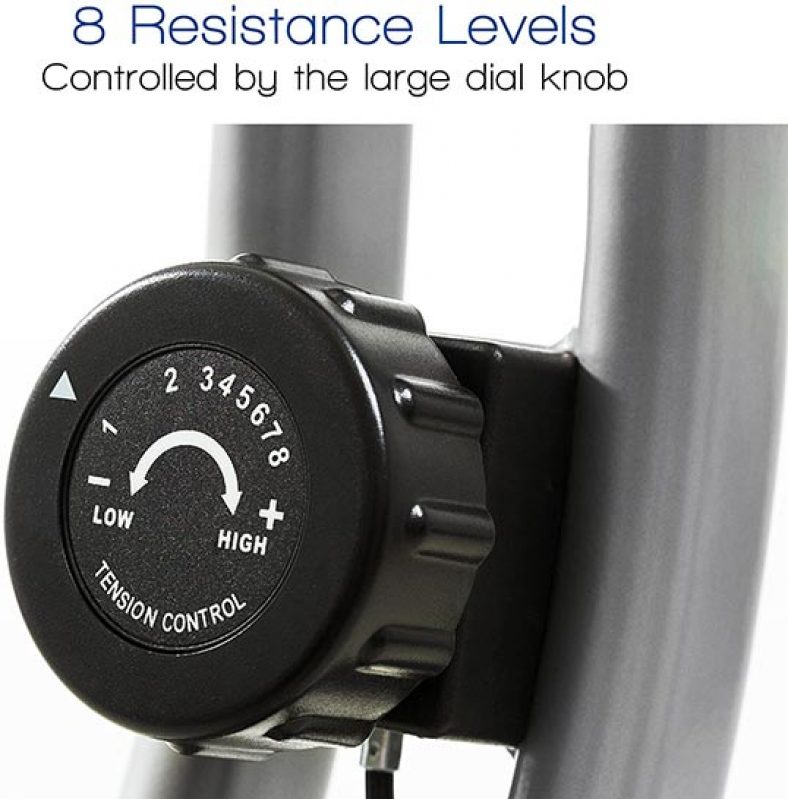 The knob is situated on the frame of the bikes. Turning the knob to the right increases magnetic resistance. The knob needs to be turned left to decrease magnetic resistance. The responsiveness is the same on both knobs.
The comfort of a recumbent bike is given by its cycling position and by its seat. But the seats on these 2 bikes are different and they can be a good indication of the type of users they're made for. The FB150 has an oversized padded seat while the FB350 has the same seat with an added backrest and multi-grip handlebars.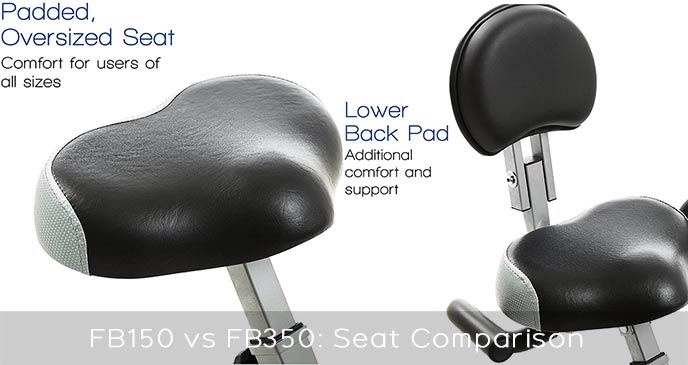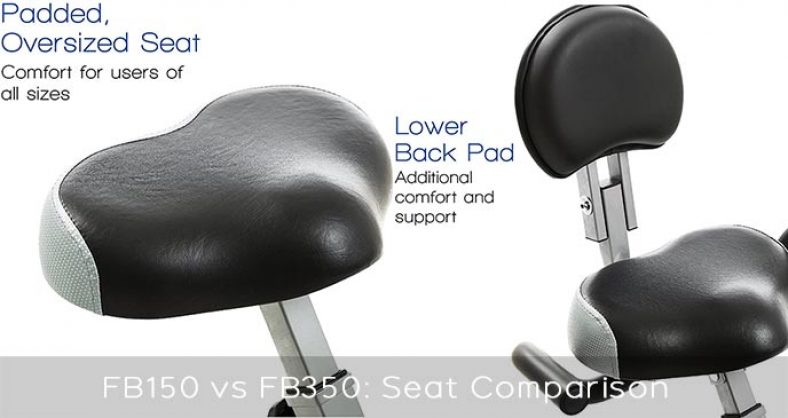 The cushioned seat of the FB150 is height adjustable. It fits users between 4'10" and 5'10" of up to 225lbs. Easy to clean and completely cushioned, the seat is comfortable. It provides the right platform for training in short or long cycling sessions.
One of the advantages of this seat is that it comes with no moving parts. This means that it can be a bit more durable by comparison with other seats which feature folding backrests as the one seen on the FB350.
But when it comes to the ultimate comfort and support, the FB350 is the best due to its large seat. With low back support, it resembles the classic recumbent bike design the most. It even features large handlebars to help users get in and out of the seat.
Its included low back support is what users need when facing issues of low back pain. But the seat is also useful to the elderly who need a bit more support while cycling. Fortunately, there are a few other options for seniors. The best recumbent bikes for the elderly all offer enhanced support and superior comfort compared to a performance seat or something professional cyclists would be comfortable with.
Both seats are anatomically designed. This means they offer good support in key areas. Unlike other recumbent bike sets, they'd don't become uncomfortable even after cycling for more than an hour.
No products found.
The FB150 has no accessories to count on for media players, smartphones, or water bottles. The FB350 has a small accessories pocket that may hold a smartphone. Useful to those who like to listen to music while cycling, the accessory pocket is easy to clean as it has a bottom hole as well.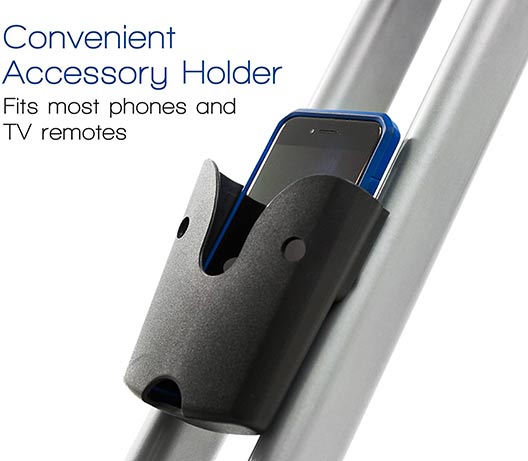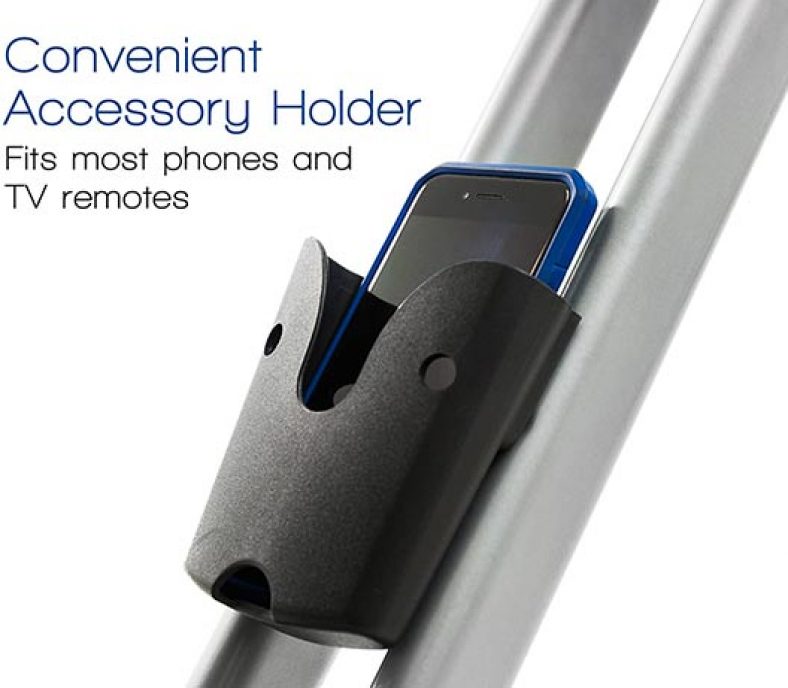 Unfortunately, both bikes are made without a water bottle holder. They could be better if they had a media tray as well. Some users prefer to surf the web on their tablets during long cycling sessions. Such accessories are not included on either of the bikes.
Xterra uses the same 2" X 1" display on both of these bikes. The digital display is not backlit and this can be an issue for many users who prefer to train at night. However, most people are cycling during the day when the screen is visible.
Speed is one of the variables shown on the display. It allows the users to point out the cadence of the cycling effort which is an essential variable in determining the exact effort put into the workout. Distance is also shown on the screen. It's the type of data that indicates the miles pedaled by the user. Without having to worry about other variables, it can be the best workout indicator to assess effort.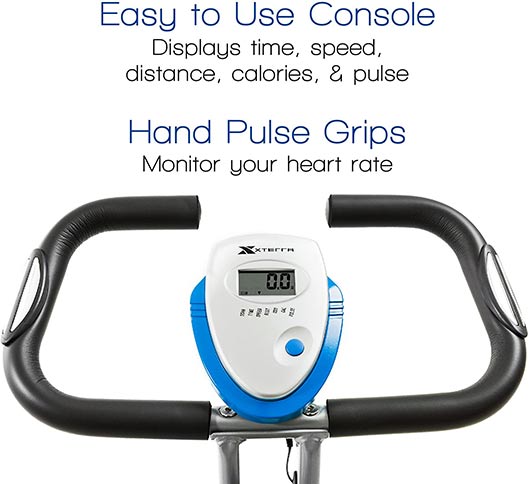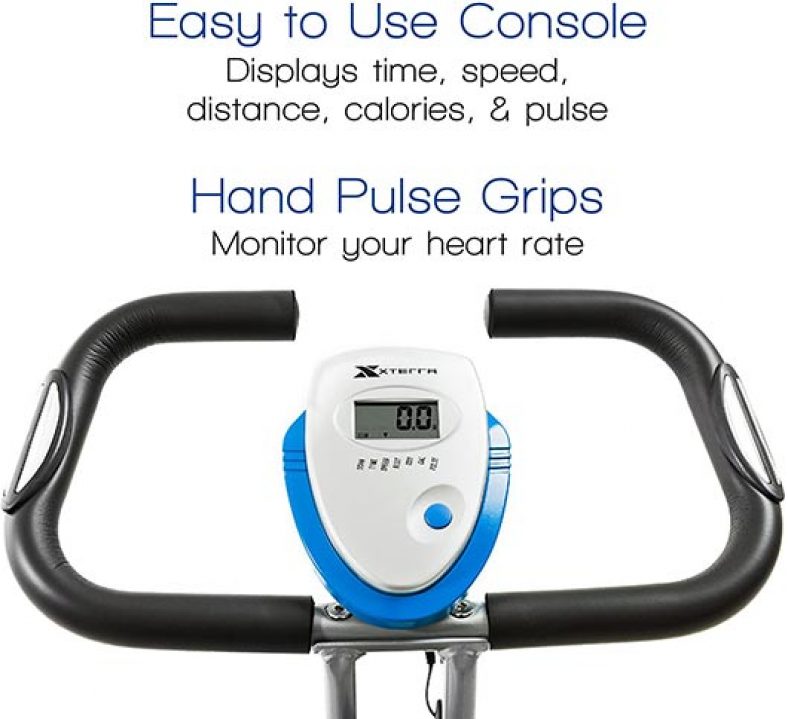 The time spent on the bike is also shown on the digital display. If users set their minds to pedaling for an hour, it might be the only indicator worth having a look at. But time spent on the bike might not be very conclusive for workout effort and intensity and both bikes' users need to consider other variables to determine workout effort.
One of those variables is calorie counting. The amount of burned calories can be the best indicator shown on both bikes. Users can set their cycling objective of burning a few hundred calories on their bikes with each cycling session.
Both the FB150 and the FB350 come with integrated handlebar pulse grips. Made to measure heart rate, pulse grips are a good cardiovascular health indicator. They show the clear benefits of cycling for fitness.
Without pulse grips, it would be difficult to measure fitness progress in time. However, pulse measurement is very simple on these bikes. Users need to hold the grips for them to measure heart rate. There's no chest strap compatibility as with pro-level alternative bikes.
The benefits of the FB150 and FB350 Xterra bikes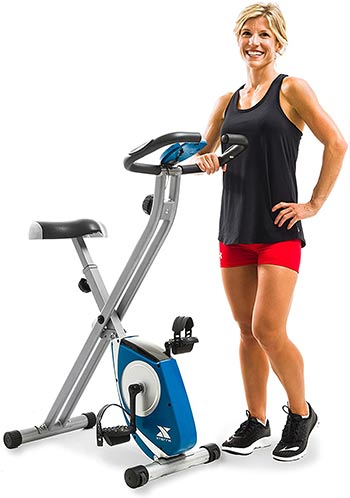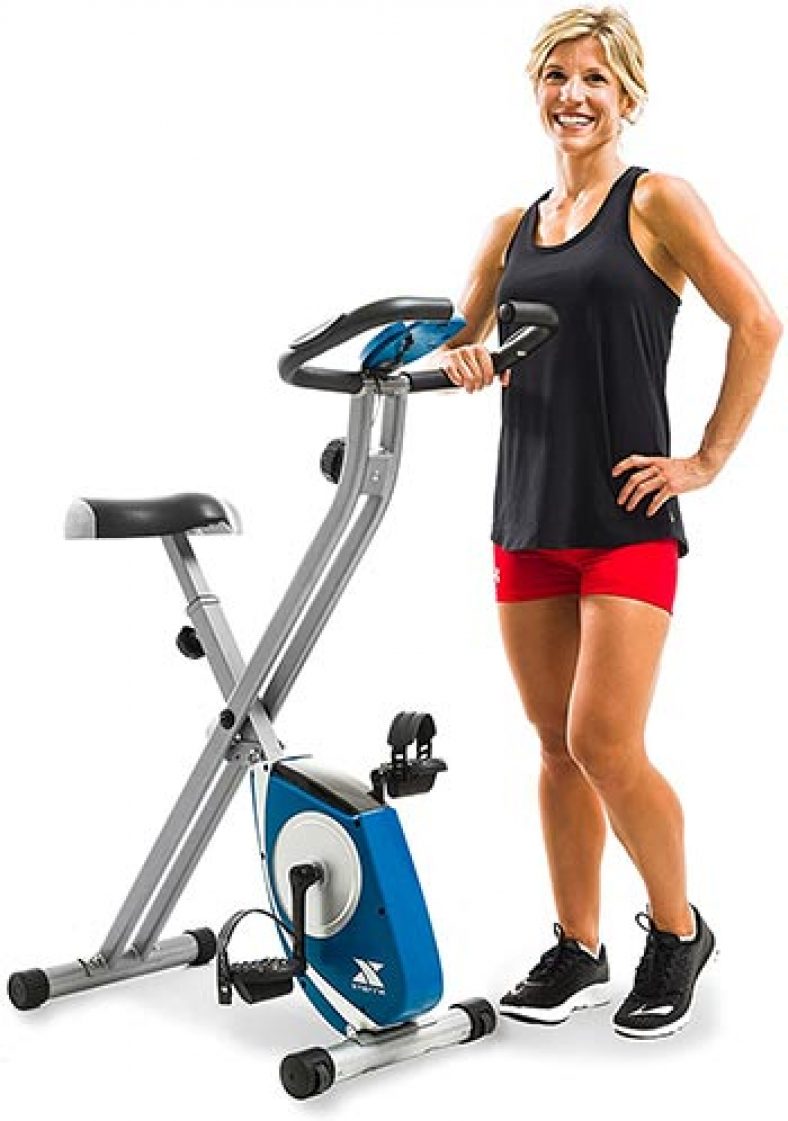 Both bikes can be useful if used correctly. But there are a few situations where they might need a bit of adapting, such as not having the highest levels of resistance for those with years of training experience behind them.
Space-saving designs

One of the main reasons to buy exercise bikes is their space-saving designs. Folded for storage, they are useful for home users without a dedicated gym room, which is the case for most houses. The space-saving design of the bikes also makes them a bit more mobile than most recumbent bikes. They can be placed in front of a TV, out on the patio, or even in the backyard for summertime training. With an assembled weight of 32lbs and 42.3lbs, the exercise bikes are not heavy. Users can cycle in a new spot around the house with every training session which keeps motivation high.

Magnetic resistance

Magnetic resistance is known for its reliability and it's at the heart of both exercise bikes. The magnetic resistance of the bikes makes them a bit more versatile than users expect. They require no maintenance and the resistance levels are always the same, unlike with the user-defined air resistance alternatives.

Easy assembly

Assembly is easy for both bikes. Xterra estimates both of them can be fully assembled within 30 minutes. For this reason, the manufacturer provides a 7-step assembly guide so that every user can have the bikes ready for pedaling without too much effort. Professional assembly is also available for select areas of the country. However, professional assembly is not included in the price, and users need to pay more to have a handyman come over to put either of the bikes together.
No products found.
The drawbacks of the FB150 and FB350 Xterra bikes
Not everything is perfect with the 2 bikes. They might be practical, but they have their weak points as well, as follows.
Not sustainable for pro athletes

Professional athletes need recumbent bikes which are closer to those seen in commercial gyms. Higher resistance levels, multi-point seat adjustment, water bottle holders, and more robust construction is what these types of home trainees are after. For the average user, the bikes work with no issues but they lack the support needed for pro-level training.

Athletes or those with sufficient experience in exercise bike training need a bit more adjustability for long intense workouts. An exercise bike such as the Sunny Health & Fitness 49 Lb Chromed Flywheel includes 4-way seat adjustability, 2-way handlebar adjustability, caged pedals for extra support, water bottle holders, and a 49lbs flywheel to gain cycling momentum similarly as on a real bike.

Limited maximum user weight

While both bikes have a maximum user weight of 225lbs, they're not the best for tall overweight users. Those looking to lose weight who are above this maximum capacity should not use these bikes and look for alternatives elsewhere. Warranty doesn't cover higher weight users and the problems they can come with.
How the FB150 and FB350 Xterra bikes compare to other exercise bikes?


In a direct comparison, Xterra fitness folding bikes are very similar to other leading bikes. But they fall short on maximum weight capacity. Here are a few viable alternatives.
Exerpeutic Folding Magnetic Upright Bike
Exerpeutic's magnetic bike comes with a higher weight capacity of 300lbs. It also uses 8 levels of magnetic resistance based on folding frame design. But its advantage over Xterra's bikes is the higher user weight capacity. The folding exercise bike is superior to overweight users.
Slim Cycle 2-in-1 Stationary Bike
Slim Cycle's recumbent bike also comes with 8 levels of magnetic resistance. However, it's a bit more modern with its large control panel with a larger display. But its main strength is the added resistance bands. They can be used for upper body workouts while cycling. Limited by the ability to train at home in tight spaces, the added bands offer a full-body workout on an exercise bike. However, this bike is not one of the professional levels either.
BCAN Folding Exercise Bike
BCAN's bike is very similar to the FB350. It includes a backrest and seat-side handlebars for added practicality. But it also comes with a higher 330lbs weight capacity. Overweight users might be tempted to use this bike instead, just for the extra strength and support of the bike's frame.
Magnetic tension is unlimited on the bike. A large tension knob adjusts user's efforts and it represents one of the most reliable options for custom resistance. It is not a resistance system that can be relied on by pro athletes either, as the bike is made for residential use.
Recommended reading:
Both Xterra's bikes and those form Excerpeutic, Slim Cycle, and BCAN can be used at home. Since pricing is important when making a purchase, choosing the right bike is crucial to saving money.
For users under 225lbs, Xterra's bikes are the right option as they even benefit from a folding design. Overweight users might need to look elsewhere to bikes such as the BCAN Folding Exercise Bike with its high weight capacity above the 300lbs mark.
Otherwise, the way in which these bikes are used is similar. Both the FB150 and the FB350 bikes come with simple use which allows users to lose weight or get in shape. For most users, the FB150 is sufficient to power workouts. The elderly or anyone going through a period of low back pain might benefit more from the extra-supportive FB350 folding bike instead.