Some people think affordable rowers don't exist. But the Xterra ERG200 is a rower that is capable and that also comes at a very low price.
This article explains why you shouldn't overlook it if you're looking to train without spending thousands on professional-level rowers.
Xterra is known for its wide range of fitness machines. The ERG200 is among those that are popular. You might have seen it before as its foldable design recommends it for all types of spaces, particularly small homes.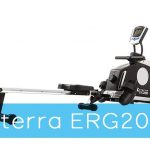 How to integrate a rower in your training schedule
If you're considering the ERG200, you are probably among the users who are new to the training scene. This means you need to understand if you can and how you can integrate it into your training schedule.
Rowing machines can be used in cross-training workouts. These are the types of workouts that stand out among the best when it comes to efficient calorie burning. You can consider the rower with other resistance training exercises such as those performed with dumbbells for a more athletic physique.
But rowers are efficient fitness machines that can be used on their own as well. You can consider using them if you're solely looking for a cardiovascular workout that mainly targets fat burn and cardiovascular endurance. If you're a runner, you can also use a rower to improve your cardiovascular endurance.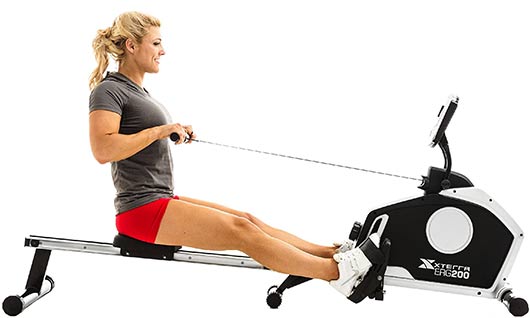 A rower can also be the sole training machine you consider at a certain age where joint mobility isn't the best anymore.
Since you're in seated positions and your feet don't ever leave the pedals, this machine might be among the few you can use regardless of your age.
Now that you know how a rower can be integrated into your training routine, let's have a look at the ERG200, its features, and how it helps you achieve your workout goals.
Xterra ERG200 rower features
Designed with a folding frame
Based on a 9lbs flywheel for better momentum
Made with adjustable straps on the foot pedals
Designed with 8 magnetic resistance levels
Includes a padded rowing handle
It measures 71.9" x 20.7" x 31.5" when unfolded
Made with a 3.7" LCD console
55.1lbs weight
There are 8 resistance levels on the rower. Xterra added a simple resistance adjustment knob on its rower that allows it to feel different depending on your strength and resistance. The lower the number, the easier it is to row. On the other hand, you might even need to look at these resistance levels as progress indicators. At first, most users struggle rowing on the highest resistance levels for more than a few minutes.
You can also alternate the resistance levels multiple times during a free rowing session. In theory, this approach is going to be the most demanding as you have to adjust to a different rowing rhythm multiple times during the same training session.
With folded dimensions of just 36.4" x 20.7" x 47.3", the rower is made for small rooms, small homes, or tiny apartments. You don't need to have a dedicated room for your rower as it folds up when not in use. This doesn't impact its weight capacity as it still holds up to 250lbs easily.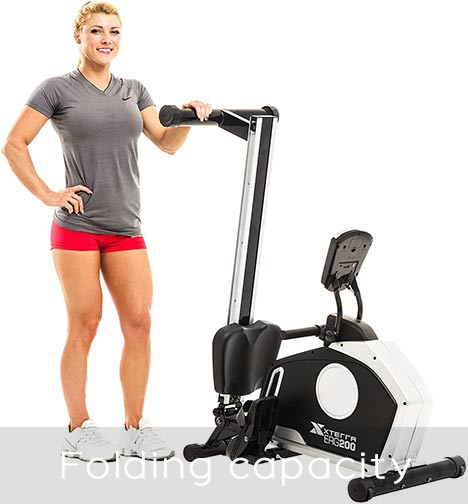 The ERG200 works on magnetic resistance. A magnet travels closer and further from the flywheel making it easier or harder to grow. This system is easy to put in place and as a result, it's also a bit cheaper which allows the rower to be available at a fair price in the first place.
Is this the best type of resistance on a rowing machine? Probably not as water resistance is more realistic. But for the purpose of a simple home workout, the magnetic resistance system on the ERG200 is worthy of praises.
It's not that Xterra can't use other types of resistance on its rowing machines. The following sections show just how good the manufacturer is at delivering products that work with different resistance systems. But the ERG200 is a simple rower that is going to work wonders in burning calories and not in mimicking real water rowing sensations.
Oversized foot pedals and their role
Even if it's a rower that works with magnetic resistance, the ERG200 is still delivering a sweaty workout for most users. You can rely on it yourself if you want to burn calories efficiently. In fact, you can row at high speed given the foot pedals come with adjustable straps that keep your feet in place.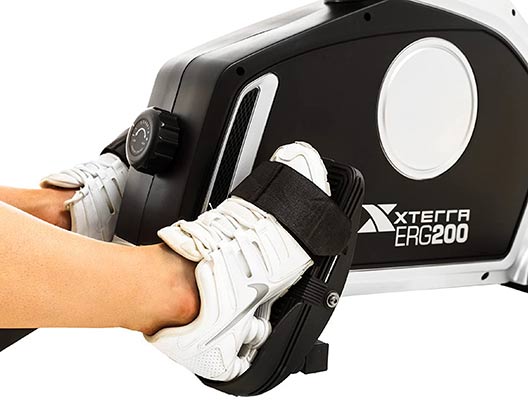 The anti-slip materials on the pedals ensure you can row at high speed constantly without slipping. Even if it's made for beginner, it still uses such design characteristics seen on medium to high-end rowers.
Xterra Rower Training Programs
While it might be one of the most affordable rowers you could find at the moment, the Xterra ERG200 is a fantastic tool for workout variation. As a beginner, you simply want to start rowing. But soon after endless stroke counts, you'll realize you need a goal and ways to measure your effort alongside something to make each workout different. This is where the workout goals come into place.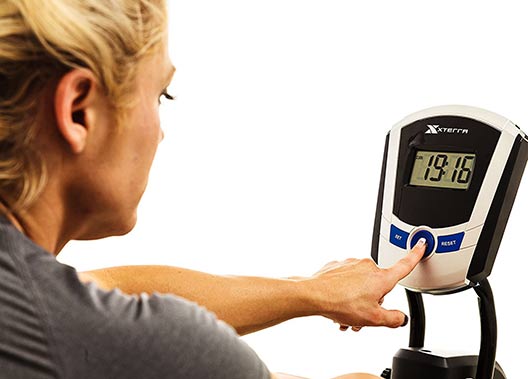 The programs of the ERG200 start with the time goal, which is also the easiest to understand. You set a specific time on the rower's console and you don't stop until the stopwatch reaches that time goal. This is a simple method that may teach you how to overcome your personal best when judged by time.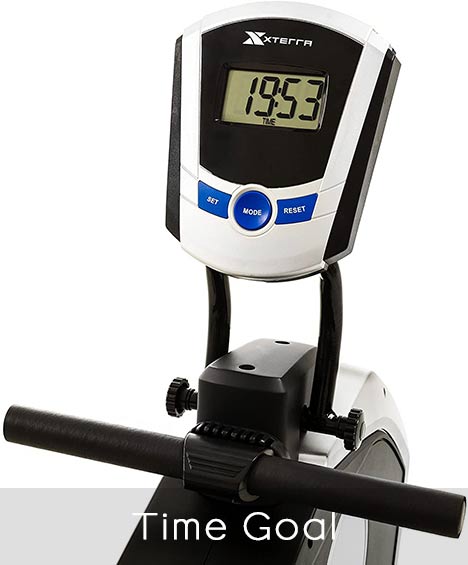 Setting a distance goal is also important. You find that your distance is going to be a bit shorter when you begin your training as your stamina is still low. This goal allows you to set a distance such as 4,000 feet and continue rowing until you reach that distance. In time, your goals increase as the rowing distance you're capable of increases as well.
A count is a complete handle pull on the rower. The fitness machine already has an onboard computer that keeps track of the rowing count on every workout. As a result, you can have an entire workout simply based on the count of your rowing. You can set 2,000 counts and start rowing independently from other workout parameters such as time.
One of the most important programs is the calorie goal mode. This tracks the number of calories you burn during a specific workout. You can set a particular goal such as rowing until you burn 100 calories. For beginners, this is going to take a bit longer. But at the same time, this is the most specific training mode to help you burn fat and get fit.
Another workout the rower support comes with free training or free rowing. There's no certain parameter to reach and Xterra allows its rower to work as long as the user want. This general-purpose training mode is going to be the best on the days when you don't feel as competitive.
How it compares to other Xterra rowers
Xterra has a wide range of rowers which are worthy options for beginners. Here are a few of them which are in direct competition with the ERG200.
Xterra Fitness ERG160 Rower
The ERG160 rower comes with an integrated water bottle holder and an adjustable display angle. It shares the same 250lbs weight capacity with the ERG200. However, it doesn't come with a folding design, which can be an issue for small homes.
Xterra Fitness ERG500 Air Turbine Rower
Based on air resistance, the ERG500 is one of the most powerful options from Xterra that simulates actual rowing. The air resistance principle of the rower is what allows it to offer more resistance the harder you pull the handle. But the rower is more expensive than the ERG200.
Xterra Fitness ERG650W Water Rower
Rowing still is a water sport. The ERG650W uses water resistance for the most realistic rowing simulation you can have at home. Professional rowers train with water rowers and this speaks about their quality and smoothness. However, Xterra's water rower costs considerably more than its magnetic and air resistance alternatives.
A solid workout is always possible on the Xterra ERG200. While it has a few shortcomings such as the LCD display with no backlit function, it's also one of the most affordable rowers on the market at the moment. For many users making excuses about how expensive fitness machines are, this is the best option to start training efficiently.
The rower is intended for home use only, however. It doesn't have multi-user support or multimedia integration normally seen in the rowers at commercial gyms. As a beginner, you don't need those extras anyway. Assembling the rower is easy and you can do it yourself following Xterra's instructions. Since it's also one of the lightest rowers on the market, it's also very easy to move. You can train in a new room around the house every day, which can be a great motivation or a method to add variety to your workouts.