Developed by Dr. Jaquish to help his mother improve bone density, the X3 Bar Elite is an innovative tool used to help build faster and easier than the conventional free weight or resistance band.
What makes the product unique is the ability to achieve muscle fatigue in a shorter period of time, with less strain on the joints.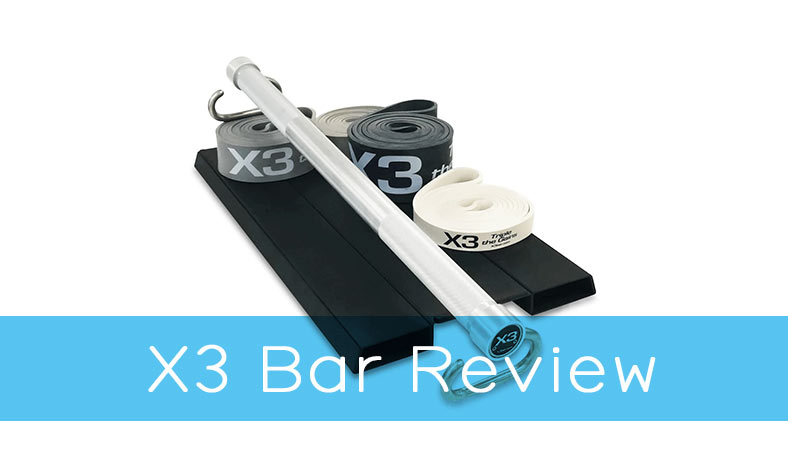 How to use the X3 Bar Elite
When you first invest in the X3 Bar Elite, you might be wondering if you'll even use it at all. I mean, why not use traditional equipment like you always have? The X3 Bar Elite is pretty much a resistance bar with a Thera-Band wrapped around it. How could this possibly work better than traditional equipment?
It can and it does. According to the creator of the product, Dr. Jacquish, the X3 Bar Elite increases your muscle gain as much as three times faster than traditional gym equipment. The X3 Bar Elite uses variable resistance. In a sense, this means you are performing muscle stabilizers the entire work out which increases growth hormones.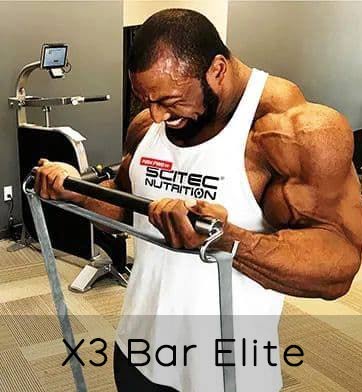 When you purchase the X3 Bar Elite it comes with three pieces of equipment:
The bar
Four types of resistance bands
The foot plate
This doesn't sound like much on paper, but when you put it all together, the resistance style workout is what produces the quick results, not necessarily the equipment itself.
There are various ways to utilize the product. Dr. Jaquish provides multiple training videos demonstrating proper usage. He describes the repetitions using 'zones' to help assist users to achieve muscle fatigue. Zone A (full extension) is the first, allowing the user up to 500 lbs of weight resistance. Once Zone A is too strenuous, the user moves to Zone B (half extension) the second, providing up to 300 lbs of weight resistance. Zone C, which is closest to the body, is the last zone for achieving muscle fatigue. This zone provides up to 100 lbs of resistance.
The Ground Plate supports over 500 lbs of weight.
The Resistance Bands Provide over 300 lbs of weight tension (over 500 lbs with the X3 Elite Band).
Complete a home gym system for full-body workouts.
12-week workout program.
Limited product warranty: 1-year warranty for X3 Resistance Bands. 5-year warranty for X3 Ground Plate and Bar.
The appearance of the X3 Bar is very sleek. The bar appears to be lightweight and very sturdy. It is made of alloy steel, so there is some 'solid' weight to be expected. The X3 Resistance Bands look very similar to traditional ones but seem to be thicker, which aligns with the claim that they provide more resistance. The X3 Ground Plate seems very sturdy, yet with a sleek design. The products provided in this system don't appear to be bulky or heavy, which is great for transporting them from place to place.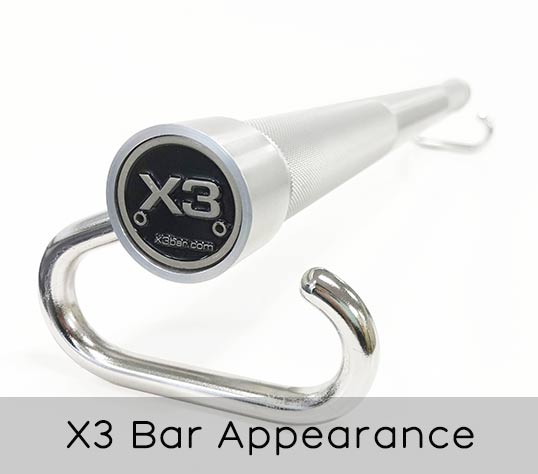 The X3 Bar can be used by individuals of various ages and fitness levels. This is because the X3 Bar provides less strain on the joints. The system is able to aid users in achieving desired results quicker due to the strength of the latex bands. The X3 latex band provides 50-100 times more strength training than ordinary resistance bands.
There is no readily available maintenance information provided about the X3 system on the website. It can be assumed that the maintenance would be similar to that of traditional work out bars and resistance bands. There is hardly any assembly required to use this product. Simply slip the X3 Resistance Bands onto the hooks of the X3 Bar, and you're good to go! No tools are necessary, even with the Ground Plate. Your feet are used as anchors to hold the plate in place. This helps in making it very user friendly and quick to use.
X3 Elite Bar
Ground Plate
4 Custom Resistance Bands
X3 Elite Band (sold separately)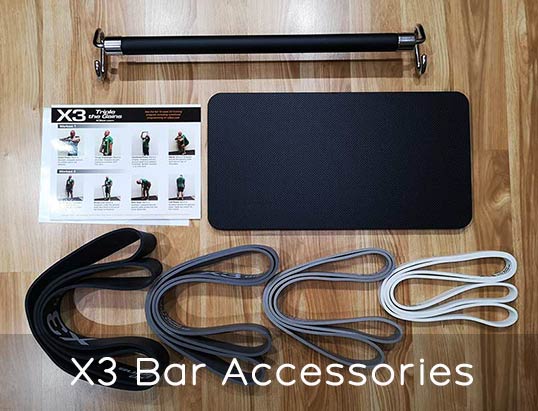 The price point of the X3 Bar Elite begins around $500. This is not the cheapest piece of equipment on the market. But, this equipment comes with greater resistance training and a 12-week program designed to help the user obtain optimal results. Similar equipment does not offer the level of resistance the X3 Bar Elite does. There are a lot of gym memberships that won't cost as much after a year. However, continual usage of the membership will eventually exceed the price point of the X3 Bar system. In addition, training is usually an additional cost but is provided with the X3 Bar system.
With high resistance levels and low impact on the joints, many users are more than pleased with the tension provided by the X3 Bar Elite system. The ability to get a great workout in a shorter time frame is also very appealing to the user. Although there are many workouts demonstrated with the product, some users feel that the X3 Bar and/or Resistance Bands feel "awkward" or aren't possible for them to do. This is mainly because both the X3 Bar and Resistance Bands are one size fits all. Although few in numbers, some users are also concerned with how quickly the X3 Resistance Bands developed wear and tear.
Ability to get a great workout faster due to stronger resistance in bands.
Great for building muscle and strength training.
Demonstrable videos provided to teach the user how to use the system.
A 12-week training program included. Which also provides advance workouts, diet and food prep tips, advice for better sleep, and more.
It provides beginner-friendly form tips.
Portable equipment allows the user to work out anywhere.
More resistance with less damage to the joints.
The X3 Bar and Ground Plate provide the ability to withstand high workout forces- exceeding 500 lbs.
The X3 Bar was built to help the user maintain grip throughout the workout
4 resistance bands provided for various fitness levels. With an additional X3 Elite Band for more intense training available.
Recommended by over 90% of its customers.
No tools are required for assembly.
Limited warranty with a lot of exclusions. Which also excludes frays on the Bands even if they happen soon after initially using the product.
Limited to only muscle building and strength training.
Meal prep and diet tips only cater to those who are meat-eaters, excluding vegans and vegetarians.
The X3 Resistance Bands provide various levels of resistance but do not range in size for various heights.
Questions of Potential Buyers
1. Why is the X3 more effective than free weights?
The weight of the free weight doesn't change unless you grab a different weight. With the X3 Bar system, the resistance varies, with less resistance during the user's weaker reps and more with stronger, fuller ones. This also helps to limit the impact on the joints.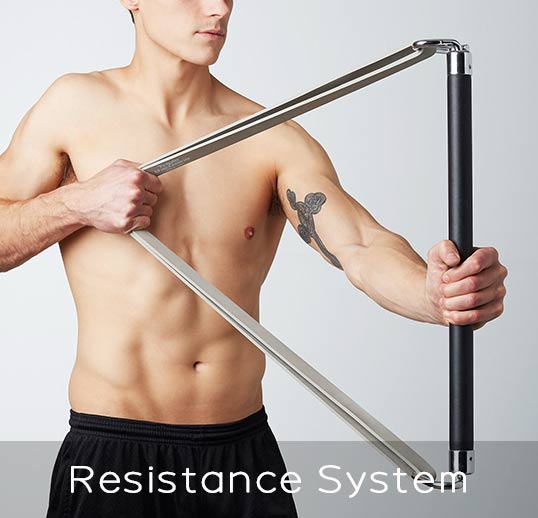 2. What is the difference between X3 Bands and other resistance bands?
The X3 bands are designed with layered latex to withstand the force of over 500 lbs allowing for higher intensity in workouts. Other resistance bands are made of petroleum-based material and aren't able to handle that type of force, limiting the intensity of the workout.
3. Why do I need the bar, can't I just use the resistance bands?
The resistance bands have a lot of tension, which can cause damage to the joints if used solely. The bar takes the pressure off of the wrists and ankles.
4. What does the Ground Plate do?
The Ground Plate allows users to anchor the bands for workouts such as squats, deadlifts, and curls. The Ground Plate also provides the user with a wider base to loop the bands, providing better support underneath the feet.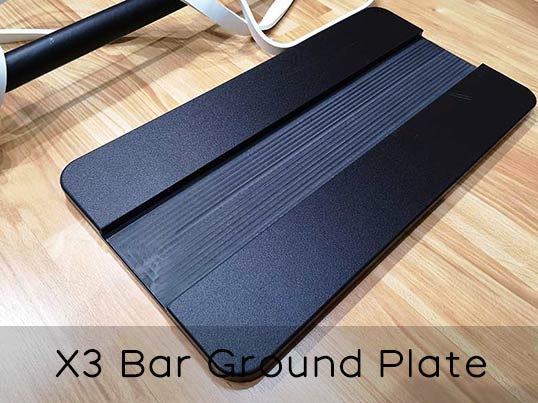 5. How many repetitions per set should I do with the X3 Bar?
15- 40 reps per set. If you are unable to complete 15, go to a lower resistance band.
6. How many sets should I complete with the X3?
One set is all you need with the X3 Bar Elite. The science behind the system maximizes the amount of force being applied to the muscles, allowing muscle fatigue to happen quicker.
X3 Bar Elite Product Comparison
Versatile and offering an interesting training solution, the X3 Bar has its drawbacks as well. One of the biggest issues of the product is its stock level. If you're expecting it to be in stock all the time, you might be left waiting for a few weeks or even months.
Most importantly, the X3 Bar is expensive. It costs $549 for its Elite version, which is a bit more than most users are willing to spend on such a bar. You shouldn't have to spend as much on a training system that is often complementary and which is rarely used on its own without other fitness gear.
Since the X3 Bar can be a bit pricy for some fitness enthusiasts, we found 6 worthy options worth your attention.
Gorilla Bow vs. X3 Bar Elite
Gorilla Bow Features
The bar is shaped like an archery bow, is 56 inches, and weighs 6lbs.
The bar is able to handle a tension of up to 300 lbs.
The Gorilla Bands provided allow the tension of up too 110 lbs.
Similarities
Differences

Both systems provided 4 resistance bands of various tension levels.
Both use a bar feature to reduce strain on the joints.
Both provide workout videos.
Both are portable

The Gorilla Bow comes with an accessory case for storage and Gorilla Bow band wrap.
The Gorilla Bow provides customers with a library of free workouts, but it's shipped separately.
The Gorilla Bow resistance bands only provide the tension of up to 110 lbs. Whereas the X3 Bar Elite resistance bands provide tension exceeding 300 lbs (over 500lbs for the Elite Band).
The Gorilla Bow can only handle the tension of up to 300 lbs vs. the X3 bar, which can handle over 500 lbs.
Body Boss 2.0 Home Gym vs. X3 Bar Elite
Body Boss 2.0 Home Gym Features
This product comes with an instruction manual with visuals, accessories bag, fold up VectorFit Base that can support up to 500 lbs of force, collapsible workout bar, 1 set of 2 Handles, 1 set of 2 wrist/ankle straps, 2 customizable cloth resistance bands, a door anchor with ring and a free 3-week workout program.
The resistance bands are adjustable. Providing around 30 lbs of tension with normal length and between 70- 80 lbs when you shorten them through the 10-point anchor system.
Similarities
Differences

Both products come with base and resistance bands.
Both products provide free training programs.

The Boss Body 2.0 system has two individual bands instead of one increasing the number of various workouts.
The X3 Bar Elite system provides more resistance bands and is able to support more weight tension than the Boss Body 2.0.
The X3 Bar Elite system provides you with a 12-week program, whereas the Boss Body 2.0's program is only 3 weeks long.
Sugar.fit Candy Bar vs. X3 Bar Elite
Sugar.fit Candy Bar Features
The bar is made of high-quality precision structure steel that is able to withstand weight over 600 lbs from a 41'' resistance band.
The footboard is made of marine-grade plastic (HPDE) with rubber feet allowing its user to focus on high-intensity workouts.
Similarities
Differences

Both provided a reduced impact on the joints.
Both utilize a 'bar' and 'base' system for excessive weight resistance (over 500lbs)
Both provide YouTube exercise videos.
Both are portable.

The Sugar.fit system is a bring your own resistance band system, whereas the X3 Bar Elite provides 4 resistance bands.
The X3 Bar Elite has a 12-week program to follow, whereas the Sugar.fit system only has 9 workout videos.
The Sugar.fit system is substantially cheaper than the X3 Bar Elite.
The Tension Toner is considerably more affordable but it still supports over 70 exercises. What we like most about it is that it comes with a split bar design. You can easily pack it to your travel bag so that you stay active while away from home and away from the gym. At a length of just 16 inches, this bar is your perfect travel companion that works all major muscle groups.
Another good alternative with a different approach is the OYO Personal Gym. It still offers resistance training based on SpiraFlex resistance technology used by NASA astronauts. The resistance this split bar generates is perfect for a wide range of exercises such as biceps curls. But the fitness tool is something many women would feel comfortable with as it offers an incredible inner and outer thigh workout.
If you're new to resistance training, you'll love the Bodygym Core System. We appreciate it as the only product in its class that comes with a printed exercise guide right on the bar. You can see the exercises to perform with this bar and bend setup which is a fantastic advantage when you're a bit unsure about where to start your workouts. It even comes with its own travel bag so that you can visit your favorite holiday destinations without losing your strength gains.
The X3 Bar Elite system surpasses its competitors in not only quality but in efficiency as well. The product provides users with a wide array of workouts and can be used to strengthen any part of the body. While the price point is higher than similar products, the X3 Bar Elite offers more in terms of resistance, education, and quality. This is a great product for anyone who is looking to build muscle and strength without spending hours a day in a gym.