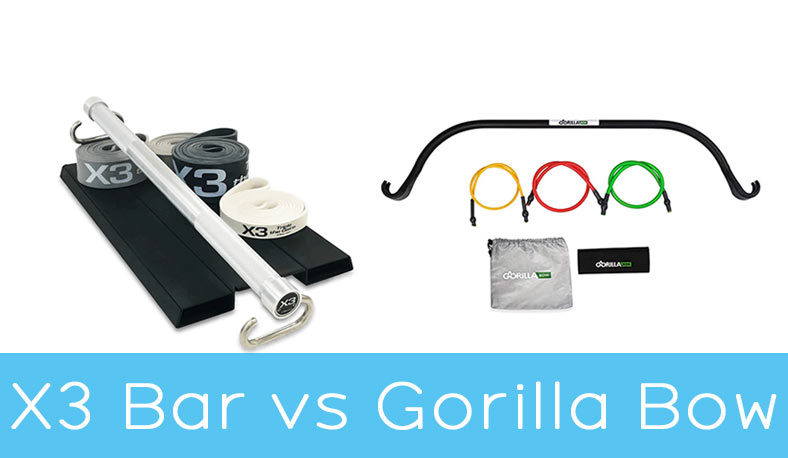 Training with resistance bands is not new to fitness. Bands have been used for various purposes from recovery movements to muscle-building exercises. These and other types of exercises are supported by the X3 Bar and Gorilla Bow resistance training systems.
Including a simple bar and various resistance bands, these systems are similar at their core, but they differ in design and exercise versatility. Both aim to offer a complete full-body workout plan but they also struggle in a few areas, such as offering tension with the entire range of motion of certain exercises.
The X3 Bar markets itself as a full exercise solution. The entire setup includes a 500lbs-capacity bar, a ground plate with similar load capacity, and 4 resistance bands with different resistance levels.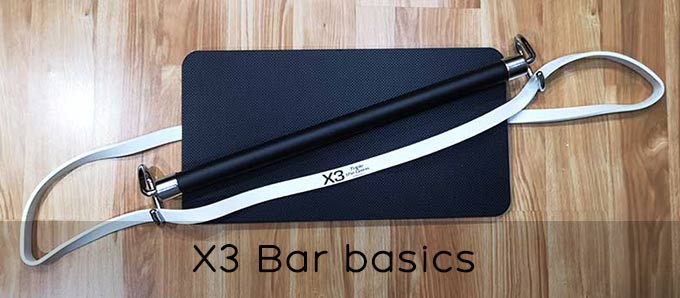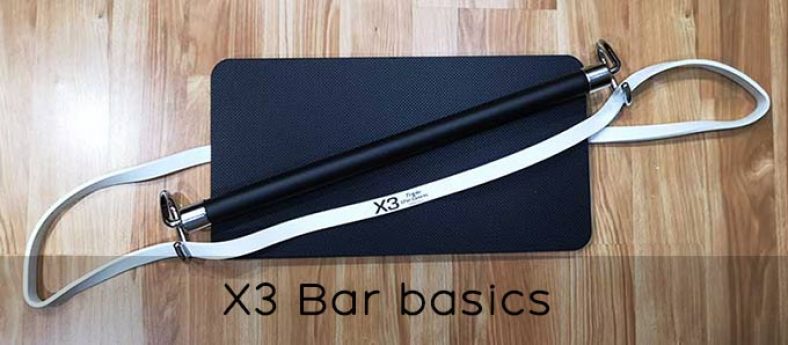 These tools are used to perfume basic resistance bands exercises such as back rows, biceps rows, triceps extensions, etc. Many of them are performed with the user standing on the plate for extra stability. Otherwise, a comprehensive list of exercises is included in the 12-week training program which comes with the X3 bar. This program includes
Entry-level training tips
Advanced workout techniques and exercise examples
Information on when to practice (in relation to full-body workouts)
Nutrition information (what and when to eat in order to see maximum training benefits)
Healthy food recipes with just a few ingredients
Basic information on sleeping and the importance of
The benefits of the X3 Bar
The X3 Bar offers a compact training system that can be used both at home and while traveling. Using a strength bar and resistance bands, it opens up more exercise options compared to resistance bands on their own.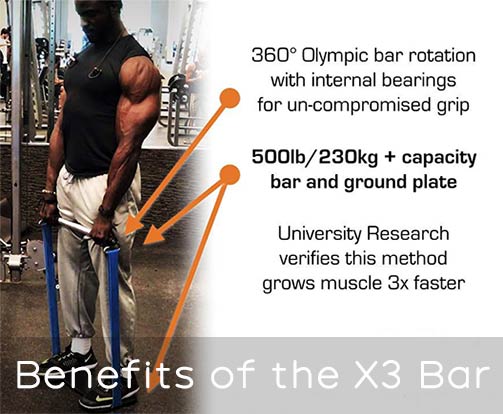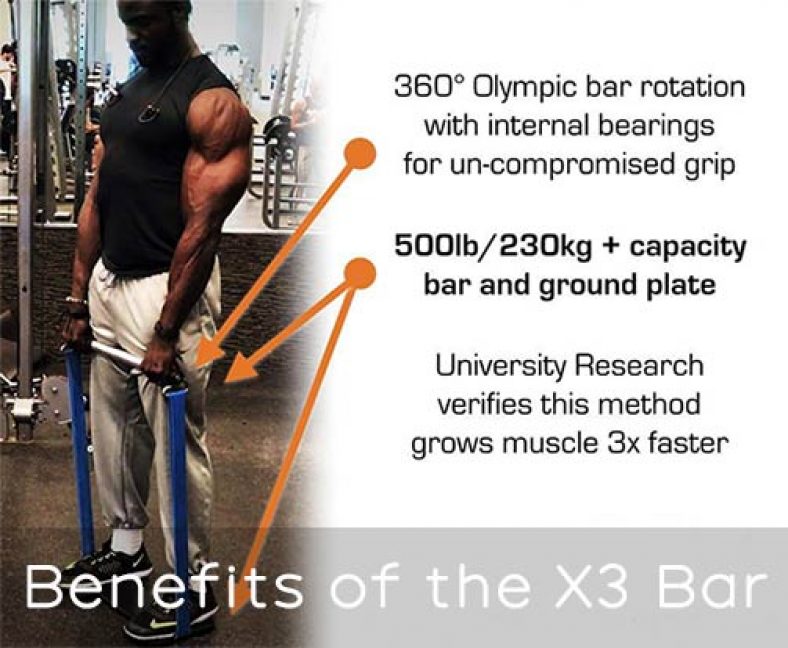 Another advantage is the 12-week training program which is included with the training system. Most resistance bands are sold with no training information at all. While experienced users don't have an issue in following a simple training routine, those new to training would have a difficult time researching the best exercises to perform at home.
Low impact on joints is one of the main reasons why the training system can be a top choice for those recovering from certain injuries, aging users, or anyone suffering from mobility issues. Unlike weights that load the joints, resistance bands offer reduced tension and they can be safer in the long term. But resistance bands do not replace weights for those into training, they complete workouts' complexity.
The drawbacks of the X3 Bar
There's no major drawback with the X3 Bar. Built to last, it's among the best such full-body training systems. It's the way that it's marketed which may seem misleading. Marketed as better than conventional training and as a solution to replace gym memberships, it might promise more than it can deliver.
The training system can be used at home for better fitness. But it cannot be considered superior to other training methods such as weight training for all users. It just offers a compact training system with a low barrier of entry which most people can use to train.
Gorilla Bow uses similar principles. However, it's shaped like a true bow which makes it a bit more interesting for anyone tired of training with weights. Including a robust with the dimensions of 47″ x 7.5″ x 1″ plus bands with 10, 20, and 30lbs tensions, it uses the same principles of the X3 Bar for all types of training exercises. Users can perform upright rows or chest presses with the bow, alongside tens of other movements.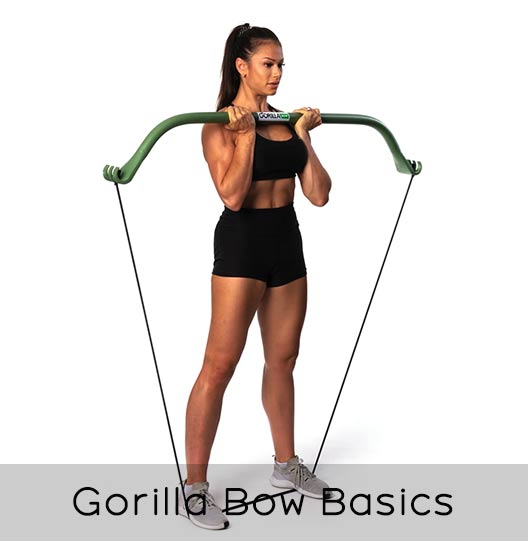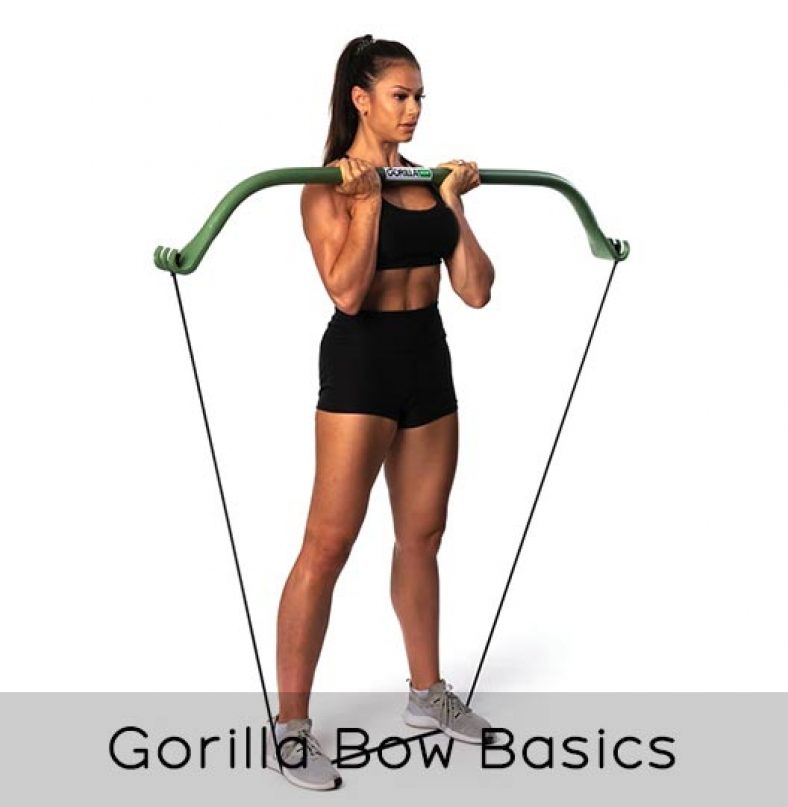 The original Gorilla Bow has a weight of 6lbs. There's a Heavy Original Bow with 4 extra bands, a 6lbs shorter Travel Gorilla bow, and a 3lbs Lite Gorilla Bow for anyone who needs to stay active while traveling. Here are a few of their benefits.
Body toning by using resistance bands individually or together
High portability with its 3lbs version and compact home training system with its 6lbs version
High-intensity training at all fitness levels
Access to official training tips on Gorilla Bow's YouTube channel
Up to 2 bands can be used at a time for those who want to ensure progressive overload or to put on muscle mass. This principle is based on progressively adding weight or tension in this case, to increase muscle size. Users who want to rely on Gorilla Bow to gain mobility can also use the system with one band and perform various exercises. Even abs can feel different using the tension of the resistance bands while holding up the bow and performing crunches.
The drawbacks of the Gorilla Bow
Not every resistance band system is as versatile as the Gorilla Bow. However, it does have a few drawbacks to consider.
While it's not something specific to the Gorilla Bow, not having the resistance from the beginning of the motion is troublesome for those training at home after previously working out at the gym. Some users work around this issue either by wrapping the band around the bow a few times to make it shorter while others decide to upgrade and purchase additional resistance bands to add tension.
X3 Bar vs Gorilla Bow – why they're similar and where they differ
The main benefit these 2 training systems offer is their low risk of injury. With the exception of overhead exercises, there's a very low risk of injury compared to weight training. But in the days when most people are stuck training at home, they both offer a true alternative to dumbbells and barbells.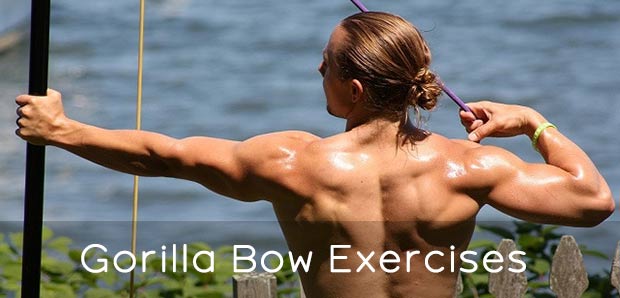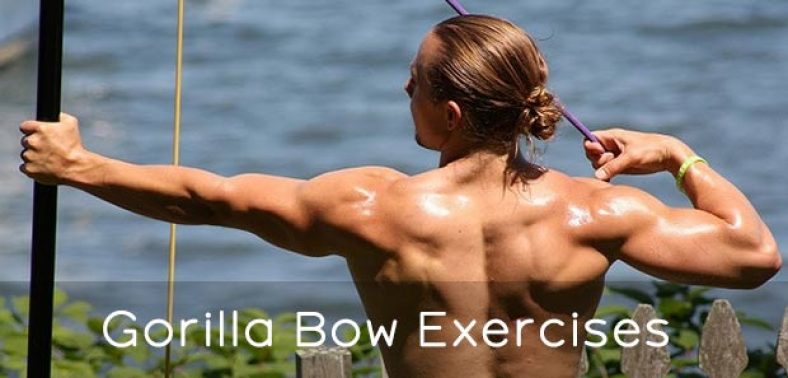 Another important benefit shared by both systems is they can be used anywhere. Users can train inside the house, in the garden, in a park, or even while traveling. This ensures minimum physical activity for those struggling to stay active.
Cardiovascular training is also enhanced by these 2 training systems. Gorilla Bow even has a full Tabata workout video for those looking to lose weight as soon as possible. Users stuck at home who need to burn calories can use the video to follow the training route and start burning body fat.
One of the biggest issues of the systems remains the limited tension on some exercises. For example, rowing movements where the bar or the row is anchored behind the feet offer tension for the entire range of motion. The same doesn't apply to many pushing exercises such as chest presses where maximum tension is only achieved with straight arms.
Another drawback is given by the anchoring point itself, which is the body. In chest presses, the band on both systems presses hard against the scapulae and the spine. This is not comfortable. A good tip would be to wear thick tops when performing such exercises to reduce the pressure on the back's muscle and to avoid skin marks.
Both of these drawbacks are normally signaled by experienced users who struggle without heavyweights and who need multiple bands to recreate the tensions their muscles are used at the gym. Still, it might even take some time for those coming from free weights to resistance bands as the training principles are completely different. While both systems suffer from this issue, the X3 bar has a small advantage as it includes an anchoring plate which reduces the pressure resistance bands put on the body.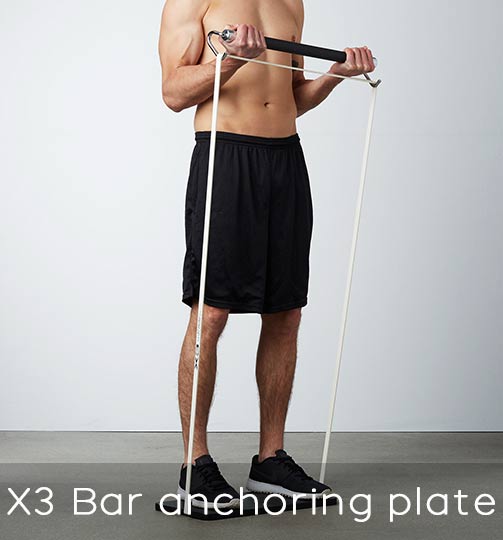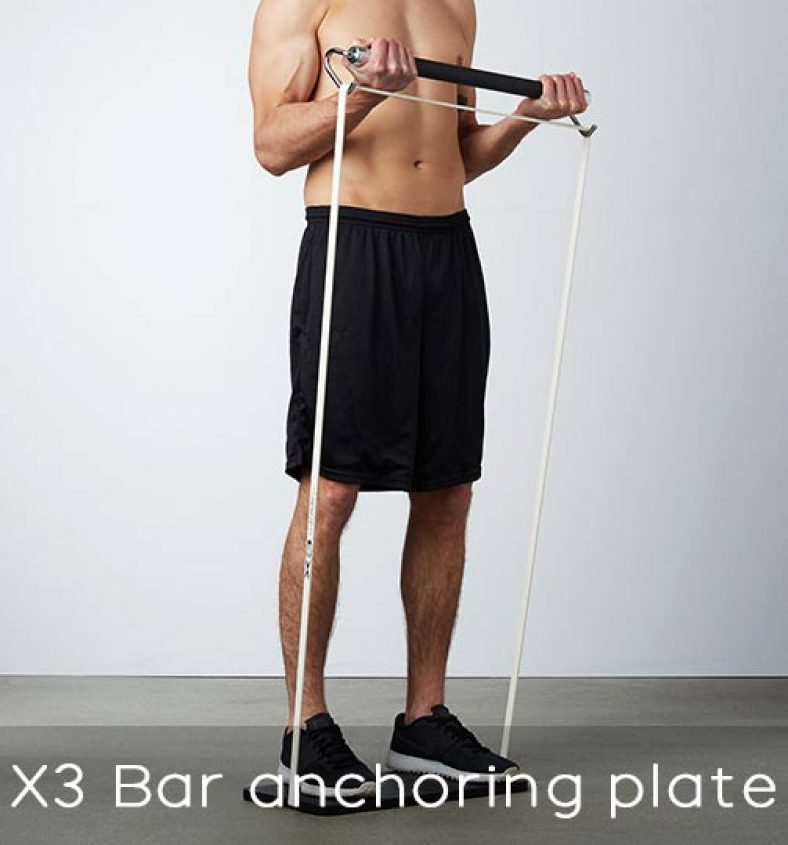 The benefits of the X3 Bar and of the Gorilla Bow
A group of basic exercises can be performed with both systems. These include the following.
Front and back squats
Pull-downs
Triceps pushdowns
Deadlifts
Bicep curls
Triceps curls
Calf raises
Crunches
One-hand rows
These basic exercises can then be backed by many other workout alternatives. For example, some users combine bodyweight exercises with resistance bands training for complex full-body workouts.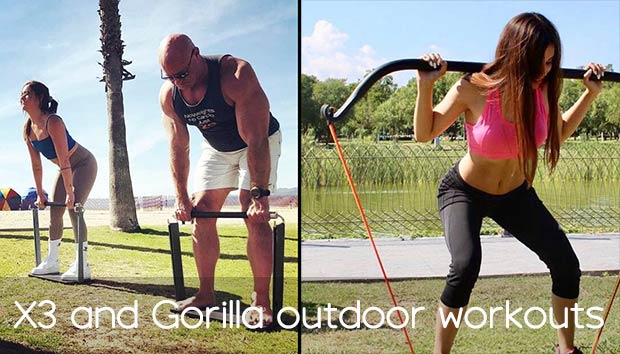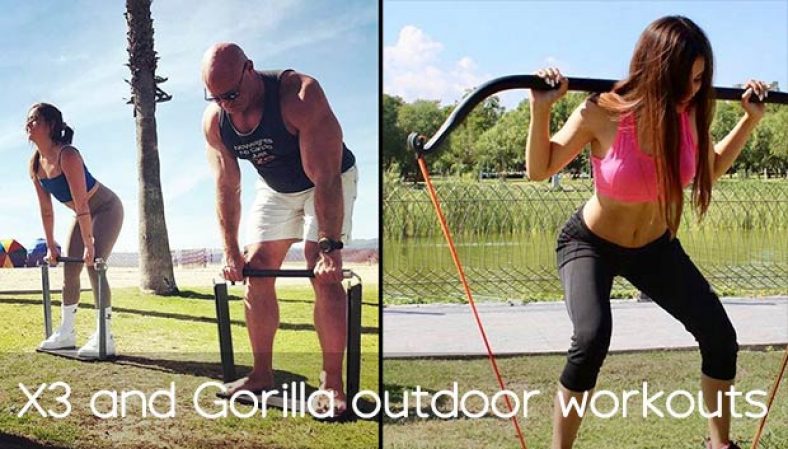 Since both systems are compact and lightweight, they can be uses for outdoor workouts. Training outside in fresh air is something most people can't experience with the standard gym. While both can seem expensive to a number of users, the systems can replace gym memberships when combined with other training principles and exercises.
The ideal users of these training systems are a person who wants to use the bands as a stand-alone training system or someone who has limited home fitness equipment and needs exercise diversification. Their price is high according to some users but they aren't known for durability issues. As a result, they're superior to other entry-level resistance bands setups on the market.
Made with high-quality steel and thick rubber bands, the X3 Bar and the Gorilla Bow aim to offer an alternative to fitness training. Training videos are available for both systems. Some users even rely on free YouTube resistance bands exercise demonstrations which they apply with these training systems.
Variable resistance training benefits have been proven by research. Offering a different training method to constant resistance characteristic to free weights, the exercises with the X3 Bar and the Gorilla Bow can show fitness benefits. It's up to the user to abide by a weekly training routine to see the benefits of these systems and to shorter the learning curve needed for home resistance bands training.