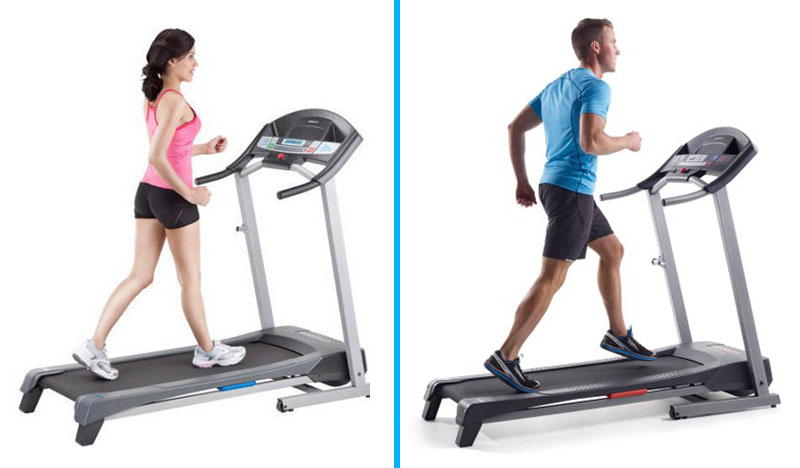 Health is the biggest concern of the individuals in the present age. There are many people that are ready to start a healthy routine, but the only issue is that they do not have enough time to visit the gym. The only solution left in this case is having a treadmill at home. There is a huge variety of treadmills available in the market and selection of best one can be confusing.
Weslo Cadence R 5.2 and G 5.9 has grabbed the attention of many individuals. They are confused that which one is a better option. Here we have a complete comparison to help you make the right decision.
Quick Overview of Weslo Cadence R 5.2 and G 5.9 Treadmill
The Weslo Cadence R 5.2 may have basic features, but they are quite remarkable particularly for a treadmill at its price range.
It features a 2.5 HP electric motor which is quite good and can be easily compared to electric motors/drive systems of top-tried brands available in the market.
To dampen shock, R 5.2 is equipped with comfort cell cushioning. It also has a push-button QuickSpeed Control which you can use to control the speed from 0 to 10 miles per hour. You can ramp up workout intensity due to its 2-position adjustable incline. R 5.2 is sufficient for individuals who weigh less than 250 pounds.
All these features make R 5.2 a pretty balanced machine that stands out from the competition.
G 5.9 is an upgraded version of R 5.2.
There are many cool features in G 5.9. These include six expert personal trainer workout programs, comfort cell cushioning, two-position manual incline, and more.
G 5.9 can focus on wide range of aspects of your training. Whether you are focusing on calorie burning, improved endurance, or weight loss, Weslo Cadence G 5.9 can help you achieve your goals.
G 5.9 is sufficient for individuals who weigh more than 250 pounds.
Weslo Cadence R 5.2 vs. G 5.9 (Detailed comparison)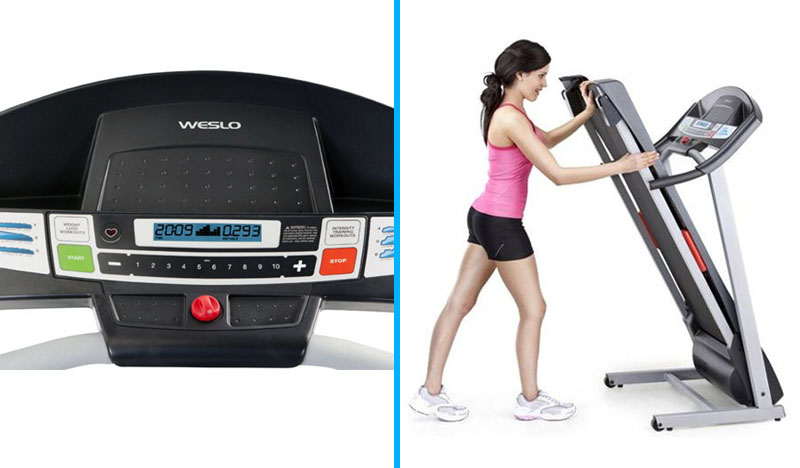 When it comes to size and appearance it seems like both products are same.
You will notice that both have the special space saver design of Weslo that makes it easy to store the treadmill in limited space.
They have a combination of black and gray as the main shade and you will see a variety of colors on the control panel of the treadmill.
While comparing the treadmills it is important that you pay attention to their motors. It is the most important factor to consider while you are buying a treadmill.
G 5.9 has the CHP impulse motor with 2.25 horsepower.
On the other hand, R 5.2 has HP impulse 2.5 horsepower motor.
It means that the motor of R 5.2 is stronger as compared to the other item. It is energy efficient and will provide a better performance as compared to the G 5.9.
However, the motor is not the only factor that you have to consider. Remember that you not only need the motor to run the device but also it should have the capability to support you during the mid-workout session.
When it comes to speed both treadmills have a tight competition. It has been found that both can go up to the maximum speed of 10 mph.
However, the difference in the quality of motor is where the difference lies. You will notice that speed of R 5.2 is smooth and consistent whereas the speed of G 5.9 might seem a little jerky sometimes.
However, the speed of the treadmill will not affect its performance. You will get the best results even if you use it every day for several months.
One of the most important things that you have to consider during the selection of the treadmill is the size of the belt.
In both treadmills, the size of the belt is similar to 41 cm. The manufacturers have used the best quality belts to assure that the users will get the best performance.
However, you should know that the belt will undergo wear and tear if you will oil it properly. Maintenance of the belt is very important if you want the best performance from the treadmill that you are using. You might have to clean the belt before oiling.
Both G 5.9 and R 5.2 has been developed with the latest features to assure that users can enjoy working out on the treadmill. All the features in the treadmill are the same.
There are 6 built-in weight loss apps that will make it easier for you to get started.
You will get 2 incline positions on the treadmill that will make it easier for you to challenge yourself and make your workout session more difficult.
There are sensors available that will show you the number of calories that you have burned, heart rate, pulse and much more.
Do not forget to consider the capacity of the treadmill that it can easily tolerate. Remember that if your weight is more than the treadmill can handle you might have to buy a high-duty treadmill that you carry your weight.
The G 5.9 has a capacity of 275 pounds while R 5.2 only has the capacity of 250 pounds.
In number, it might not seem like a huge difference but when it comes to human weight we can say that G 5.9 can be used for professional purposes as well because it has a wide range of weight bearing capacity.
Both treadmills have been developed with the custom cell cushioning technology.
There is a complete console in both the treadmills but when it comes to additional accessories you will not get anything with the G 5.9.
However, you can buy all the additional equipment with R 5.2 from the manufacturers. It means that if you want to have the additional accessories you will have to pay for them. Most of the people are not ready to pay for any of the additional tools. However, there are some that say that having extra gadgets can be helpful sometimes.
Do not forget to check the warranty of the products because you are going to pay a decent amount of money.
The G 5.9 comes with 1 year of warranty and the best part is that you will get a separate warranty for the parts and labor of the treadmill. On the other hand, with R 5.2 there is only 90 days warranty.
You have to assure that you are using the treadmills according to the instructions in the user manual. You will also get a 30 days money back guarantee with both treadmills. It will be a full refund.
Read More:
Weslo Cadence R 5.2 vs. G 5.9 (Pros and Cons)
R 5.2
G 5.9
PROS

Reasonable price
Space saving
Easy to assemble
Simple control panel
Powerful motor
Sturdy frame
Comfort cushioning
15% incline
Folds away after use

Good value for money
Built-in pulse monitor
Variety of speed and incline options
Comfort Cell cushioning
Easy to assemble
Can be folded up, making it ideal for small spaces
Water bottle holder and ledge for tablet
Safety key to preventing treadmill from accidently running

CONS

Power switch button is located at an inconvenient place on the treadmill
Control panel has no lighting

iFit Subscription is not included
No backlight to display
Should I Buy Weslo Cadence R 5.2 or G 5.9?
You might want to pick the R 5.2 if:
You are looking for a simple yet reliable treadmill and your budget is low.
You weigh less than 250 lbs. and want to buy a treadmill that offers good value for money.
You don't care much about workout programs and are okay with the minimal number available on the R 5.2.
You want a quiet treadmill.
You might want to pick the G 5.9 if:
You want a treadmill that is relatively affordable and has easy-to-use, basic features.
You weigh more than 250 pounds and went to buy a reliable treadmill.
You are looking for a low impact workout.
You are looking for a compact treadmill.
It is important that you select the treadmill you are most comfortable with. Weslo Cadence R 5.2 and G 5.9 have many similarities and both offer good value for money. If you are wanting a cost-effective quality treadmill, this is it.