If you're after the ultimate home fitness machine, Total Gym Models are a top choice for the job.
This comparison article looks into why these home gyms are so popular and why you should consider them for your home.
Supporting exercise variation and training most large muscles of the body, the Total Gym workout equipment seems to the best choice for those who don't have a full gym at home but who still want to feel good and stay in shape all the time.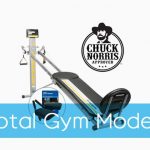 Why Choose Total Gym Models?
You would think that a system that uses no weights isn't capable of building strength and muscle.
This is not the case as you can increase and decrease resistance on a Total Gym and you can perform up to 90 exercises covering all major muscle groups.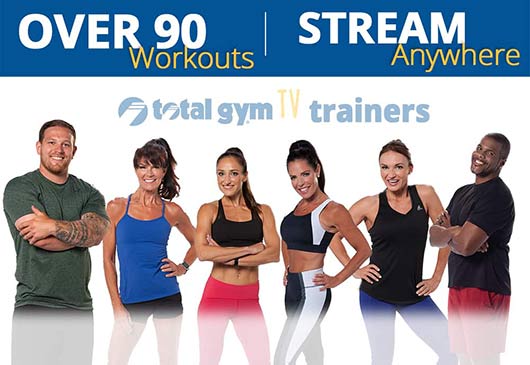 The system has a high potential for long term use.
Since it's quite difficult to get injured on this comfortable home gym, you will find it the best option to rely on for years to come when you think about fitness as a lifestyle.
It all started a few decades ago in the US, but Total Gym is now a world phenomenon.
Many believe millions of these home gyms have been sold over the years and the good news is you can choose a modern design now which updates the looks of proven fitness principles that helped people stay in shape for years.
Why Total Gym is one of the oldest fitness brands in the world
You might think Total Gym is a new brand as it grows its popularity on social media.
But it was established back in 1975. This was the year where the founding members tested out the concept of the Total Gym and in 1976, they launched the company's first product.
The concept of the low impact Total Gym training continued to grow. In the '80s, the company was already running its first TV commercials and some therapists even started using it in mobility classes.
What we know is that at this time, Total Gym became popular with celebrities as well. Chuck Norris, Paul Check, and Jackie Joyner Kersee are among the most influential athletes and Olympians to have used the training system.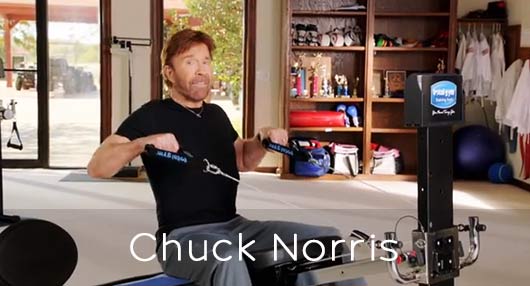 In 2006, Total Gym held its first international meeting with distributors from around the world.
In 2009, it also organized an international event for physical therapists.
It turns out many of those who bought the training system back in the '80s are still using it successfully decades later. This proves the durability of these fitness machines and their low impact or injury-free training results.
8 Reasons why Total Gym is unique
It can take some time to research your home training gyms you can buy today. While many can be enjoyed without previous fitness experience, Total Gym has a range of benefits that stood the test of time.
1. Low impact training without injury risks
2. Full-body workouts to work all body muscles
3. Excellent profile to work stabilizing muscles for better posture
4. Using gravity as resistance, Total Gym requires no weights
5. Excellent ray of accessories for all types of accessories including abs
6. Prolific for aging users who need to exercise mobility
7. A range of different products for different users
8. The proven concept from one of the oldest fitness companies in the world
Total Gym is one of the oldest companies in the fitness world. This proves its products remain popular and useful for most users.
With decades of fitness history, it's one of the oldest companies for home training in the world.
Workout and nutrition guides
One of the areas Total Gym is above the competition is with workout guides.
As a new person to the fitness world, you might have no idea how to train correctly. You might not even know which exercises to perform and how many workouts you need per week.
Total Gyms come with workout books and DVDs you can rely on to get started with your training routine right at home.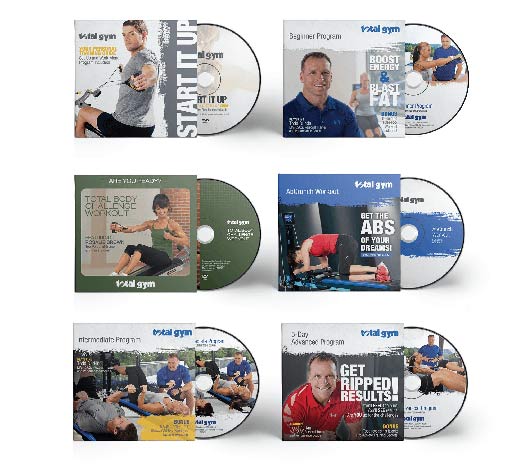 We've even seen some of the newest home gyms from the brand come with up to 5 diet and nutrition plans you can follow depending on your fitness goals.
With the right healthy foods and the right workout program, you can use Total Gym to get in shape and stay in shape.
These informational materials are available to all users. But you can also get full Total Gym personalized training at many gyms across the country.
Total Gym GTS is the first training system made for commercial gyms and it can be used differently in group classes.
But most of all, Total Gym is a home training system. You can use it to get stronger arms, a more defined chest, a wider back, and stronger legs. And you can also use it to lose weight.
With the advantage of low joint impact training, Total Gym allows you to burn calories easier than running for example, which can hurt your knees if done incorrectly.
Going further with Total Gym using accessories
When it comes to choosing the product that most appeals to you the little details can work to your advantage.
In fitness, these accessories add exercise variations.
The more accessories you have, the more exercises you can perform.
Leg pulleys
Leg pulleys can be used for a wide range of exercises.

These include hip extensions.

You need such accessories to exercise your legs and the lower body as this is an area many home gyms fail to address.

Squat stands
In time, Total Gym added a removable squat stand to its training systems.

This allows you to perform 1-legged or 2-legged squats to gain strength and muscle size in the legs.

These weren't initially offered by the company's products.

2-wing attachments for a wider range of motion
2-wing attachments are among the most important accessories so that you can increase your range of motion.

Weight bar
Products such as the Total Gym GLS come with an extra weight bar which can be added on both sides of the gliding board.

You can use it to load extra weights or to attach rubber bands for extra resistance while training.

This bar is also removable and you can eliminate it from your training machine if you don't need any extra resistance.

But it can be the accessory that makes this fitness machine a bit more similar to those you see in commercial gyms through the addition of extra weights for resistance.
The success stories of Total Gym
How many products do you think Total Gym sold to this day? Some believe just a few thousands.
The latest data shows over 4 million Total Gyms have been sold to this date.
This makes it one of the most popular home gyms by sales and even machines built 3 decades ago are still going strong as you can find them on the used market in good condition.
It's impressive how this training system lasts more in a world where fitness products tend to be discarded rather quickly.
Even those who haven't trained before can see benefits in using a Total Gym workout system.
Total Gym Addicts is the name given to the group of users who have been training with it for years. A person in this group shares here experience with 5 workouts per week.
After a few months, she started seeing better body definition and even attractive abs.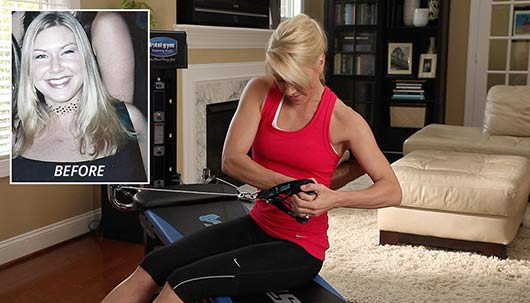 Most Total Gym addicts also see an increase in muscle size and better muscle definition in their arms given they use various pulling and pushing movements. You can also see beautiful biceps by training with Total Gym.
How Total Gym upgraded fitness equipment over the years
It was back in 1996 that we saw the first Total Gym TV commercial.
It was very long by today's standards but seeing Chuck Norris in it prompted a lot of popularity and a rise in demand.
Since then, Total Gym has been seen in several countries through distributors. It's estimated the brand sells its products in 85 countries.
The products themselves have also improved with time, not only their distribution around the world.
Number of Exercises
It all started with the Total Gym 1100. But this early version only supported 60 exercises and it came with 6 resistance levels. On the latest GTS machine, you can perform over 80 exercises with 12 levels of resistance.

Weight Capacity
Evolution can also be seen in weight capacity. We know many overweight users rely on Total Gym for extra support in weight loss.
But for them to use such a fitness machine, Total Gym had to improve maximum weight capacity.
Total Gym 1400 and Total Gym 1600 have a maximum weight capacity of 250lbs. Heavier users might break these.
But the more complex Total Gym Fit has a higher 450 pounds capacity which recommends it for almost any user.
Levels of Resistance
The way Total Gym looks and feels has also improved. With extra cushioning and a modern design, these fitness machines now look modern.

Accessories
The XLS and the Fit Total Gyms are even better equipped in terms of accessories such as more detailed workout plans.

For more details,  please see the table below:
| | Exercises | Weight Capacity | Levels of Resistance | Accessories |
| --- | --- | --- | --- | --- |
| Total Gym 1100 | 60+ | 275 lb | 6 | 2 |
| Total Gym 1400 | 60+ | 250 lb | 8 | 4 |
| Total Gym 1600 | 60+ | 250 lb | 8 | 4 |
| Total Gym 19100 | 60+ | 350 lb | 12 | 6 |
| Total Gym Apex G1 | 60+ | 300 lb | 6 | 2 |
| Total Gym Apex G3 | 70+ | 300lb | 8 | 5 |
| Total Gym Apex G5 | 80+ | 375lb | 10 | 5 |
| Total Gym Supreme | 60+ | 275 lb | 12 | 4 |
| Total Gym XLS | 80+ | 400 lb | 6 | 3 |
| Total Gym Fit | 85+ | 450 lb | 12 | 4 |
| Total Gym GTS | 200+ | 650 lb | 22 | 8 |
All Total Gym Models reviewed and compared by features
Total Gym has seen improvements over the years. While the product names can make it sound a bit more complicated than it is, you can simply choose the workout machine that is best for you.
This is the most affordable home gym you can buy from the brand.
With a very low price, it is highly suitable for those who don't have the time or the dedication to look at the more complex home gyms and who could still be interested in fitness, but at a lower price.
It supports just over 60 exercises and it gives you the option of training almost all muscles. 2 attachments are included with this basic home gym.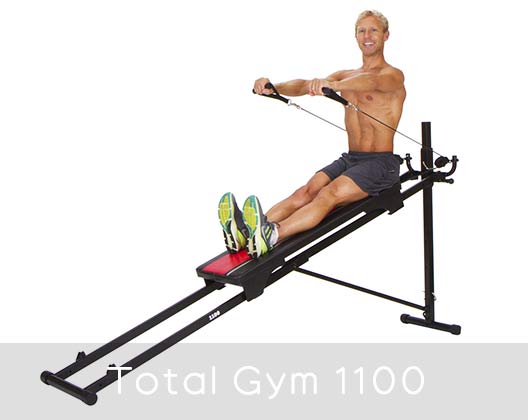 While this gym is still affordable, it does come with a few interesting benefits such as foldability for easy storage. It takes about 8 feet to install when you want to train.
Number of Exercises: 60+
Weight Capacity: 275 lb
Levels of Resistance: 6
This home gym is the next step up from the 1100 series.
It represents a value proposition for all of those interested in a bit more resistance.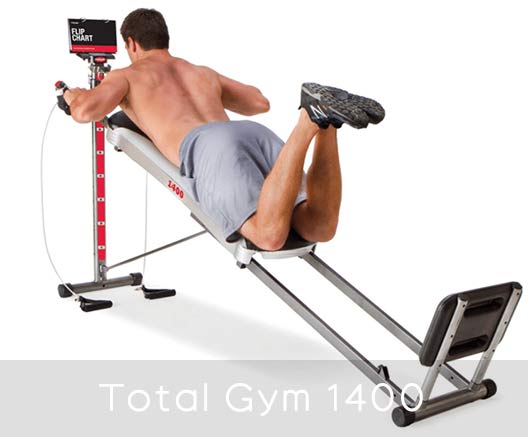 It adds 2 more resistance levels compared to 1100 making it a home gym with 8 resistance levels, better cushioning, and an included DVD for workouts inspiration.
It's highly suitable for all of those into home training on a budget.
Number of Exercises: 60+
Weight Capacity: 250 lb
Levels of Resistance: 8
A small visual upgrade has been made to the Total Gym 1400.
The 1600 version comes in new colors but it respects the same characteristics of 1400.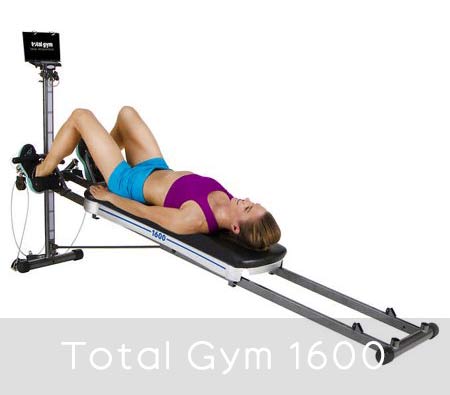 It features the same exercise variations and it has the same 250lbs weight capacity.
PS! Also read my Total Gym 1400 vs 1600 vs 1900 comparison article.
Number of Exercises: 60+
Weight Capacity: 250 lb
Levels of Resistance: 8
A big leap forward has been achieved with the Total Gym 1900.
This version now comes with 12 resistance levels which recommend it for intermediate and advanced users.
It features a higher 350lbs weight capacity which makes it a supportive platform for those into weight loss.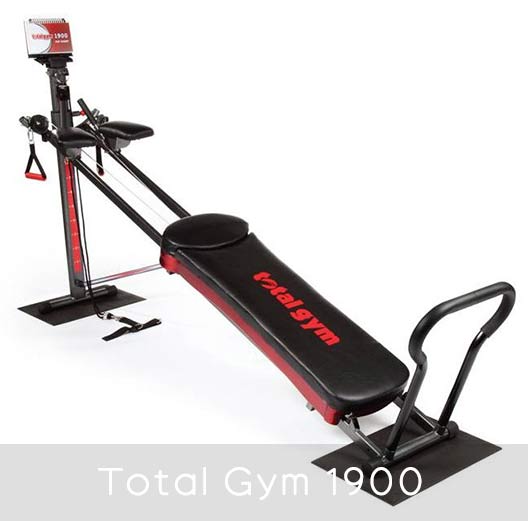 While it supports almost the same exercises as the cheaper Total Gym machines, it does come with better training manuals.
It features 8 workout DVDs for a bit more inspiration on the TV when you decide to train at home.
Number of Exercises: 60+
Weight Capacity: 350 lb
Levels of Resistance: 12
Decades have passed and Total Gym changed how it was perceived in the home fitness community.
Its older numerical machines have been replaced with redesigned machines that are also easier to categorize.
The Apex series was born.
Within the Apex series, you get the G1, the most affordable machine from the brand.
For only a few hundred dollars, it comes with 6 resistance levels and it supports the same 60 exercises of 1100.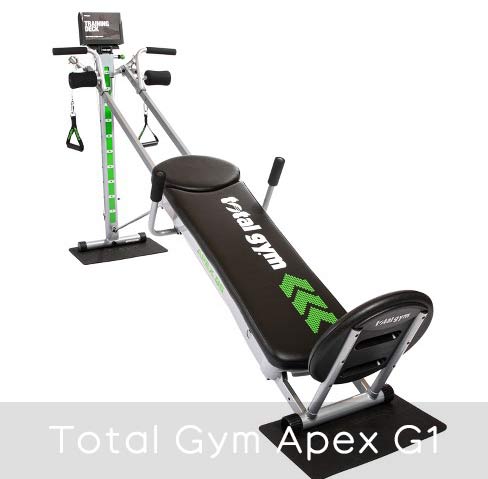 However, it now looks a bit better and more modern so that you can integrate it into your home workout space easier.
Number of Exercises: 60+
Weight Capacity: 300 lb
Levels of Resistance: 6
The G3 comes with a bit more versatility. It ads as a squat plate to the setup.
This would be the first complete Total Gym you can buy as this attachment is the most important for lower body exercises.
You can use it to perform gliding squats on the machine which makes your legs stronger and more muscular.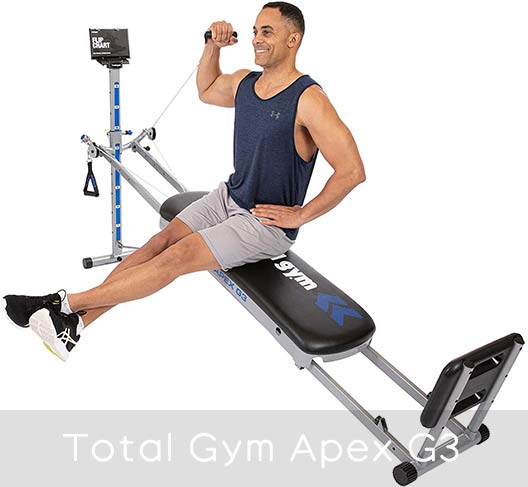 It also supports a few more exercises as a result. Total Gym estimates this attachment can be used for 10 more exercises leading to a total of over 70 exercises you can do at home.
It includes a workout plan as well as multiple nutrition guides to help you get in shape and stay in shape as well.
Number of Exercises: 70+
Weight Capacity: 300 lb
Levels of Resistance: 8
The Apex G5 is the first complete home gym from this new series. It comes with a robust 375lbs weight capacity for overweight users.
It even ships with floor protectors for those overweight users who train on delicate surfaces such as on hardwood floors.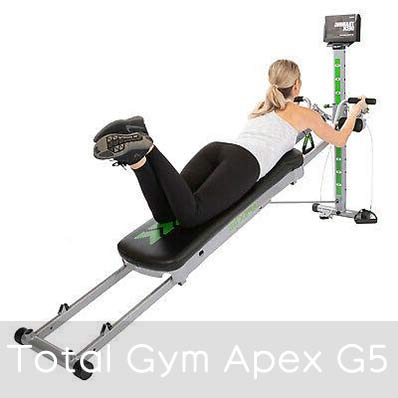 This machine includes a wings attachment for better range of motion, a dip attachment to exercising arms, leg pulls for leg extensions, and a squat deck for all of your squats. There's no abs attachment in the pack, however.
Number of Exercises: 80+
Weight Capacity: 375 lb
Levels of Resistance: 10
If you love to train abs, you can choose the new Supreme Total Gym.
It features an ab crunch accessory you can use for a defined core.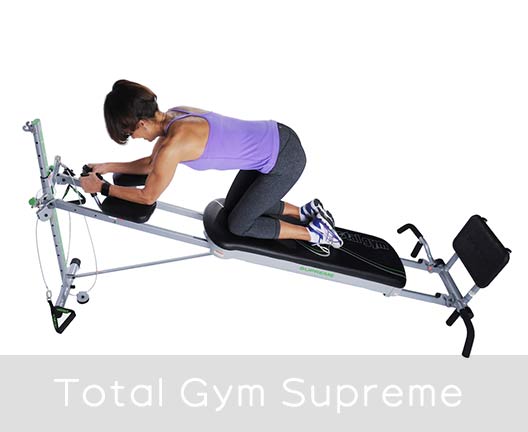 A squat platform and redesigned trip-grip bars have been added to the pack.
While this home gym supports ab muscles, it only comes with a 275lbs weight capacity.
Number of Exercises: 60+
Weight Capacity: 275 lb
Levels of Resistance: 12
---
Arguably the most popular choice, the Total Gym XLS supports over 80 exercises. That is around 20 more exercises than previous models.
It also features a high 400lbs weight capacity and it comes with various attachments to make your life easier.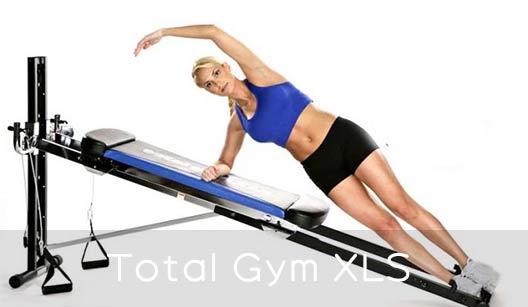 The training system features a ribbed texture squat stand which prevents slipping.
It comes with leg attachments and rib attachments which support an excellent range of motion and a few more exercises than other home gyms.
For more information, read my Total Gym Fit vs XLS comparison article.
Number of Exercises: 80+
Weight Capacity: 400 lb
Levels of Resistance: 6
---
This model adds a better design and more levels of resistance compared to the XLS model.
It represents a valuable option for those who've been training at home for a while.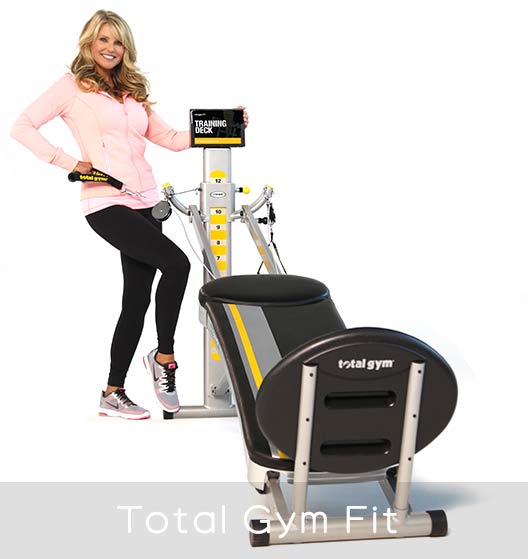 Based on 12 levels of resistance, it can make you work twice as hard as on the 6 levels of the Total Gym XLS.
For more information, visit the Total Gym Fit full review.
Number of Exercises: 85+
Weight Capacity: 450 lb
Levels of Resistance: 12
---
The GTS is the commercial version of Total Gym.
It comes with the highest 650lbs weight capacity. It can be used in gyms or by physical therapists.
This training system even adds lats attachment so that you can work your back muscles a bit better.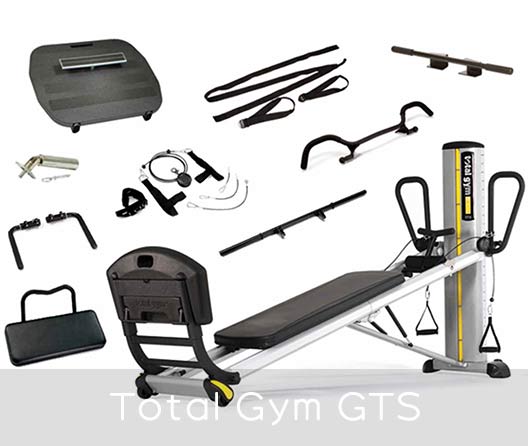 It also supports around 200 exercises which makes it the ultimate gym from the manufacturer.
Number of Exercises: 200+
Weight Capacity: 650 lb
Levels of Resistance: 22
---
Where can you buy Total Gym fitness machines?
The days of calling a TV station to get your hands on a Total Gym are over. You can now easily order it online.
Most of the company's products are available through the Official Website.
Some are sold through Costco. QVC also sells them on TV. But we've seen them rise in popularity at Walmart and Target as well.
Did you know you can use your Total Gym in different ways than those seen in your workout DVDs? With a bit of creativity, you can make this home gym an even better workout station than you'd expect. Here's how it can impress you even further.
Learn how to use the weights bar with a water jug
If your home gym comes with a weight bar, you are in luck. You can use it to add weights and increase exercise resistance.
But you shouldn't necessarily think about expensive weight plates. Any plastic container with a handle that you can fill with sand or water works just fine.
We recommend using 2 water jugs with one on each side of the weights bar. It can hold a few pounds and it can add resistance to your workouts.
This is the simplest option to increase resistance. You might even fill these with sand for a bit more weight and extra resistance.
Place the Total Gym in a chair for easier workouts
If you'd like to make your workouts easier, we have the solution.
Normally, you would lower the resistance by lowering the incline level of the home gym.
But you can also raise the bottom section on a chair to create a workout surface parallel to the ground. This reduces resistance and allows you to perform exercises easier.
It can be a helpful Total Gym tip for those recovering from injuries or for those with poor mobility that need to start training a bit easier.
Use resistance bands for extra strength gains
You can use resistance bands to increase the difficulty level of each exercise.
You can anchor the resistance bands on one end at the bottom of the home gym and connect the loop higher onto the weights bar.
This adds considerable and endless amounts of resistance as you can use one or multiple rubber bands to train efficiently.
How to maintain your favorite total gym
Since you will be using a Total Gym for years, you need to know how to properly maintain it.
The good news is you only need to clean it as another maintenance isn't required.
But you still need to know how to do a good cleaning job.
Use a vacuum cleaner first
You need to get rid of dust and other dirt first. A household vacuum cleaner is sufficient when it comes to clearing dust.
But you might also want to use a regular vacuum cleaner right underneath your home gym.
Ideally, you'd move it away so that you can also vacuum the floor underneath it.
Consider water and vinegar
A combination of water and vinegar is the simplest home solution to get rid of bacteria and to clean the Total Gym.
You can mix these in a sprayer bottle and apply it all over the machine, especially in the contact areas such as the gliding platform and on the pulleys.
You will then wipe the solution off with a clean towel.
If you're using a workout mat to place your Total Gym on, you can also make it a more appealing workout space.
We've seen people add lavender essential oil on this workout mat which helps create a calm environment.
And a workout space that smells good is also inviting since you want to avoid the same sweat smell you usually encounter in commercial gyms.
Born on the beaches of San Diego back in 1974, Total Gym is a simple and efficient workout system you can rely on to get in shape at home.
What are your alternatives to the fitness system? Endless sets of dumbbells pull up bars, workout benches, and expensive abs workout systems.
All of those would cost a lot more. They would also take up more space than the average person has available at home for the fitness space.
This is why the Total Gym training system is the best. It offers complex workouts most people don't even know exist.
At the bare minimum, even the most affordable Total Gym offers at least 60 exercises you can use to get in shape.
At its best, a training system from the brand offers more than 80 exercises you can perform at home.
With an average of 5-10 exercises per workout, you get the benefit of enjoying a new workout every day of the week.
For the ultimate muscle gains and an attractive body in a shorter timeframe, you need to choose the best home training systems.
These are the Total Gym XLS and Total Gym Fit.
With more exercises and extra resistance levels, they can take you to a more attractive body in a shorter period compared to limited basic Total Gyms.
This rotation of exercises is what makes this system truly special. You can get bored doing the same exercises every workout and this eventually leads to you stopping your training program altogether.
But Total Gym exercises are far better for workout variation and for keeping you engaged no matter what fitness goal you have.