Total Gym is known for its dedication to giving you the best equipment, which is set to make your training and exercise sessions interesting and effective.
By redefining methods used by people all over the world to attain fitness, they have come up with two popular pieces that offer amazing perks.
Most people who are in the market looking for home workout tools will experience a predicament in choosing between the Total Gym Fit or the XLS.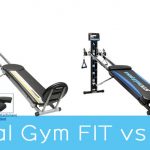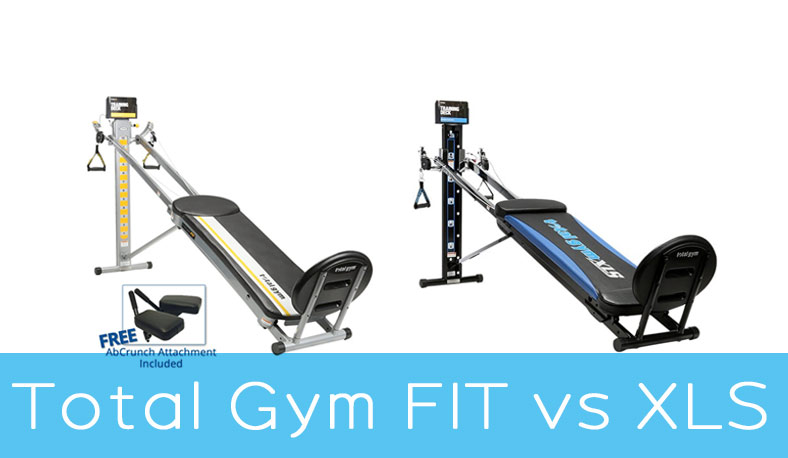 Both of these items come highly recommended due to their extended adaptability and usability by people of different sizes. They also accommodate users at varying levels of fitness.
Frustrations Experienced when Setting up a Home Gym
The main benefits of having a home gym are convenience, privacy, and you get to save on time.
If you are looking to set apart a section of your home for working out, there are three things you should consider.
First, the amount of space available for you to place the necessary equipment.
Secondly, you need to consider your budget.
Finally, your goals.
You will find that comprehensive research into these three details is likely to lead you to Total Gym Fit or XLS. The two are popular choices, especially for those starting out in the fitness journey.
They do not require a lot of space; you can use them for full-body workouts, and you get value for your money.
Main Review of the Total Gym Fit vs. XLS
In this comparison, we take into account the individual features of each of the machines, such as the size, function, accessories, assembly, and maintenance.
We also assess the pros and cons that you are likely to experience with the purchase of either item using tables.
Finally, you will find a list of situations that each model is ideal for. We give the final verdict on the machine that stands out between the two.
If you are a loyal fan of the brand Total Gym, you might want to take a look at its other models. To make your choice easier, we have carefully researched and reviewed over 10 different models from Total Gym.
---
Once you get the Total Gym XLS, you can start working out immediately since it comes ready to use. The lack of assembly needs makes it convenient for those who are not knowledgeable about parts. Also, it significantly saves time.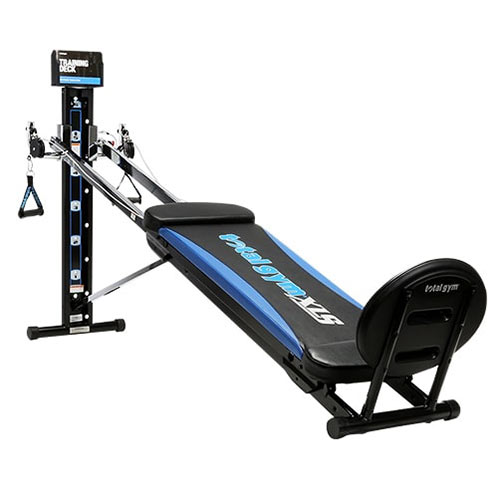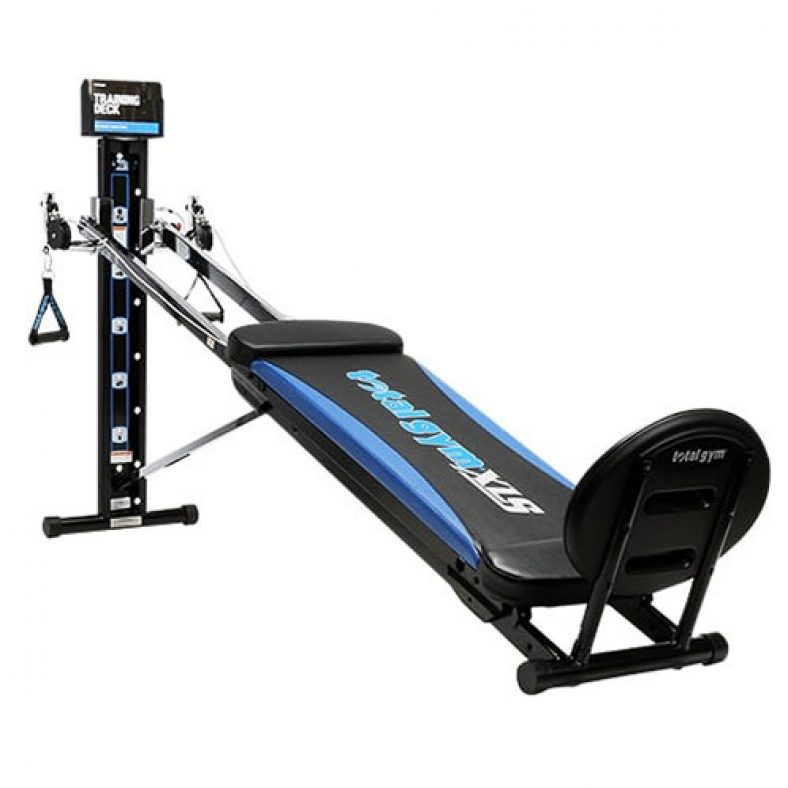 You get six levels of resistance, and this gives you room to grow through your workouts. The adjustments you make in resistance can be a way to inform your progress in capacity building. This 68lbs equipment comes with three attachments.
Whatever your workout goal, there is an exercise fit for you with XLS.
You get 80 different exercises, and you can focus on whichever one aligns with what you want.
You get a lifetime warranty on the frame and a warranty of six months on the parts.
The XLS has a 400lbs weight capacity and can, therefore, be used by a large number of people. If you are looking to start on your fitness journey, this comes as a highly recommended alternative.
Furthermore, if you are not sure where to start, this model comes with three DVDs to guide you.
Pros
Cons
Comfortable

Easy to use

Quiet

Easy setup

Easy to store

Sturdy

Less weight capacity than the Total Fit.

Limited adjustments
While there are 80 exercise alternatives on the XLS, you will find that it works better for some than others. It is, thus, best for those looking to work on areas such as strength, performance, and heart rate training, general body fitness, losing weight, simple exercise.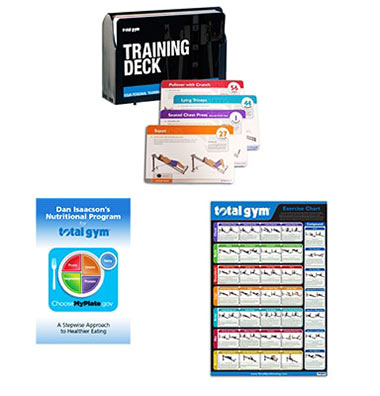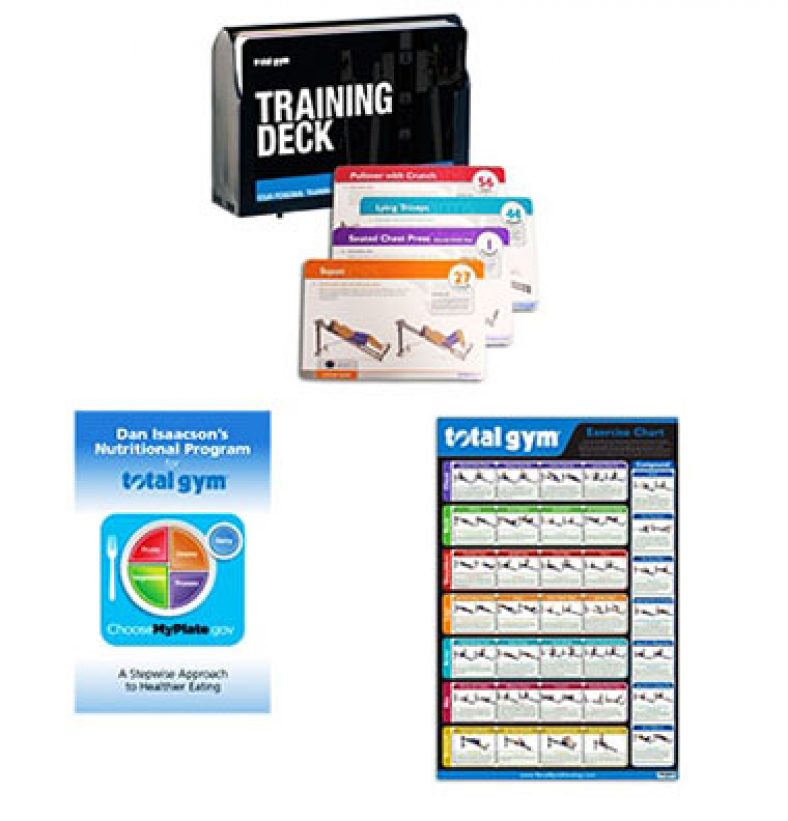 In addition to all its perks based on the features described above, the XLS comes with multiple resources designed to make your experience better and results more effective. Some of the add-ons include:
A ribbed squat stand, which allows you to achieve targets and strengthens your muscles.
A wing attachment to give you more room.
A nutritional program and meal plan to guide you through the other elements of fitness.
A training deck which is your personal system.
A wall chart with easy to make out elements of 35 exercised designed by Total Gym.
A leg pulls accessory with two ankle cuffs designed to give you balance and improve resistance.
---
The Total Gym Fit is one of the best workout equipment models on the home gym front.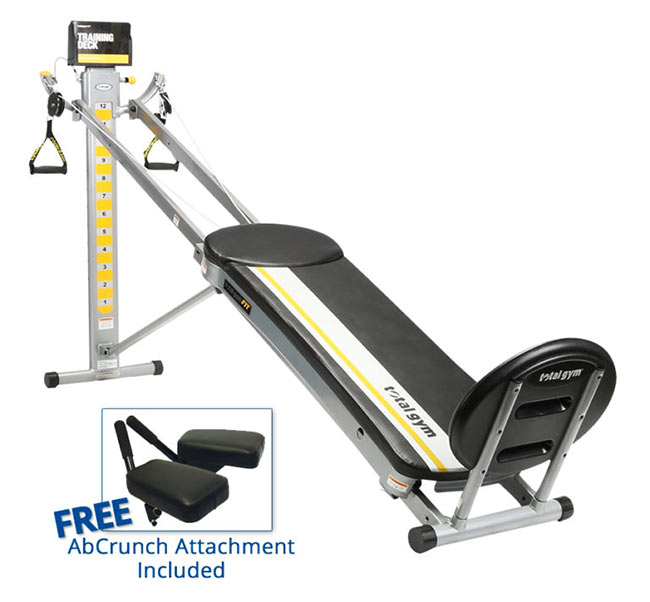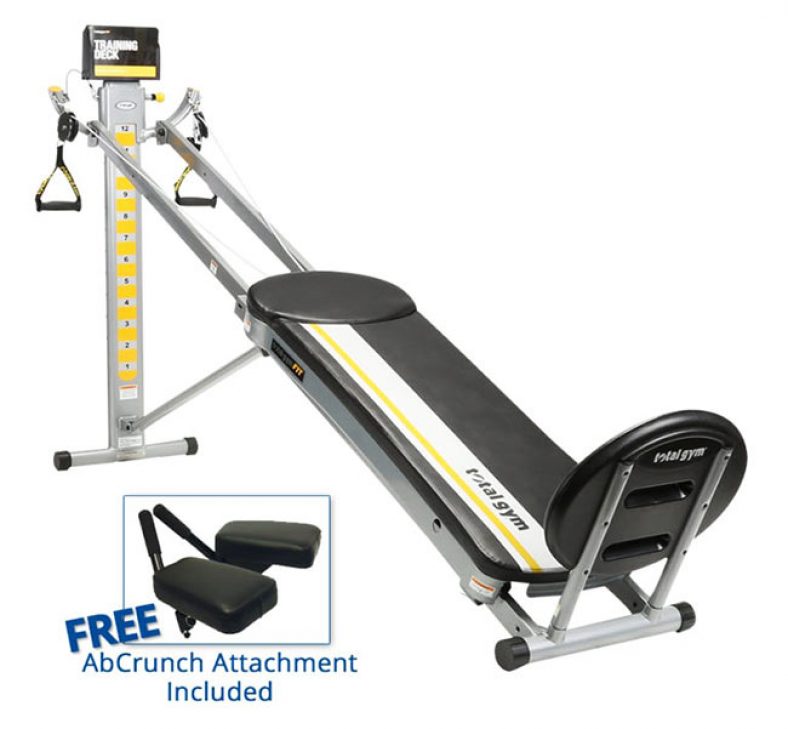 Other than coming fully assembled and ready to use, it also gives you a large variety of options. It has 12 levels of resistance, which comes in handy with the progression of your body capacity.
Also, you can do 85 different exercises on it. This gives you a range and alternatives which you select based on your goals.
This model might well be considered a newer version of the XLS.
The weight capacity is 450lbs making it more accommodating to versatile users, and you get a two-year extended warranty on parts and lifetime coverage on the frame.
It is also inclusive of six DVDs, which assist you in starting out. The model weighs 66lbs and comes with four attachments.
Pros
Cons
Sturdy

Easy usage

Comfortable

Easy storage

Easy setup

Quiet

More costly than the XLS
If you are looking to improve on general fitness or lose weight, you should consider the Total Gym Fit. You will notice that it also helps in strength training, low impact exercises, and heart rate training.
Also Read: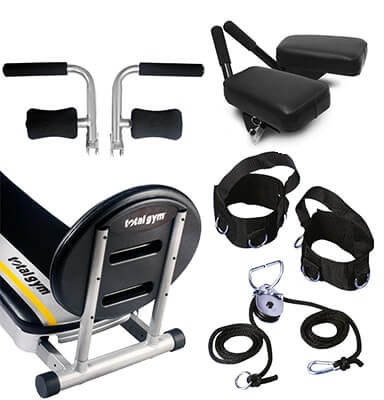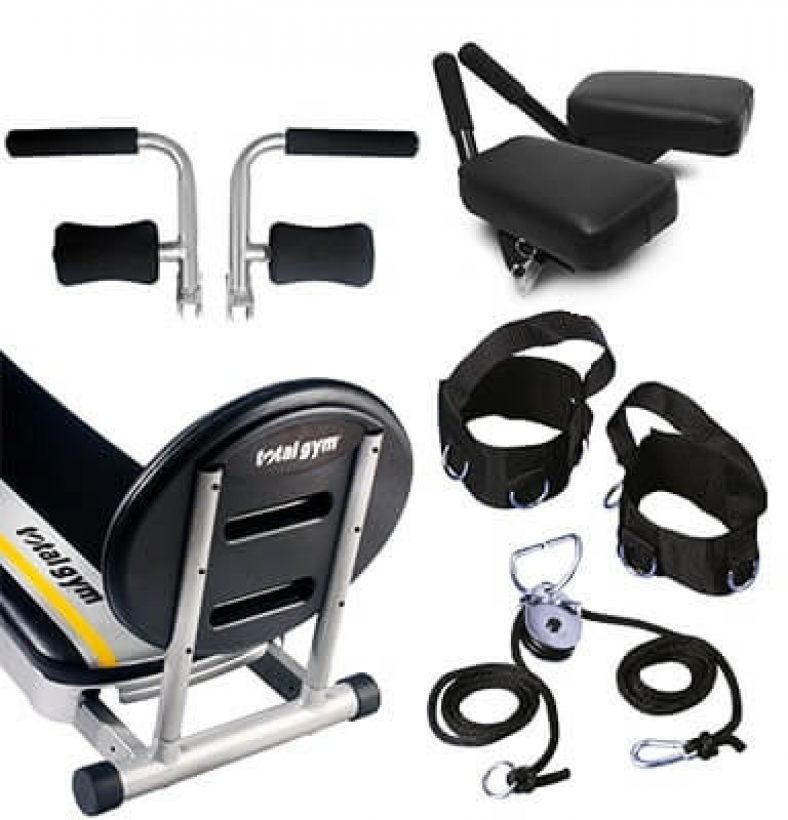 For most people looking to purchase home gym equipment, the accessories are a key determiner of the decisions they make. This is because the additional elements that are paired with the machine come in handy in attaining fitness goals. They improve the value of your purchase and reinforce the exercises you take up.
The main accessories that come with the Total Gym Fit according to the main website are:
Leg pull – this comes with a detachable bracket and a pair of ankle cuffs
Wallchart – it contains 35 exercises from Total Gym. They are easy to make out and follow.
Training deck – acts as your personal system.
Wing attachment – this is a two-piece designed to give you more space and range.
Ribbed squat stand
Nutrition resources – since a proper diet is a significant contributor to fitness, the Total Gym Fit is inclusive of Dan Isaacson's Nutritional Program & Meal Plan.
---
Common Features Between Total Gym Fit and XLS
Since both models are made by a trusted brand in the world of fitness, they are bound to have similarities.
The four main ones include their durability.
The frame is made using durable steel, which gives them longevity.
Then you get a bench frame made from quality plasmas and high-quality vinyl.
Also, the handles are well-fastened. The cables are also made with quality steel and coated with vinyl.
The physical make-up of both models is meant to guarantee continued use with minimal issues.
Key Differences Between Total Gym Fit and XLS
To help you decide which one to buy, let's break down the main differences between the Fit and the XLS!
One notable difference between the Total Gym Fit and the XLS is that the Fit has up to 12 levels of resistance, covering more workout options, while the XLS has 6 variable resistance options.
The Total Gym XLS has a weight capacity of 400 pounds, while the Total Gym Fit has a weight capacity of 450 pounds.
The Total Gym Fit offers more than 85 different exercises, while the Total Gym XLS offers more than 80 different exercises.
Tips in Choosing the Right Equipment
The following features should help you identify which of the two, Total Fit Gym and XLS, is ideal for you.
This changes the amount of body weight you use to get your workout done.
While the XLS has six incline levels, which change on a specific percentage, the Fit comes with twelve levels.
You get to adjust the incline to your comfort level. The more inclines, the easier it is to change body weight as you increase with moderation.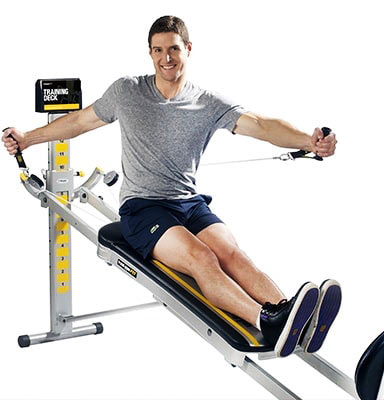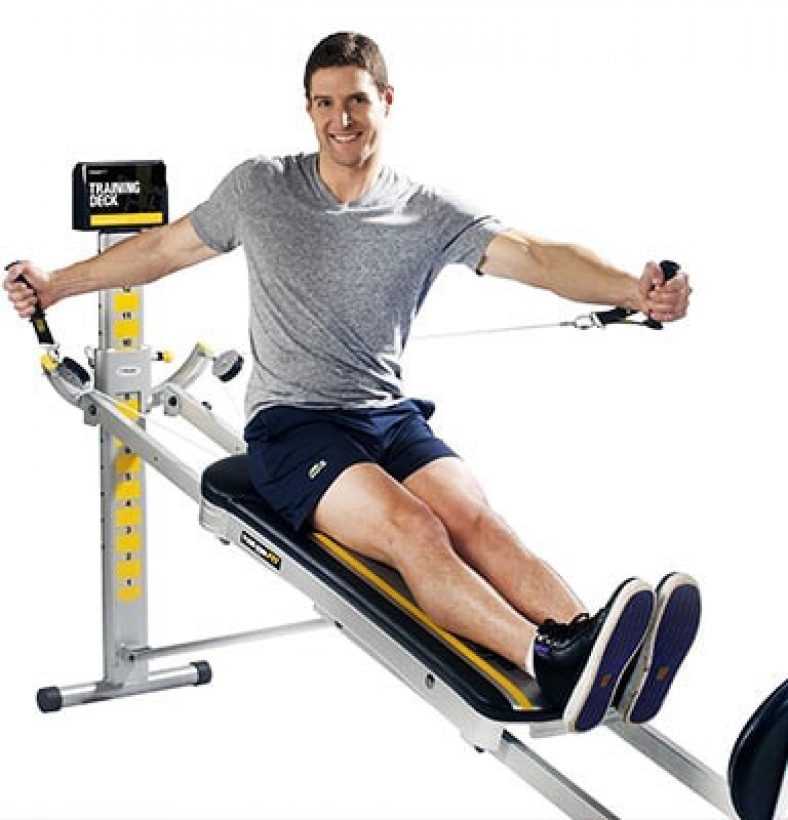 The Total Gym XLS has a resistance ranging from 6%-54% with an increase of 9.6% between each level. The Total Gym Fit allows you to make adjustments within the levels offered by the XLS.
Weight and Height Limitation
The higher the weight limit, the more convenient it is to users with varied needs.
Both the XLS and Fit have the same height restriction, with each having the ability to accommodate users who are 6 feet 5 inches comfortably.
A verifiable warranty gives you access to customer service at Total Gym for both models.
Comments under the model purchased and details on the issues you are facing receive a response from a representative who connects you to the respective departments.
The additional elements available on the Total Gym Fit makes its price a little higher than that of the Total Gym XLS. Both models offer value for money.
How to Determine Which Model Works Best for You: Total Gym Fit or XLS
As stated above, one of the main things that you should consider before making a purchase is your goals. However, it is crucial to note that your current situation also plays a large part in your choice.
Below is a detailed list of which of the models is ideal for a particular person.
You are looking for a solution that has more options on incline levels. This will give you more control.
You want to upgrade to a new model.
An extended warranty is vital to you.
You want something that will last through a lifetime or a large part of your fitness journey.
Quality and improved elements are essential, and the pricing is okay if you get value for your money.
Looking for accessories that are necessary for a good workout is not something you want to invest in.
One of your goals is to build a physique and muscles
You want a model that is kind to your body and especially joints when it comes to transitions in motion.
You are recovering from an injury.
---
This model if ideal for those who:
Believe in high-quality gym solutions from Total Gym
Want to get a full-body workout in the comfort of their homes
Are not keen on the percentage increase on inclines
Are working with a budget
Weigh 400lbs or below and are 6ft5' or below
---
A comparison of Total Gym Fit vs. XLS shows that there are slight differences between the models due to the improvements made on the former.
Some of the changes made were in the areas of resistance levels, which are great for several exercises. Also, the different inclines come in handy when you are getting exhausted, but you still have time left in your workout.
The wing attachment in the new two-piece design allows you to keep the leg platform. Although this means that Total Gym Fit will cost you more and take up extra space compared to the XLS, its advantages warrant the additional elements.
Both models offer excellent solutions. With the improvements stated above that are present in the Total Gym Fit, we recommend this model.