Total Gym training solutions have been appreciated for years.
They offer complete workouts and they have been popularized on TV.
But are they as good as they claim and if so, Total Gym 1400, Total Gym 1600, or Total Gym 1900, which one should you get?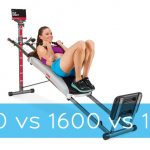 This post looks into the small difference between these home gyms and how they might impact the exercises you can perform on them to get in shape.
In theory, you can't go wrong with any of them. But in practice, each of these home gyms is highly capable even if too close to call for the average user.
Total Gym 1400 vs 1600 vs 1900 – main differences
First, let's take a look at the difference in technical specifications of total gym 1400, 1600, and 1900.
| Specifications | Total Gym 1400 | Total Gym 1600 | Total Gym 1900 |
| --- | --- | --- | --- |
| Dimensions | 92.5″ x 16″ x 43.25″ | 92.5″ x 16″ x 43.25″ | 92.5″ x 16″ x 43.25″ |
| Weight | 70 lbs | 75 lbs | 79 lbs |
| Exercises | 60+ | 60+ | 60+ |
| Levels of Resistance | 8 | 8 | 12 |
| Weight Capacity | 250 lbs | 250 lbs | 350 lbs |
| Attachments | 4 | 4 | 6 |
| Workout DVDs | 1 | 2 | 2 |
| Warranty | 1 Year | 1 Year | 1 Year |
Features of Total Gym 1400, 1600 and 1900
The 3 home gyms only look marginally different. There's the main support board that slides to the sides with each performed exercise. The higher the anchoring point of the sliding board is, the more resistance is added to each exercise, apart from the manually-adjustable resistance. Here's how each home gym performs.
---
The basic Total Gym 1400 is easy to recognize. It features black, red, and silver finishing and a thick gliding board attached to a vertical pole. With the help of an added footrest, it supports a wide range of exercises.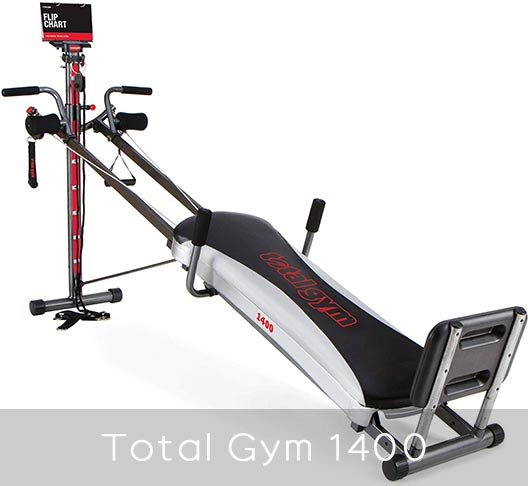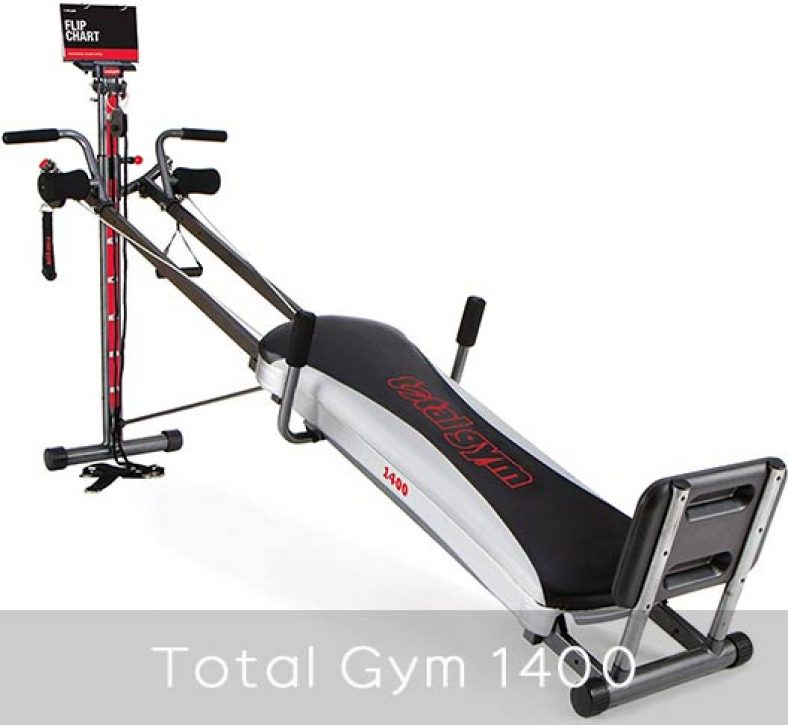 The home gym also comes with lateral handlebars which may be of use to those who like to go heavy while training legs. These handlebars are added to the Total Gym 1900 as they're characteristic to the 1400 and 1600 versions of the home gym.
There are 8 resistance levels which the user adjusts to make the cables of the machine pull easier or harder. This means there's plenty of room for customization even when training at home. The pull-over is one of the exercises targeting back muscles which feels completely different depending on how the resistance levels are adjusted.
With 92.5 x 16 x 43.2 inches dimensions, the home gym has a similar weight to its 1900 alternative. If users are expecting to save space with it, there's no reason to prioritize it over the other 2 home gyms.
Then there's the entire foldability benefit of the home gym. It folds completely flat which allows it to be stored easily compared to its competitors. However, the fold-flat design is implemented on all 3 home gyms.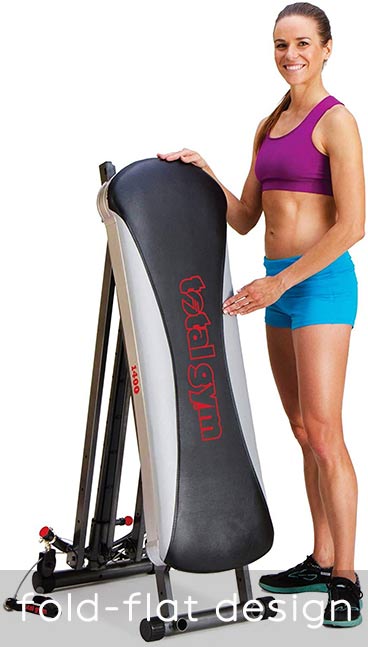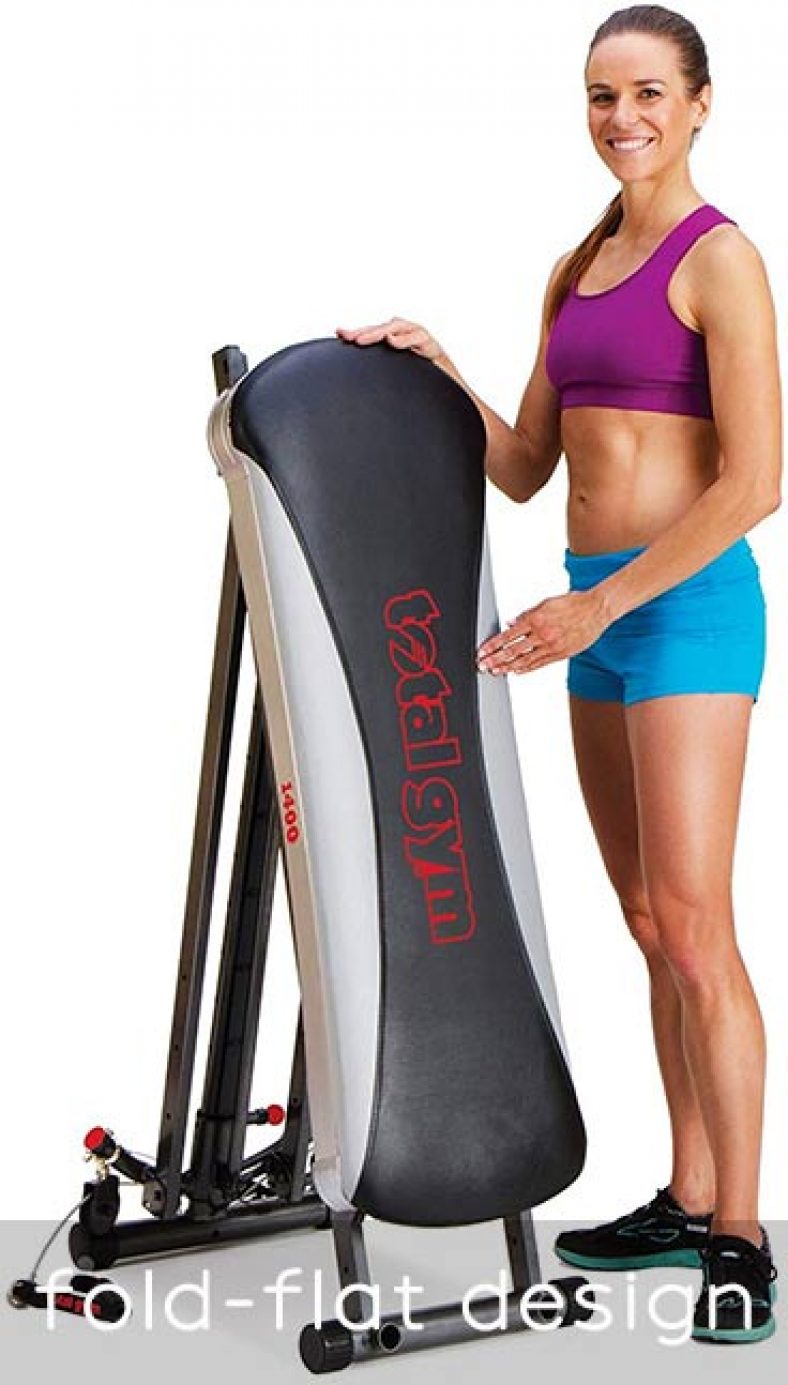 Multiple user profiles
In-console speakers
Extensive display
20 levels of resistance
22 programs
250lbs user weight capacity
---
Over 60 exercises can be performed with the Total Gym 1600. This allows it to easily replace most fitness gear users could rely on at home. Given many gyms are closed, it offers a solid alternative in the conditions in which it replaces a workout bench and a few dumbbell exercises.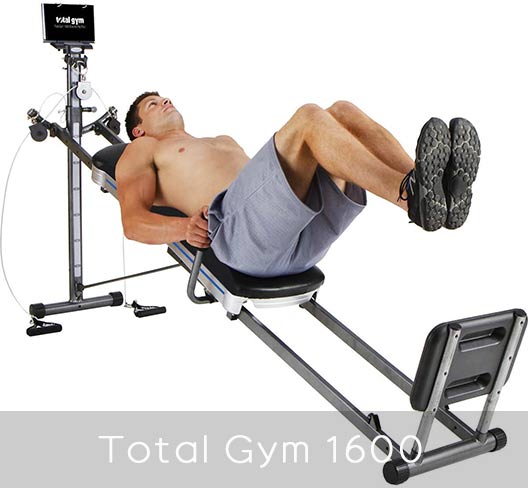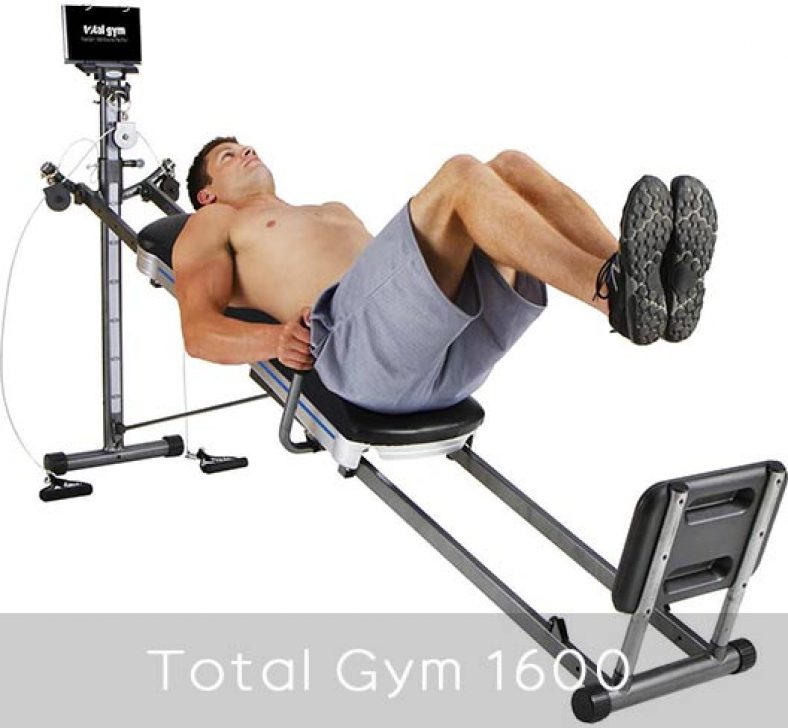 It also features 8 resistance levels and this is where many confuse it with the slightly more affordable 1400 alternative. In reality, the difference between the 2 home gyms is hard to underline. The 1600 version can be recognized by it's all black sliding board.
Along with the sliding board, there are handles that help keep the user in place when doing squats. However, they can't stay on the trainer all day. They need to be removed for certain exercises such as crunches which can be performed upside down.
If the 1400 version of the home gym features 4 workout accessories, the 1600 version comes with 6 workout accessories. It also features 2 workout DVDs (only 1 DVD with the Total Gym 1400) for a moment of inspiration when training at home.
It supports over 60 exercises (detailed in 2 user DVDs found in the box)
It includes a padded sliding board for extra workout comfort
Best beginner-level option out of the 3 home gyms
Not necessarily better than the Total Gym 1600
---
Total Gym 1900 is the robust version of the home gym. At 350lbs, it has the highest weight capacity which makes it a standout solution either for overweight users or for those with large muscular physiques.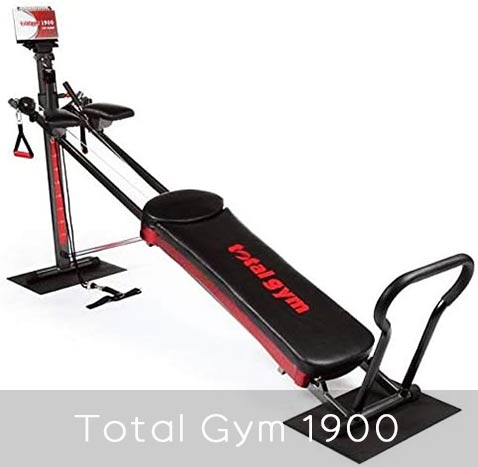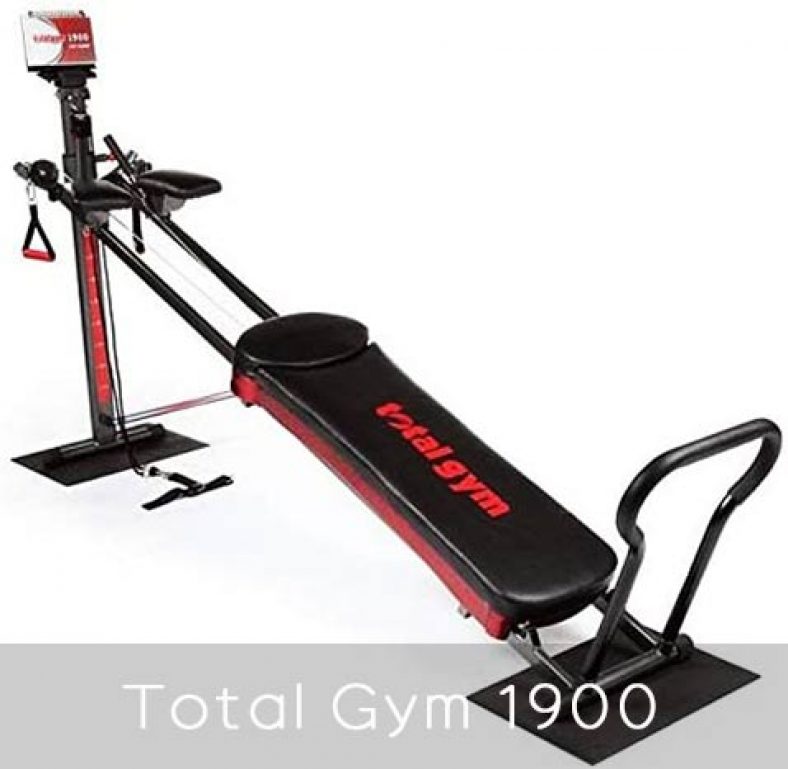 This home gym is used following the same principles of the series. It used tensions and cables to build and sculpt muscle. Since it's made to deal with heavy users, it also needs to offer a bit more. Maybe this is the reason it features a larger footrest when compared to the 2 other home gyms.
12 levels of adjustment for maximum resistance
High 350lbs maximum user weight capacity
Suitable for cardiovascular workouts and added strength training exercises
The best option for dedicated users who might train every day
The most expensive option of the 3 home gyms
Since these home gyms are so similar, it can be complicated to simply find the right option judging by any other characteristic other than their price. But the average user expects a lot out of these trainers. Here's how they compare.
The dimension of any fitness gear is crucial, especially to those training at home. While users need a bit more space to freely move around it, they need 92.5 x 16 x 43.2in for the fitness trainer. This means the workout machine has the same size across the board.
From the perspective of dimensions, they're neither small nor large. Designing a smaller home gym can be problematic in the conditions in which a narrow alternative would lose stability. This is why most users don't have an issue with the size of the home gyms since all of them are foldable anyways.
The maximum user weight is also crucial when it comes to the overall safety of the fitness trainer. Both the Total Gym 1400 and 1600 fitness trainers come with a 250lbs weight capacity. The Total Gym 1900 has a larger 350lbs weight capacity which turns it into one of the must-have solutions for multiple users, where the highest weight capacity always wins.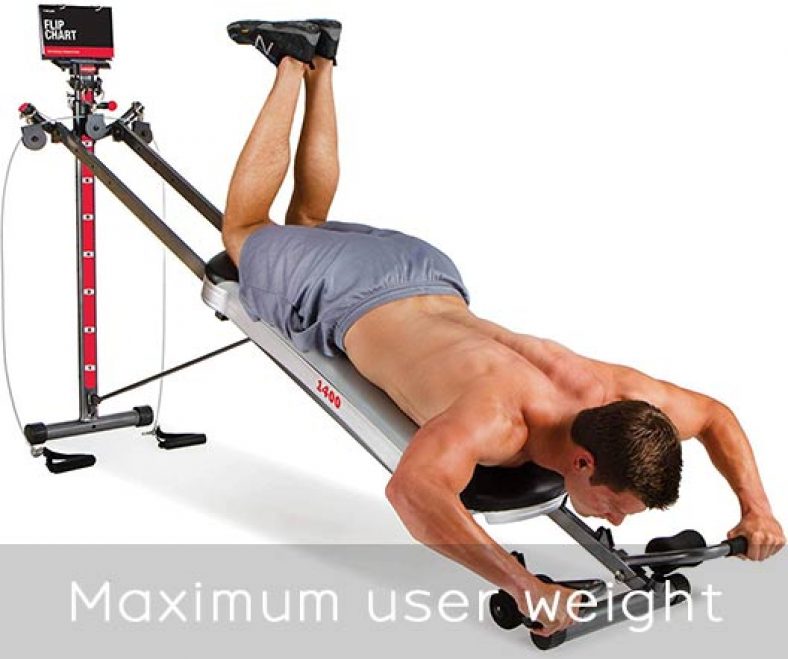 All 3 home gyms ship pre-assembled. Users only need to worry about installing the right attachment to the trainer as they can find the machines can be used within minutes of unpacking.
The advantage of a system with no added weights is that it doesn't require installation. Many users are about to try fitness machines for the first time as these are the customer's Total Gym targets. This is why having a solution ready to use out of the box is what matters the most.
8 resistance levels are available on the Total Gym 1400 and 1600. 12 resistance levels are available on the complex Total Gym 1900. As a result, it's crucial to plan the workouts before making a purchase. Most users are fine with 8 resistance levels. However, those who want to build muscle or strength above just simply getting in shape might need the versatility of the Total Gym 1600 trainer with its 12 resistance levels.
There's a 1-year manufacturer's warranty on all of the 3 trainers. Ready to work for years they rarely show any manufacturing defects. But in order for this policy to remain applicable, users need to respect the 250lbs respectively 350lbs weight capacity recommended by the manufacturer.
The best option for beginners
The affordable Total Gym 1400 is the leading option for those who starting out in fitness. It offers a complete range of exercises which are detailed in its attached DVD training videos. For the price, it's hard to overtake by the other 2 home gyms, especially for those who might only be training 2-3 times per week.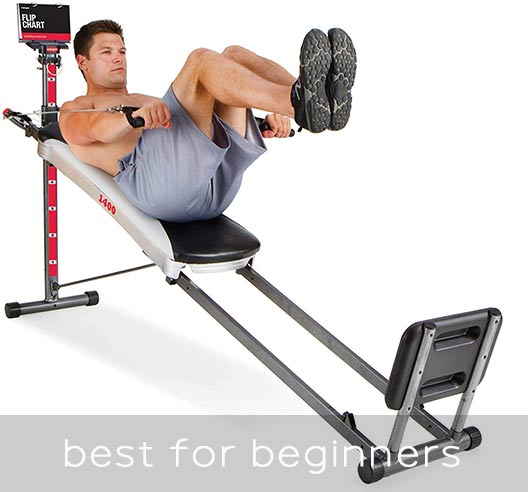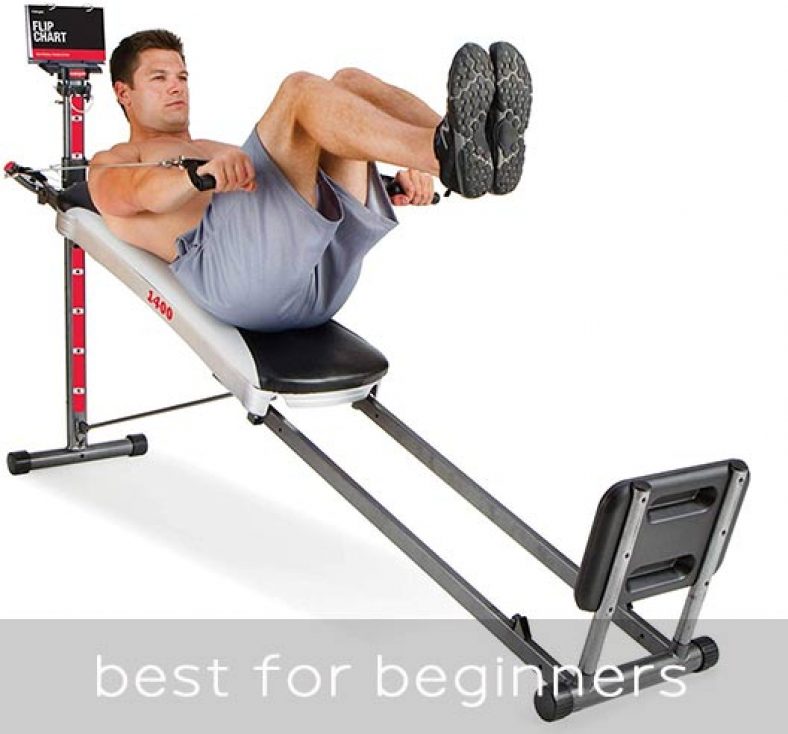 The best option for most users
The average user who needs to train at home on occasion to replace long drives to the gym can also consider the Total Gym 1600. With adjustable resistance, it offers a good adjustability range for all types of exercises, especially those which work the entire body.
---
Best for advanced trainees
Total Gym 1900 is the leading option for dedicated users. It's also the most expensive and this is why it should be an investment to those who are already committed to getting in shape. It offers total reliability and for most users, it also stands out above its competitors with its accessories, 12 resistance levels, and high weight capacity.
These user-level home gyms are a good starting point for weight loss or muscle gain. However, Total Gym Fit and XLS also worth having a look at given many users are interested in this Chuck Norris-promoted training system.
The home gym is very capable. Supporting over 85 exercises, it's certainly made for daily use. Furthermore, it comes with a high 450lbs weight capacity which places it among the 3 affordable home gyms. But the disadvantage of the Total Gym Fit setup is that it cost more and many users are simply not willing to invest as much to train at home, even with 8 training DVDs.
With 400LBS maximum weight capacity, even the XLS is a bit more robust than the series of 3 Total Gym releases. However, with only 6 levels of resistance, it isn't a match for the Total Gym 19000. With a higher price, it's also a bit too expensive for the starter user. Instead, it's only a simple solution for those battling the extra pounds.
---
All 3 Total Gym fitness trainers are viable options depending on the budget of the user. Even those already into training can rely on the 1400 version for a quick workout. However, not everybody wants something universal, and getting a bit more specific helps users achieve their fitness goals efficiently.
As a result, those who can afford to choose the Total Gym 1900 can rely on it. However, users should be certain on their training intentions as this is not the most affordable home gym to rely on at the moment. Otherwise, users can simply choose one of the Total Gym 1400 or Total Gym 1600 to start working out and getting in shape while saving precious space at home with their folding design.