You might be thinking getting in shape is difficult when having a sedentary job. But working at the desk isn't always synonymous with an unhealthy lifestyle. Over the past few years, office workers have seen various innovations but the walking treadmill is one which didn't prove a fad.
Titan Fitness made the Under Desk Walking Treadmill so that office workers feel energetic at work. It supports light walking which burns calories. Some workers even say it helps them focus a bit better. Others hate it completely.
This article looks deeper into the walking treadmill's features so you can decide if it's the right purchase.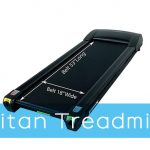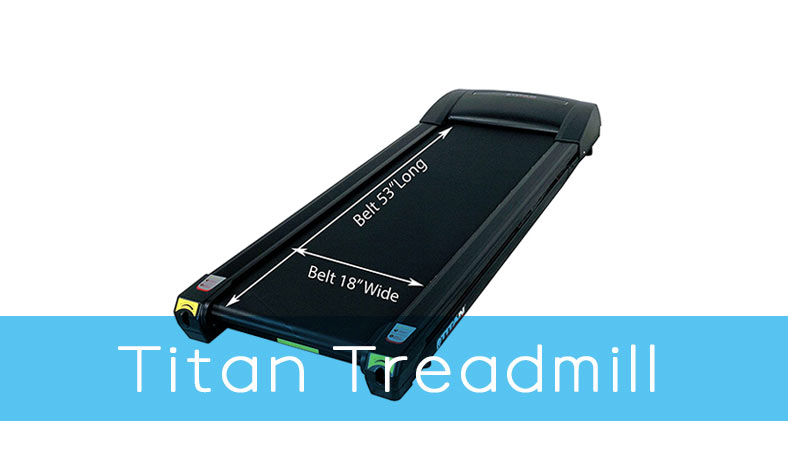 Titan Fitness Under Desk Walking Treadmill features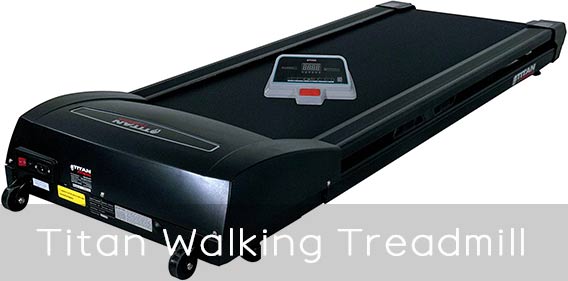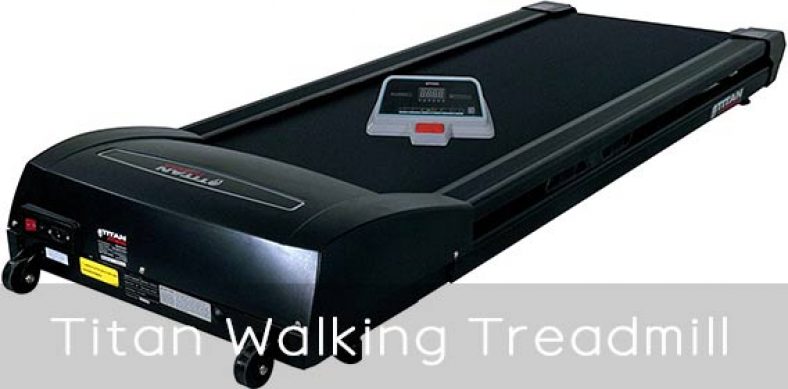 Made with adjustable speed like a regular treadmill
4mph maximum walking speed
250lbs maximum user weight capacity
It weighs 114lbs
Designed with a height of just 8in
It counts up to 9999 steps
Designed with a quick safety stop button
Ships with a console which sits on the desk
Compatible with all standing desks
Assembling the treadmill is easy. It ships pre-assembled and you don't have to worry about putting it together. However, it's not as mobile as many expect as it is quite heavy. There's a considerable design advantage that makes the life of the user easier, however. It sits on wheels which technically means there's no lifting involved when moving it.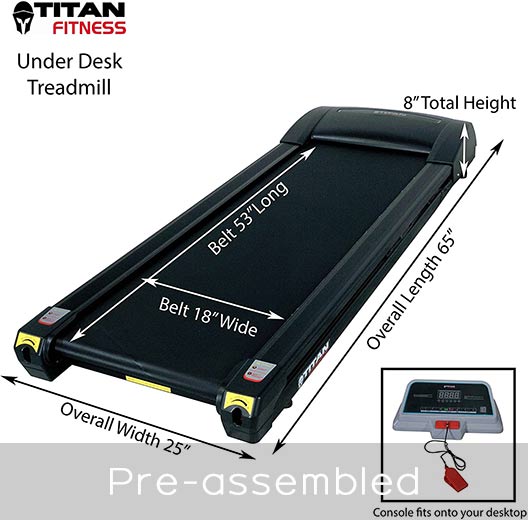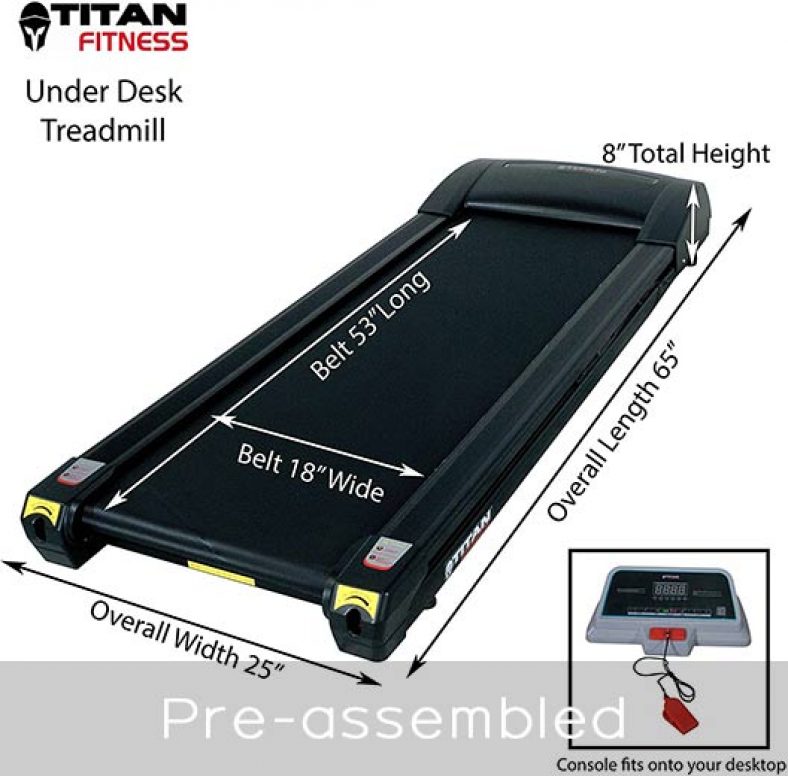 There's a central console that needs to be placed on the desk since there's no other area to put it on. This is the main reason you need to clear a small part of your standing desk for the console. Once the 2 elements are in place, you can start standing or walking on the treadmill.
Working and walking on the Titan Fitness Under Desk Walking treadmill
Staying concentrated while walking is the biggest hurdle new users have to go through. The treadmill is not uncomfortable, but it creates vibrations and you need to learn how to hold the computer mouse and how to use the keyboard again.
Most of those who have a problem with the treadmill is normally users who fail at this crucial step. Since no under desk treadmill is made to eliminate vibrations, you need to expect some level of standing desk shakiness when walking.
How much you can walk on the Titan Fitness Under Desk Treadmill?
You don't need to walk all day while enjoying the treadmill. You can also take standing breaks or you can move it out of the way at times during the day as needed.
Most users report around 6.5 miles of daily walking within the first week with the treadmill. This is a considerable amount given the alternative is normally closes to zero miles when simply standing at the desk.
An average person can burn at least 60 calories per hour just by walking. With a minimum of 3 walked hours per day, you can burn around 180 calories which equates to 900 weekly burned calories. This is the equivalent of nearly 2 gym sessions which makes the treadmill useful for those looking to lose weight.
Of course, the number of calories can vary here. Your weight and height are among determining factors when it comes to how much energy you can consume during your working/walking sessions.
Then, you need to take the speed and the duration of the walk into consideration. Some users can't walk for more than 1 hour. But most of those who already own the treadmill report frequent walks and breaks during the day. You can also be on and off the treadmill multiple times per day.
Without a doubt, all of this moving around helps burn calories. But you can also expect mental benefits in the area of focus and better energy levels. Sitting at the desk can come with all sorts of issues such as uncomfortable postures and even reduced motivation. Staying active is one of the simplest methods to combat these problems.
You may also like: Get Fit While You Sit – Cubii Under Desk Elliptical 
Burn calories and improve posture with the walking treadmill
One of the main benefits of the treadmill is that it aids proper posture throughout the day. Standing desks themselves can improve lower back pain with better posture. Since walking is even more difficult with a bad posture, the combination of a standing desk with a walking treadmill proves beneficial for sitting up straight properly.
Staying safe on the treadmill
If you've ever used a treadmill at the gym, you notice most come with a safety clip that attaches to your shirt. Its role is to automatically stop the treadmill if you start to drift too much towards the back of the treadmill and prevent you from tumbling over. Such a safety clip is added on the Titan Fitness treadmill as well. This is the reason why it is safe office equipment, even if you aren't typically running on it.
The console sits on the desk horizontally
The placement of the treadmill's console may also be seen as an advantage. Since there's no frame for it to sit on, you can place it anywhere on your desk. While its viewing angles are limited, it's what allows the treadmill to be used under the desk in the first place.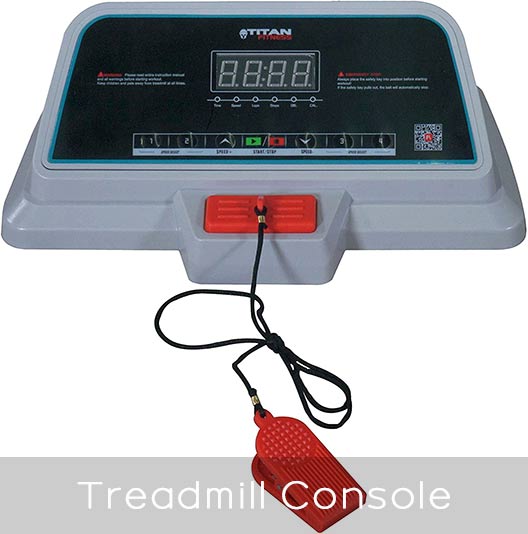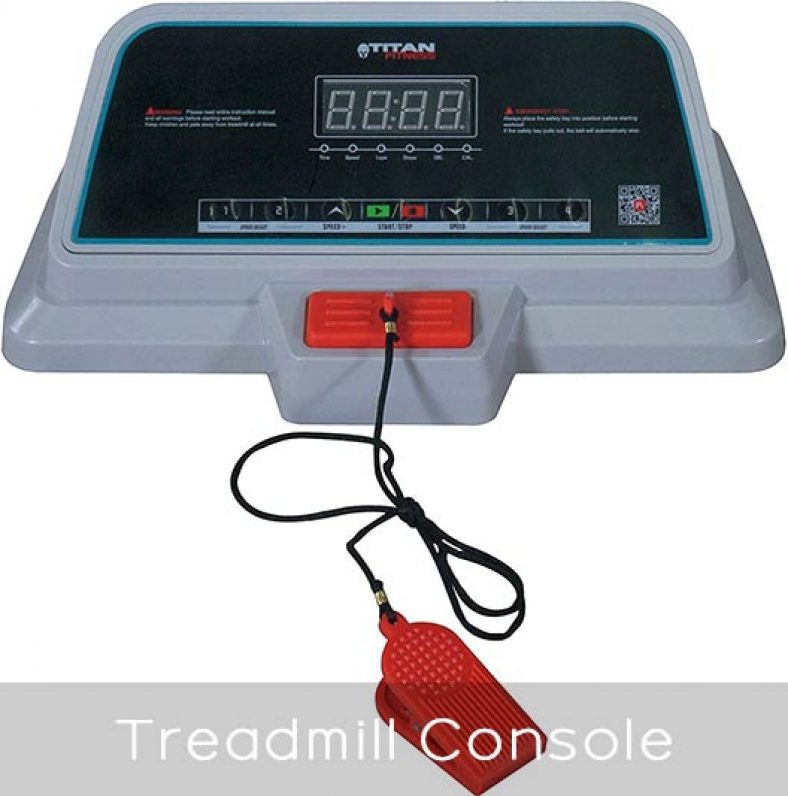 Some users are concerned about the overall viewing angles and the usability of such a display. But there's an included remote control for quick speed adjustments which compensate for a control panel which might not come with perfect viewing angles.
Continuous calories, time, and steps display
The treadmill shows minimum statistics, but you will know the number of burned calories at the end of the day. It's important to find the right pace if you're looking for a specific fitness goal such as weight loss. The good news is the treadmill's display shows calories, workout time, and the number of steps on the digital display in rotation. As a result, you always know when it's time to take a break or when you need to walk a few more minutes to reach your daily goals.
Titan Fitness Under Desk Walking Treadmill drawbacks
Under the desk, walking treadmills are still improving as most brands try to find the right balance between working and exercising. Titan Fitness is no different.
Another considerable issue for those taking the treadmill seriously is the lack of smartphone connectivity. Most users are stuck with the data the treadmill shows but there's no possibility of browsing through workouts or simply store all walking details of the week.
As a result, most users can't know exactly how much they walk in a month. This can be a considerable issue for those in a caloric deficit who need to stay on point with their energy expenditure to avoid burnout.
While small, the treadmill is still heavy and this is problematic for those expecting it to be mobile. Several users underline it isn't necessarily easy to move around, even with its built-in wheels. As a result, you can't plan taking it to the office in the morning and packing it in the trunk to take back home at night with its heavy construction.
Is the Titan Fitness Under Desk Treadmill reliable?
The treadmill is highly reliable and Titan Fitness is known for making some of the most durable fitness equipment on a budget. You don't need to purchase a full line of fitness equipment from the brand just to get in shape. At work, you can use the Under Desk Treadmill, and at home, you can use the Titan Fitness Power rack to get your muscles working harder.
Additionally, you can also purchase one of Titan Fitness's standing desks. Most users purchase the dual motor standing desk as it's the fastest in height adjustments and it works with the Under Desk Walking Treadmill.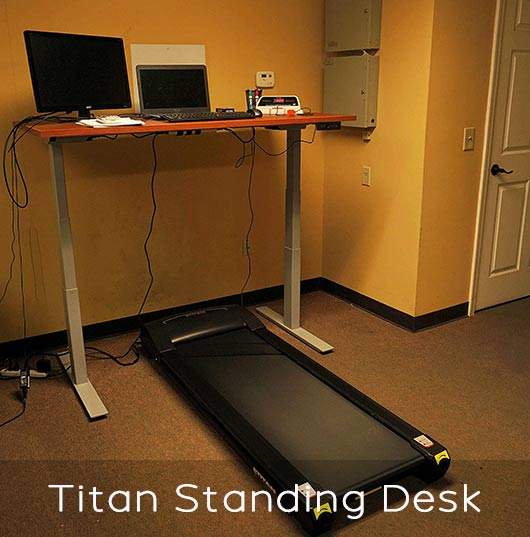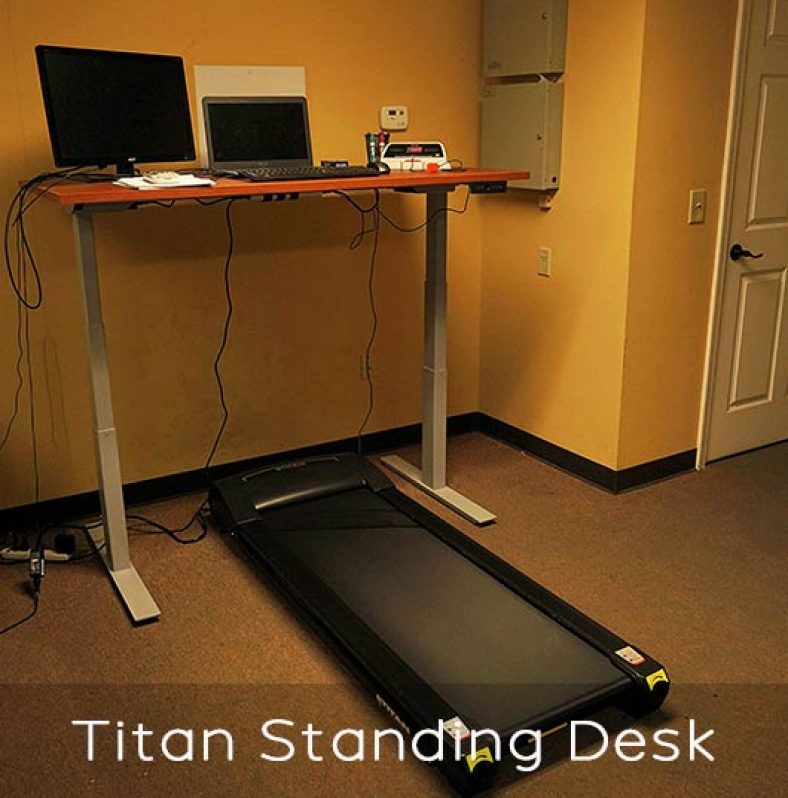 Compared LifeSpan TR1200-DT3 Under Desk Treadmill
LifeSpain's Under Desk Treadmill has a similar 4mph maximum speed performance. However, it features 6 impact-absorbing shocks to dampen walking noise. It can be a better solution for busy offices where you don't have the luxury of creating too much-walking noise. But you need to expect to pay twice as much for it when compared to the treadmill made by Titan Fitness.
Compared to Goplus Under Desk Electric Treadmill
If you want a user-friendly alternative, the treadmill made by GoPlus is a worthy option. It features a touchable display that is considerably superior to the displays used on the Titan Fitness and LifeSpan walking treadmills. You also get a small remote control to help you stay a bit more focused on work and less focused on the adjustments on the console.
However, the GoPlus treadmill is also considerably lighter. At a weight of just 55lbs, it is one of the best options for those seeking improved mobility. For example, you might be working at home in different rooms where you have standing desks. In this situation, the lightweight treadmills can be moved from one room to another without putting too much pressure on the back. Titan Fitness' treadmill is twice as heavy.
Pros
It burns calories while walking and working, which can't be said about regular treadmills
Made with a safety clip to keep you away from workplace accidents
Designed with a mobile console so you can place it anywhere on the desk
It shows burned calories with each walking while working session
Cons
There's no smartphone app to view workout data
It might be a bit too heavy to be moved from one desk to another without any help
If you want to stay in shape at the office, you need to be very motivated. But a simple walking treadmill such as the one made by Titan Fitness might be all you need to jumpstart your efforts of burning calories and improving posture.
For it to work as expected, you need a standing desk. You can purchase one from Titan Fitness as they also enjoy high popularity based on their low acquisition cost. Together, you create a unique work-train platform that helps you stay in shape.