If you want to concentrate on basic exercises such as squats, a power rack is hard to replace. It certainly supports other barbell exercises, but the power rack is a candidate for the most popular squats home machine. At home, it creates a safe place where you can exercise, build more muscle, and improve fitness.
Titan Fitness makes multiple types of power racks that can be used both at home and at the gym. They support a vast range of bodybuilding and CrossFit exercises which recommends the racks for any fitness level.
If you are new to power racks, you need to know what to expect since there are differences between the T2, T3, X2, and X3 Titan Fitness power racks.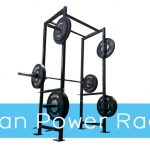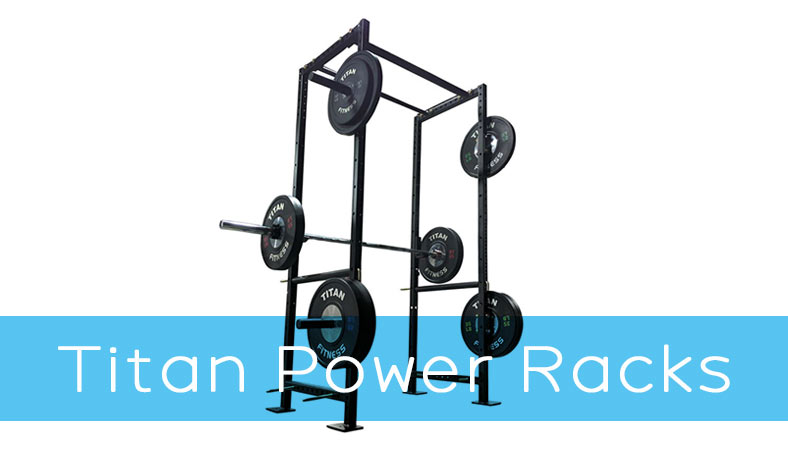 Any fitness journey can start with a simple power rack. The T2 series is the entry-level option from Titan Fitness. It supports squats, military presses, rows, and other barbell exercises.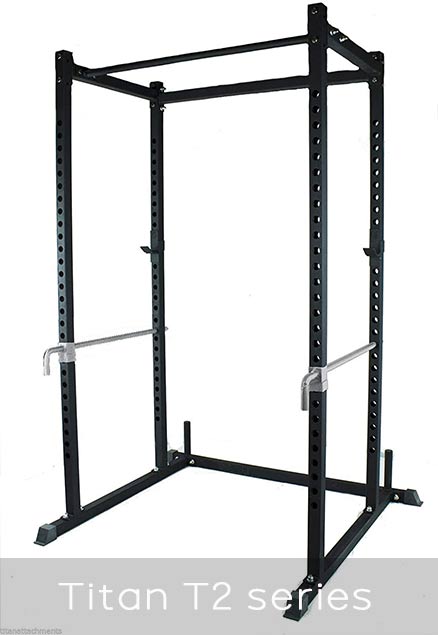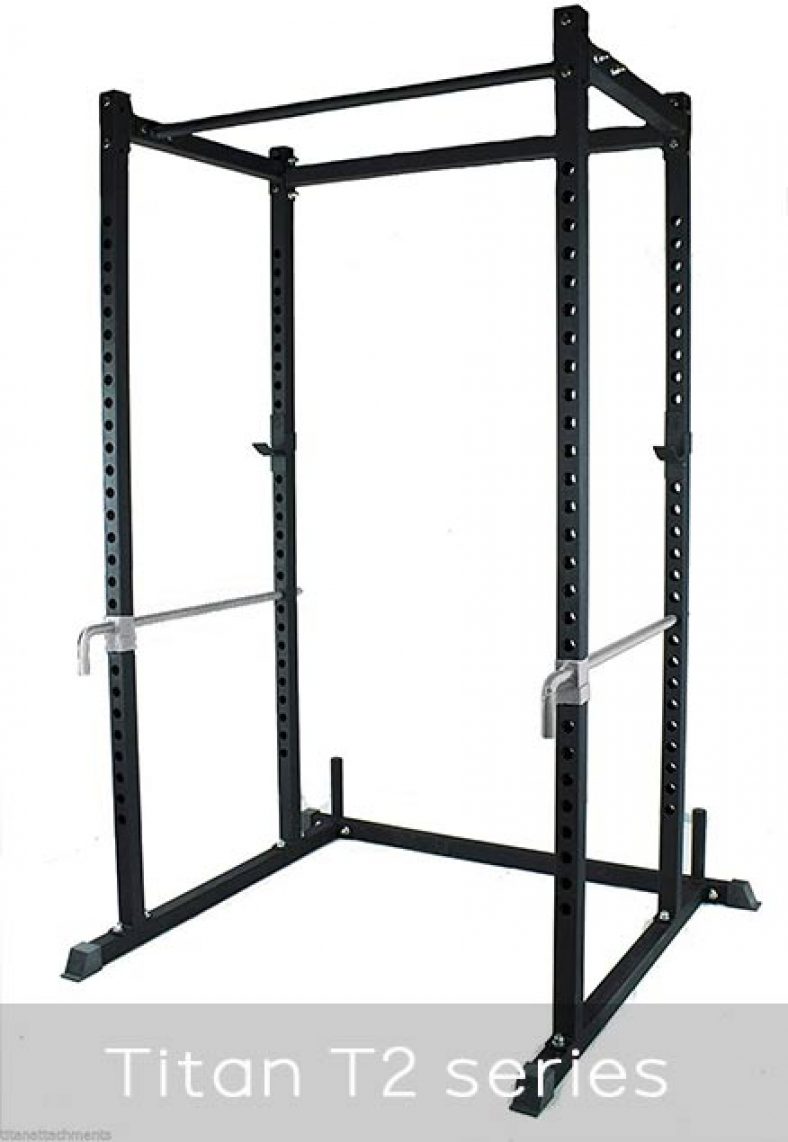 Made from heavy-duty steel, it comes with 2 J-style height-adjustable hooks so that you can easily set the barbell at a comfortable level. It also comes with 2 steel uprights.
The power rack handles the total weight of up to 700lbs which means it supports both small weights and heavy weights for all types of users. If you are thinking about its versatility you also need to know the power rack features a thin 1 1/4in chin-up bar. You can practice pull-ups without investing in an additional pull-up bar as a result.
You might be the type of users looking to stack weight plates to have them off the floor at all times. In this case, you can choose the T3 series power rack. It features 4 stacking steel tubes which means it handles series weight. In numbers, it racks up to 1,100lbs weights and it handles the total weight of up to 4,400lbs.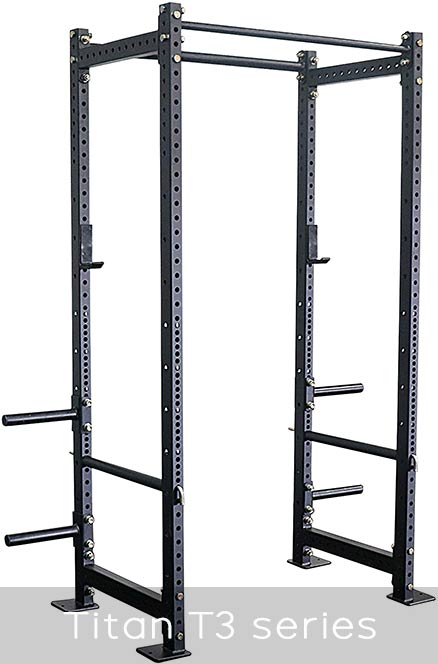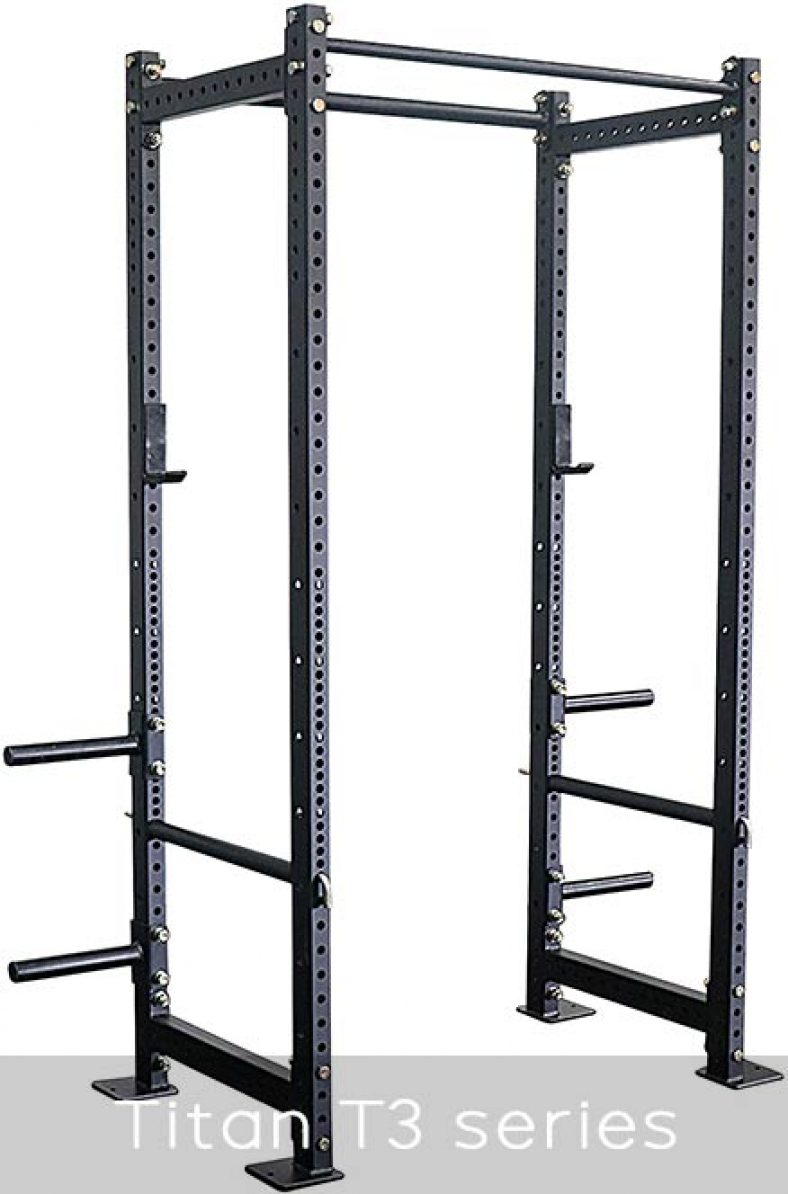 Assembling the rack is not complicated. You can even use it as a pull-up bar station once it's fully assembled. The exercise variation the power rack is used for is as good as you can find in this price range. You can even practice your barbell shrugs and chest presses with the help of the J-style hooks.
With a static weight capacity of 3,000lbs, the steel gauge-made power rack is determinant for those into bodybuilding or general fitness training. It's not made for the amateur user only training a few times per month.
The large weight capacity of the X2 power rack recommends it for the frequent user who needs rugged construction.  It holds weight plates and it includes 2 hooks and 2 pull up bars as a complete home gym with 4 band pegs.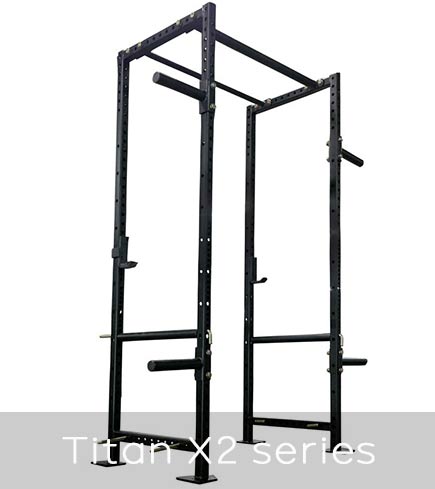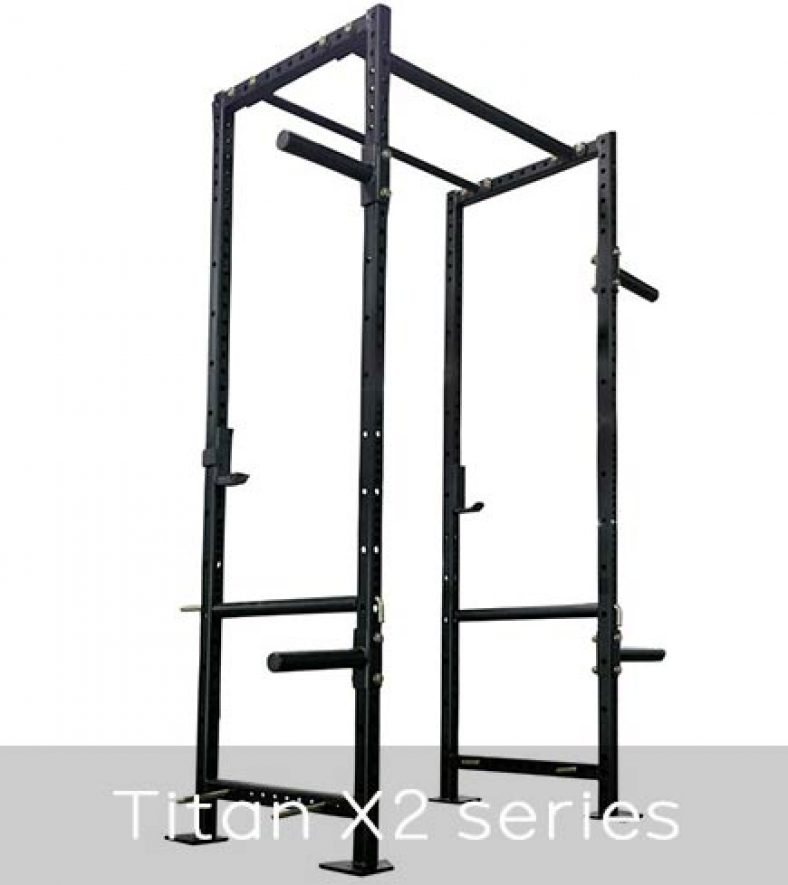 Depending on the room or garage you might want to train in, you can even choose from 2 heights if you like the power rack. 87" and 78" height options are available. Since the 9 gauge steel tubing is 2" thick, even the tall version is stable. There's no wall anchoring needed for you to perform exercises even with high weights.
The X3 series features various types of racks for all types of home and commercial gyms. The 18" X3 Space-Saving Power Rack anchors to a wall. As its name suggests, it saves space and it can be used in small training areas where there's not enough room for a free-standing power rack.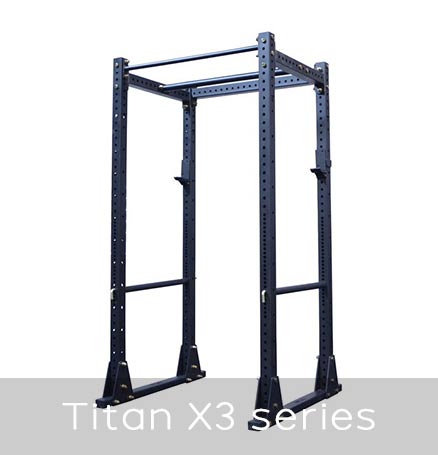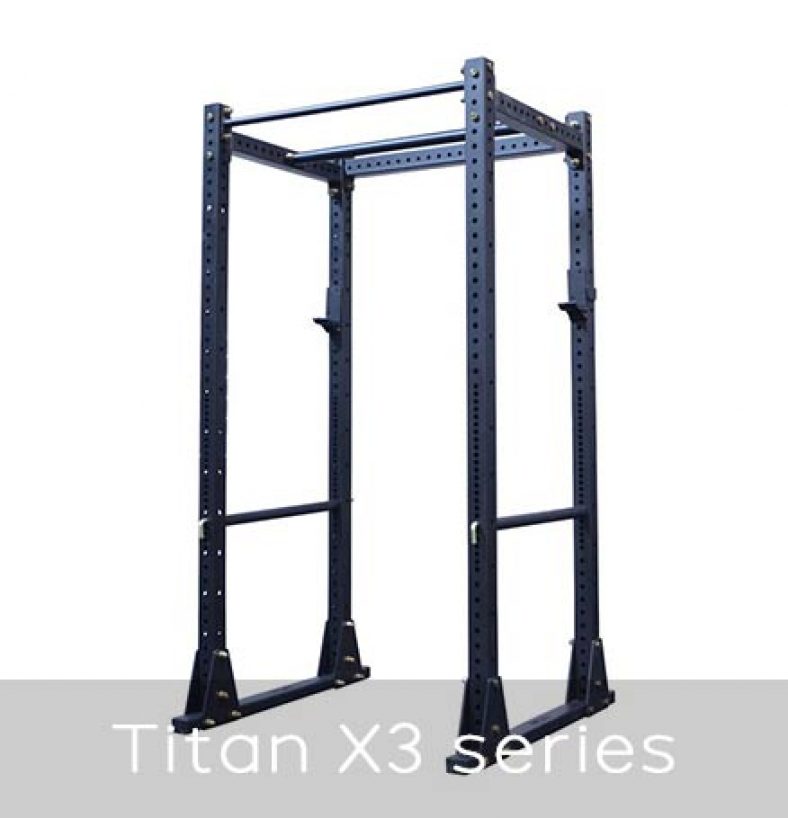 A good alternative in the same X3 series is the Flat Flor Power Rack. With a modular design, it can even be used with extensions or together with the 18" X3 Space-Saving Power Rack. The Flat Floor design has a weight capacity of 6,170lbs. It may even work for tall users as it comes in a 92" version.
The power rack also features 2 pull-up bars of various thicknesses, depending on your grip preferences. Both 1.25in and 2in diameter bars are added to the tall power rack.
Padded J-hooks are added to the X3 series. This makes the power rack a good option for home use as it doesn't create too much noise whenever you drop the barbell onto the hooks. If you have neighbors living closely, it might be worth considering these styles of hooks for all types of power racks.
No products found.
Titan Fitness power rack benefits
All of these power racks have a few common benefits as well. You can find them easy to use plus you can rely on them if you own a workout bench.
The walk-in design is a term used in the fitness world to illustrate machines that don't limit your positioning and posture. Most specifically, it is associated with workout benches. Power racks aren't just made for squats. They also support chest presses if you have a solid workout bench.
The walk-in design also allows you to perform pull-ups. There is no specific grip point to worry about on these power racks. Back and biceps are engaged with a classic pull-up from either side of the power rack.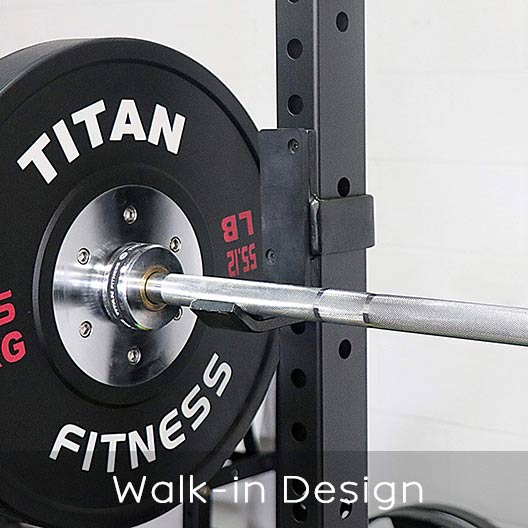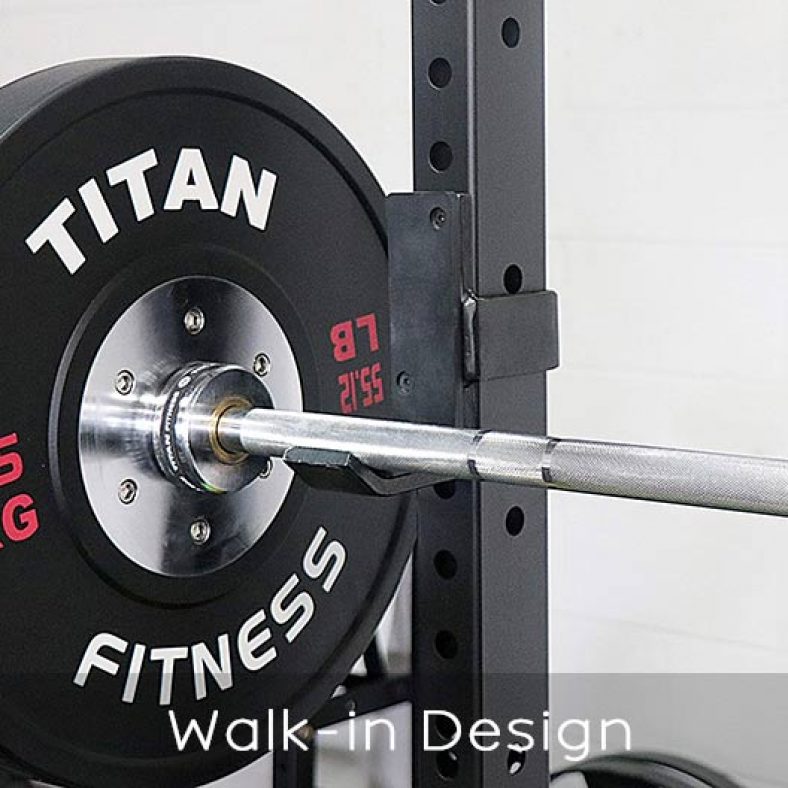 These racks are also walk-through. They can be placed in the middle of a room and you can walk through the rack to move from one place to another. It can be a major advantage for those who don't need their power racks lined up next to a wall. For commercial use, this allows 2 users to work at the power rack at the same time from 2 sides. Alternatively, you can train right inside the power rack for powerful squats.
The ability to add accessories
Some people like to add pegs while others like to hang extras such as rubber bands off the power rack. Titan Fitness has this versatility benefit as it comes with multiple holes for barbell height. But they can also work with fitness accessories supporting a wide range of exercises.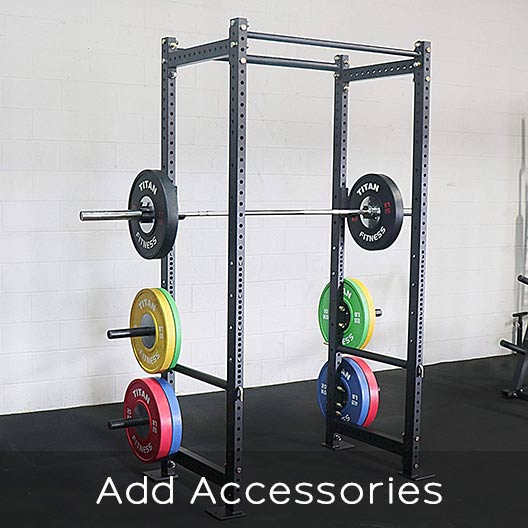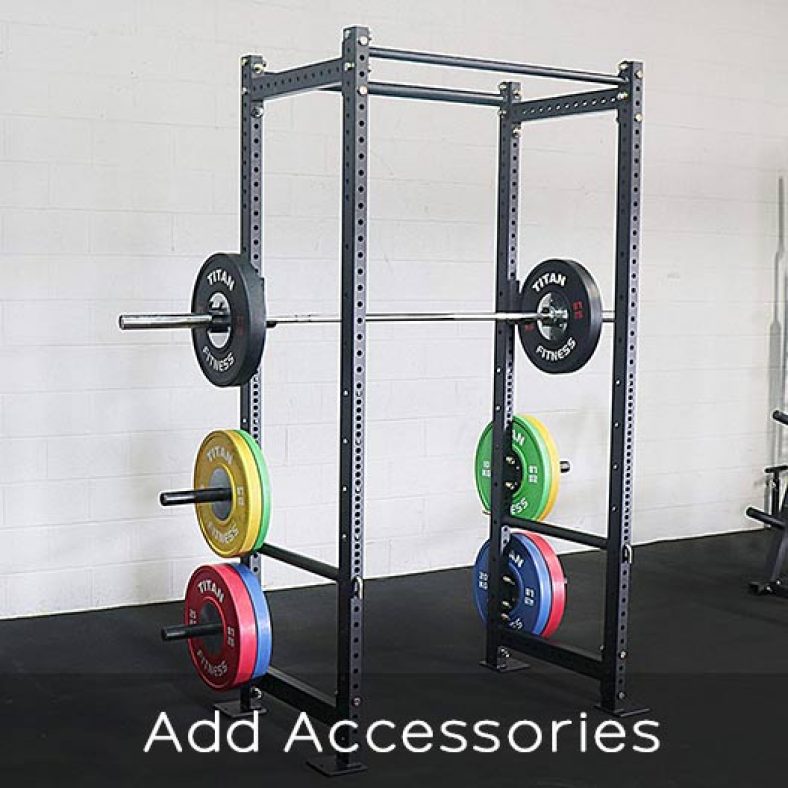 One of the exercises you can perform using these power racks is triceps extensions. You can add any rubber band to the rack for the exercise.
Another interesting benefit along the line of accessories and compatibility is the modular design of the racks. Power racks of the X3 series can be joined to create a larger workout area, very similar to multipurpose functional training areas you see at the gym.
Total Fitness power racks can be assembled on your own. You can use the online instructions to put them together in a few hours yourself. Most users recall assembling their racks in 2-3 hours. Once properly assembled, the power rack shouldn't move at all.
You need a flat floor to safely put one of these power racks together. Once assembled, it needs to stay in place even if you perform weighted pull-ups on one side. Printed assembly instructions aren't always shipped with Titan Fitness racks and you might need to look for them online for step-by-step installation guidance.
Drawbacks to expect when using the T-series power racks
Since all power racks have their limitations, you need to know what to expect with Titan Fitness products. The popular T3 Power Rack starts to show signs of wear soon. After only a few workouts, users start to notice the finish coming off the steel frame. The 2 lateral safety pipes also start to show peeling paint under a consistent barbell load.
How long does it take to get a Titan Fitness rack?
The supply of the Titan Fitness Power racks is constantly changing. Due to the increase in sales, the best Titan Fitness power racks are mostly out of stock. Demand is the highest for the Titan Fitness T3 power rack. Most other racks are delivered within 3 days if they're in stock with the exception of remote states such as Alaska and Hawaii.
Are Titan Fitness power racks better than Rogue Fitness power racks?
If you need a reliable alternative with good accessories compatibility, the R-3 Power Rack form Rogue is a good option. It works with land mine attachments which help anchor your barbell for certain exercises.
The power rack features a simple and fat pull-up bar, depending on the grip your feel more comfortable with. However, there's a new R-4 power rack out from Rogue featuring strap safety systems. It might be an interesting option if you're into CrossFit-type workouts.
With a height of 90", the R-3 is a rack for tall users. It can even turn into a rig as its also compatible with other Rogue racks. However, it costs a bit more than the X3 from Titan Fitness.
From here, it's your choice as to which power racks work best for you. If you're on a budget, the Titan Fitness X3 power rack is still the best overall option for the money. You can use the savings you'd make on the Rogue R-3 to purchase weights and at least 1 barbell, which is never too cheap either.
Rogue makes some of the most durable fitness machines of the moment at a low price. While it's not necessarily the first brand to be used in bodybuilding, it's certainly made to last. The R-3 comes with a lifetime warranty.
Titan Fitness vs Rep Fitness Power Rack
Power racks from rep fitness are made from rugged steel and they come with a weight capacity starting at 1,000lbs. However, their biggest asset is the multi-grip pull-up bars design. The power racks support both close grip and wide grip pulls. In everyday use, pull-ups with palms facing each other can be a bit more comfortable for that experience wrist pain while training.
Titan Fitness makes some of the most affordable power racks which can be used in multiple sports. If you're just starting in fitness, you can assemble them as use them as they are. If you like to add heavyweights to the racks, you may need to anchor them to the floor as you would with any other racks.
The walk-in design of these power racks allows users to find the best angle for multiple exercises and even to add a workout bench for various new exercises.
Made from pure steel, the racks are designed to last. A powder coat finish is used on all Titan Fitness power racks so that you can safely use them for years without worrying about rust.