How often do you come home after a long day's work or after a workout session and wish you had someone to help you massage your feet?
Even when you have someone to do that for you, there is no assurance that they'll do it satisfactorily—that's why gadgets are made—to assist.
These days, we have gadgets made for almost everything, and you'll also find various massage devices. So, if you've always wished for an effective massage, you can get it from electric massagers such as Theragun and Hypervolt.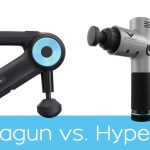 What are Theragun and Hypervolt Device?
Theragun is an electric massage device that started with the Theragun G1 production and later upgraded to the Theragun G2. As an improvement on these earlier device designs, we have the Theragun G3 pro, which is the latest product design.
The Theragun G3, by design, looks like a power drill, but it's used for percussive massage therapy and to relieve your muscles when you're feeling soreness or pain. Would you like to know more about the various Theragun designs? Check out this video.
Similarly, Hypervolt is a portable and convenient personal massage device manufactured by Hyperice Inc. It allows you to calm the body pain and soreness you deal with after the day's work, after a workout session, and other ways you experience soreness. Check out how it works here.
It's manufactured The goal for making each of these products and why you need to get any one of the two options is because they are a percussive therapy device designed to;
Cause pain relief
Facilitate blood circulation
Improve your mobility
Accelerate injury recovery
Provide preventative treatment, and
Enhance joint or muscle performance.
Both Theragun and Hypervolt work well. That's why it's not easy to choose between the two options. However, we are here to evaluate both products so that you can, by our evaluation, choose which one product is the best option for you.
Without delay, let's get into the detailed comparison of these two great options. By the time you're done reading, you will be able to decide which one is best for you based on the details we've carefully laid out here.
Theragun, by design, is easy to use, lightweight, and precisely what your body needs to relieve yourself of the pain and soreness you feel from a workout or stressful work. It comes with;
Three comfortable handles are designed in a triangular form for easy handles and rotation to reach difficult body angles.
Different head attachments that perform different massage functions. You switch from one to another, depending on what you need to achieve.
Portable and easy to carry in your bags or packs when traveling
Comes with different speed levels to ensure you use the right force and vibration for different body muscles.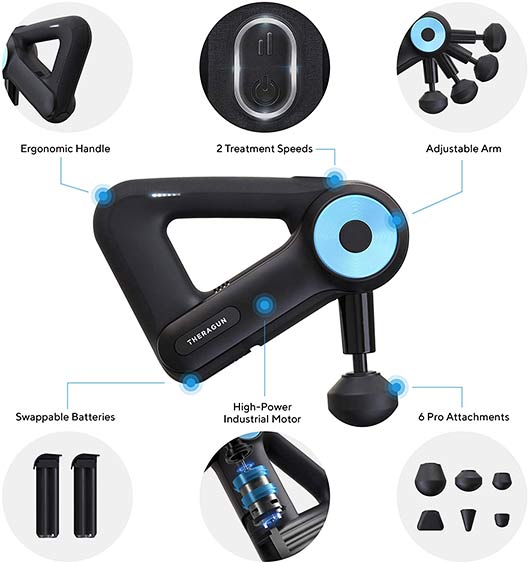 The Hypervolt is also a high-quality personal massager designed to provide hard pounding force and pressure of up to 3,200 percussions per minute. The portable device;
It runs fast with little noise such that the person in the next room wouldn't hear it working or know when you're using it.
It comes with a variety of interchangeable head attachments to make each head work in different body areas
It has an adjustable three-speed so that it can fit your comfort level
Designed as a T-shape device with the longer part of the device serving as its handle. Under the handle is where you have the button to switch it on and off. The button to adjust the speed is placed on the part that crosses the long handle.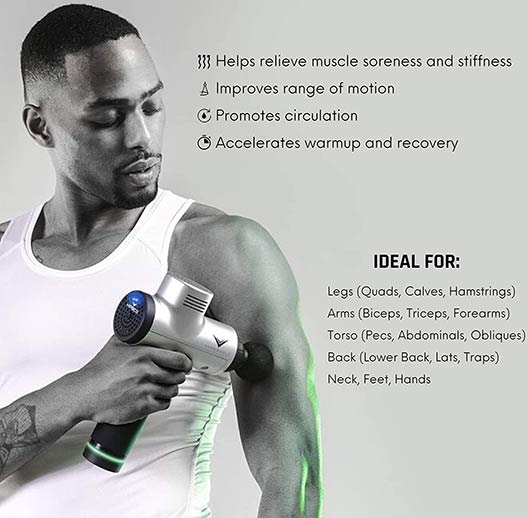 Theragun and Hypervolt Speed
When you turn on the Theragun device, it starts to work on the first speed level, which is the best level, to begin with, because it delivers enough pressure. The Theragun comes with two-speed levels, so when you begin with the first level, you can switch to the second speed level by pushing the power button again.
Do you want to learn how to use the Theragun device? Check out this explanation video.
For the Hypervolt, once you get it charged—it charges for about 150 minutes—you have them on and off switch underneath its handle while the power switch is at the other end. Go ahead and click the switch-on button. It'll eliminate green to indicate that the device is on.
Go ahead and switch between the different power settings. It has three different power settings, and each setting delivers a different level of speed. The third level has the fastest speed and delivers the highest pounding pressure of up to 3,200 percussions per minute.
Check out practical ways to use the Hypervolt device in this video.
Theragun and Hypervolt Power
With the Hypervolt, The power isn't that great even at the height speed design. If, while it's working, you place the head on your palm and apply force, you will successfully stop it from working, even at the third speed. It will then stall, and you'll have to restart it.
While for the Theragun, it's almost impossible to stop the device from working by using the same method because it's really powerful. When you try it, it keeps bouncing off your palm and pushing your hand away. Though it only has two-speed levels, you can't stop it even when it's working on the first speed level.
So, Theragun wins the power struggle. It is more powerful compared to Hypervolt.
Theragun and Hypervolt Accessories
The Theragun device comes in handy with packaging that looks like a travel bag inside the box. So, what's inside? When you open the bag, you'll find some accessories, including;
a charging block
a charging cable that goes to the wall and hooks up to the block
a bag of six head attachments of;

three ball shape heads with different sizes
a thumb shape head
a cone-shaped head and
a wedge shape head

the Theragun devices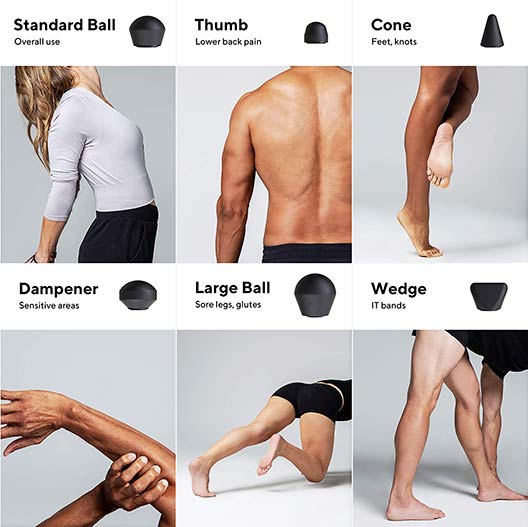 The Hypervolt, on the other hand, comes in a sleek-looking white package. What is inside the package is quite simple. In it, you will find;
Four different heads

two ball shape head with different sizes
a thumb head suitable for small areas
a fork shape head

it's chargers
a battery, and
the Hypervolt itself
Theragun and Hypervolt Sound
The G2 Theragun products are very loud. You can't use it in the early hours of the day or late at night when many people like to do the massage. However, the G3 is quieter compared to the noise the G2 makes. You can still keep a normal room-level conversation when using the Theragun G3, and you can use it at any time of the day.
The Hypervolt, on the other hand, is very quiet, works smoothly, and sounds pleasant to the ear. So, when it comes to sound comparison, Hypervolt wins in that regard because the G3 still sounds loud, and you'll have to raise your voice a little to keep room-level conversation.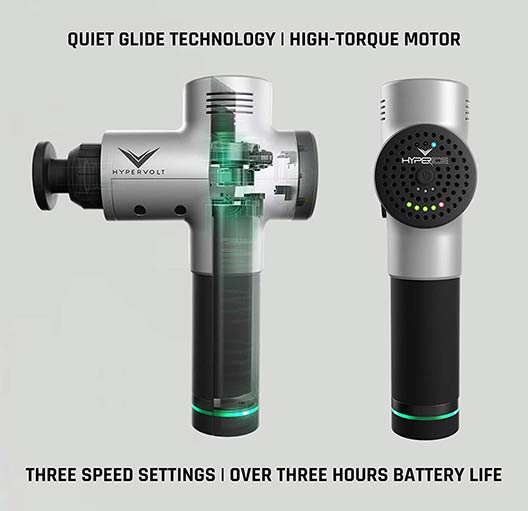 Theragun and Hypervolt Batteries
The Hypervolt has only one battery, which is in the handle of the device. It goes in the bottom of the device, and according to the manual, the battery can last up to two hours when it's fully charged.
The problem with having only one battery is that it might run out of power while you're using it, and you'll have to wait to charge it again before you use it. Therefore, the device is not suitable for commercial purposes. If you own a clinic, you might want to get the Theragun.
That's because the Theragun G3 comes with two batteries, and it's said that each battery can last up to 75 minutes. The two batteries will last a little above two hours, but the difference is that when one of the batteries runs out, you can remove it and charge it while you continue to use the second battery for the next 75 minutes.
So, Theragun wins the Battery challenge when compared to the Hypervolt.
Theragun and Hypervolt Price
When it comes to these devices' cost, the Theragun retails at about $599, while the Hypervolt retails at $349. So, there's a lot of difference between the two in terms of cost. The Hyervolt wins in terms of price.
So, if you're working with a budget and you need to get a massage device, you might want to consider the Hypervolt.
User Experience and Consumer's Choice
Both devices have great designs and a lot of similarities. However, some users complain about the noise that the Theragun device makes, so they prefer Hypervolt since it makes less noise. On the other hand, you might not be able to use the Hypervolt on your own because of the T-shape design.
You'll most likely need assistance to use the Hypervolt design on some difficult area of the body. However, because the Theragun device has three handles, you will find it easy to locate any angle of the body, and you wouldn't need the assistance of someone else. So, you can weigh the options and decide which you'll prefer.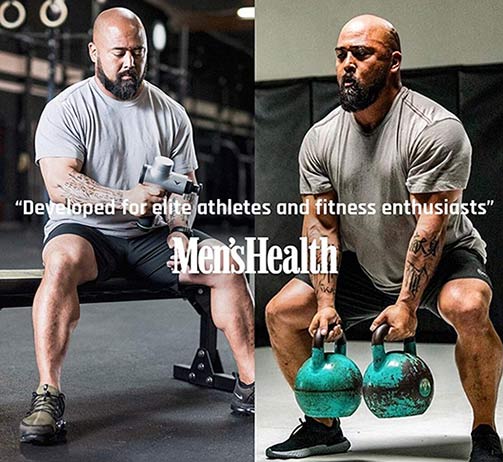 To get a well-spelled out picture of what each option has to offer, check out this table below. You can also watch this explanatory video.
Theragun G3
Hypervolt
Quiet but not as much as Hypervolt
Cost about $599
Has only two powerful speed levels
Theragun has a rotating arm of up to 180 degrees
The handle is a plus because it lets you hit difficult areas
Has six armpits or head designs
More versatile for self-care
Portable and easy to travel with because it comes with a travel bag with space for all its accessories
More powerful of the two options
Hypervolt is the quietest
Cost less at about $399
Comes with a three-speed level
The Hypervolt arm is static
The handle makes it quite uncomfortable to hit difficult areas due to its static design
Comes with only four head designs
You require the assistance of someone to hit specific areas of the body
You'll have to buy a travel case to carry it around
Less powerful compared to Theragun
Both products are great options. However, if you are looking for power, versatility, and a self-care device, then the Theragun is the best shot. But, Theragun is quite expensive, so if you're working with a budget but want a massage device that will deliver the desired result over time, the Hypervolt is your best option.
The clear differences between the two options make it less stressful to pick a desired device. However, keep in mind that both devices are great,  they both will get you from point A to point B—one does it faster but a little expensive while the other does it slowly and steadily, and it's less costly.
Other Massage Gun for Athletes: