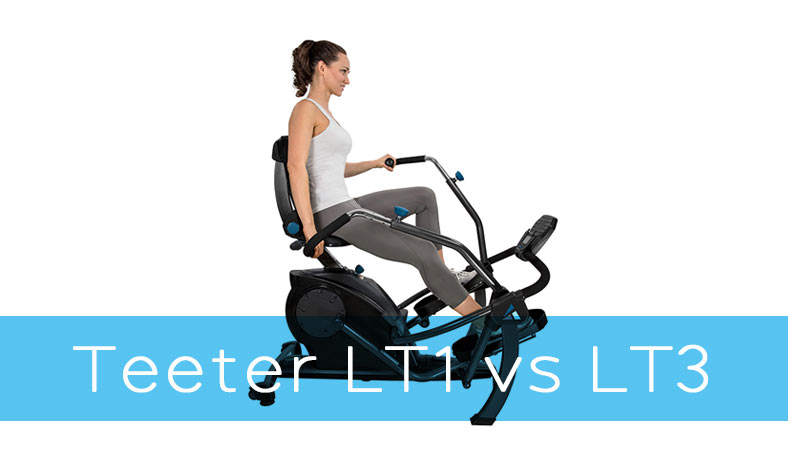 Both the Teeter FreeStep LT1 and the LT3 are reliable recumbent cross-trainers. These cross trainers are mainly used for low impact workouts. Made with patented designs, the cross-trainers have used un physiotherapy but they are also popular among regular users at home due to their low impact profile which takes care of the joints.
The main idea of these cross trainers is to offer a 2-in-1 fitness machine for dual power motion which works both the upper and the lower body. You get movable arms to hold as well as a pedal system which both work for full-body workouts. The seated position is what makes these trainers low impact.
Up until this point, both of these cross trainers made by Teeter are quite similar. But yet, there are 2 of them for a few reasons. Apart from their price, this article explains how they differ in performance. Make sure you read it through to find out which Teeter FreeStep you should choose.
Teeter FreeStep LT1 and LT3 common characteristics
A full-body trainer with low impact on joints
Adjustable arms and seating position
Reduced impact on knees and back compared to other fitness trainers
Built to burn calories
Suitable for muscle toning and strength gain
Based on adjustable magnetic resistance
Legs-only and arms-only alternative training modes
The ideal user of the Teeter FreeStep
The Teeter FreeStep Recurrent Cross Trainer is a low-impact exercise machine designed to provide a full-body workout while minimizing strain on the joints.
From the beginning, you can notice the low impact profile of these cross trainers suits all types of users but specifically the elderly.
It is also well-suited for people who are recovering from an injury or surgery, or who have chronic joint pain, as it allows for a high degree of customization and allows the user to adjust the intensity of the workout to their own comfort level.
There are a few instances where customers with arthritis recommend both of these trainers for pain-free workouts.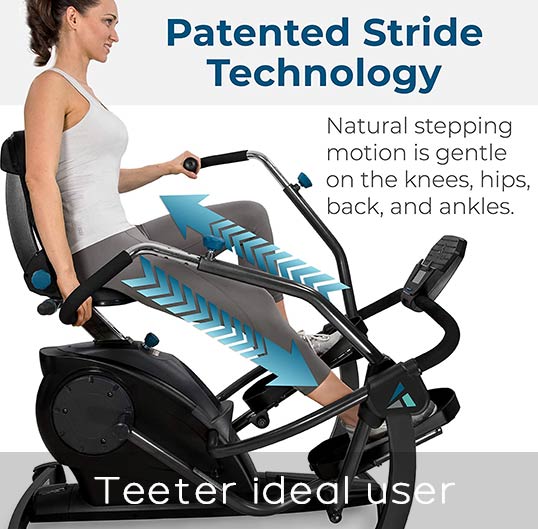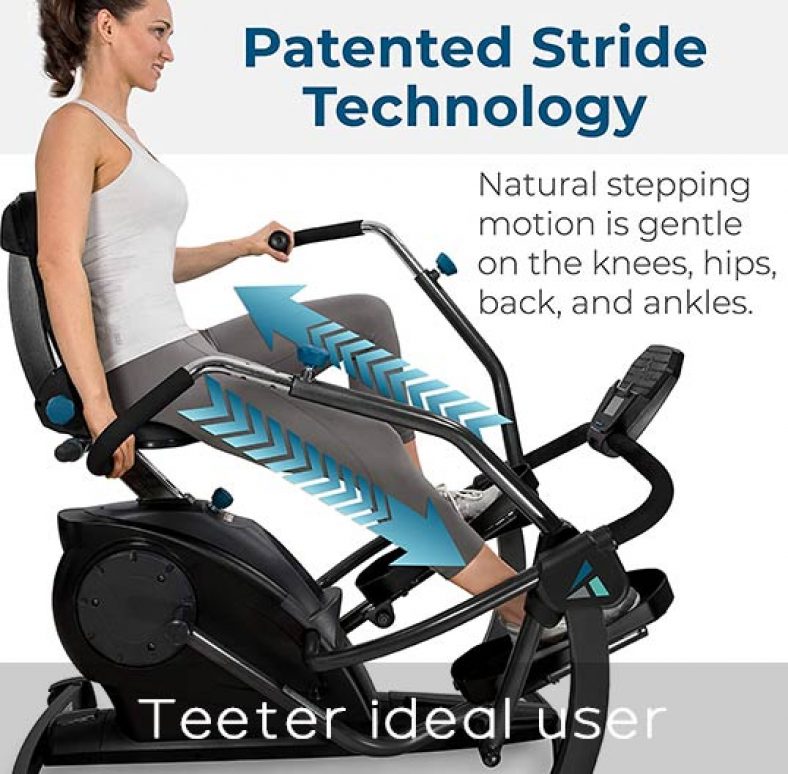 Using other types of fitness machines for arthritis is nearly impossible. Treadmills and elliptical trainers are out of the question.
Anyone going through joint pain knows the recumbent position might be the only way forward in burning calories and staying fit while keeping joint pressure at a low level.
The differences between the FreeStgep LT1 and the LT3
Both of these trainers serve the same purpose. But they're also different and you can order both online. But which one is best for you? These are a few key differences to think about before placing an order.
You'll notice the TPI overlay of the LT3. This is nothing else than a rubberized overlay that acts as a surface to prevent slippage. From the start, the pedals on the LT3 are made for intense workouts where slippage can be an issue.
Of course, this doesn't mean you can't train on the LT1's pedals. But it means the LT1's design is made for the novice, for the elderly, or for anyone who's not particularly interested in very long workouts.
Both pairs of pedals are ergonomic and with a good pair of supportive sports shoes, they don't create any leg pain. But at the same time, the added stability of the rubber seen on the LT3 makes its pedals the premium choice here.
The LT3 also adds rubber coating on the handles. This is in opposition to the plastic handles seen on the LT1. Both these sets of handles are height adjustable and in terms of training posture, you can't go wrong here.
But the rubber coating on the LT3's handles ensures your sweaty hands won't slip off during intense or long workouts. You might also be familiar with such grips from the fitness machines at your local gym.
In terms of comfort, the thin rubber coating also acts as a damping layer which makes the handles feel a bit better in the hands. Of course, this should not be a criterion as important as the rubber on the pedals, which also acts as an extra safety measure to prevent slippage during training.
Both cross trainers come with recumbent seats with back support. You'll notice the LT3 features a ComfortSelect seat with are a bit larger and even thicker than the seat on the LT1 trainer.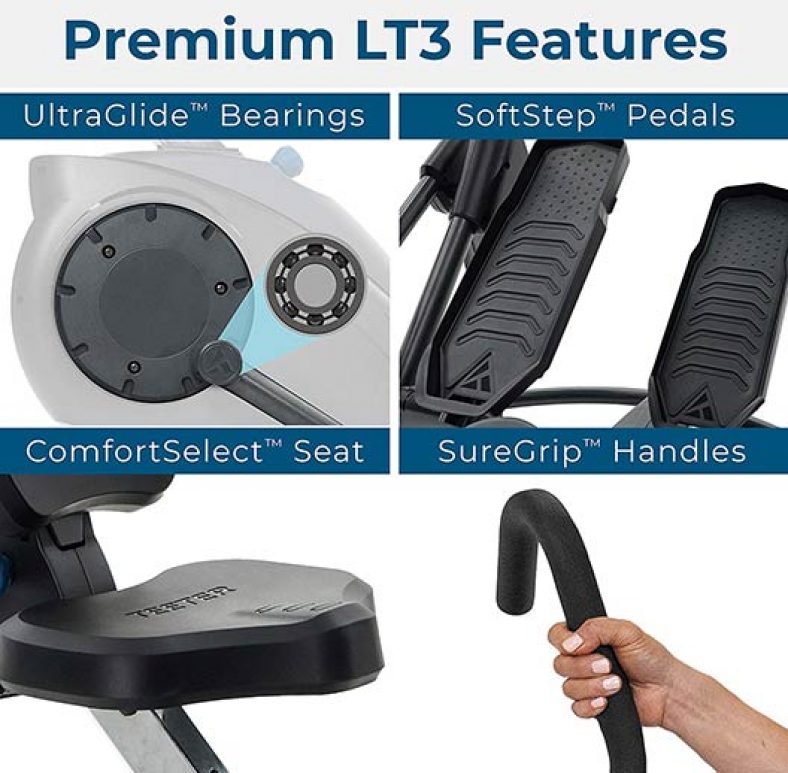 If you know to be the type of person going through low back pain, you might need to choose the LT3 just to deal with the pressing issue. You shouldn't stop training due to low back pain and a large seat with extra cushioning such as the one on the LT3 is worth the investment.
UltraGlide bearings vs plastic bushings
Since both cross trainers are similar to use, you might not notice how they differ in the smoothness of the motion just by looking at photos of the fitness machines. But the smoothness of the pedaling is different and the LT3 is again superior.
The secret for its smooth training feel is within the ball bearings inside. They are considerably more robust and better suited for long hours of training compared to the plastic bushings used on the LT1 trainer.
Ball bearings also come with a suitable profile for long term use. You can't see plastic bushings being reliable 10 years from now. But with steel ball bearings used on the LT3, there's hope you'll be training on the same cross trainer for years to come.
In all honesty, the LT1 doesn't need ball bearings as well as on the LT3. This is due to the fact it's rather made for slower pace training and plastic bushing is all that's needed to support workouts at this level.
A natural stepping motion with a twist
Both of these cross trainers can be reliable if used correctly. You can use the principles of natural stepping motion in a fitness trainer that is similar to a recumbent bike, but which is still different.
Customers say the natural movements of both of these cross trainers reduce the expected learning curve. Furthermore, some customers appreciate the changing height and angle of the moving arms which allows them to shift focus from the back muscles to the biceps, depending on the grip position.
At the same time, the ergonomic design of these cross trainers allows proper full-body muscle exertion. You don't need to overwork your legs or solely focus on your upper body (even if this is possible with both cross-trainers). You will burn the most calories when training the upper body and the lower body together.
A tension system without friction
The flywheel on these cross trainers is made to add frictionless training.
A tension adjustment is added to LT1 and LT3, even if the adjustment range is small. With a minimum of 18 lbs per second and a maximum of 125.4 lbs per second, you can turn these fitness machines into true cardiovascular training performers.
However, their tension system is different from the one on a spin bike and other similar trainers as many users describe them as easier to use by comparison.
A few possible drawbacks of the Teeter FreeStep LT1 and LT3
Both of these trainers could be improved. Simple tweaks like the positioning of the water bottle holders are important. But there's an even bigger issue to consider here, which is stock level or inventory. Currently, the LT3 is in higher demand.
However, both LT1 and LT3 are hard to find in stock around stores in 2022. Speaking with Teeter, customers understand that there are no set dates for when the trainers are going to be back in stock. As a result, you should grab one whenever they're available.
If both are available at the same time, you should consider the comprehensive LT3 as it has the most features and most customers are after it. Continuous low stock levels are proof of its popularity.
Teeter Freestep vs. ProForm Hybrid Trainer
The ProForm Hybrid trainer combines a recumbent training position with the benefit of an elliptical.
By its design, it's not necessarily made for users with arthritis. However, it's well connected and it can be a solution if you love online classes.
Furthermore, its adjustable resistance levels favor high-intensity workouts or they can be used for relaxed-pace at-home training to burn calories without sweating.
Teeter FreeStep vs. Nautilus Recumbent Bikes
The Nautilus R614, R616, and R618 offer a minimum of 22 workouts and a maximum of 29 workouts and they're made for the experienced user. Of course, the recumbent training position is also beneficial for users with low back pain.
However, most programs are a bit more intense and they require a bit more muscle power by comparison with training systems such as LT1 and the LT3 by Teeter.
How Teeter differs from its competition

If you are considering Teeter, you need to know the biggest advantage of its cross trainers is the linear stepping motion or the stride motion, which is patented.
By definition, it can't be copied by any other brand. This motion is neither circular nor back and forth in style. It is very similar to stepping biomechanics.
As a result, you won't find this type of motion on any other elliptical or recumbent bike on the market.
1. Is the FreeStep suitable for people with injuries or chronic joint pain?
Yes, the low-impact design of the FreeStep makes it a good choice for people who are recovering from an injury or who have chronic joint pain. The adjustable resistance and customizable workouts allow you to adjust the intensity of your workout to your own comfort level.
2. Does the Teeter Freestep Elliptical have a heart rate monitor?
The Teeter does not have a built-in heart rate monitor. However, you can use a heart rate monitor in conjunction with the Freestep to track your heart rate while using the machine.
Some heart rate monitors are designed to be worn on the wrist, while others can be worn as a chest strap.
You can also use a smartwatch or fitness tracker that has a built-in heart rate monitor to track your heart rate while using the Freestep.
3. Is the FreeStep safe to use?
Yes, the FreeStep is designed to be safe to use, with a number of safety features built in to help prevent accidents and injuries.
If you're new to home training and you are dealing with joint pain constantly, you need to consider Teeter's FreeStep. If you aren't planning on training every day, the LT1 can be a good option, to begin with. If you aren't happy about your extra weight, you might choose the LT3 instead.
However, the patented motion is present on both of these cross trainers and you can't go wrong with any of them. With a small footprint, you can install them next to a bed or in front of the TV.
Most importantly, you can sit on a chair and get up easily, which is such a big issue at a certain age when joint problems start to look irreversible.