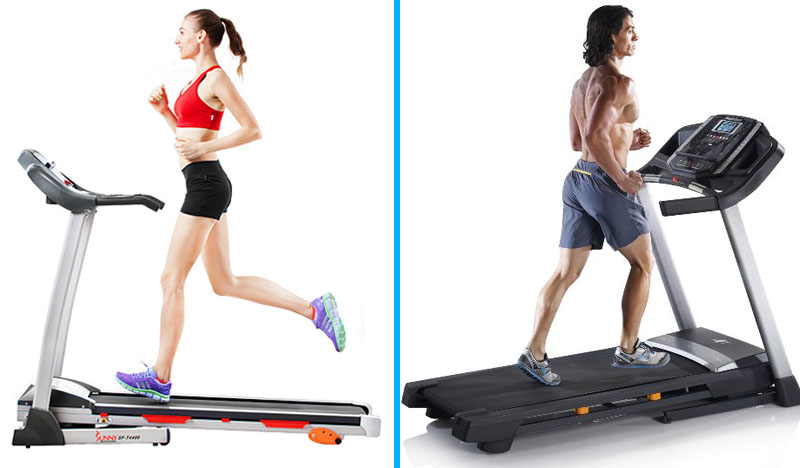 Just like with every other hot-selling products these days, finding the right treadmill at the right price can be a serious challenge.
There are plenty of features and options to consider, and things get more difficult when you realize that even "top of the range" treadmills have their drawbacks. There is no such thing as a perfect treadmill; it is a myth, but you can at least make an informed purchasing decision.
To help you decide, let us compare two of the most popular yet reasonably priced treadmills on the market you can buy right now: the Sunny Health & Fitness Treadmill and NordicTrack T 6.5 S Treadmill.
Quick Overview of Sunny Health & Fitness Treadmill and NordicTrack T 6.5 S
What Makes Sunny Health & Fitness Treadmill Unique?
SF-T4400 is an ultra-efficient treadmill from Sunny Health & Fitness that is equipped with a 2.2 HP motor.
The treadmill features three quick and easy speed modes (walk, jog, run) to offer you a complete workout experience that suits your needs and preferences.
Furthermore, SSF-T4400 is fitted with an advanced shock absorption system so you can work out without any stress. It prevents fatigue in your body and legs.
The treadmill comes with many preset programs that will satisfy a runner of any level.
What Makes NordicTrack T 6.5 S Treadmill Unique?
Although NordicTrack T 6.5 S is considered as an entry-level treadmill, the features it offers are quite amazing. These include 2.6 CHP, cushioned running surface, digital console, pre-programmed workouts, incline, etc. All these features are sufficient to give you a good workout experience.
Furthermore, NordicTrack T 6.5 features iPod and iFit compatibility as well as a built-in sound system.
These and some other features make T 6.5 S a bit more functional and advanced than other basic treadmills available on the market.
Sunny Health & Fitness Treadmill vs. NordicTrack T 6.5 S (Detailed comparison)
A common misleading specification of treadmill motor is the amount of power it has.
Some manufacturers use a simple HP (horsepower) rating, while others prefer the CHP (Continuous Duty Horsepower) rating. Here is a big difference.
HP is the peak horsepower a treadmill motor can provide. This means the motor has to work at the hardest rate to maintain the same level of power, but typically only for a short period. Put in mind that there is no way a motor can reach its peak horsepower under load, so HP rating is often inaccurate.
On the other hand, CHP refers to the actual power level a treadmill motor can produce and maintain for an extended period of time. It is the true amount of horsepower the motor provides under load.
| | |
| --- | --- |
| Sunny | NordicTrack |
| Sunny Health & Fitness offers "2.2 Peak" horsepower. In other words, it will not be able to generate the stated rating when you are using it. Even if it does, it would only be able to maintain the same amount of power to a short period. | NordicTrack T 6.5 S generates "2.6 Continuous Duty" horsepower, which means the treadmill is capable of producing at least close to the suggested rating when in use. |
When it comes to motor performance, NordicTrack T 6.5 S is a clear winner.
A treadmill allows you to walk, jog, or run without even leaving home. You can start and stop anytime you want yet you are always at the same location, no matter how long you've been on the tread belt.
Imagine running outside for 10 minutes and you are probably a mile away from the starting point. There is no definitive guideline on how fast (or slow) you should run on the treadmill. The faster you go, the more calories you burn, and the more impact the exercise gives.
As a general rule, a speed of up to 4 mph is considered walking; speed from 4.5 to 5 mph falls under brisk walking category; anything more than that will be running or jogging.
| | |
| --- | --- |
| Sunny | NordicTrack |
| Sunny Health & Fitness has a maximum speed of 10 mph. It should be good enough to test your endurance and power. Running at 10 miles per hour (1 mile per 6 minutes) is reasonably good. | NordicTrack T 6.5 S offers a better maximum speed at 12 mph. While the number does not seem much, the actual difference in speed is noticeable. At its fastest setting, you are running 1.2 miles per minute; that is more than 300 meters of the gap in the real world. |
The ideal running speed is different for every individual. It all depends on fitness level, overall physical conditions, and age. In other words, the person who understands your ideal running speed is yourself. If you find a certain speed is too easy, just increase the speed.
As far as speed is concerned in this comparison, NordicTrack T 6.5 S is also the winner.
Another important specification of a treadmill is the belt dimension. Unless you are a very small person, you want the belt to be wide enough that you are free-to-move on it. Put in mind stride increases along with speed.
Sunny
NordicTrack
Sunny Health & Fitness has a belt dimension of 48.82-inch L x 15.75-inch W. While the usable length of the belt surface should suffice, the width is too limiting.

As a comparison, it is narrower than a typical full-size computer keyboard. Running on such a narrow surface can be precarious.

NordicTrack T 6.5 S has reasonably wider and longer tread belt at 55-inch L x 20-inch W. Tread belt with 18-inch wide is good for running, and this treadmill actually offers more space.
Every treadmill may use the term "program" to refer to different things. However, these two treadmills offer more or less the same things.
| | |
| --- | --- |
| Sunny | NordicTrack |
| Sunny Health & Fitness has 9 workout programs. Each is filled with a preset workout interval by adjusting speed in every 10-minute. The progression starts from slow speed, high speed, and returns to a slower pace. | NordicTrack T 6.5 S brings 20 workout programs. Each also automatically adjusts speed and time. The treadmill is compatible with the iFit module and Google Maps so you can get better more complete statistics of your workout. |
There is no winner here. Programs are available to make your workout easier, but the complexity of options sometimes outweigh the benefits. It all depends on personal preferences.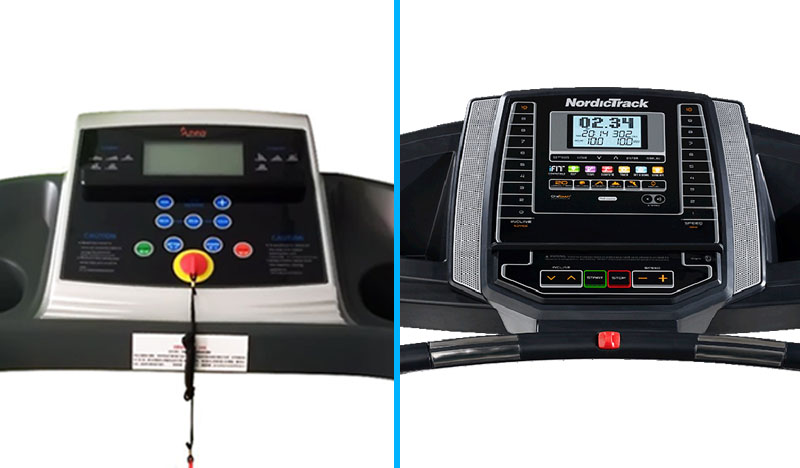 All programs, options, and settings should be accessible from the console. This is the control panel of a treadmill that allows you to explore the functionality of the equipment.
| | |
| --- | --- |
| Sunny | NordicTrack |
| Sunny Health & Fitness comes equipped with good computers and a readable screen. It displays time, distance, speed, calories, and pulse. | NordicTrack T 6.5 S brings 5-inch backlit screen displaying time, calories, distance, speed, ¼ mile track, time remaining, elapsed time, and incline. |
Related Reviews:
Sunny Health & Fitness Treadmill vs. NordicTrack T 6.5 S (Pros and Cons)
Sunny Health & Fitness
NordicTrack T 6.5 S
PROS

Sturdy build quality
Quiet operation
Easy to assemble
Soft-drop folding mechanism
A pulse rate monitoring via controls in the handrail
Portability wheels to allow for easier transportation
Progress tracking via the user-friendly LCD monitor
Affordable with 3-year limited warranty

Lightweight, compact, and sturdy design
Several pre-programmed workouts
Spacious running surface
Inclines for a more intense workout
Higher weight limit than most other treadmills in its price range
Built for high productivity and maximum comfort
Foldable, easy to move
Lifetime warranty on frame, 25-year warranty on motor

CONS

Heavier than most other treadmills
This treadmill may be a bit too basic for some fitness enthusiasts

Assembly can be a challenge
The console lacks some essential features
Should I Buy the Sunny Health & Fitness or NordicTrack?
You might want to pick the Sunny Health & Fitness if:
You want to buy an affordable, entry-level treadmill with basic features.
You want a quiet treadmill.
You weigh less than 220 pounds and are looking for a sturdy, easy-to-assemble treadmill.
You are looking for a reliable treadmill for walking and light jogging.
You might want to pick the T 6.5 S if:
You are looking for an affordable treadmill with many features.
You want a lightweight, compact treadmill which is easy to move.
You are looking for a treadmill with an incline for an intense workout.
You want to buy a treadmill that has an above-average weight limit.
At the end of the day, what you need is a treadmill that offers the functionality you actually need and want to use. More importantly, the treadmill should fit your budget and serve you well to achieve the fitness goal.
Both Sunny Health & Fitness vs. NordicTrack T 6.5 S are in a good price range for everything that each of them brings. That's exactly why you should give them a shot.