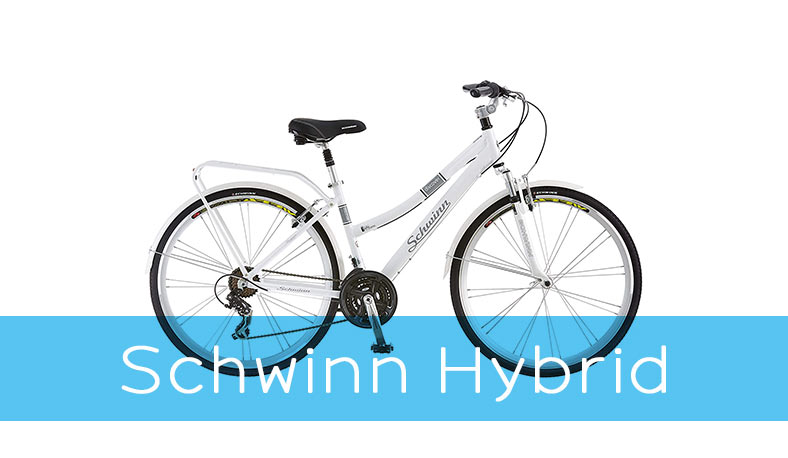 If you love cycling, the Schwinn Discover Hybrid bike is a very good alternative to copycat unreliable bikes. It's made by one of the most respected brands around the world, mostly known for its success with indoor cycling. But the Discover Hybrid bike is a solid option for those who might want to rest assured about their bike's reliability, especially in heavy traffic.
The bike is made with some of the best components in the cycling industry at this level. But unlike a road bike or a mountain bike, it also comes with the benefit of a hybrid frame, which is perfect for city commuting. If you're thinking about cycling to work or if you simply want a bike to enjoy on weekends, the Discover Hybrid might be all that's needed to navigate both city streets and park trails.
Schwinn Discover Hybrid bike characteristics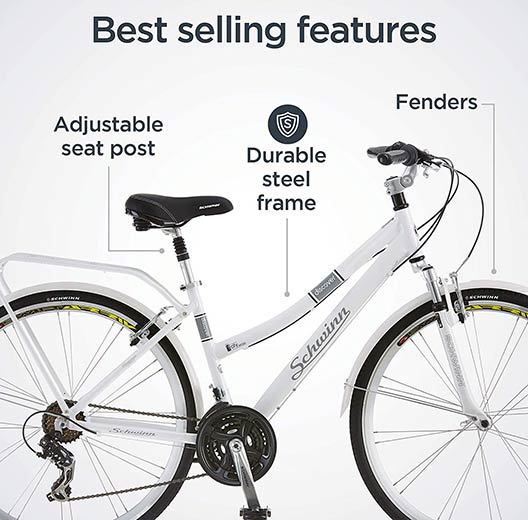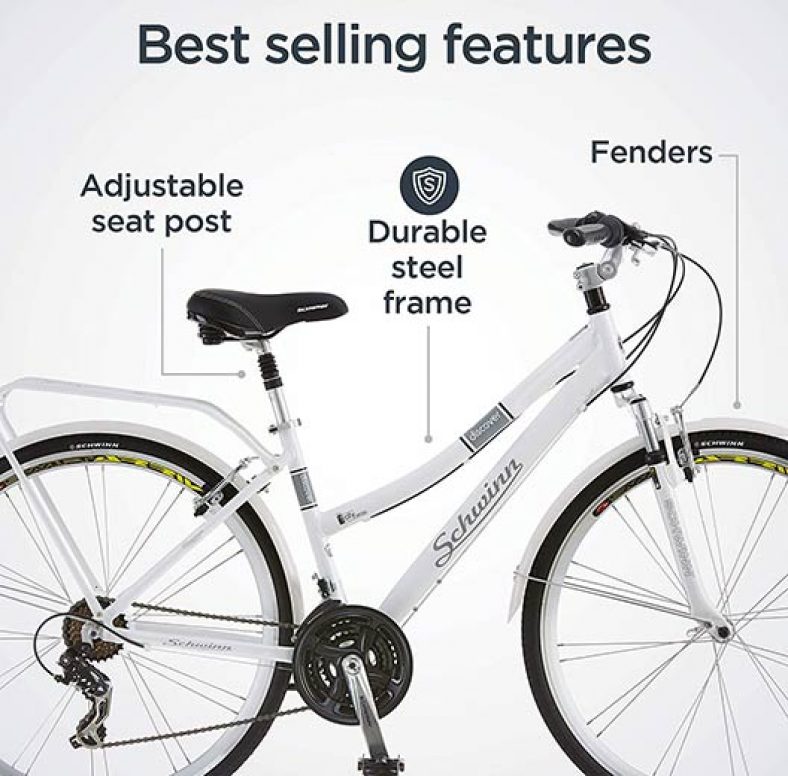 Made with a small 16" or an 18" step-through frame
Backed by a Schwinn suspension fork
Aids cycling ease with a 21-speed SRAM shifter with a Shimano derailleur
Made with classic alloy linear-pull brakes
Designed with upright handlebars for city cycling
Made with a padded adjustable Schwinn saddle
Includes fenders for cycling comfort in any weather
The bike now ships in a box and it needs to be assembled. You have a few options here. You can either assemble it yourself or take it to the local bike shop to have it adjusted for you. There are a few steps you need to go through when putting it together yourself.
Initial assembly only takes around 40 minutes, albeit the printed Schwinn instructions aren't too helpful. Once the bike is assembled, you need to take it out for a short ride to see what needs to be adjusted further.
Most of those who own the bike recall making a few adjustments to the brakes which involve cable length adjustments. But the most problematic areas are the front and the rear derailleurs. They need to align properly so that your bike doesn't change speeds unexpectedly. You can also do this yourself but it can take a few hours to have it completely adjusted.
Small assembly tasks include attaching the fenders, which is an operation that only lasts a couple of minutes. Adjusting the seat height and the handlebar height are also short operations that don't require too much bike knowledge.
The good news is the bike comes mostly assembled and it might not require you to completely set up derailleurs and pedals from scratch. You should know that while the bike is a hybrid, the final cycling position is not fully upright. Cyclists on the Discover Hybrid Bike know their cycling position is slightly bent and not fully upright as on a cruiser bike.
A few of the major advantages of the Schwinn Discover Hybrid Bike
Not all affordable bikes are made the same. Some are only made with cheap derailleurs which are troublesome when it comes to longevity. But Shimano and SRAM components are known for their reliability and the entry-level parts of these companies aren't too expensive either.
Shimano and SRAM componentry
The SRAM shifter and the Shimano derailleur makes pedaling uphill easier without the bike coming apart within months. If you live in a city with many hills, you are left with no real choice but to choose such a bike with components of this level.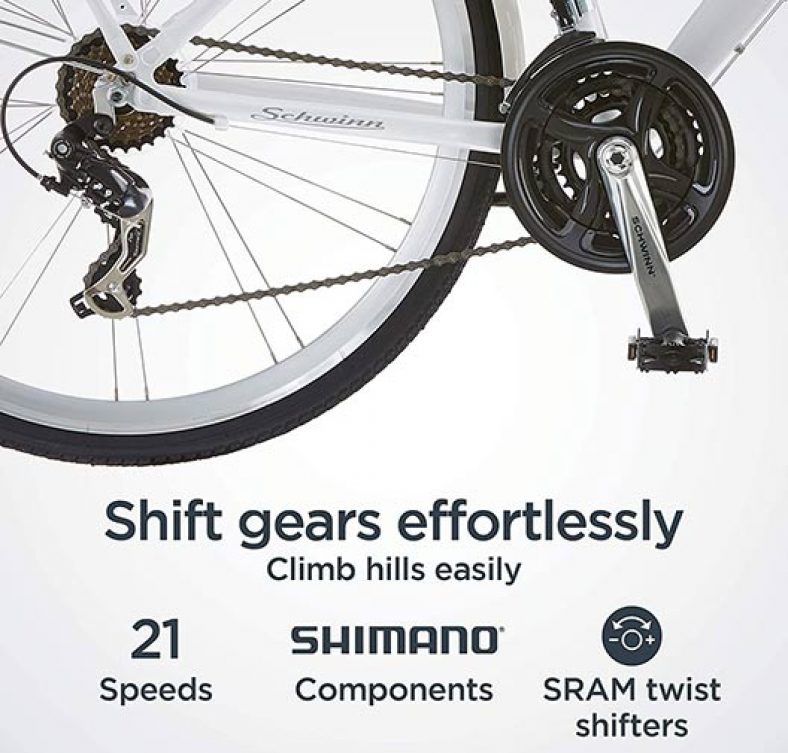 The 21-speed cassette is also a good addition to the bike. You can shift your speeds from flat ground to uphill or downhill cycling efficiency without restrictions. But the major advantage of the system is that it offers simpler uphill cycling experienced when compared to fixed-gear city hybrid bikes.
A very simple braking system
Many believe that not offering disc brakes is the major issue of the Schwinn Discover Hybrid Bike. But the issue is largely dependent on how you look at it. First of all, disc brakes are heavier and they would add more weight to the bike. Then, disc brakes aren't as durable as brake pads. Thirdly, these brake pads can easily be adjusted with simple pliers, which is certainly not the case with disc brake bikes.
At the same time, you can also easily change the wheels of the bike without having to worry about taking the disc brakes off the wheels. When it comes to maintenance, there's nothing much to do to the brake pads either apart from keeping them clean.
A comfortable 28" wheel size
The 28" wheel size is another major advantage of the hybrid bike. Smaller wheels might be seen as a bit more practical. But keeping up with the traffic requires much larger wheels. The 700 x 38mm wheels come with just the right size to get you interested in easy pedaling.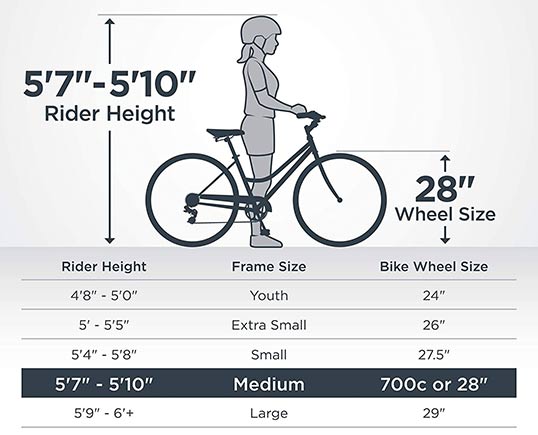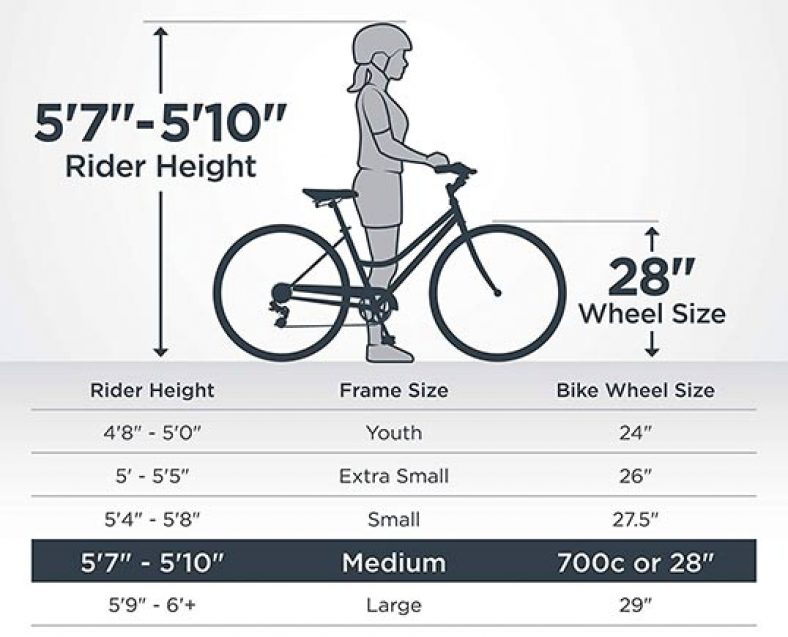 When you add all the accessories on the bike, it almost weighs 40lbs. It's not the lightest bike you can cycle on, but it's certainly not the heaviest either. Let's say you need to get up a few stairs to make your way around the city. The Schwinn bike isn't too heavy for you to carry around and it provides just the right comfort when it comes to carrying. You can even add it to a car bike rack without too much effort if you're taking it away on holiday.
Aluminum is the right material for frame durability, together with steel. This bike doesn't try to mimic carbon frames with its lightweight featherlike construction. Instead, it's made to absorb shocks properly which allows you to navigate all types of pavement with confidence.
The frame of the bike is also designed for easy access. Both men and women can use it to easily hop on and off as needed. If you have to stop at the traffic lights, you will easily get off the seat when needed.
The Discover Hybrid bike is specifically designed to tackle multiple terrains. However, you can't expect it to be too comfortable when taken off-road. You might cycle through the park with it on smooth trails. But it shows its limits on rocky trails immediately.
While made for long commutes, it isn't the right bike for adventure cycling either. If you plan to cover hundreds of miles with your bike per week, you might be better suited with a more aerodynamic road bike instead. If you plan to use your bike out in nature, you might also want to look at Schwinn's alternative mountain bikes.
Recommended reading: Schwinn Airdyne Exercise Bike Series
A few of the major advantages of the Schwinn Discover Hybrid Bike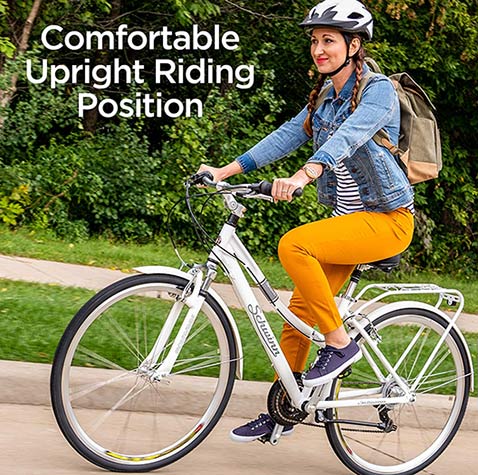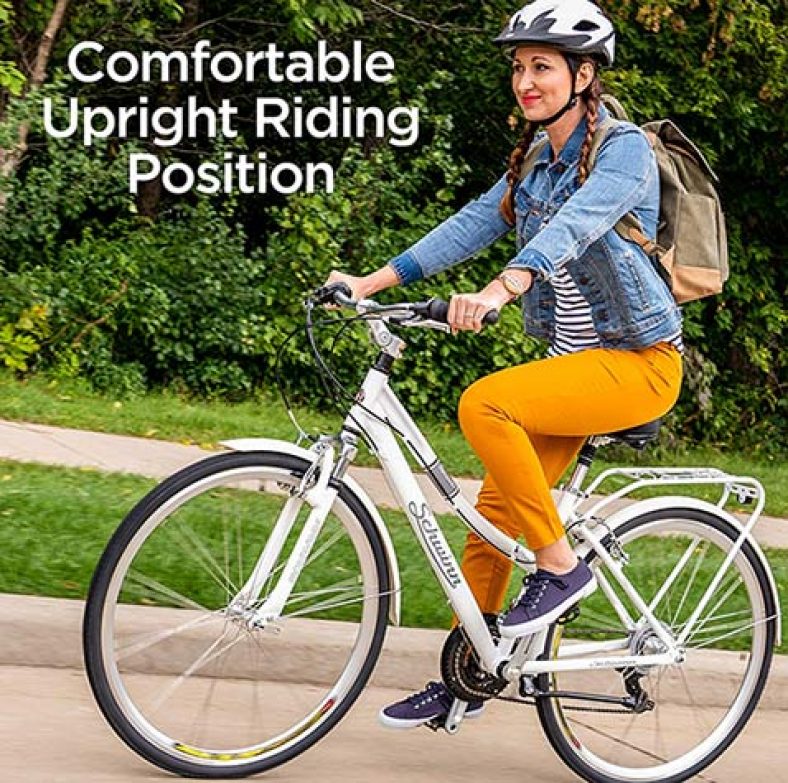 No bike is truly perfect. If you're an experienced cyclist, you already know that no bike comes with the right tires. But you can always choose 700cc tires from Continental or Schwalbe to make the bike truly perfect. It's not that its default tires don't have a good grip, it's that they tend to wear out rather quickly.
Depending on where you live, you might also need to add lights to your bike. For example, some cities require you to add bike lights if you cycle at night. Make sure you check regulation with your local authorities or simply buy the bike lights yourself for extra safety while cycling among cars.
How the bike compares to the Schwinn GTX 2
The GTX 2 is another good option from Schwinn for urban cycling. However, it has a geometry similar to mountain bikes and it might be a bit more suited for the trail than city streets by comparison with the Discover Hybrid bike. If, however, your budget is very limited, the GTX 2 is the right bike to choose to simply start cycling.
How the bike compares to the Sixthreezero EVRYjourney
If you don't like the 28" wheels on the Discover Hybrid bike, you can choose 26" or 24" Sixthreezero alternatives. The bike is made for short-distance cruising and it can be a comfortable ride on a sunny day. It might even take you to the shops on occasion. However, you will have to put a bit more pedaling effort on it when compared to the 28" Discover Hybrid Bike which is a bit better for daily commuting.
With a very simple frame and reliable components, the Schwinn Discover Hybrid Bike is one of the top choices for easy maintenance and a very low cost of acquisition. You will be able to adjust most of its components yourself, simply by looking at the instructions or by watching a few YouTube videos.
One of the most complex tasks you will need to perform on it is adjusting the spokes. You will need a spokes wrench for the job, especially if you're taking it off-road where spoke adjustments are imminent. Otherwise, the bike requires very little maintenance when you only used it for commuting on paved roads. For students going to university or for professionals heading to work, it's just the right hybrid with a comfortable almost upright cycling position.