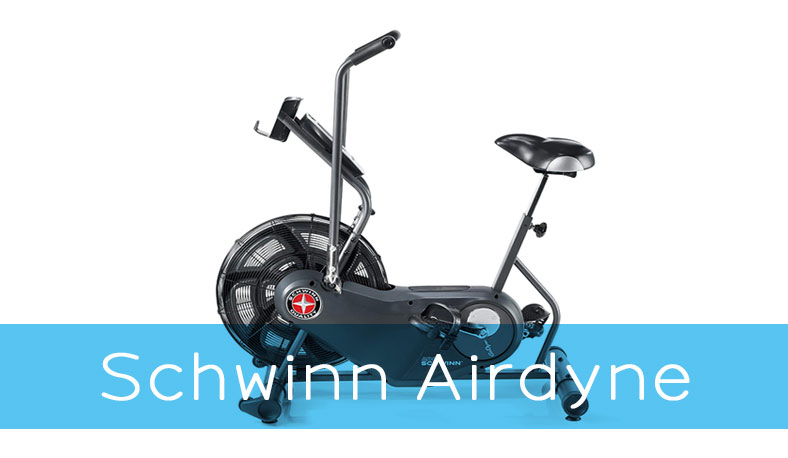 Schwinn makes some of the most reliable indoor bikes in the fitness industry. The Airdyne series has attracted many fans and it has increasing popularity. The oldest model on sale from the series is the Airdyne AD2. It's also the most affordable of the 3 air bikes. The Airdyne AD6 is one of the bikes which is made for the average user with balanced features and an affordable price. The Pro version (also called the AD7) comes with most features out of the 3 bikes. Airdyne AD7 is made for residential users, while the Airdyne Pro is intended for commercial gyms.
What makes the Schwinn Airdyne bikes similar?
Before seeing the different strengths and weaknesses of the air bikes, you need to know a few of their similarities. Even if their users are at a different fitness level, they are based on similar concepts.
Air resistance has been known for its reliability. The harder you pedal, the more difficult it becomes to continue. This air resistance principle powers these bikes individually. But it's also a sure method of delivering customized resistance levels for each individual.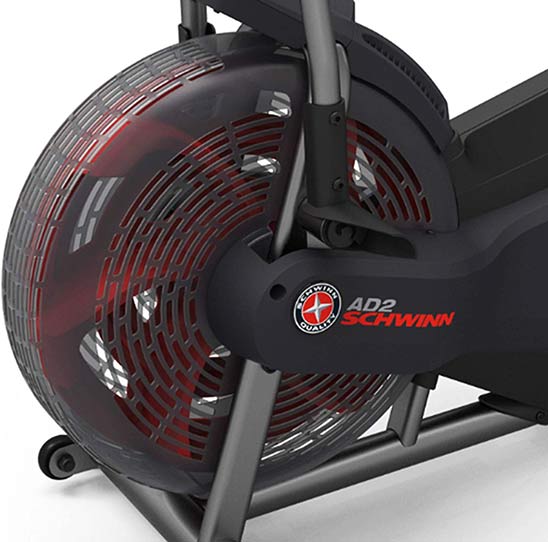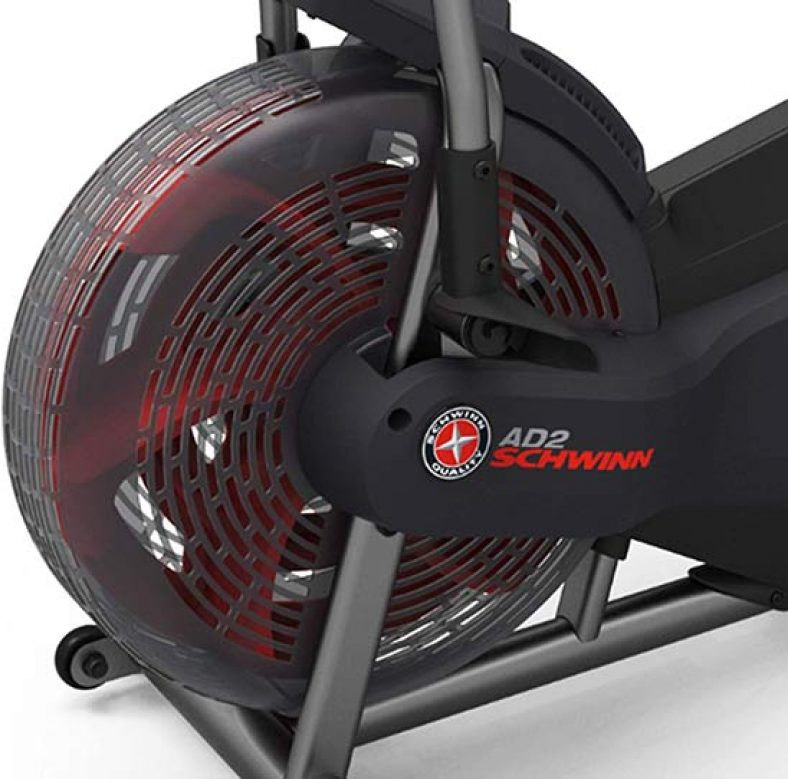 The stability of an air bike is crucial. Users need to stay upright even when pedaling harder. This is why all of these 3 air bikes come with stabilizers both in the front and in the back. They are similar to what is seen on professional air bikes, recumbent bikes, spin bikes or any other type of indoor bikes.
Recommended reading:
Transportation wheels are added to the 3 bikes. These wheels help you move around the Schwinn bikes from one location to another. You can train in front of a window or even out on the terrace on sunny days. From here onwards, the bikes become different as follows.
The differences between the Schwinn Airdyne AD2, AD6, and the AD7 (Pro)
There are many features and design characteristics that are different in these air bikes. They can be categorized as follows.
These bikes are not generally made for commercial-grade training except the Pro version. As a result, the AD2 and the AD6 have no presets. Those who want to get fit only rely on their cycling power and stamina during each workout. A typical workout can last just a few minutes on these bikes and it's up to the user to decide when to get off the bike.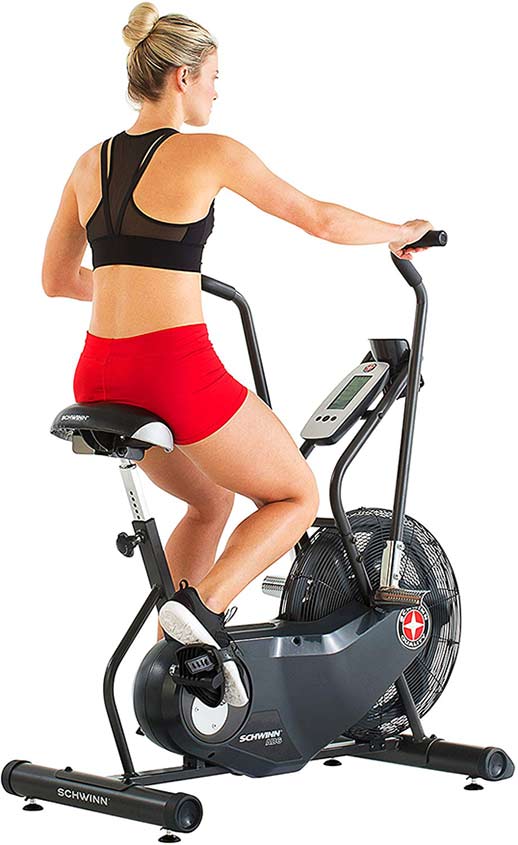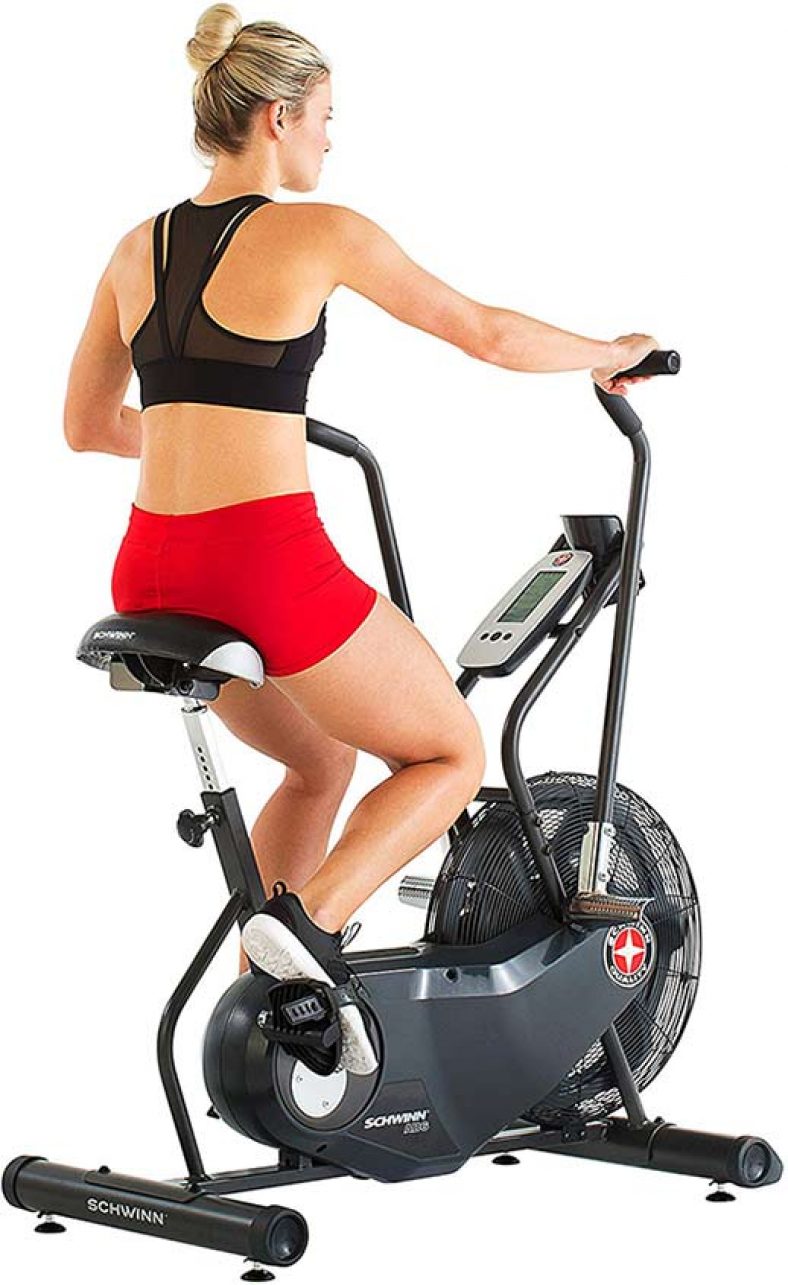 The AD7 or the Pro Schwinn Airdyne bike is made for commercial use as well as for residential use. It's the type of assault bike used in a gym or CrossFit training. As a result, the bike comes with 9 preset programs. They can be categorized as follows.
Interval training provides a decent option for those who want to take moments of relaxation during workouts. Target goals preset programs help users cycle to an objective, such as total workout time or reaching a certain calorie-burning number. Heart rate preset workouts are also added to the air bike. They allow users to pedal in a certain heart rate zone. This approach is helpful when trying to lose weight.
All of these workouts put the AD Pro ahead of other bikes in this group. While all 3 Airdyne bikes can be used to get fit, the AD Pro adds a bit more functionality and training variation specific to those who're already familiar with such bikes.
There are a few essential in each workout and air bikes are no different. Time, speed, distance, and calories are general guides to how a certain workout looks in terms of intensity. These parameters are recorded even by the AD2, the most affordable Airdyne bike.
Moving up to the AD6, users already have access to more advanced statistics. Among them, the calories burned in a workout. This indicator is a go-to parameter when measuring workout intensity. It's normally a standard parameter in all fitness equipment at the gym.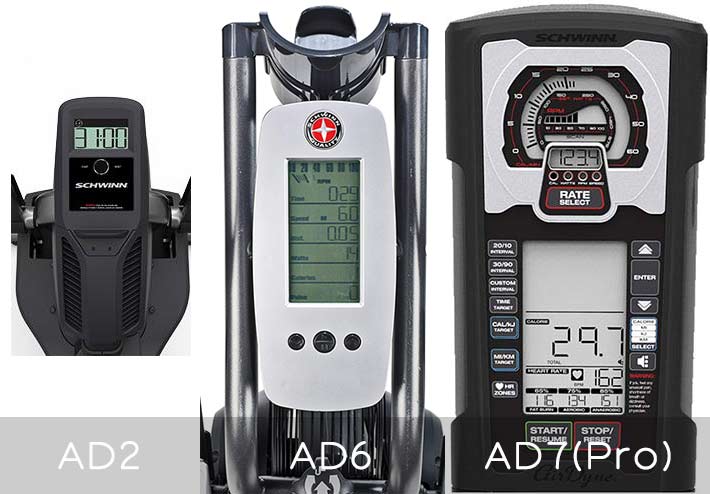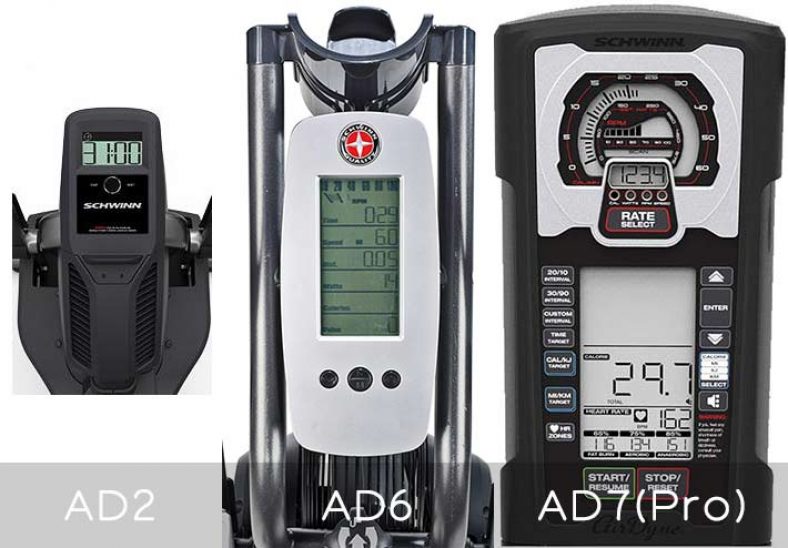 Alongside calories, the AD6 air bike also measures your pulse. The intensity of your workout can also be measured by heart rate. With pulse sensors in the handlebar, users always know how fast their heart is beating. Training in specific heart rate target zones is possible with this feature, even when not relying on any presets such as on the AD Pro air bike.
The same statistics are part of the AD Pro's lineup. Users can also measure RPM rates and watts, which is a close estimation of the calories consumed during a workout. The two bikes with a good selection of workout statistics are AD 6 and the AD Pro. The AD2 doesn't show too many statistics as it's not made with built-in pulse sensors.
The heart rate monitoring of these bikes is based on telemetry measurements. They lack the functionality newer Schwinn bikes have such as the Airdyne AD6i and the Airdyne AD8. These assault bikes come with chest strap compatibility.
Those who own a chest strap such as those made by Polaris won't be able to connect them to the air bikes. All 3 bikes are limited in terms of compatibility with chest straps.
Riding position adjustability
As chest strap compatibility, riding position adjustability is also something that interests dedicated and professional users. There's not too much adjustability on the AD2 air bike. It only goes up and down, as does the AD6 Airdyne bike.
But the AD7 air bike comes with forwards and backward adjustability. It's here that users have extra freedom of movement. Users of various heights can find the right riding position on such a seat. These seats are not new to Schwinn as the manufacturer also uses the 4-way adjustability design on its spin bikes where it has already proven popular.
The size of the bikes is important for those with limited space for them inside the house. Dedicated gym rooms might have extra space, but many users place them in their bedroom or living room.
From a sizing perspective, the AD Pro is also the best. It has a length of 42" inches which makes it the most compact bike of the lineup. Suitable for apartments and limited cycling space, it is the top performer and the smallest bike to rely on for both home and commercial use.
The AD2 has a length of 46 inches being 4 inches longer than the Pro version. The AD7 air bike has a length of 49.7 inches making it the longest of the entire lineup. It's not the first option for users with limited cycling space.
However, the AD2 does come up on top in one category. It's the most lightweight of the 3 air bikes. At only 96 lbs, it is easiest to move around the house. Those who love to cycle in different locations or to simply cycle outdoors on sunny days may only be truly practical when using AD 2.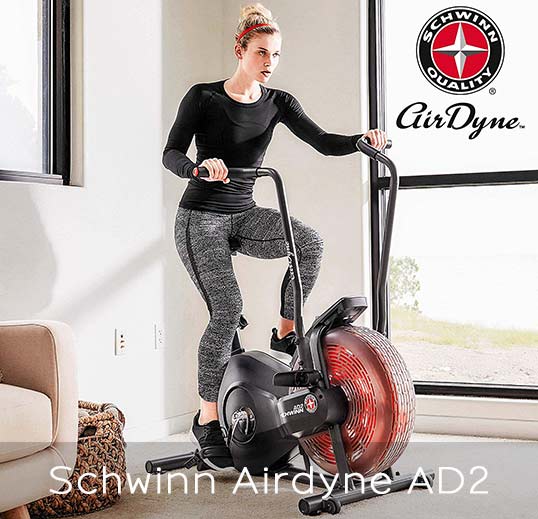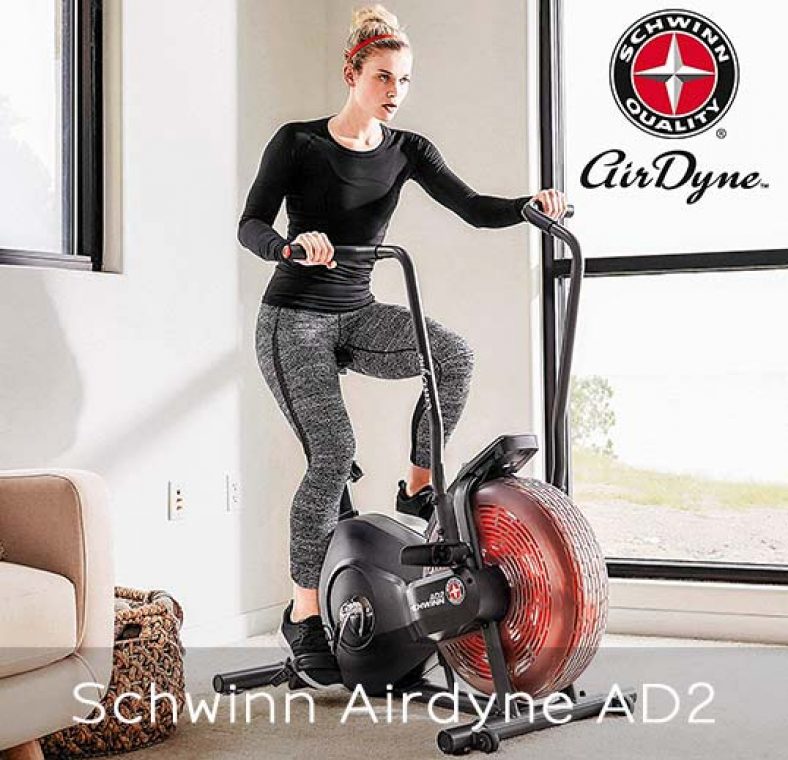 Both the AD6 and the AD Pro are considerably heavier as they weigh around 112lbs. They are not recommended for users who don't like to carry heavy fitness machines or even for those with back problems who need to limit the amount of weight they lift.
Handlebars get a lot of attention on newer Schwinn bikes. This is seen in the AD Pro bike the best. Made with multi-grip handlebars, the bike allows users to cycle intensely with a custom grip that feels the most comfortable.
Simply put, you have a choice between horizontal and vertical grips. On AD 2 and the AD 6 bikes, you are limited for options with horizontal handlebars. In real life, this should not be a considerable drawback. It's mostly those who're already training for years that feel the need to use multiple grip positions during the same workout.
Warranty policies differ from one bike to another. But most users don't want to upgrade their air bikes anytime soon, if at all. This is why it's important to see which warranty is the best for the money.
AD 2 comes with a 5-year frame warranty. Electric and mechanical parts are covered for 1 year. However, wear parts and labor are only under warranty for 90 days.
The AD 6 air bike comes with a 15-years frame warranty. Its impressive policy is backed by a 3-years parts warranty. Electricals such as the screen are covered for 2 years. Any labor needed on the bike is covered for 6 months.
The AD Pro air bike is backed by a 10-years frame warranty. Parts are covered for 2 years. Electric systems are also covered for 2 years. Bike labor is under warranty for up to 6 months.
What's new with the Airdyne AD8?
Schwinn also launched the new Airdyne AD 8. This air bike is very similar to the Pro version but it comes with considerable improvements in the physical characteristics. If the other 3 bikes are normally used at home, AD 8 has a clear gym-use orientation.
Made with a corrosion-resistant finish, the bike deals with intense use better. If excessive sweat can damage other bikes in time, AD 8 addresses these issues, especially with intense commercial use. With better materials and a built-in cup holder, it can be an upgrade from the standard AD air bikes, especially for commercial use.
Airdyne vs Exerpeutic folding magnetic upright bike comparison
But how do the 3 air bikes compare to other brands? Exerpeutic's folding bike is one of the popular alternatives, especially to the more affordable AD 2. The folding bike has 8 magnetic resistance levels. These are very different from the natural air resistance system of the AD2. However, the bike benefits from its folding design which saves space when not in use.
Furthermore, Exerpeutic's bike also includes pulse sensors. While it is smaller, it has better workout parameter data to show. If you're not into the Airdyne AD 2 bike or if you're limited on space, this folding bike might be the right alternative.
Schwinn Airdyne vs Keiser M3i and M3 Plus comparison
Keiser bikes also support indoor training and they are in direct competition with Schwinn's Airdyne bike series. They offer the most responsive option for magnetic resistance. However, this type of resistance is still very different to air resistance, which feels the most natural.
Keiser M3i
This bike is based on magnetic resistance and it's made with a distinct V-shape design. It includes a multi-grip handlebar, similar to what's seen on the AD Pro air bike. But Keiser's bike has a weight of just 85lbs, which makes it lightweight and easier to move around the house.
Keiser M3 Plus
The indoor bike also comes with a multi-grip handlebar and it adds 4-way seat adjustability. However, its biggest advantage is its Polar chest strap compatibility. It can be the bike of choice for avid users and those looking to perform and measure every workout.
Schwinn's Airdyne bikes offer some of the most interesting designs to rely on for home use. Those who want to get in shape can choose the affordable AD 2 bike. It doesn't come with the features the company is capable of delivering but it does the job to keep moving and workout out.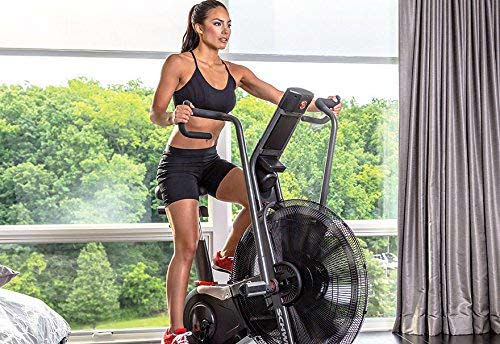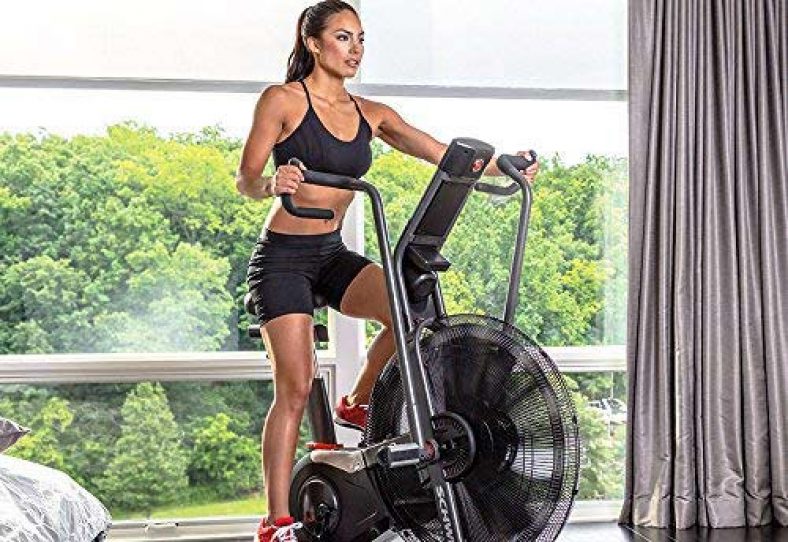 Schwinn's AD 6 air bike is the balanced performer with the best warranty. If you prefer to train for years on the same bike without having to pay for replacement parts anytime soon, this is the bike to consider.
But the most capable bike is the AD 7 Airdyne. It has that seat versatility and the handlebar grip positions to support intensive daily use. When you train every day, you need a bit of variation to stay motivated.
The AD Pro Airdyne also comes with 9 preset programs. These are only seen on alternative bikes based on magnetic resistance. As a result, AD 7 is the best overall bike, even if it scores a bit lower on warranty and size.
Anyone looking to maximize health and fitness with the most compact training equipment is going to choose the AD 2 Airdyne regardless of its limitations. It's too compact to overlooked when there's not enough training space inside the house. If you're cycling a few times per week without planning to push yourself every day anytime soon, the AD 6 Airdyne bike can be a balanced performer at the crossroads between the AD 7 and the AD 2 Airdyne bikes.