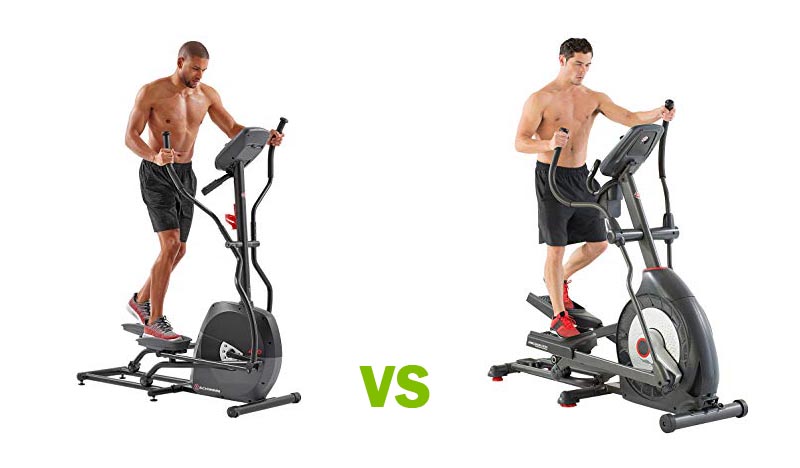 The evolution of elliptical trainers has gone a long way. Today, there is a wide variety of elliptical trainer design that is available in the market–all of which, promises to give better results for the user. For this particular review, the focus is given on comparing two elliptical trainers manufactured by Schwinn. The Schwinn A40, an easy-to-use exercise machine that is known as a "no-nonsense" trainer that is just perfect for beginners. The Schwinn 470, on the other hand, is designed to provide better customizability for its users. Given that this equipment is geared for users with more experience when it comes to using elliptical machines.
But just because the intended purpose of each elliptical trainer is different, it does not mean that the Schwinn 470 is better just because it is designed for experienced fitness enthusiasts. It is crucial that you compare and contrast the various features of the two models so that you will know which elliptical trainer presents more benefits to you and which one meets your needs most. And without further ado, let's unbox the two elliptical trainers.
The Schwinn A40 was designed for new fitness enthusiasts. With only 8 levels of resistance, it can provide between ample to difficult levels for those who are still starting out and getting their feel around using elliptical trainers.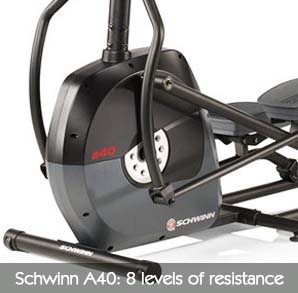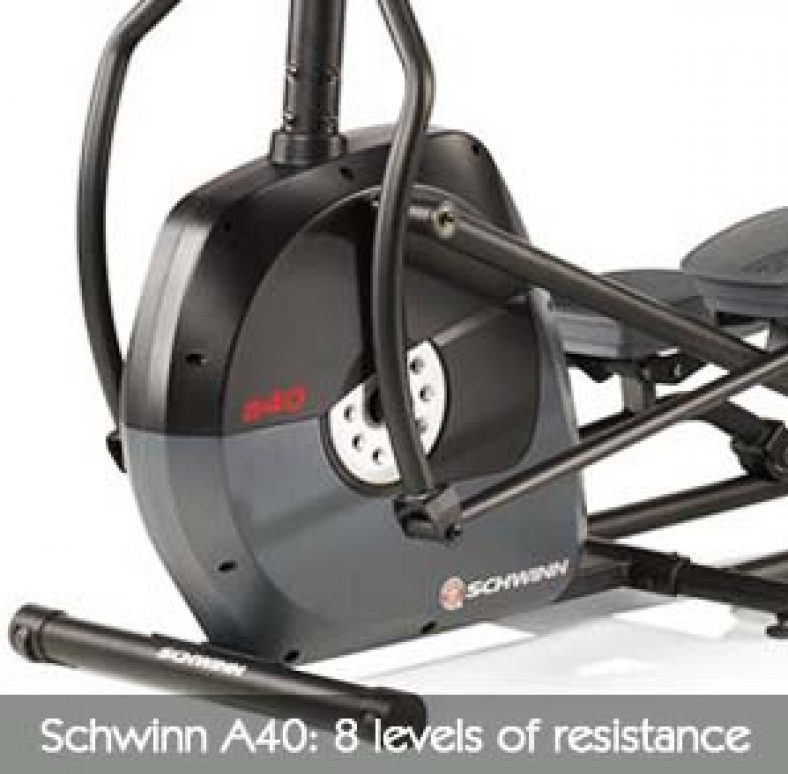 This elliptical machine comes with the basic features, so you would expect fewer resistance levels, pre-set exercise programs, and shorter stride length. The A40 is a practical elliptical trainer that allows you to do your upper body exercises without any frills. When it comes to convenience, it comes with speakers and a media rack where you can place your gadgets, so you can play music or watch videos while exercising.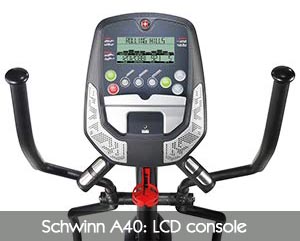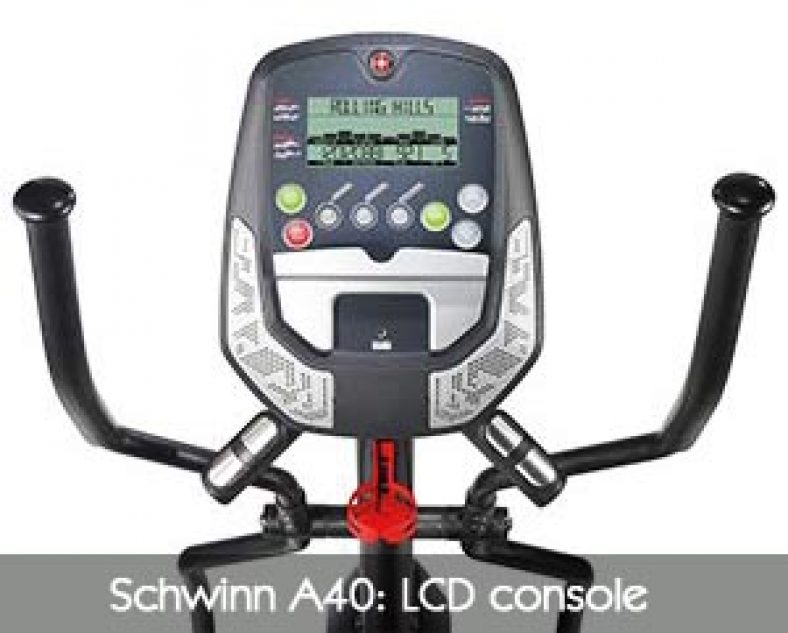 The caveat with this exercise machine is that the A40 has a shorter stride length and this may affect taller users as they might not feel too comfortable and they might feel that they are not getting full extension. It can only support up to a certain weight so if you are slightly robust or more than 300 pounds, you might reconsider getting this machine.
The Schwinn A40 is a straightforward exercise machine that gets the job done despite that it does not come with a lot of advanced features. Although this may be the case, you can still achieve your fitness goal with this device.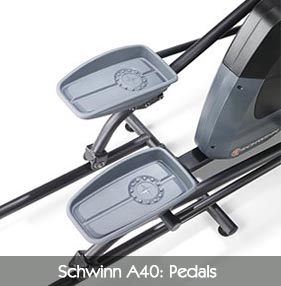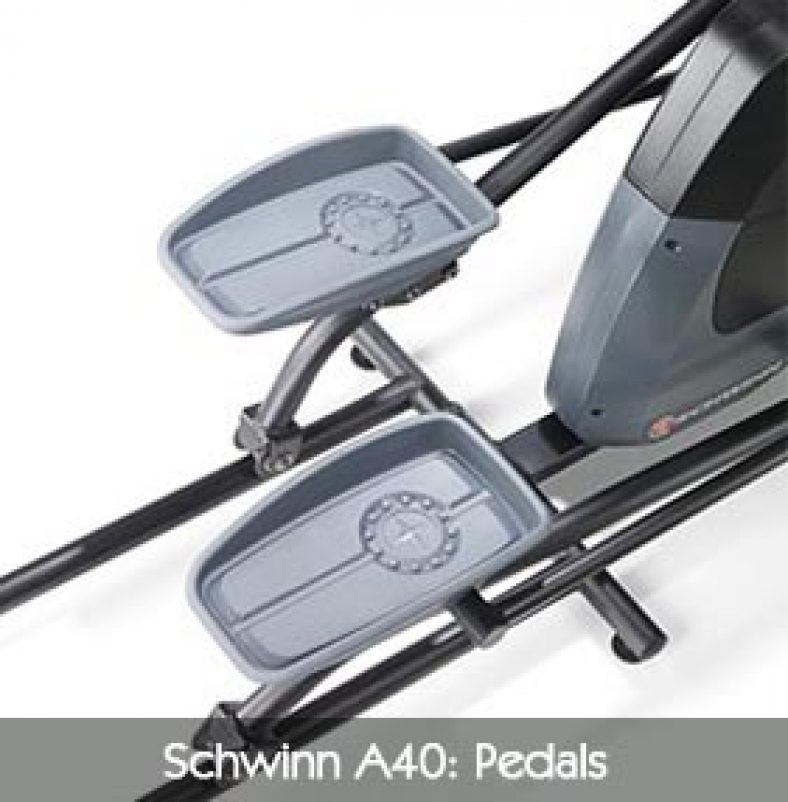 Comes with 17.50 length stride
Seven (7) pre-set exercise programs for beginners
LCD display for easy controls
Comes with a heart rate monitor
Total dimension is 59 x 23 x 64 inches
Comes with speakers and a media rack where gadgets can be placed
Simple and straight-forward functions
Great for beginners
Unit weight is at 111.3 pounds making lightweight
Media rack and speakers allow interactive and fun exercise routines.
Resistance is only up to 8 levels
Devoid of any modern innovation such as Bluetooth connectivity, telemetry monitor, and other apps
Although simple and straightforward, the Schwinn A40 is still a good elliptical exercise machine that can help improve your core and lower body. It can also provide you with some upper body workout.
As it is intended for people with low fitness levels, it is a great elliptical trainer for neophytes as they won't have to feel overwhelmed with the many resistance levels and pre-set exercise programs that are included.
Although the features and add-ons of this elliptical machines are very simple, what makes it great is that it is a straight-forward exercise machine that gets the job done.
If you are looking for an elliptical machine that will give you more challenges, the 25 resistance levels of Schwinn 470 will definitely give you a challenging workout. An effective elliptical trainer usually has a stride length between 20" and 22" thus making the Schwinn 470 a better option for taller people.
It is designed for home use thus it is not as bulky compared with other elliptical trainers. But perhaps the selling point of this elliptical trainer is its complexity brought about its modern features. It comes with so many features that are suitable for the modern
fitness enthusiast
, no matter your age.
Modern convenience incorporated in this elliptical trainer includes the ability to be connected to training apps such as the RunSocial App and the Schwinn Trainer App. These features give you more freedom and options when using this elliptical trainer. The Schwinn 470 also comes with Bluetooth connectivity and 2 LCD displays so that you can easily control the many settings of your exercise.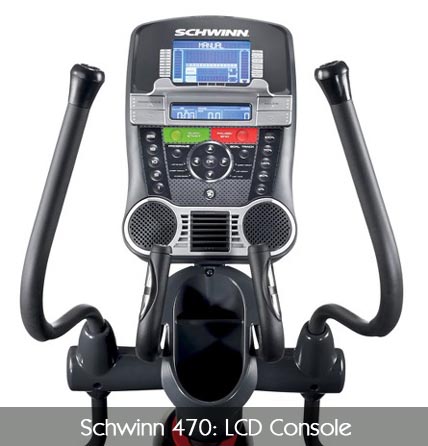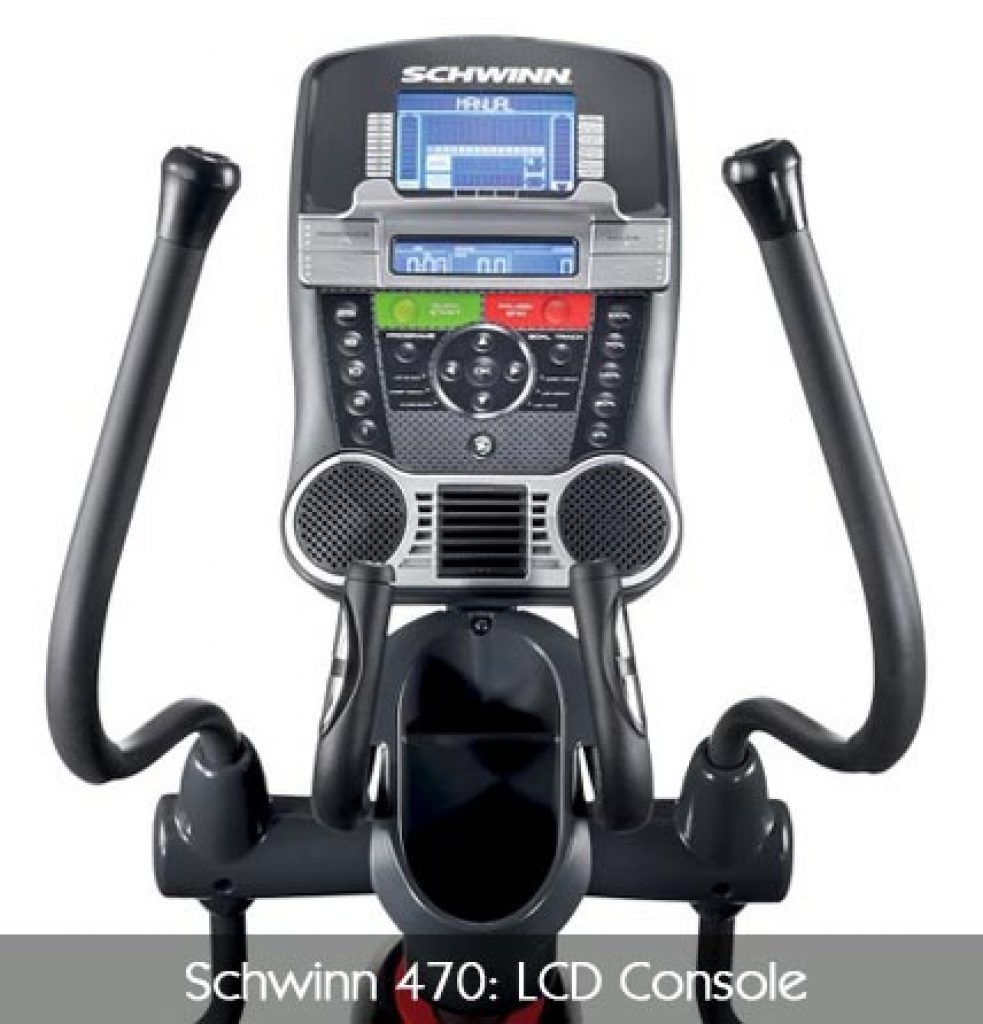 25 resistance levels for challenging exercises
Longer stride length at 20 inches for taller people.
Comes with 29 pre-set exercise programs
The incline is at 100 maximum
Bluetooth connectivity present
Can be connected to different apps such as RunSocial App and Schwinn Trainer App
Comes with media racks and speakers
Total dimension is at 70 x 28 x 71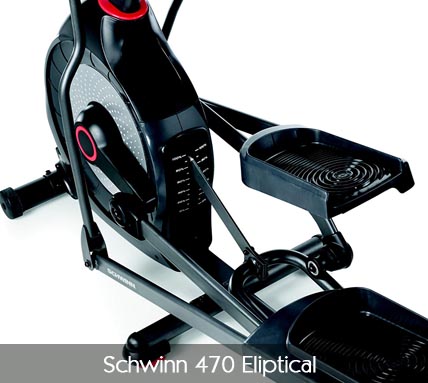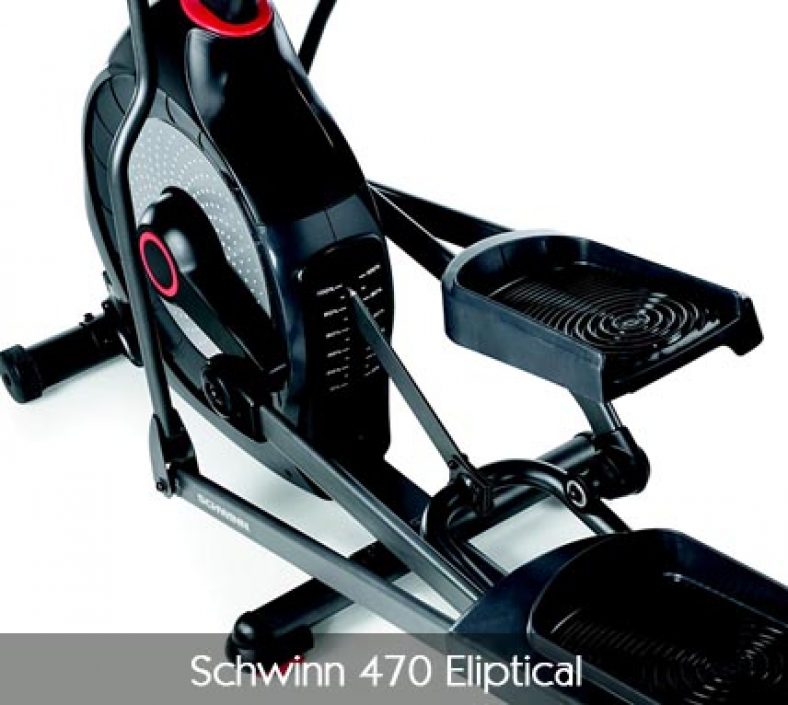 More modern features to provide modern conveniences to the users
Better challenging exercises performed due to more resistance levels and incline
More comfortable platform due to longer stride length
Can be connected to apps for easy monitoring particularly the heart rate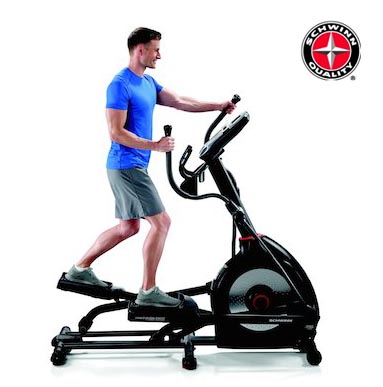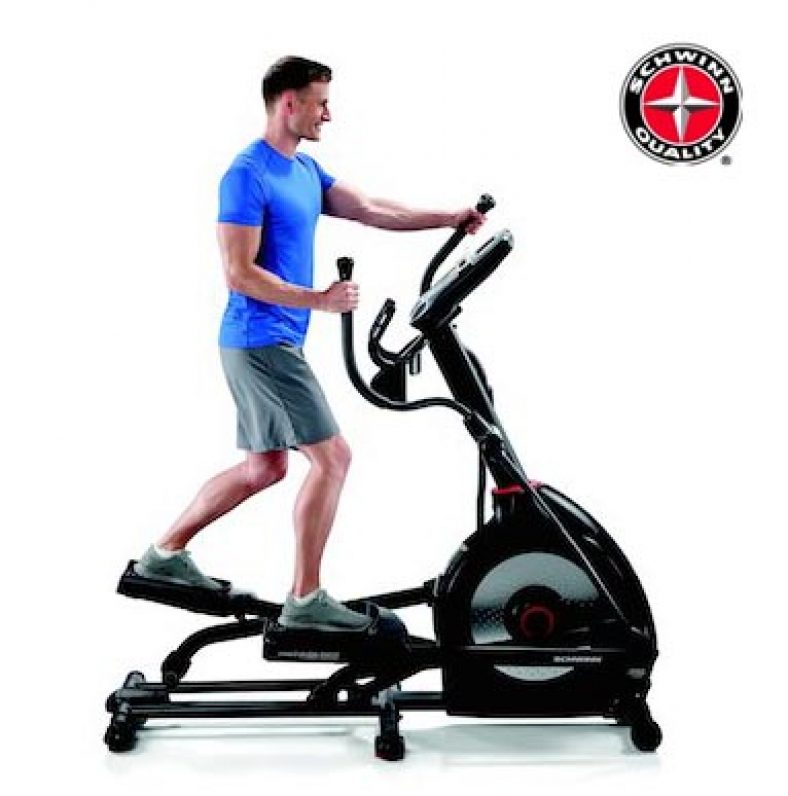 The Schwinn 470 presents more challenges than the A40. This elliptical machine can help sculpt the core and upper body. But with its may resistance levels, it is not only a great elliptical machine for seasoned fitness enthusiasts but also for neophytes. The stride length is also longer thus making it comfortable for users. Because users are more comfortable, it can support longer duration of exercise than other elliptical machines.
Increasing the duration of exercise can be tough for most people but this elliptical machine makes it more possible for people to feel comfortable. It comes with media racks and speakers so that you can feel invigorated as you exercise while listening to your favorite tunes.
It can also support heavier fitness enthusiasts because it comes with a sturdier and heavier frame. Moreover, since you can connect it to different apps, tracking your progress is very easy with this app.
Difference Between Schwinn A40 and 470
Both elliptical trainers are manufactured by the same company. They provide the same results such that they can help sculpt your core, upper, and lower body. So let's look at what their similarities and differences are.
Both designed for home use thus they come in light frames compared with bulky gym elliptical machines.
Although the dimensions are different, the differences are insignificant, so their dimensions are within the same range.
Comes with media racks where you can place your music player, tablets, or other gadgets.
Both come with speakers so that you can listen to music thereby making your exercise routines fun.
Varying resistance on 470 provides more challenging exercises to users.
The 100 incline and longer length stride add an extra challenge when performing exercise routines.
More pre-set exercise programs allow varied exercise routines for users.
The 470 has more modern features such as the RunSocial App, Schwinn Trainer App, and telemetry sensor for better tracking of vitals.
Unboxing the Schwinn A40 vs. Schwinn 470
Unboxing the two elliptical trainers is one of the best ways to create a comparison between the exercise equipment. From the unboxing, we can create a table of comparison so that you can have a quick overview of the various features of each elliptical trainer and how they stack against one another.
| Parameters | Schwinn A40 | Schwinn 470 |
| --- | --- | --- |
| Grade | Home | Home |
| Upper body exercise | Yes | Yes |
| Resistance levels | 8 | 25 |
| Resistance type | NA | Magnetic |
| Incline | NA | Yes, 00 to 100 motorized |
| Length stride | 17.5" | 20" |
| Pre-set exercise programs | 7 | 29 |
| Cooling fan | No | Yes |
| Bluetooth connectivity | No | Yes |
| Folding | No | No |
| Flywheel weight/ Unit weight | 275 lbs./ 111.3 lbs. | 300 lbs. / 231 lbs. |
| Mixed-Reality training | NA | RunSocial App |
| Performance tracking | NA | Schwinn Trainer App |
| Heart rate control | Contact HR | Yes, Contact HR and telemetry sensor |
| Dimension | 59" L x 23" W x 64" H | 70"L x 28" W x 71"H |
| Media racks | Yes | Yes |
| Speakers | Yes | Yes |
As you can see, there are many features that the Schwinn 470 has that the Schwinn A40 does not have. One of the striking differences between the two is that the Schwinn 470 comes with a lot of modern features such as the contact and telemetry sensor for the heart rate control, 2 LCD displays, Bluetooth connectivity, and the ability to be connected to training apps.
Buyer's Guide for Schwinn A40 and 470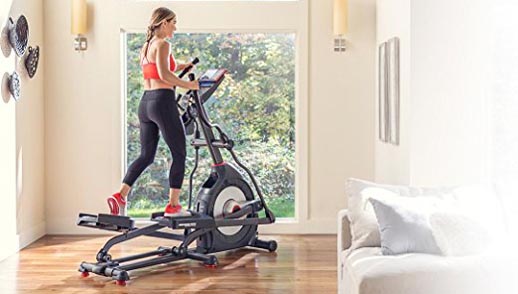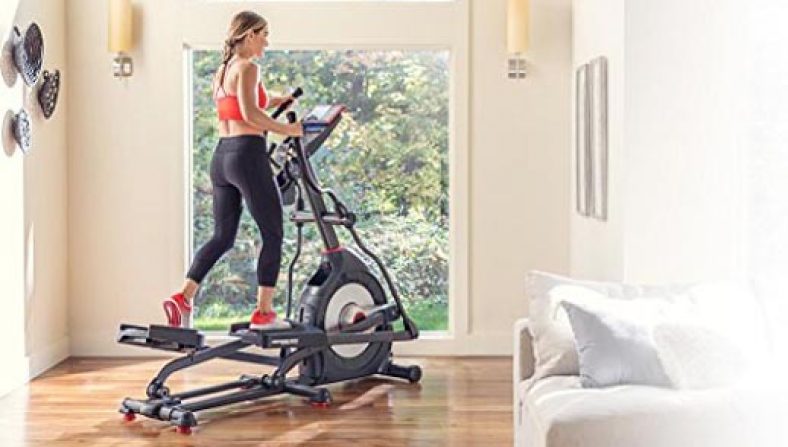 Now that we have presented the different features between the two Schwinn elliptical trainers, it is time to look into other buying considerations. Before deciding that the Schwinn 470 will give more value for your money because it comes with more features, it is important to note that these features are not the only ones that you need to weigh.
Will my fitness level matter?
One of the most important buying considerations that you need to weigh in is your fitness level. Are you a fitness virgin or a seasoned pro? If you are new to using elliptical trainers, then you can benefit more from the A40 because what's the point of having a lot of features that you may never even use? It will just be a waste of money. If you want a challenging elliptical trainer, then go ahead and buy the Schwinn 470.
I am a big heavy, which elliptical trainer is good for me?
If you are within the normal weight range, then you can get either the A40 or 470. However, if you are a little bit on the heavier side of the scale, the smaller and lightweight frames of the A40 are not enough to support your weight. Thus, the better option would be the 470 as it has a maximum size capacity of 300-lbs.
I don't have enough space in my house, which elliptical trainer fits a smaller space?
Space is also another thing that needs to be considered when deciding between the two models. While there is really no large difference between their size, the lightweight appeal and smaller frames used on the A40 makes it ideal for homes with small spaces. They are great for apartments or tiny suburban homes.
Is my fitness goal and commitment when choosing which elliptical trainer to get?
It is also important to consider your fitness goal and commitment. Even if you are a new fitness enthusiast, you are not restricted to the Schwinn 470 especially if you see yourself using the machine long-term. If you are serious about training your upper body and you want to invest in an equipment that will constantly challenge you, then this elliptical trainer is for you.
Which elliptical trainer can make me save more money?
You can save more money in the long run if you start with the Schwinn 470 despite your low fitness level. Because it has more features that can make exercises more challenging, buying this elliptical trainer means that you will never get bored with this exercise machine. However, if you are not really thinking of relying on this equipment to give you a full workout, then the A40 is your best option.
Schwinn has been designing elliptical trainers for all kinds of fitness enthusiasts in mind. Deciding which ones to buy to meet with your fitness goals largely depends on many factors.
Just because you are a fitness neophyte who has money to burn does not mean that you should immediately just get the Schwinn 470. Other factors that you have to consider are your budget, space, fitness commitment, and preferences.
Whatever you decide to buy, we can assure you that you will meet your fitness goals with any of the elliptical trainers mentioned.