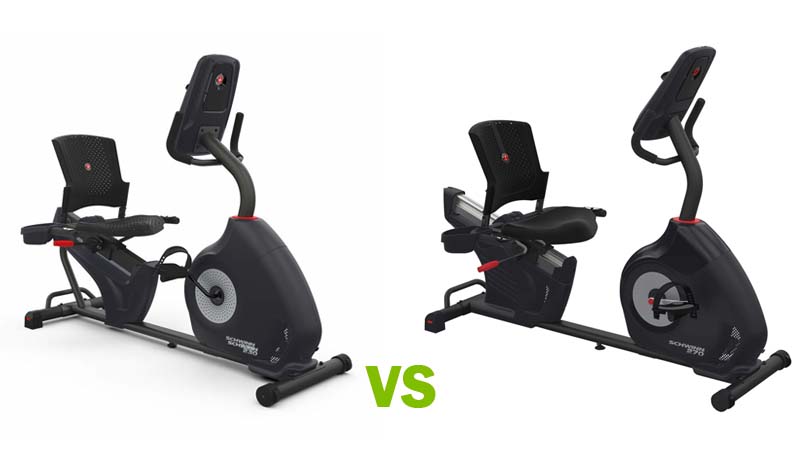 Exercise bikes are one of the most sought-after home gym equipment in the market today. And with so many brands and models out in the market, choosing the right one can be quite a feat as there are many things that you will need to consider before determining which one is best for you.
Since there are hundreds–even thousands–of exercise brands to choose from, we will limit this review between the Schwinn 230 and Schwinn 270, which are both recumbent bikes. Recumbent bikes are exercise machines that, unlike upright bikes, are operated while the foot is at a horizontal position with the pedals. While both provide adequate cardio exercise and good leg training, how do you decide which one to get? Let this review help you with you evaluate which exercise bike is good for you so read on.
Schwinn 230 Recumbent Bike
The Schwinn 230 is one of the most exciting recumbent exercise bikes because of its features.
The selling point of this exercise bike is that it comes with 22 preset workout programs and a two-user profile thus making it perfect for many home gyms. This means that there are plenty of ways for you to use this machine to achieve the exercise and results that you want.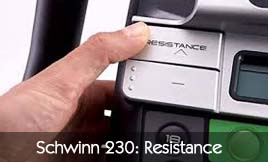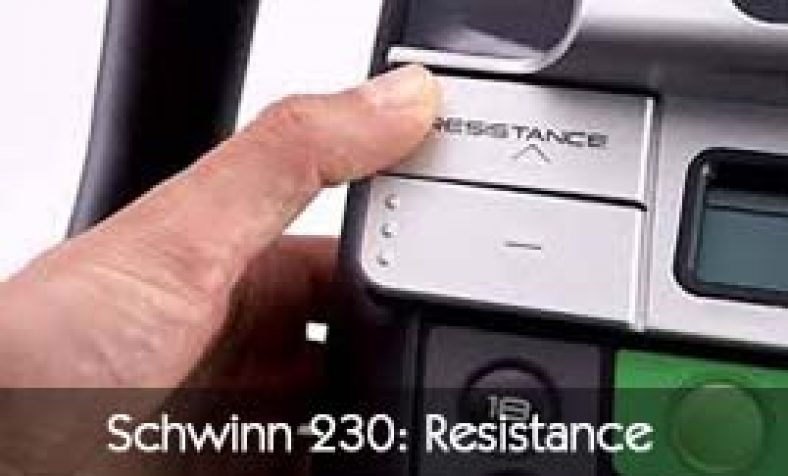 With its quiet magnetic resistance with 20 level types, this exercise equipment can give you toned leg muscles and adequate aerobic exercises. The flywheel weighs just around 13 pounds thus it provides enough weight to perform cardiovascular exercises while keeping your muscles toned without putting too much strain on your joints.
In fact, this is the same feature used on the cheaper Schwinn 220 and the high-end 270 recumbent bikes.
And with its price range between $449 and $699, it is one of the reliable recumbent bikes that will give more value for your money.
But is it the right bike for you? Below are its pros and cons that will make you decide whether this bike is great for you.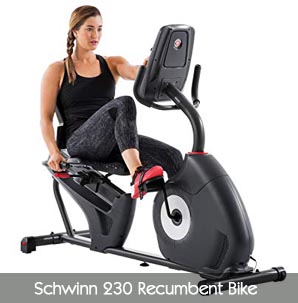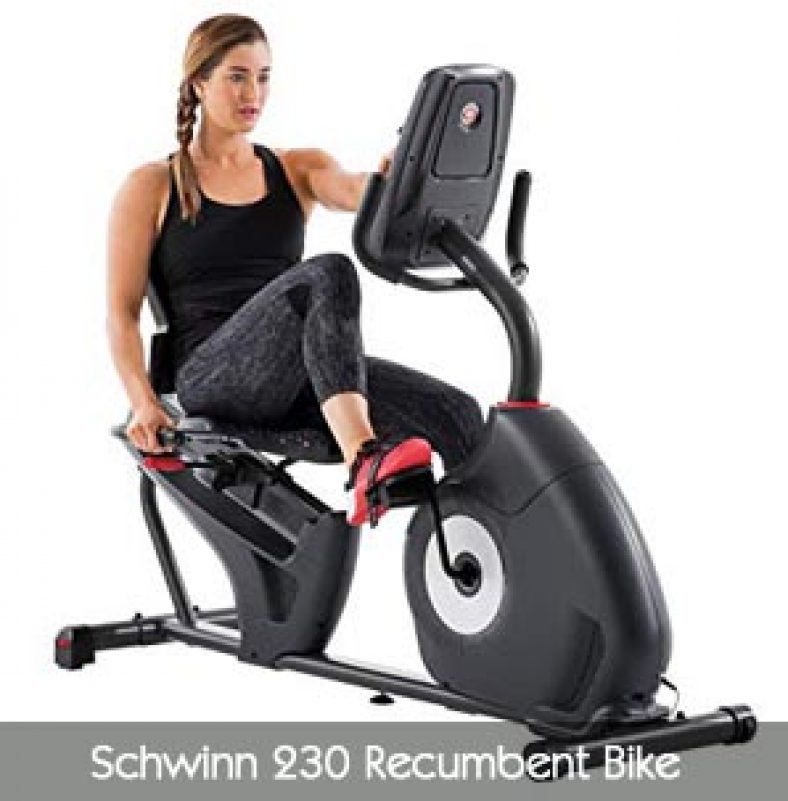 Dimension is 50 in. H x 27 in. W x 64 in. L
20 resistance levels for a wide range of workout intensities
22 workout programs to meet various exercise goals
Comes with a high-speed inertia drive system with perimeter 13 pounds weighted flywheel for a smoother and consistent workout
Heart rate monitor on handlebar grips
Console speakers for an MP3 player or iPod input port
Comfortable seat with backrest
USB data transfer functionality
Media shelf to accommodate different electronic gadgets
3-speed fan for a comfortable and cool workout
Water bottle holder to ensure users can stay hydrated while working out
Transport wheels for mobility
Can accommodate maximum user weight of 300 pounds
DualTrackTM two LCD window system
2 user profiles to store personal information and workout data
4 heart rate programs with customized setting
9 profile exercise programs including 3 fun rides, 3 mountain rides, and 3 challenge rides
Walk-through design and easy access to users
The sturdy frame that can hold up to 300 pounds despite that it weighs only 82 pounds
Provides lots of training support via the 22 program modes, eight heart rate control workouts, and 9 profile workouts available
Comes with USB driver for storing data that can later be uploaded to the Schwinn Connect website
Compatible with the MyFitnessPal app
Convenient to share thanks to its two user profiles
Can be hooked to an MP3 player and other devices to stream songs so that workout is never boring
Comes with more extras such as a water bottle holder, a three-speed fan, USB charging port for devices, and a media tray
Light flywheel at 13 pounds does not provide stronger resistance especially to seasoned fitness enthusiasts
Seating is not cushioned thus it may cause discomfort through time
The warranty period is not very generous with the frame only legible for lifetime guarantee while the mechanical and electronic parts get 2 and 1 year(s); respectively
The Schwinn 230 recumbent bike has everything that you need in a great bike. It offers a lot of programming thus it can provide fitness enthusiasts with a wide range of exercise regimens. It can also get you connected with the media and different exercise apps. For a mid-range bike that can be purchased between $300 and $500, it can provide enjoyable exercise to its users.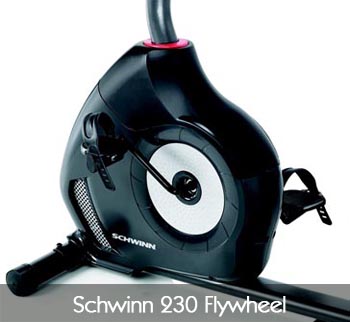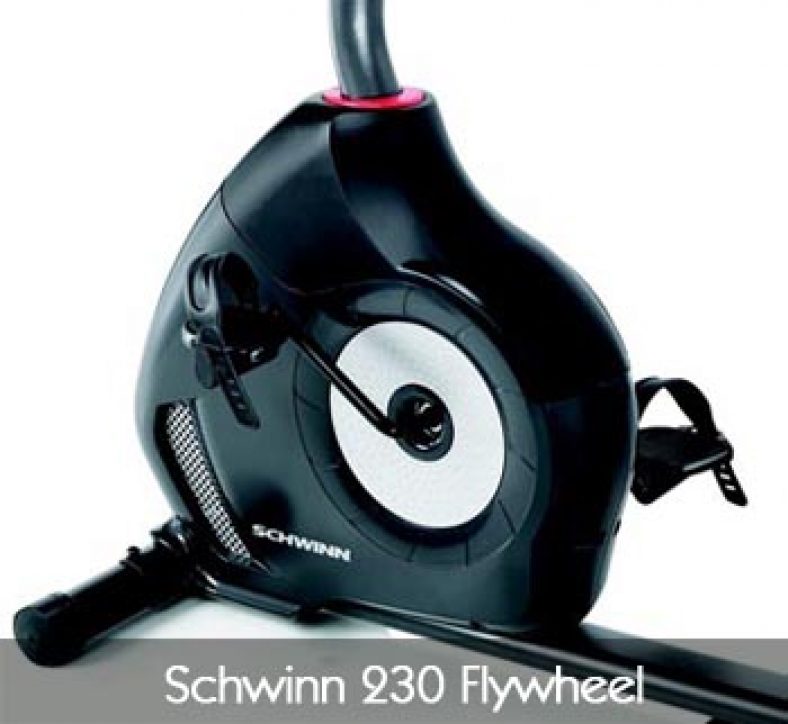 The caveat with this recumbent bike is that it has a very light flywheel thus making it a bit less challenging for seasoned fitness enthusiasts. Moreover, the length between the pedal and the seat is deemed too short for taller people thus making it difficult for taller people to use this home gym equipment.
---
Schwinn 270 Recumbent Bike
The Schwinn 270 has is a great recumbent bike for all types of fitness enthusiasts. Whether you are a fitness guru or a novice, the 270 comes close to other recumbent bikes such as the Nautilus R615. This bike comes with a lot of features including the 29 programmed workouts. It also allows users to download workout data and connect it to any mobile devices.
It can provide a comfortable low impact cardio exercise while, at the same time, help you achieve toned legs. And unlike Schwinn 230, this recumbent bike comes with a padded oversized seat with backrest for more comfort. For an even challenging workout, it comes with 25 magnetic resistance levels and it can accommodate 4 user profiles so that you can track and monitor your progress.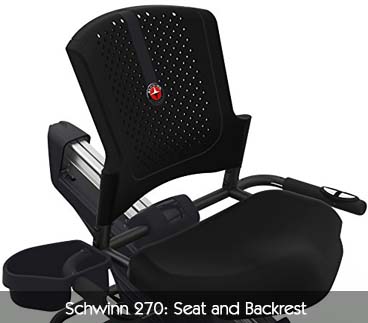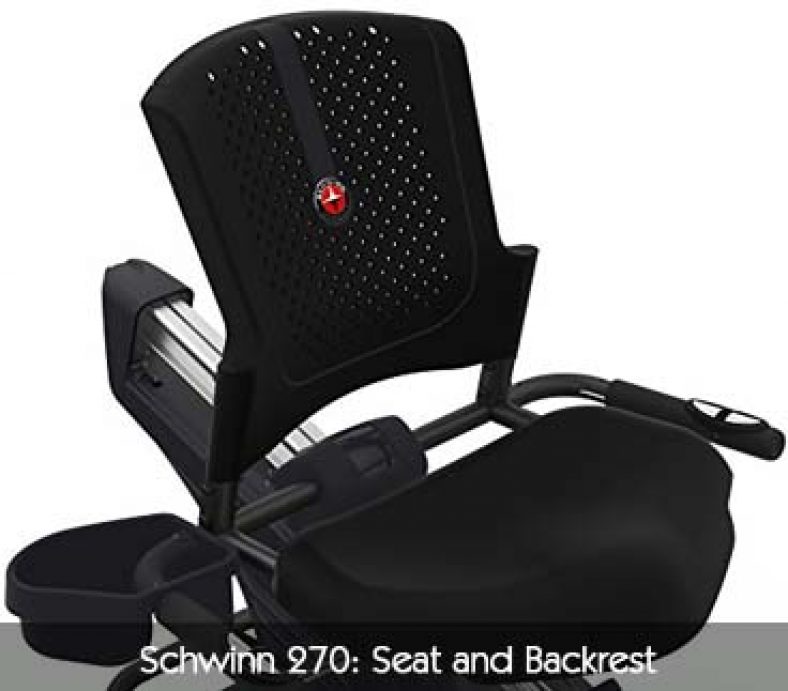 Whether it is a better version of the 230 or not, learn more about its features, pros, and cons to understand what this recumbent bike is all about.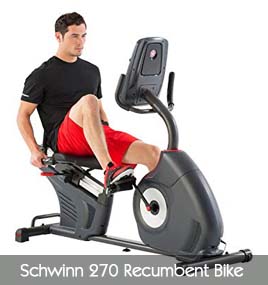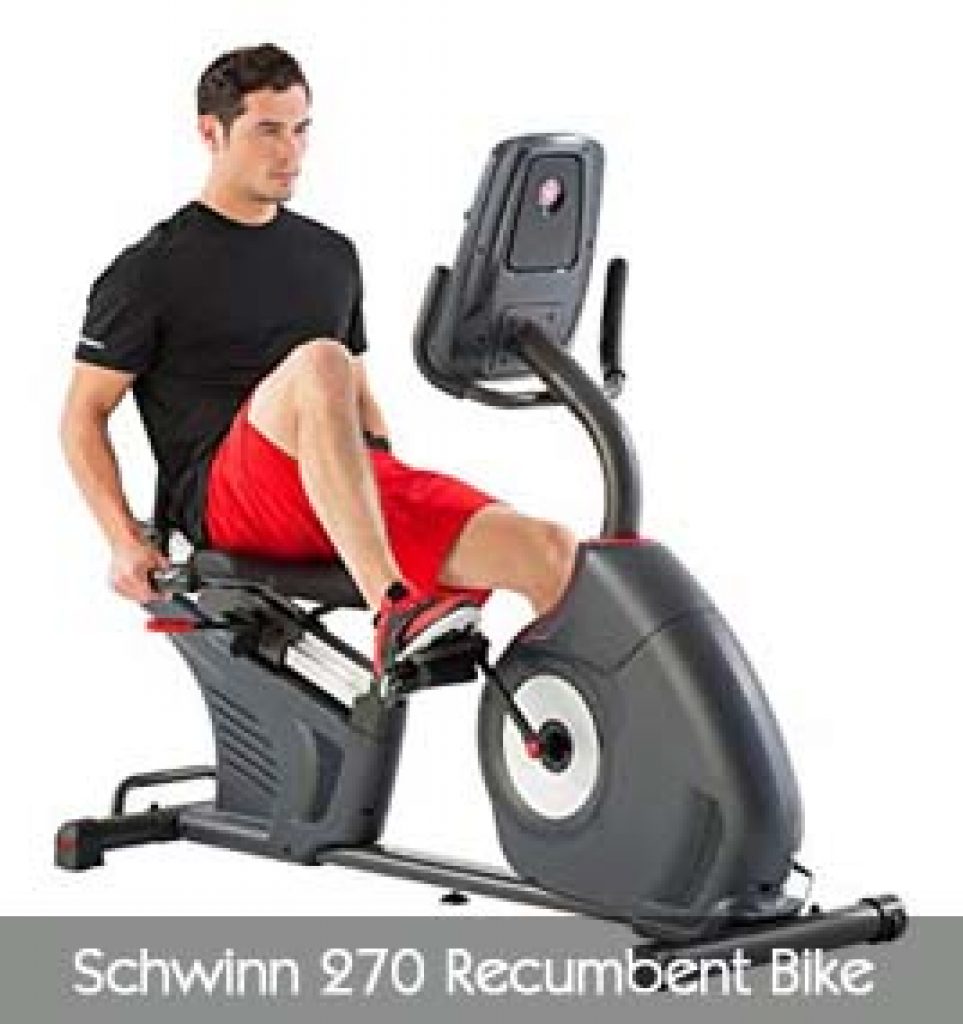 Dimension is 49.9 in. H x 27.7 in. W x 64 in L
Weighs 86.6 pounds
Comes with 25 levels of resistance for a wider range of workout intensity
Comes with 29 workout programs
High speed and high inertia drive system with 13 pounds weighted flywheel for a consistent and smoother workout
Heart rate monitor on handlebar grips
The chest strap is telemetry-enabled
Console speakers with MP3 player and iPod input port
Bluetooth and USB data transfer
Can be connected to Schwinn Connect or MyFitnessPal app
Media shelf for better and enjoyable exercise
Three-speed cooling fan for more comfort
Water bottle holder to ensure users stay hydrated
Transport wheels for mobility
Maximum user weight is at 300 pounds
DualTrackTM two blue backlit LCD window system
12 profile programs including 4 mountain rides, 4 fun rides, and 4 challenge rides
9 heart rate programs with customizable settings
2 fitness test programs
4 user profiles to store personal information to store workout data
The frame comes with a 10-year warranty while mechanical and electrical warranty comes with 2 and 1-year(s) warranty period
Low sale price between $400 and $500
Compact machine size thus it can easily be transported from one place to other thanks to the transport wheels
Wider cushioned seats with backrest for comfortable seating
The sturdy frame that can hold a maximum of 300 pounds of user weight
Comes with an attractive LCD window system that displays workout data such as speed, time, distance, resistance level, revolutions made per minute, heart rate, and calories burned
Integrated console with 29 programmed workouts
More user profiles so that family members can save their data
Compatible with heart rate straps for an accurate reading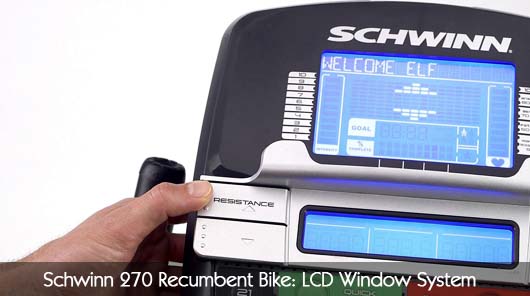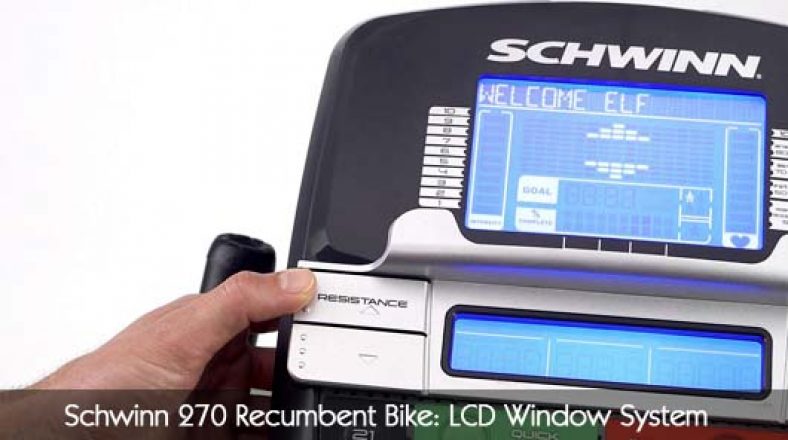 LCD screen brightness cannot be adjusted thus it can be brighter on certain conditions
Cannot store workout data within the device and requires USB connectivity to upload workout data
Schwinn 270 is considered as one of the finest recumbent exercise bikes to date. What makes it exciting is that it comes with a mid-range price tag than the 230 and other bikes such as the Schwinn 250 and A20.
And just like other recumbent bikes, it provides low-impact cardio exercises to users while, at the same time, helping tone the leg muscles. The performance of the 270 is similar to other recumbent bikes.
While it works the same way as other recumbent bikes, what makes it better is that it provides more comfort because of its cushioned seat and backrest. Moreover, the modern features of this bike including the 29 onboard workout programs, Bluetooth data export, more user profiles, and fitness app connectivity makes this recumbent bike more intuitive than other models of recumbent bikes.
---
Difference Between Schwinn 230 and 270
Both the Schwinn 230 and 270 came from the same brand but even if this is the case, they both come with many differences. Whether their differences make one better than the other, you decide. Let's take a closer look.
Same magnetic resistance types
Comes with strapped pedals
Weighted flywheel for both machines is at 13 pounds
Both can support a maximum user weight of 300 pounds
Heart rate monitors found on handlebar grips
Comes with console speaker and other accessories such as water bottle holder and media tray
Transport wheels present for easy relocation
The three-speed fan presents for a comfortable workout
Cushioned seating is different as Schwinn 270 has a wider cushioned seat and backrest
Varying resistance levels and workout programs
Varying user profiles and exercise profiles
Varying warranty periods for the frame and mechanical as well as electronic parts
Read More:
Unboxing the Schwinn 230 vs. 270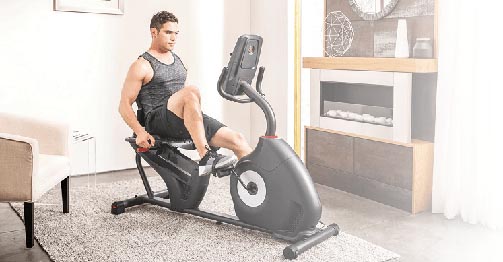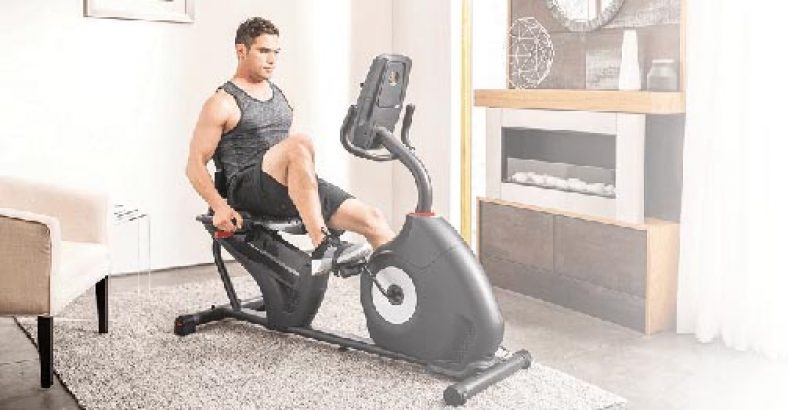 Parameters
Schwinn 230
Schwinn 270
Resistance type
Magnetic
Magnetic
Resistance levels
20
25
Pedals
Straps
Straps
Weighted Flywheel
13 pounds
13 pounds
Bike weight
81.6 pounds
86.6 pounds
Maximum user weight
300 pounds
300 pounds
Minimum user height
4 ft 11 in
4 ft 11 in
Maximum user height
6 ft 3 in
6 ft 3 in
Handlebars adjustability
No
No
Seat adjustability
Horizontal
Horizontal
Seat cushioned
No
Yes
Dimension
50 in. H x 27 in. W x 64 in. L
49.9 in. H x 27.7 in. W x 64 in L
Workout programs
22
29
Heart rate monitor
Found on handlebar grips
Found on handlebar grips
Console speaker
Yes
Yes
USB data transfer
Yes
Yes
Transport wheels
Yes
Yes
LCD window system
Yes
Yes
User profiles
2
4
Exercise profiles
9
12
Other accessories
Water bottle holder, Media tray
Water bottle holder, Media tray
Three-speed fan
Yes
Yes
Price range
$449 to $699
$400 to $600
Warranty
Frame: lifetime
Mechanical parts: 2 years
Electronic parts: 1 year
Frame: 10 years
Mechanical parts: 2 years
Electronic parts: 1 year
Buyer's Guide for these Recumbent Bikes
If you look at the side by side comparison between the Schwinn 230 and 270, you will notice that both recumbent bikes almost have the same features save for the number of resistance levels, workout programs, and other modern conveniences.
With the 270 having more features than the 230, would you say that the former is better than the latter and its other predecessors such as the 250 and A20?
Well, we cannot arrive with a consensus as your buying decision still largely depends on your needs and preferences. And so, we have compiled a list of the things that you need to ask before you decide to buy any of these two recumbent bikes.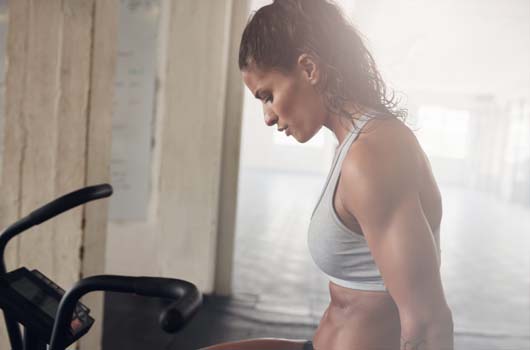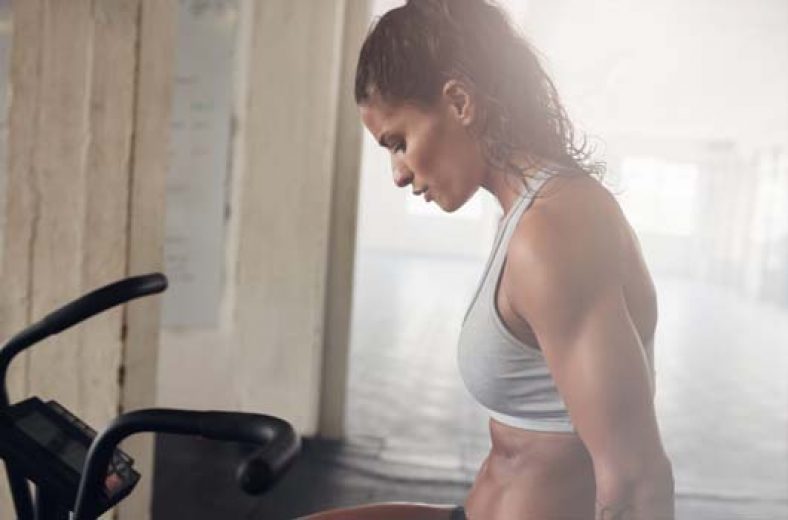 Schwinn 230 vs 270: Which has a better build quality?
It is important to take note that both recumbent bikes have walk-through frames thus allowing you to use this exercise equipment with ease.
The 270 was built following the design of the 230 but at 101 pounds, the former is heavier. It also comes with oversized pedals.
The 270 also has a single piece frame just like the 230 that is supported by a larger mid-frame for solid construction. This is the reason why both bikes can support a 300-pound individual as their maximum user capacity.
But this is where the difference begins as the 270 comes with a three-piece crank that makes it more durable than the one-piece crank of the 230. This also allows more resistance to the user during a workout.
The thing is that both bikes have the same build quality because they have the same features but the three-piece crank of the 270 makes it more attractive than the 230.
Which is more comfortable?
Using a recumbent bike is very comfortable compared to an upright bike. When it comes to comfort, both bikes almost have the same features.
They have the same water bottle holder on the left side of the seat. Both also come with a three-speed fan integrated into the front display so that you will feel comfortable during your workout. They also come with a multimedia console and speakers so that you can listen to music while working out.
But one of the advantages of the 270 is that it comes with wider cushioned seats with backrest, which is something that the 230 lacks.
You may also like:
Which offers better performance?
While you can do a more varied workout with the 270, both equipment comes with built-in sensors found on the handlebars, so you can get an accurate reading of your workout vitals.
On the other hand, the 230 comes with only 22 programs compared with the 29 programs of the 270. With the extra 7 more workout programs, you can have a variety of workout exercises that can fit your needs. These include 12 profile programs, 9 heart rate control programs, 4 custom programs, 2 fitness tests, and a recovery program.
The 270 provides more features that are useful especially if you want more control with your workout routines. This is a great option, especially among seasoned fitness enthusiasts. If you are still starting out with this equipment, then the simpler 230 will give you the same results.
Both the Schwinn 230 and 270 recumbent bikes can give you the same results. But whether you opt for one over the other, depends on your fitness level.
If you are a beginner, the Schwinn 230 is your best option. This is especially true if you are using it alone or with another person because of its limited user profile. The 230 comes with simple features that make it straightforward thus making them perfect for beginners.
On the other hand, the 270, with its more extra features, is a great recumbent exercise bike for seasoned fitness enthusiasts as well as novices who are looking for a bike that they can use for a long time. It also comes with more user profiles, so you can share it with other people.
In a nutshell, both 230 and 270 have their own advantages and limitations. Which exercise bike is best for you depends on your needs, preferences, and budget.