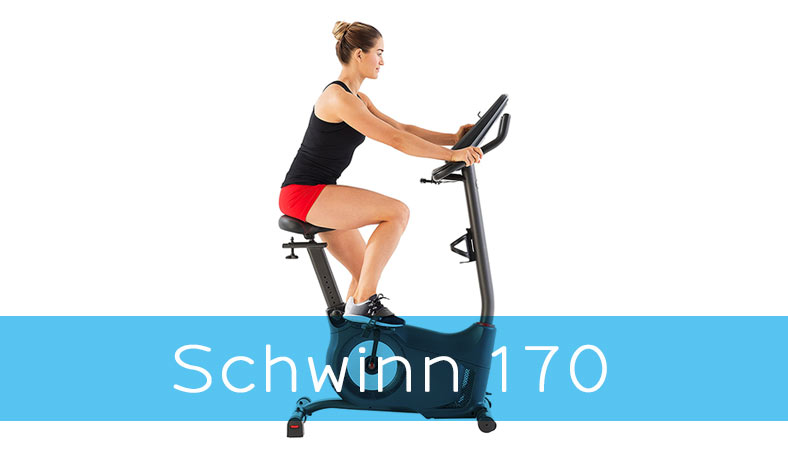 The Schwinn 170 Upright bike is one of the affordable fitness machines for home use. Schwinn has been making some of the most popular upright bikes and spin bikes and as a brand, it enjoys the trust of its customers. The 170 upright bikes are made with all the features a new user would need and it can offer similar features seen on commercial bikes to rely upon at home.
The upright bike ships in a box and users need to put it together following the instructions manual. Since it also features a digital display and digital settings, it needs to be plugged into a standard 120V electrical wall outlet. Once assembled and plugged into the outlet, the bike can power different types of workouts as well as freecycling sessions.
Schwinn 170 upright bike characteristics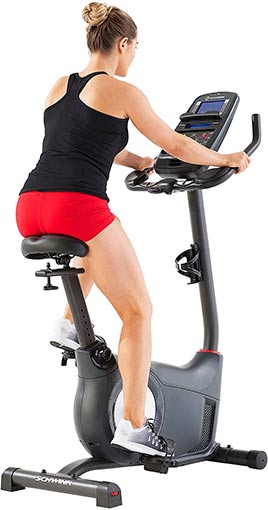 Includes 29 preset programs
Based on 25 levels of adjustable resistance
Designed with a2-way adjustable seat
Benefits from adjustable pedals with straps
Features a built-in charging USB port
Made with 2 backlit LCD displays
Includes built-in speakers for music
Designed with a contoured padded seat
Benefits from a 3-speed fan
Includes built-in pulse grips
Integrates a water bottle holder
Tracks fitness goals for up to 4 users
Supports 300lbs maximum user weight
It measures 41.3″ X 21.4″ X 55.6″ when assembled
Plugs into standard electric wall outlets
Triggers audio beeps when buttons are pressed
Assembling the Schwinn 170
Putting the upright bike together is not complicated. Users can rely on their bikes for a better physique, but first, they need to assembled it as it ships in a box.
First, users should lay out all of the bike's parts and its accessories such as small screws that come in little plastic bags. Once these pieces are laid out, users can proceed to assemble the feet, the seat, the central console, and the pedals. Once the central console is in place, users also need to connect the electronics or the cables which power the LCD screens and the fans as detailed in the user's manual.
The entire assembly process should not take longer than an hour, according to what customers say. But customers also advise on assembling the bike right next to a power outlet when it can be tested when ready for cycling.
How to use the Schwinn 170 upright bike
Once the bike is ready to use, it can be a solid tool for any fitness objective such as weight loss or building better endurance. There are a few characteristics that make it stand above the competition.
25 resistance settings power the upright bike. This places it among the most comprehensive bikes in the upright design segment and most users won't feel they're giving up too much when cycling at home. Within these 25 resistance levels, 10 are pivotal and they are quicker to adjust for those only interested in changing pedaling difficulty fast.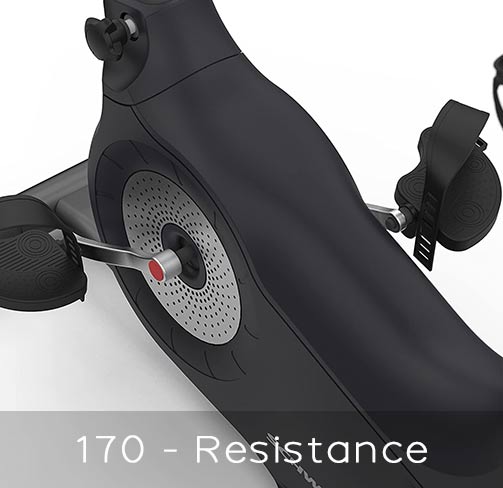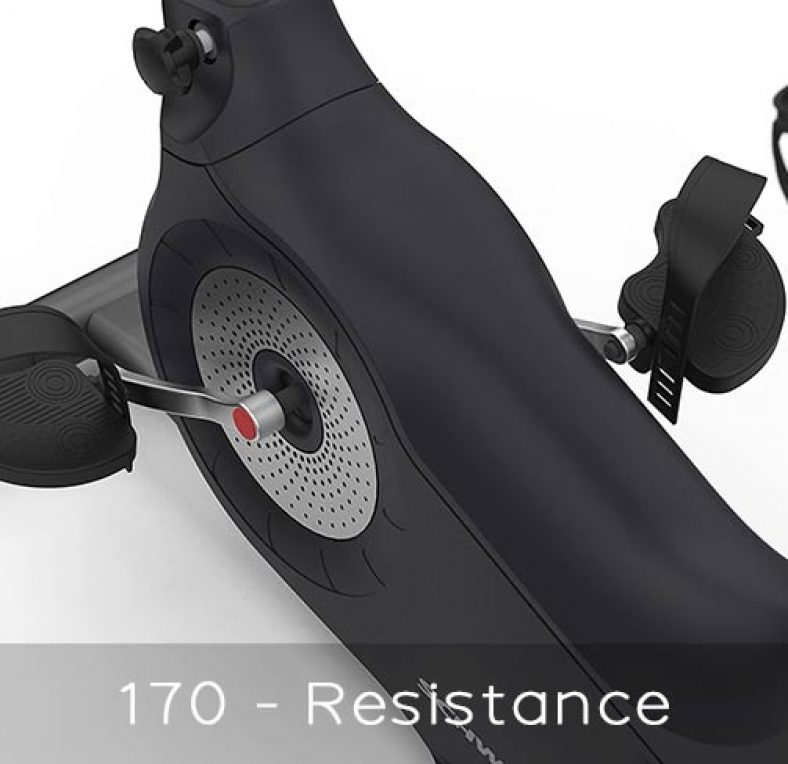 29 cycling programs are offered by the upright bike. They are likely to be used by most users since they simulate all types of real-world cycling conditions. Users can even see what these programs simulate such as 'cycling through mud' notifications on the LCD screen.
From these programs, 9 are dedicated to heart rate control. This makes the bike quite versatile when it comes to cardiovascular health. Those who want to build better endurance and simply not to run out of breath as easily can choose these programs to train at least a couple of times per week.
4 custom profiles can also be saved among these programs. User-defined, they allow a more personalized approach to indoor home cycling. But interestingly, the bike also features 2 fitness testing modes. These testing programs are made so that the user can see the overall fitness progress. One program for fitness testing is added for beginners and there's another fitness test program added for experienced users.
Goal tracking is one of the key aspects of the bike heavily promoted by Schwinn. The main idea of these goals is that they support various fitness workout objectives such as calorie consumption. Each of these goals can then be transferred via USB to the Schwinn Connect platform. This platform is also compatible with MyFitnessPal, an app that can put the consumed calories in perspective in relation to the daily caloric intake. Simply put, users can figure out how much they burn in relation to the food they eat.
Time and distance are the 2 other variables of fitness goals. Up to 4 users can save their personal goals on the bike's internal memory. All of those cycling on the bike at home can then create an access profile on Schwinn Connect for better statistics.
As with most Schwinn products, the 170 recumbent bike comes with a graphic display of the heart rate zones. These zones can be used to interpret various levels of the cardiovascular intensity level. On its own, this graph which is present on the right side of the screen can interpret the workout intensity.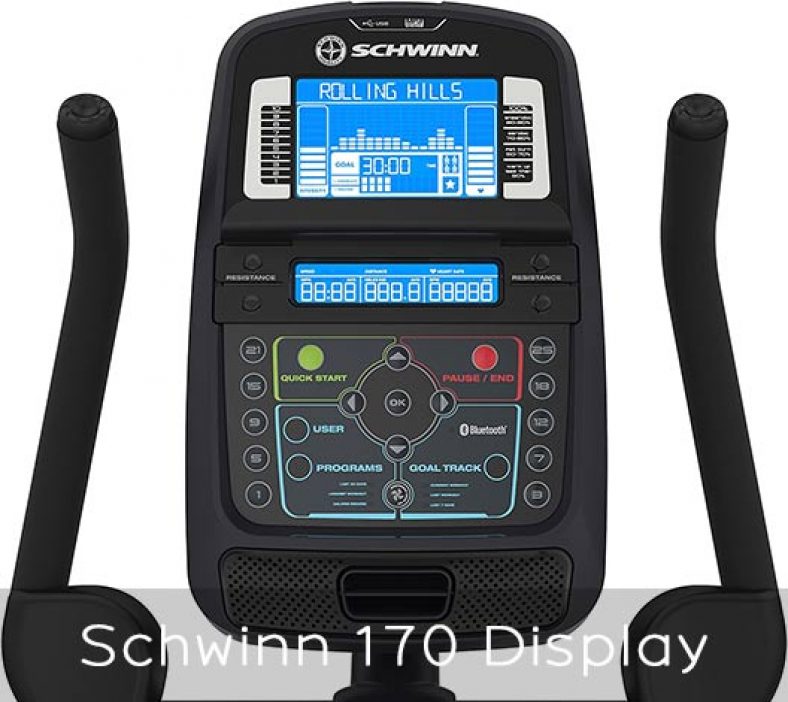 It can be difficult to objectively assess the intensity of a workout. This is where the graphic interpretation comes with its practicality. Ready to guide users through changing intensity from one workout to another, the bike can be used as a personal trainer as well as it shows the user how hard the heart is working to keep up with the pedaling.
The advantage of the seat
The Schwinn 170 upright bike is made with a 4-way adjustable seat, similar to the manufacturer's spin bikes alternatives. The seat moves up and down but it also adjusts forwards and backward. As it supports superior adjustability, the seat accommodates users of various heights properly. Many entry-level alternatives are made with 2-way seat adjustability only.
Comfort is good as well. The seat is thickly padded and it offers superior comfort. It's even an ergonomic seat which means it remains comfortable during low cycling sessions. It's double stitching also makes the seat look a bit more expensive than many would expect it to be.
Transporting the bike from one room to another is not complicated. Users rely on its built-in plastic wheels to move it around. There are only 2 wheels on the bike and this means it needs to be tilted before it moved to another room.
Users who want to move the bike on hardwood floors are advised to use a different method, however. The wheels are non-marking, however, they can scratch delicate hardwood floors.
There's a comprehensive warranty offered by Schwinn for its upright bike. Available in a single home user warranty policy, the bike's frame is covered for up to 10 years for any manufacturing defects. Its mechanical parts are covered by 2 years while its electronics are under warranty for up to 1 year. Labor is covered for up to 90 days, as with most fitness gear.
There are a few key points to remember when it comes to benefiting from its warranty policy. The most important characteristic is simply to remember the bike has a 300lbs weight capacity and it should not be put under stress above this mark.
Recommended reading:
Schwinn 170 upright bike drawbacks
Not all characteristics of the bike are the best or even worth applauding. For example, the bike only has a basic LCD display and not too many connectivity options. But most of those putting it together wish it'd come with a better user manual.
The poor user manual the bike comes with requires users to troubleshoot certain issues that aren't properly explained. For example, the electronic cables come with plastic connectors that need to click into place to properly connect. There's no information on how these cables need to be connected in the book.
How the bike performs against its competitors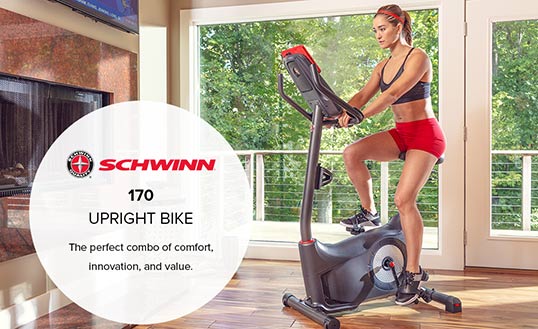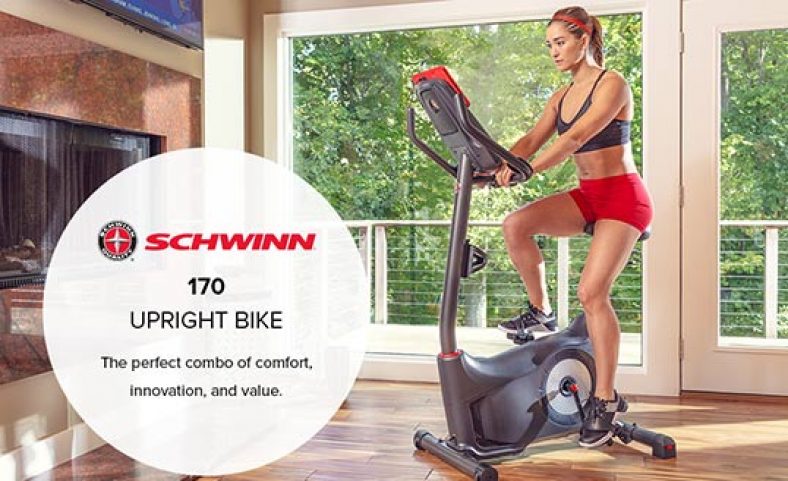 The bike performs reliably overall, but most users researching it certainly look at its competitors as well. Here's how they compare.
The Schwinn 130 bikes are very similar to the 170 upright bikes. However, Schwinn's 130 bike only features 22 programs with 20 levels of resistance. But the biggest drawback of the 130 release is it only features a basic seat which adjusts up and down. There's no 4-way seat adjustability which means users won't leverage the best cycling position.
This bike is even simpler. With a basic control panel and only 7 workout programs, it can't compete on performance with the Schwinn 170 upright bike. While it's a more affordable option, it only features 8 levels of magnetic resistance and a seat that isn't too comfortable for long workouts. As a result, the bike would only suit users who cycle a few times per month at most.
Exerpeutic Folding Magnetic Upright Bike
Exerpeutic's bike comes with a folding frame, which is a considerable advantage over the Schwinn 170 based on its space-saving abilities. But in terms of cycling performance, it's vastly inferior. It features a lower-quality resistance system and it only supports 8 levels of magnetic resistance. However, both bikes support weights of up to 300lbs, which gives them similar longevity.
The Schwinn 170 upright bike is one of the leading performers for those who want to enjoy serious training at home. While other bikes might prove superior in terms of compactness and even foldability, Schwinn prioritizes cycling performance.
With its objective-based training and high seat adjustability, it offers a cycling experience that is similar to the commercial-grade bikes. Furthermore, there's a long warranty to rely on and users who want to stay in shape as a lifestyle choice can rely on it for years. Schwinn's customer service is also ranked highly by the bike's users.