If you need to practice your kipping movements, the Rogue Fitness Pull Up Bar is the right choice for your workouts.
Now designed with better clearances, it's the type of bar that only needs to be anchored to a wall for you to start training.
Over time, it has grown in popularity in CrossFit, but it can also be used in bodybuilding or even in a garage gym.
There are multiple exercise variations you can perform with a good pull up bar. The classic pull up and kipping pull-ups are the obvious exercises here.
But you can also use the bar to stretch or to perform ab exercises.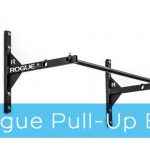 Rogue Fitness Pull Up Bar features
Designed in Ohio
It has a length of 32in
Designed with a height of 31in
It offers 30in wall clearance
Made with robust 500lbs weight capacity
Based on 11-gauge steel
It installs both horizontally and vertically
---
How to install the Rogue Fitness Pull Up Bar
Both the new P4 and the old P3 pull up bars are easy to install. You can anchor them on studs or walls, depending on the space you have available in your home or around the house.
Durability and Reliability
An electric drill is all you need to install your pull up bar on wood studs. If you are thinking about this option, you are most likely installing it either in the basement or in the garage.
The rule of thumb here is to ensure there's sufficient overhead clearance, especially if you love kipping pull-ups. There should be sufficient room under the bar as well as you can't bend your knees as you would with regular pull-ups and you need more ground clearance as well.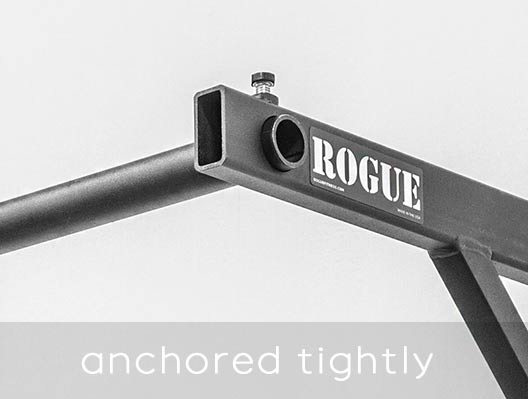 General wood studs are fine for the pull-up bar. The idea is to have it anchored tightly. Wobbling is one of the issues many users have when the pull-up bar is installed incorrectly. But there should be no wobble when you install it on wood studs.
Installing the pull-up bar on concrete wall
Concrete walls are probably where most users are installing the pull-up bar. In theory, there should be no difference when installing the pull-up bar on concrete. In practice, you will need to put it a bit of an effort not to ruin a concrete wall's appearance when drilling the anchoring holes.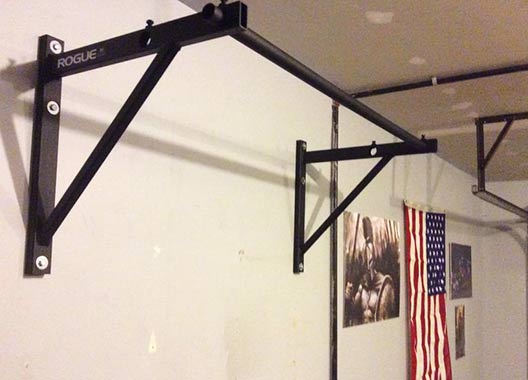 A carbide masonry drill is usually used to install the pull-up bar, once you find the stud. Spax Powerlag ½ X 5 bolts are very popular for their durability.
The problem with installing the pull-up bar on concrete walls is that you may not even have horizontal or vertical guidance, as with visible wood studs. A magnetic level is what you need to ensure the pull-up bar is correctly installed. You also need an extra-long drill when dealing with stucco.
Further Reading: Rogue Pull-Up Bar vs Stud Bar
How the Rogue Fitness Pull Up bar is used for all types of exercises
The pull-up bar is mainly used for basic back-building and strength building pulling exercises. But since it hangs off a wall or ceiling, it has multiple applications for those who want to get in shape at home.
Pull-ups and pull up variations
Both traditional pull-ups and keeping pull-ups are a success with Rogue's bar. The brand enjoys international recognition for its durable fitness equipment. It might be one of the best investments for home gyms in terms of long-term benefits.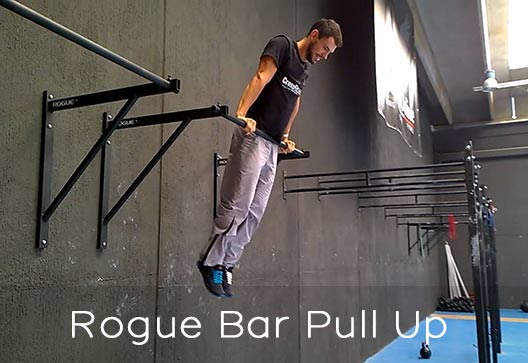 One of the secondary uses of the pull-up bar is with ring dip use. You can hang your Rogue ring dips on it to work pushing muscles such as chest and triceps as well as stabilizing muscles, as it takes a bit of effort to master ring dips. You can also use ring dips for rowing exercises, which work your back from a different angle.
Another benefit of the pull-up bar is that it offers an anchoring point for resistance bands and similar training equipment. It's not unusual for TRX bands to be anchored to the pull-up bar and many users rely on Rogue's system to create more workout variation without necessarily spending much more on the expensive fitness equipment.
Apart from kipping pull-ups, you can also exercise toes to bar once it's installed. This exercise is vivacious and very different from hanging leg raises, which are static by comparison. As a result, the pull-up bar needs to be properly installed for this movement.
The move is difficult to master for beginners as there needs to be just enough balance to raise the toes to the bar and sometimes beyond it. This exercise works coordination and abdominal muscles. It might even be one of the main reasons why the Rogue Fitness Pull Up bar is so popular as it features a thin OD bar that supports a tight grip, as opposed to larger bars that are harder to hold tightly.
One of the main issues to consider here is the space behind the bar for the leg kicks. There aren't many spaces at home where you can simply mount it on the wall with sufficient space. Regardless if you are exercising facing the wall or facing away from the wall, you still need plenty of room for the leg swing and the leg raises. You might need to modify the pull-up bar with extra wooden studs to increase the clearance from the wall.
---
Rogue Fitness Pull Up Bar drawbacks
Many consider the pull-up bar the best in its class. But it has a few drawbacks, depending on the user and what is expected of it.
The finishing of the actual bar is not going to offer a metal feel on the hands. This is problematic for those used to the worn bars at their local CrossFit box or their local gyms.
There are a few users who prefer to sand the bars to break in the finishing and feel like they're holding on to a solid piece of metal. Speal bars aren't offered by Rogue Fitness and if you prefer a natural metal look and feel, you should purchase fine sandpaper to have the finishing off before your first workout.
Titan Fitness Wall Mounted Pull Up Bar alternative
The pull bar made by Titan Fitness is very similar as it also features a high weight capacity of 500lbs. It can be mounted on 16" wood studs and it installs both vertically and horizontally.
It is considerably cheaper than the one made by Rogue Fitness and it might be an option if you're on a budget. When you're building a home gym, you can easily overspend and even thousands of dollars can't be sufficient to equip your workout space. Titan Fitness is a brand primarily targeting affordable fitness equipment and this can be seen in the price of its pull up bar.
However, even this bar doesn't feature a Speal finish, as it uses a matte black powder coat finish. If you are looking for a chrome finish pull up bar, you will need to look elsewhere.
Gold's Gym XR 10.9 Power Tower alternative
You might not have the luxury of adding a pull-up bar to a wall around your home. You might be renting and liable to pay fines for drilling walls. In this case, a self-standing pull-up system is the only option you have.
Gold's Gym Power Tower is one of the solutions to consider for your pull-ups. It might not be the best option, but it's better than not training at all. Its advantages are the multiple grip points with different grip angles. This is what allows it to offer one of the best options to those who want to exercise in an old-school bodybuilding-style rather than with keeping pull-ups in CrossFit style training.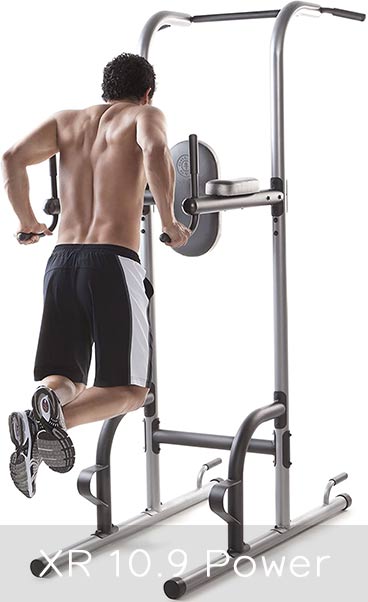 It has the advantage of the permanent backrest, which can be an option if you want to exercise leg or knee raises without putting any pressure on your lower back. Armrests also make it a bit more comfortable but at the same time, these advantages turn to disadvantages as they don't work with keeping pull-ups.
Is the Rogue Fitness Pull Up Bar worth it?
Depending on your fitness goals, the pull-up bar can be either impressive or a bit disappointing. Before ordering it and drilling holes in walls, you should ensure that you can do this without any problems as not all landlords accept such fitness equipment.
You should also ensure there's plenty of overhead clearance to install the bar. Ideally, you should jump to reach it to avoid your feet hitting the ground during keeping pull-ups. This means that you should probably anchor it a bit higher than you expect. Ideally, you can measure the height level of the bar in your local box so that you know if it works for you or if you need to adjust it according to your height.
Then, you should think about the types of workouts and exercises you plan to perform. Not everybody likes to perform toes to bar and keeping pullups. For traditional controlled or slower pace pull-ups, you might need to look for an alternative such as the Gold's Gym XR 10.9 Power Tower. If you want to perfect your cross-training skills, then the Rogue Fitness Pull Up Bar can easily be the best choice in terms of stability, safety, and durability.
With a bar depth of 30in, you should also find the right space to anchor it in order not to hit the wall during your workout. Some users prefer to add wood studs to the wall first, which creates a few more inches of clearances just to avoid this possible problem.