Both Powerblock and Ironmaster dumbbells are made for intense home workouts.
Based on an adjustable weight design, these dumbbells are made to save space and money. They can even replace up to 16 pairs of dumbbells in a single set.
Most of those training at home don't have the luxury of complete dumbbells set at the gym. This is the main reason such dumbbells are appealing in the first place.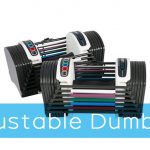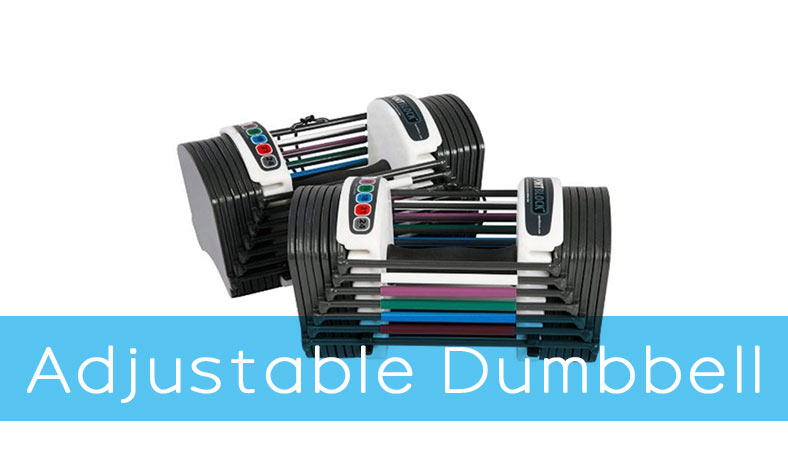 Both Powerblock and Ironmaster make popular adjustable dumbbells and it can be difficult to find the right choice if you're just at the beginning of your fitness journey.
This article looks into the characteristics of both sets of dumbbells as well as into what makes them different.
Powerblock vs Ironmaster – the similarities
Are you searching for adjustable dumbbells that meet your needs? Both PowerBlock and Ironmaster are high-quality, adjustable dumbbells. Compared to fixed weight dumbbells, they are cheaper and take up less space.
Both PowerBlock and Ironmaster dumbbells are made of premium-quality metal, making them durable and guaranteed for years of use.
In terms of design, both PowerBlock and Ironmaster adjustable dumbbells feature compact designs and their larger sizes can fully meet the needs of weightlifters.
In addition, these two types of dumbbells provide a stand option to facilitate your use of them.
Powerblock vs Ironmaster – the differences
If we've seen how the 2 adjustable dumbbells sets are similar, it's now time to see how they differ.
While both are made from durable materials, the Powerblock system comes with a 10-years warranty. The Ironmaster weights are covered for life.
The Powerblock weight plates are color-coded for quick adjustments. On the other hand, the weights on the Ironmaster dumbbells are compatible with Ironmaster's kettlebell, which is a major plus when you're building a home gym with fitness equipment from the brand.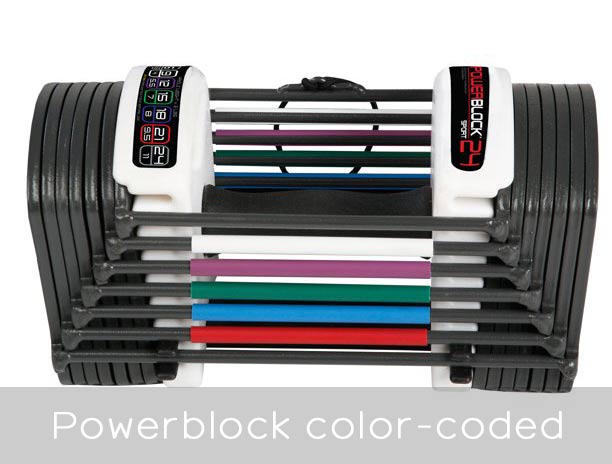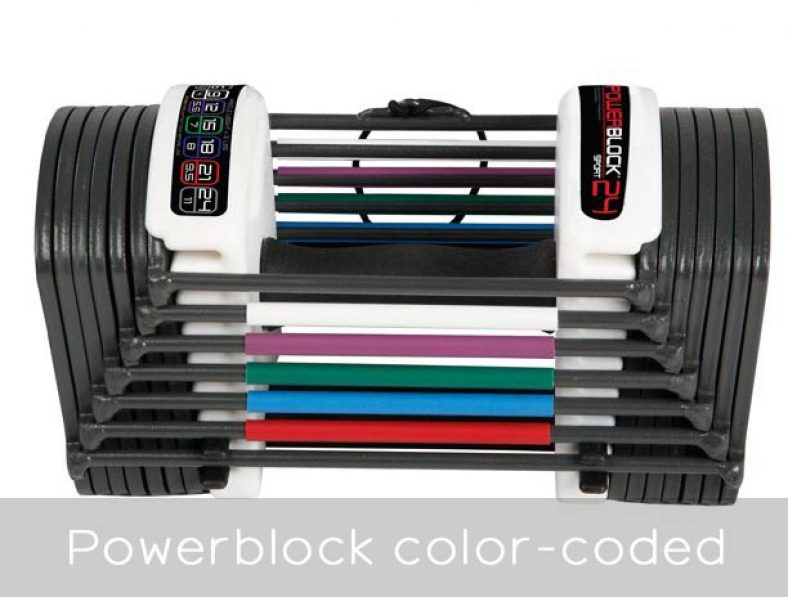 Then there are the advanced-level differences that the average user might not be so interested in. One of them is asymmetrical loading. This concept describes having different weights at the end of a grip, in this situation, on dumbbells.
Asymmetrical loading is possible on the Ironmaster dumbbells. For example, you can add extra weight on the inside to work the inside of your chest more than the outside area of your chest with a classic bench press. On the other hand, the weights on the Powerblock dumbbells are always the same.
The price can also be an area of interest when comparing the 2 dumbbell sets. One of the biggest issues comes with the final price, which can be different from the starting price. However, without kits and extras, Powerblock adjustable dumbbells are cheaper than those from Ironmaster.
When you are simply looking to start working out, there's no point investing in the most expensive kit at first as you don't even know what you feel comfortable with.
As a result, it might be cheaper to start training with Powerblock dumbbells but you might end up spending more in the future when you want to purchase more weight to add a bit of resistance to your training routine.
A deeper look into Powerblock adjustable dumbbells
Powerblock dumbbells are available from low to high weights, with an adjustable design.  The standard set adjusts from 3 to 24 pounds in 3-pound increments. As a result, you can start at 3 pounds, and go up to 6, 9, 12, 15, 18, 21, and 24 pounds.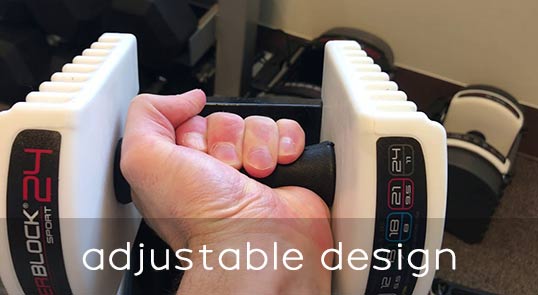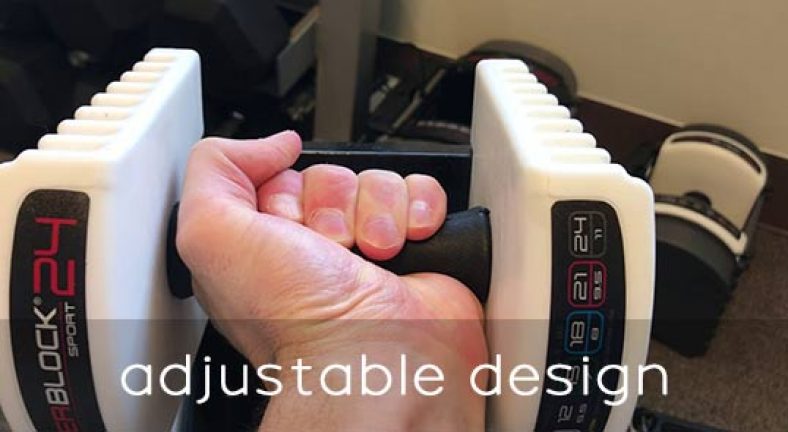 These weights aren't complicated to adjust as you only need to change the position of the selector pin.
Made from solid steel, the weights are also very durable. Most users don't worry too much about the overall durability of the weights as they are made to last. There's even a 10-years warranty policy to count on which backs the weights.
There's even a color-coded system to guide you through the weight settings. This is a characteristic that is considered a major plus, even when compared to fixed-weight dumbbells at the gym, as they all look the same.
Stage 1, Stage 2, and Stage 3 dumbbells
As seen above, the main dumbbells have a fixed maximum weight of 24 pounds per hand. But there are Stage 2 and Stage 3 Powerblock dumbbells to consider which can further increase the maximum weight. You can add your regular dumbbells into the Stage 2 kit to add 20lbs per hand. The Stage 3 kit can expand the maximum weight to 90lbs. It does so by adding extra increments (at 75, 77.5, 80, 85, and 90lbs).
These extras are something Powerblock is highly praised for. Sure, the dumbbells become larger as the weight increases, but the extra weight is extra resistance which helps build improved muscle strength. There are even instances where you can use the extra weight for large muscle groups, such as dumbbell squats which are normally performed with high weights.
Who are the Powerblock dumbbells made for?
The dumbbells are mainly made for those who don't have a high budget to build a home gym. These weights also represent a versatile solution for anyone into doing full-body workouts as they can be integrated with most exercises.
For example, the dumbbells can be used to build biceps by doing biceps curls. They can be used to build back muscles by performing seated rows.
And they are also very stable and with their square design, they offer the perfect platform for doing push-ups as well. Since the steel handle sits a few inches above the ground, you can grip the handles properly, which isn't always the case with low weight dumbbells.
A deeper look at the Ironmaster dumbbells
Ironmaster is the real alternative to Powerblock adjustable dumbbells. These weights are similar, but they use a different quick-lock system. Today, the Ironmaster dumbbells are made with adjustable weight anywhere between 5 and 75lbs. These weights are suitable for most muscle groups and you can even find great workouts online for free to get you started.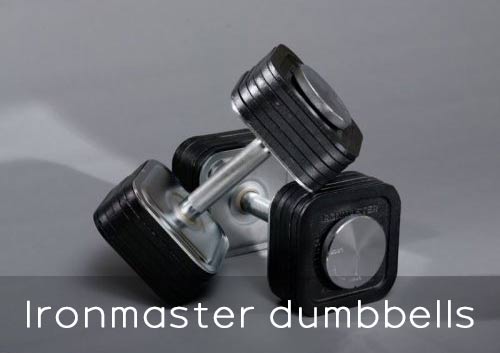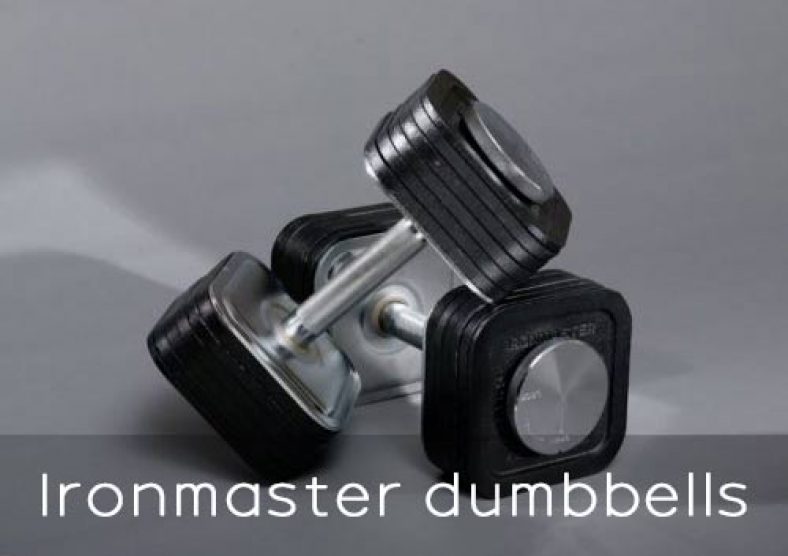 You shouldn't worry about the time you spend adjusting the weights during a workout. Even at extreme ends, you should still be able to go from 5lbs to 75lbs within 15 seconds. Just as with Powerblock dumbbells, you can also adjust your weights further with Ironamster's dumbbells.
2 extra kits are available if you want to increase the maximum weight from 120lbs to 165lbs. These turn the weights into the dedicated set for those who're already familiar with home training and who need the extra plates for strength gains.
There's even an included stand you can count on. It keeps the weights off the floor but it also works to reduce back muscle fatigue, as you don't have to constantly bend over to lift your weights.
Ironmaster offers a lifetime warranty for both the dumbbells and the stand. When you're building your dream garage gym, this can be important. For most users, the long warranty is extra care taken off their shoulders. When your training is seen as a healthy lifestyle, these types of policies become mandatory.
A bit rougher on the finishing compared to Powerblock's adjustable dumbbells, Ironmaster weights are primarily made for the beginner home trainee. If you have any back problems, the included stand is a must when you still want to stay in shape and train.
Otherwise, the weights are similar to Poweblock's dumbbells. There's a square design that also acts as a safety measure. It prevents the dumbbell roll.
Are Yes4All Adjustable Dumbbells any good?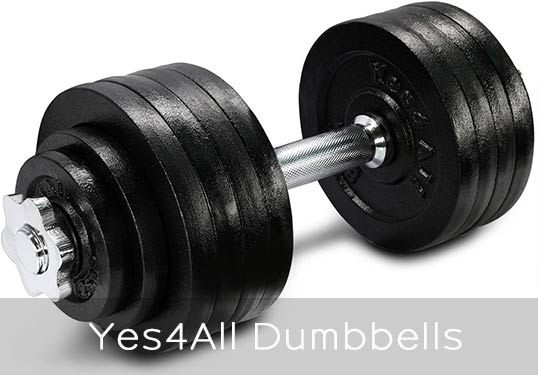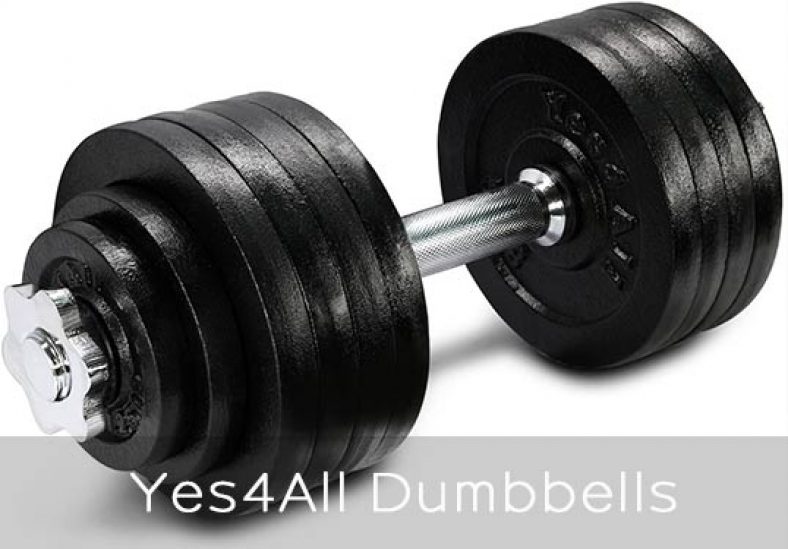 Yes4All adjustable dumbbells are made from cast iron. Star lock collars are used to keep the weight plates in place. They use a simpler design which is also cheaper by comparison.
Without pins, these dumbbells can also be interpreted as more durable. Surprisingly, they only come with a 1-year warranty policy.
However, you need to know it's not all about savings with the Yes4All dumbbells. For example, the extra length of the handlebar which holds the weight plates isn't covered as with Powerblock or Ironmaster which can lead to accidental hits on certain exercises.
Are Merax Deluxe adjustable dumbbells any good?
Another alternative to the popular Powerblock and Ironmaster dumbbells are the classic Merax dumbbells. These adjustable weights range from 11lbs to 71.5lbs which makes them comparable to any set of adjustable dumbbells.
These dumbbells stand out with a unique twist locking system. If you're interested in the finest designs, Merax dumbbells are the way to go as the twisting mechanism comes with printer weight increments. You simply stop the twisting movement at the weight you want to use.
But these dumbbells also come with a stand. If you're worried about storage, they also take the front lead compared to multiple other weights.
However, all of these mechanisms and their plastic materials makes them not as trustworthy in the long term. These weights come with a short 2-year warranty only.
Both Powerblock and Ironmaster adjustable weights are very good for a newbie user. They also hold up well compared to Yes4All and Merax Deluxe dumbbells.
In truth, none of these dumbbells is truly badly designed. All of them can be used to get in shape and to train every day. However, each of them has a unique set of strengths that recommends them for different users.
Powerblock dumbbells are easy to adjust due to their color-coding system. Ironmaster dumbbells feel like old-school weights that were made for the most dedicated users.
It's up to you to decide if you want a more polished look with Powerblock (which may require additional weight plate purchases in time) or the rougher but covered for life Ironmaster dumbbells.
You also get a dumbbell stand with Ironmaster, which can be important if you don't like your weights on the floor.