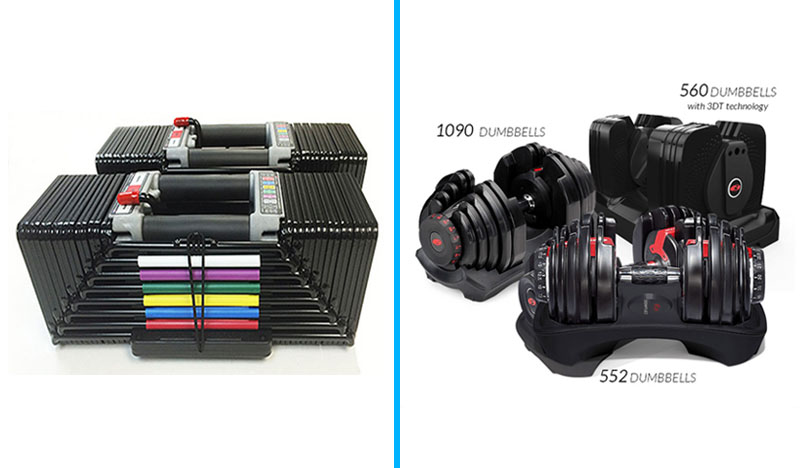 Powerblock and Bowflex are two highly popular brands when it comes to adjustable dumbbells.
To help you decide which brand may be the best for your specific needs, this article compares different important aspects of both of them.
Powerblock vs. Bowflex (Overall comparison)
Powerblock and Bowflex are two giants which have capitalized on the adjustable dumbbell market each with their own benefits and drawbacks.
The issue with a lot of home-gym equipment is that it can be confusing to set up and then when you finally do, it breaks after just a few uses. The frustrating thing about the world of fitness equipment at the minute is that it's hard to tell what's worth your money and what's just good marketing.
Thankfully, both Powerblock and Bowflex are offering high-quality, simple equipment that you can purchase right now to help you reach your fitness goals.
Powerblock have stuck to a formula that works, rarely changing their equipment and instead sticking to the tried and true method.
The dumbbells look extremely different to normal dumbbells as instead of one handle with two round weights at the end, the weights are actually square and the handle is almost enclosed around the weight. This can make it tricky to pick up for some exercises but the square design stops them from rolling away.
To adjust the dumbbell you essentially just have to stick a pin into the weights that you want, much like a machine. You would then dock them back into the weights in order to reselect your next weight. Simple, easy, and straightforward.
If you had to pick one, then Bowflex are most likely the top brand in the adjustable dumbbell market.
Bowflex is sporting a more traditional and ergonomic design with the handle in the middle and several sets of round weights on either side.
They come with a dial at the end of each set of weights so that you can easily switch between weights as and when needed.
In terms of models, there are two to choose from:
552 – 5 to 52.5 lbs.
1090 – 10 to 90 lbs.
To adjust the weights on a Bowflex you just have to use the built-in dial on either side which is actually quicker than the Powerblock option.
---
Powerblock vs Bowflex (Detailed comparison)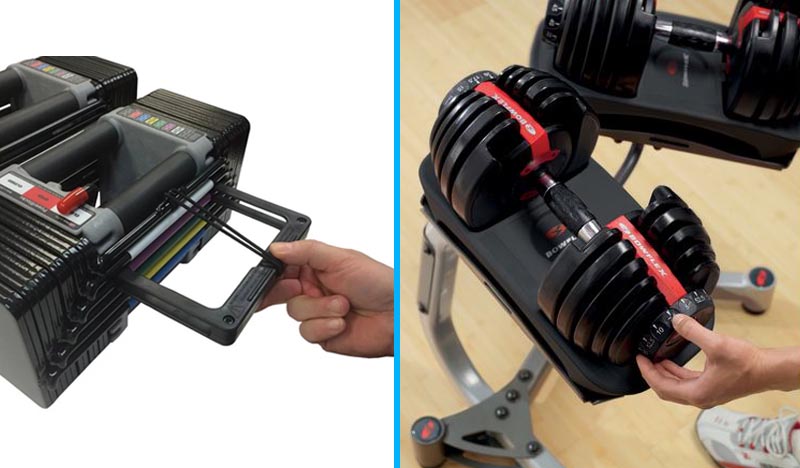 Adjustment and Weight Variety
Powerblock
Bowflex
Per hand, the Powerblock adjustable dumbbells can be adjusted from 5 to 45 pounds. You can adjust them in 5-pound increments.

As far as the weight changing system is concerned, Powerblock uses a 'pin' system. Because of this, you can quickly change the amount of weight according to your needs.

Bowflex adjustable dumbbells combine 15 weight sets in a unique dial system. Each dumbbell can be adjusted from 5 to 52.5 pounds. You can adjust them in 2.5-pound increments.

When it comes to weight changing system, Bowflex uses a 'dial' system. It makes it simple to change weight gradually according to your specific requirements.
Quality of Materials and Durability
Both Powerblock and Bowflex make dumbbells with the materials that are high quality and durable.
Powerblock uses metal for the weight plates which is black powder coat painted. Bowflex, on the other hand, uses arduous metallic which is covered in sturdy onerous plastic.
In terms of overall quality and durability, both brands are on par with each other. Both brands also use plastic elements in the design, however, it has no significant drawback.
Powerblock
Bowflex

The design of Powerblock adjustable dumbbells is not only ergonomic, it also ensures maximum safety.
The selector pin their dumbbells use is magnetic, which is very helpful when it comes to holding it safely in place.
There is also an elastic band, which is a good backup measure.
The padded handle featured in these dumbbells helps to protect your wrists from injury.

The handles of Bowflex adjustable dumbbells have an excellent ergonomic shape.
They are relatively thicker in the center as compared to the edges near the weights. Their unique design allows for a better, firmer grip.
The high quality of Bowflex's weight-changing mechanism makes them highly safe to use.
The weight plates themselves ensure safety as they are held securely by metal tabs.
Powerblock
Bowflex
Powerblock dumbbells look different than most traditional dumbbells available on the market. They look more futuristic and unconventional.

They are quite compact which makes them space-friendly, allowing you to easily store them anywhere. They have a cuboid, blocky shape, but that doesn't affect their functionality as they perform great for exercises.

When you compare Bowflex adjustable dumbbells with Powerblock's, it is quite clear that Bowflex dumbbells are relatively larger in size. They have a traditional look but they are quite sleek and aesthetically pleasing.
Powerblock vs. Bowflex (Pros and Cons)
Powerblock
Bowflex
PROS

The company offers various models, but most are simply down to the weights you're looking for, so there's no reason to get confused over which you should go for.
Closed Cage Handle Design – Powerblock dumbbells have closed cage design handles. These handles help reduce the chances of a wrist injury during a workout session.
Quality Parts – The Power Block dumbbells are constructed using high-quality steel that is easy to grip and use. The dumbbells are built to help you concentrate on your workout instead of focusing on gripping them.
Reliability – Although they may appear clanky when you begin to use them, as time goes on, they'll prove to be reliable and stable.

Bowflex carries a big name in the fitness industry.
A lot of their equipment is extremely interesting and different with wacky and innovative designs which to those not in the know can seem fantastic.
High Levels Of Adjustable Resistance – The lightweight model of Bowflex which is the Bowflex 552 has 15 levels of adjustable resistance. This assures you a full range of dumbbells in just a set.
Steady Weight Adjustment – Bowflex adjustable dumbbells typically come with a 2.5-pound weight increment, especially for the first 25 pounds. This lets you progress at a steady level of your choice.
Functional Adjustment System – Bowflex dumbbells are extremely easy to adjust. Just select a weight of your choice on both sides and lift. It's simple as that. The effective adjustment system lets you keep exercising without disrupting your tempo.

CONS

The plates of Powerblock dumbbells tend to stick together when you try changing the weights.
Powerblock may also be quite uncomfortable for people with larger hands.

The 90 pounds maximum weight may become an issue for some heavy lifters.
Should I Buy The Powerblock or Bowflex?
You might want to pick the Powerblock if:
You prefer selector pins overweight dials.
You are more comfortable with the flat and stable ends which sit perfectly on the legs before lifting.
You are looking for more durable adjustable dumbbells. The Powerblock is quite resistant to wear and tear.
You are now convinced that you're a pro and should, therefore, begin to lift heavier weights.
You want to enjoy up to 10 year home use warranty.
You might want to pick the Bowflex if:
You prefer the dial system of weight adjustment.
You are looking for dumbbells with very comfortable handlebars.
You don't have a lot of space in your home.
You want a set of adjustable dumbbells that can be used by every member of the family.
You like adjustable dumbbells with an aesthetic design that would fit your home.
In conclusion, both brands manufacture excellent adjustable dumbbells that are ideal to have at home or gym.
However, when you compare the range of features and excellent value for money, Bowflex is really hard to beat. Their adjustable dumbbells feature some of the most versatile designs that offer great flexibility and perform very well in a variety of workouts.