With at-home workout equipment becoming more interactive, the exercise bike market is skyrocketing.
It's essential to put your money into the best product.
We have put together a comprehensive and detailed comparison between two of the best exercise bike brands: Peloton vs. Echelon to make choosing an exercise bike easier in a crowded market.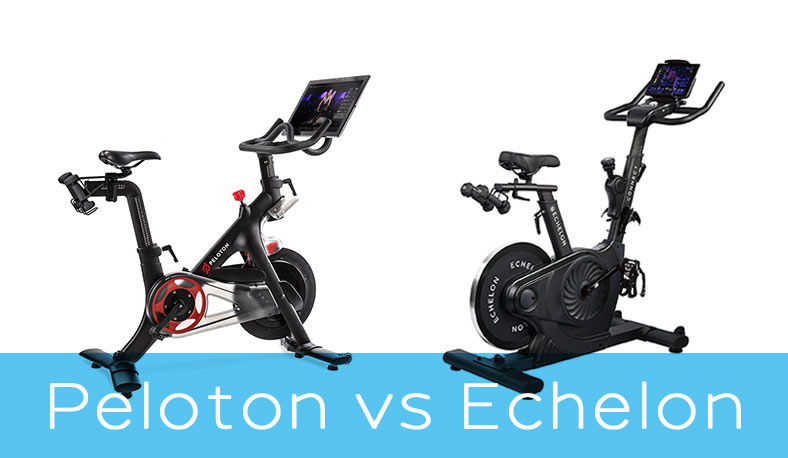 Why You Need an Exercise Bike
The benefits of investing in an exercise bike include convenience, home spatial conservation, and privacy.
With an exercise bike, you can easily work out in the comfort of your own home without having this equipment take up too much of your living space.
An exercise bike also saves you a trip to the gym, and monthly gym recurring membership fees, saving you time and money in the long run.
When you are exercising on stationary bikes, the workouts train the entire body, especially your lower body. The resistance feature also adds an extra challenge by stimulating the pressure that comes with riding up steep hills.
This product is undeniably worth considering if you are trying to lose weight or build lower body strength.
The exercise bikes discussed in this article are unique. This is because they include interactive training with virtual training plans and coaches to help push you through any workout to reach your fitness goals.
Comparing Peloton vs. Echelon
In this comparison, we highlight the key features of the Peloton and Echelon products, such as the function, accessories, maintenance, prices, and more.
We have also analyzed the pros and cons and researched other similar products on the market to help you find the perfect exercise bike by the end of this article.
The Peloton exercise bikes are built especially for experienced cyclists looking for challenging and evolutionary spin workouts.
Peloton is known to have the best exercise bikes and is continuously updating its models based on customer reviews and needs.
They take at-home fitness to the next level by advancing its technology like no other.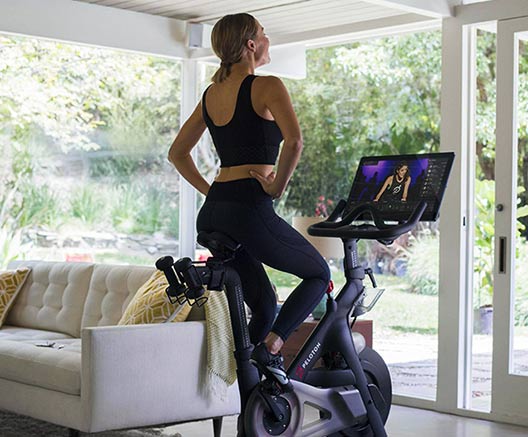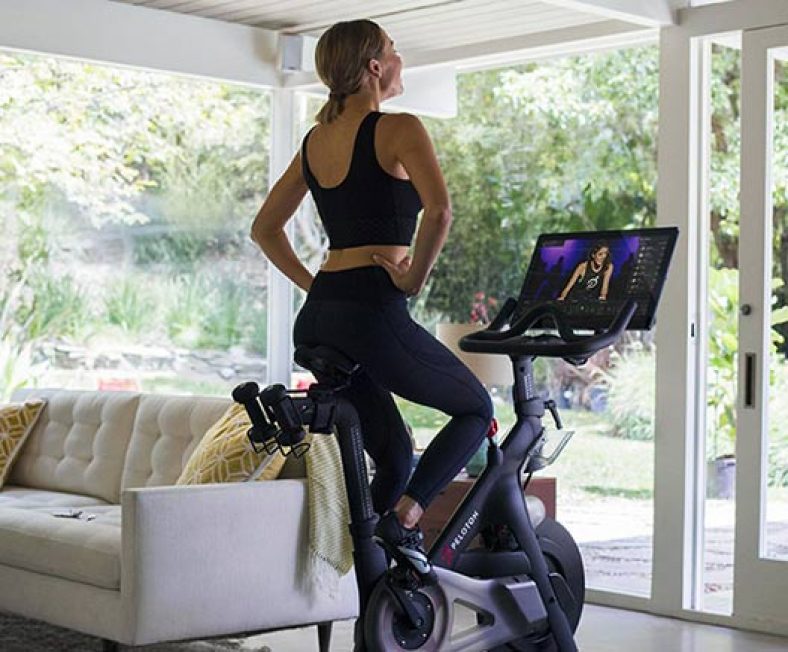 With its new touchscreen display, it offers a variety of virtual spin classes that'll help keep you motivated throughout each workout.
The app allows you to participate in daily live classes that are offered for a variety of riders. You can filter classes and workouts based on your personal needs from intensity levels, length, music, instructor, and more for only $39/month.
These special features also track real-time metrics, making it easier for you to view your progress after you complete each workout.
Pros
Cons
Unlimited amount of resistance

Comfortable

Quiet

Sturdy

Offers delivery with assembly services

22″ HD color touchscreen display

Virtual training classes

Track real-time metrics

Need cycling shoes with Look Delta cleats

Heavier than Echelon's products
When purchasing a Peloton Bike on the website, they provide "essential sets" of bike accessories that will enhance your experience: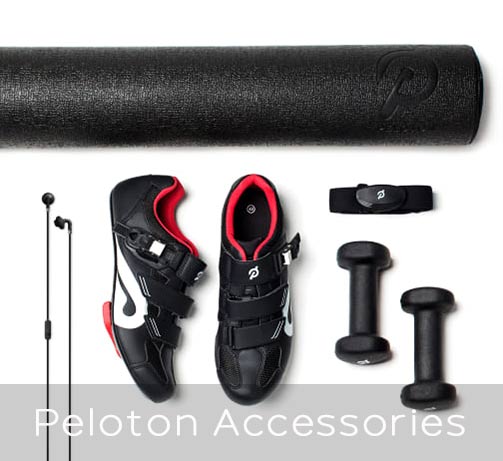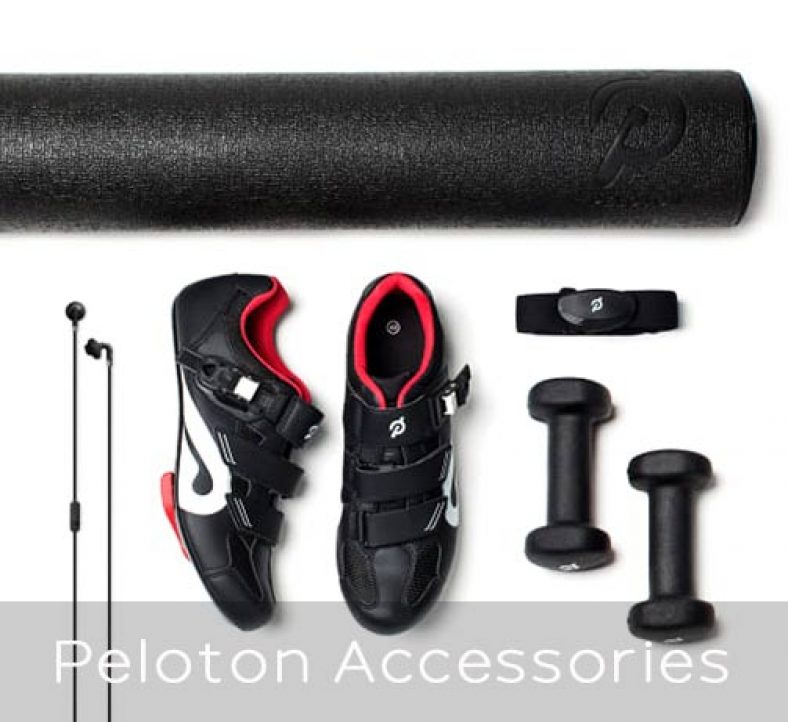 Cycling shoes with Look Delta cleats – these are needed to clip into the foot straps. Compatible shoes are essential. Good shoes allow you to fully exercise your muscles without wasting too much energy. That is why we highly recommend Tommaso spin cycling shoes that are specifically crafted to enhance your performance.
Weights – to get a full-body workout and build strength.
Headphones – to plug in music and keep you motivated throughout your workout.
Bike mat – to place your bike onto to avoid floor damage.
Heart-rate monitor – to track your health data as you workout.
Echelon is known for producing high-quality products at an affordable price. It's built primarily for durability through intense workouts with its steel frame and sturdy pedals, guaranteeing a smooth and quiet ride.
This brand is redefining at-home fitness with its easy-to-use, quiet features making it the ideal product for just about anyone.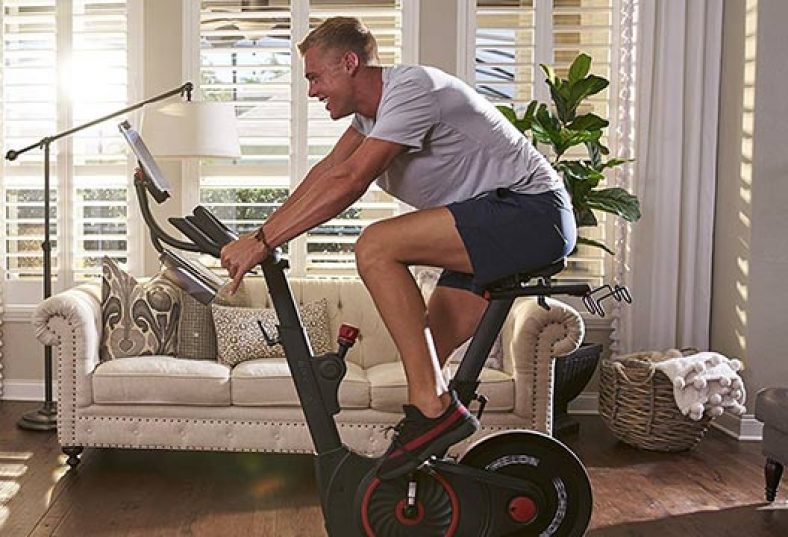 It's worth noting a few things in order to get the most effective experience using Echelon.
You should invest in the Echelon Fit app's subscription plan to access interactive training, virtual coaching, and online classes.
This bike is perfect for your at-home workouts with its lightweight frame, 32 levels of resistance, and compatibility to any shoe—which Peloton does not offer.
Further reading: Echelon Home Indoor Exercise Bikes Comparison and Reviews
Pros
Cons
Padded and adjustable seats

Quiet

Affordable prices

Offers payment plans

Light-weight

Sturdy

Has a tablet holder

Connects to Bluetooth

Fully adjustable to any shoe

Adjustable aero handlebars

Bottle holder

Only the EX-5s includes a built-in touchscreen display

Only 32 levels of resistance
To further enhance your user experience and gain the best results, here are a few accessories worth mentioning:
Tablet – since the Echelon does not come with a display (except for the EX-5s), you'd get the best riding experience if you purchased a tablet to access a variety of online training videos. There is a tablet holder already installed on the bike.
Heart rate monitor – investing in an armband heart rate monitor will also help you train smarter by tracking your heart rate during workouts. Echelon offers a compatible product that is made with comfortable and sweat-resistant materials.
Seats – Echelon's website offers a variety of seats ranging from comfortability, size, and competitiveness.
KILOGEAR weights – to help build leg muscle, Echelon offers soft and semi-flexible weights to wear while you ride. You're not only burning more calories, but you will be building leg muscle and endurance simultaneously during your workouts.
Bike mat – to place your bike onto to avoid floor damage.
Echelon floor mat – to protect your floors from damage and also reduce vibration to avoid disturbing neighbors.


Peloton vs Echelon: factors to consider
There are major differences between the pedals on the Peloton and Echelon bikes.
The Peloton uses pedals with LOOK Delta-compatible cleats, which you can attach to the bottom of the Peloton-brand shoes or any other pair of bike shoes with a 3-screw hole setup.
On the other hand, all bicycles designed by Echelon have an adjustable toe cage. This means that regardless of whether you are wearing regular or cycling shoes, you can hop on the bike and get started with your workout.
Therefore, if you do not have biking shoes, then I suggest you choose Echelon.
This way, you don't have to invest in more specialized equipment.
Both Peloton and Echelon bicycles are manufactured with high-quality steel frames and are durable.
Both bicycles can support riders up to 300 pounds.
Because they both feature a sturdy frame design, many users report that they feel very stable and smooth while riding.
If you're tight on space for your indoor cycling biking, it's important to note that the Peloton bike will take up slightly more space than an Echelon bike.
The size of the Echelon EX-1 and EX-3 models is 42″ L X 22″ W, while the size of the Peloton bike is 48″ L X 24″ W.
That being said, both are quite compact and most indoor cycling enthusiasts can fit them in their homes.
In terms of weight, the EX-1 and EX-3 models are 105 pounds, and the EX-5 and EX-5s weigh 124 pounds. All Echelon models are lighter than Peloton, which weighs in at 135 pounds.
If you're looking for a bicycle that is more convenient to move around, then an Echelon bike is the right choice for you.
When deciding which product best fits your needs, we know the price tag weighs is an important factor in your consideration when buying exercise equipment.
The Peloton products start at $2,245, not including the $39 monthly membership. However, Echelon prices range from $840-$1,640 plus the $39.99 membership fee, making for the cheaper option. Plus, Echelon also offers payment plans starting at $46/month to pay off your exercise bike in time.
We also found that both products offer quality monthly memberships at the same price (with only a 99 cent difference), including a 1-year long warranty package and a 30-day return policy. Both memberships also offer interactive training plans and virtual coaching options.
How to Determine Which Model Is Right For You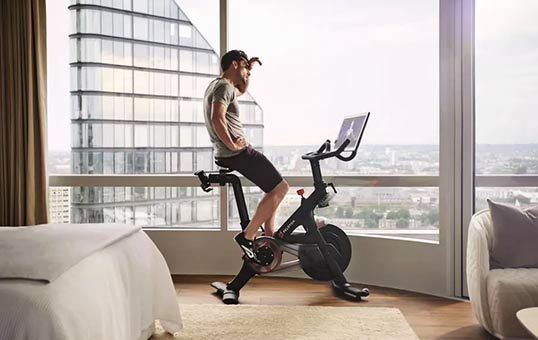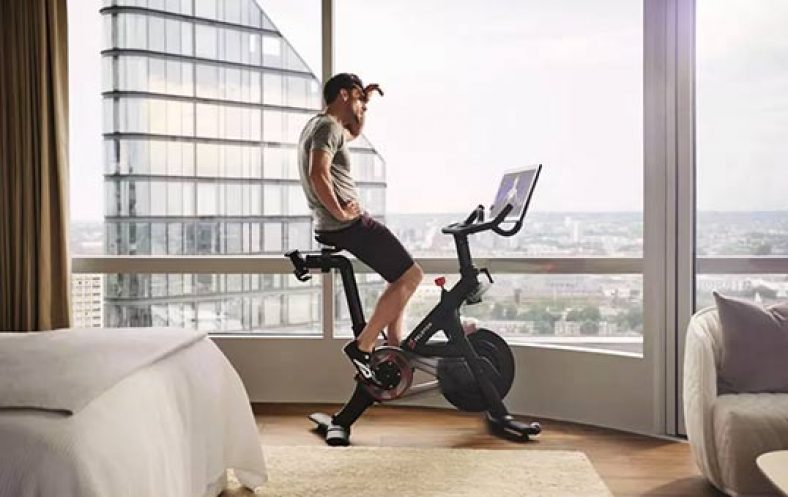 The best model depends on your individual fitness needs. Whether you have a home gym or plan to place this exercise bike anywhere, it fits in your home.
There are a lot of factors to consider to determine which model is right for you, such as price, usage, intensity levels, and much more.
To help determine which model is right for you, we put together a detailed list of who these products are best for:
Someone who is looking for a quality exercise bike despite the price.
If you are someone who is looking for a virtual, interactive experience, this product is for you with its built-in display and online streaming workout classes.
This product is perfect for someone who is experienced and wants a tougher challenge with Peloton's unlimited resistance feature.
You want to exercise equipment that will last.
If you need a lightweight product that can be easily transported.
You are trying to conserve your living space.
You are looking for quiet equipment.
You can easily navigate devices with technology.
Echelon Home Indoor Exercise Bikes
If you are someone looking for quality at a lower price.
You are someone who uses Facebook, FitBit, and Strava to track and share your workouts.
You want an interactive display to be an option and believe the interactive feature is fitting for some workouts, but not all.
If you aren't comfortable navigating complex technology.
You want a slightly smaller and lighter exercise bike for easy transport.
You want a model that will allow you to fully work out all of your muscles.
You want a product that is constantly improving based on customer reviews and needs.
You are looking for a solution to the issues that come with Peloton bikes.
Similar Products on the Market
As revolutionary Peloton and Echelon products are, if they still don't feel like the right fit for you, here are some similar products on the market right now:
Schwinn Upright Bike Series
If you're looking for a simple, quality product at an affordable price, the Schwinn Upright Bike Series will have the perfect product for you.
The features include a DualTrack LCD screen, +20 exercise programs, and 25 levels of resistance. Its sturdy frame provides maximum stability and durability through intense workouts.
You can also easily track your metrics on the machine using SchwinnConnect while listening to music with its built-in speakers. It is also compatible with the World App subscription, which provides a virtual real-life biking trail using any of your devices.
If you're looking for a cheap, quality option, the Sole B94 is the ideal model for you.
Similar to Peloton and Echelon, Sole Fitness exercise bikes offer special features such as adjustable seating, pedals that guarantee maximum comfort, and basic technology features that are not too overwhelming.
It also has a tablet holder, Bluetooth audio speaker, and charging ports to keep you connected to your devices. Sole Fitness Bikes are designed for those who are a novice and intermediate trainees beginning their fitness journey, including buyers who want everything expensive products have at a very low price.
The Nordictrack Bike is one of the best of the similar products there is on the market.
If you are looking for a challenge with incline and decline features that Peloton and Echelon can't offer, this product is right for you.
Built as a response to Peloton's latest products, Nordictrack is made with customers' needs in mind.
Nordictrack has evolved the technology from similar products on the market. They have done so by offering a larger touchscreen display with an option to ride along Google Map virtual biking trails, promising a truly interactive experience.
What's unique about this product is that they offer online training with world-class mountain bike athletes leading the workout. This is fitting if you've ever dreamed of being a champion cyclist. Start your biking journey from the comfort of your home today.
Peloton and Echelon products are currently one of the leading brands for exercise bikes due to their compatibility and technology advancements that makes their products more comfortable to use for all types of buyers.
Through the many similarities, there are plenty of differences to consider between these two products. The significant differences are in the price, offered technology features, and size. It is also very important to keep in mind that if you want to get the most out of these bikes, you should purchase the offered membership to experience all these exercise bikes have to offer.
Now that you have a good idea of the similarities and differences between Peloton and Echelon, we recommend this model for Peloton buyers and this model for Echelon buyers.