With an interactive touchscreen, the NordicTrack RW900 Rower is one of the best fitness machines to get in shape.
This is the type of rower seen across gyms and fitness centers around the world.
But given its virtual training options, it can also be used at home. The question that arises here is if NordicTrack RW900 is truly worth it?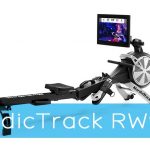 Research shows rowing machines burn up to 700 calories per hour. The rower is one of the most efficient fitness machines to burn calories efficiently.
Also, it represents one of the best machines for low-impact training as you don't have to run as on a treadmill. With no knee pain and plenty of extras, the rower can give you the cardiovascular workout you need.
Here's why the NordicTrack RW900 rower is popular
Made with a large 22in screen for live NordicTrack online coaching
It includes 1 year of free NordicTrack Fit membership
Access to world-class instructions for motivational workouts
A system of new daily workouts
Up to 4 saved profiles on a single rower
Manual air resistance flywheel design
Up to 26 adjustable resistance levels
Designed with oversized pedals with an adjustment system
Made with a folding design to save storage space
250lbs maximum user weight capacity
Compact 86.5″ L x 22.0″ W x 50.4″ H Footprint
10 years frame warranty
2 years parts warranty
Why choose iFit training classes?
iFit is an interactive training system used by NordicTrack on the RW900.
While it resembles other online training systems, it has its merits. One of them is simply bringing some of the best trainers around the world to this platform from where valuable classes are held for iFit customers.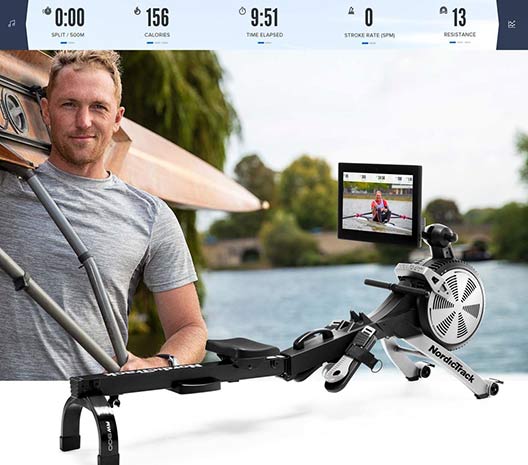 Here's why you might want to join it.
There are 2 types of workouts. Your workout and guided workouts are the 2 main approaches you can have to lose weight or improving cardio endurance.
While training on your own is fine as an experienced user, novice rowers might not have an idea of how the right rowing posture looks like, how to breathe properly for long strokes, and how to push for improved results.
This is why beginners are those who are going to benefit the most from this training system.
Auto resistance level adjustments
Online classes can be held by various instructors with different methods. One of them allows you to follow recommendations according to what iFit coaches have to say.
But the RW900 rower's 26 resistance levels can also be adjusted automatically by the coach. This means you then have the opportunity to push harder just to keep up with the rest of the class.
If you think workouts are always the same, you'll be in for a surprise. The benefit of online coaching is that it gives you access to tens and hundreds of rowing coaches, each with a new workout.
You can train properly a few times per week without feeling underwhelmed by repetitive tasks.
Since there's a large screen in front of you, iFit also offers rowing around the world functions. Virtual rowing tours can be enjoyed. You see various real rowing locations on your screen.
You might find this function beneficial when always stuck at home between walls when you rarely feel the motivation to row, especially on rainy days.
Guided training NordicTrack's rower comes is one of the main reasons behind its positive reviews. Almost all users are happy with the guided workouts because they work. Your objective-based training is going to pay off if you are diligent.
Most of those who start to train online rarely go back even if they would know how to train on their own as well.
NordicTrack RW900 Amazing Features
The RW900 also comes with solid materials and hood physical characteristics alongside virtual training benefits.
One of them is the folding frame design which gives you the option to roll it away to storage when not in use. It only takes a few seconds to fold it and the addition of the carry handlebar is a major advantage of maneuvering it yourself, without any help.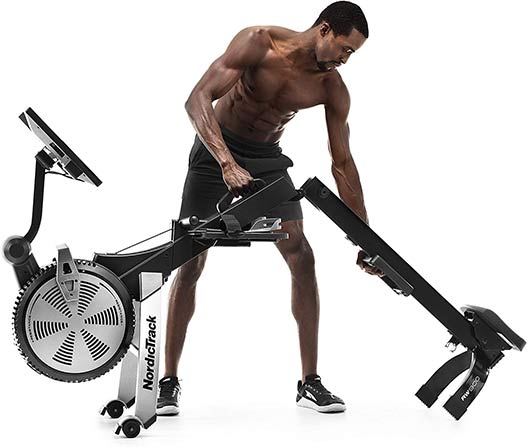 Since there are so many rowing machines to choose from, you might feel overwhelmed and even look towards simpler alternatives that might be easier to understand. But you shouldn't overlook the rower if you want to get in shape as it comes with smooth gliding.
A small padded seat is what supports most of your weight, together with a couple of oversized pedals. With your back straight and knees slightly bent, you begin to grow by pulling the pulley chain.
One of these full movements is counted as a stroke. But the smoothness of the movement is what impresses users the most. Those upgrading from low-quality rowers can tell the difference right away.
Long warranty for worry-free training
The quality of the metal materials is hard to dispute. But one of the main reasons you'd consider the rower yourself is to simply benefit from a durable product.
It's rare to find a rowing machine that has a linear warranty for all of its parts, this is also the case with the RW900. Its warranty is split.
The frame is covered for 10 years, as long as your maximum weight is 250lbs. Parts are covered for 2 years as they represent sections that might be in constant movements, such as the flywheel or the pulley. Labor costs are covered for up to 1 year.
We love how easy it is to put the assemble the NordicTrack RW900
Upon arrival, a rower is a simple machine that fits in a box. It comes pre-assembled but there are a few steps you need to take to put it together properly.
The good news is you only need a regular screwdriver and a bit of patience to put it together.
There are even an included assembly manual and an instructional video you can watch that comes with the rower. It takes about 30 minutes to assemble and you don't have to worry about where you put it together for the first time.
It comes with built-in transportation wheels you can count on to move it around the house.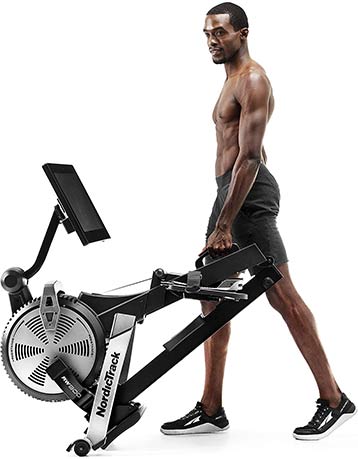 One of the benefits of home-use level fitness machines is that they're a bit more practical. You'll see at the end of the article that not all RW900 rower alternatives come with a foldable frame.
This is why you want to focus on the best results but not overlook the space a rowing machine is going to take up in your bedroom or your garage.
Since it comes on wheels, the rower can be used out on the deck when the weather's nice. However, you will struggle to see the HD monitor properly in direct sunlight.
You might want to find the right balance between training outdoors and having good screen visibility. After all, the screen is where you see your stroke count, the number of burned calories as well as the elapsed workout time. Otherwise, its combination of magnetic and air resistance ensures a smooth workout both outdoors and inside of the house.
How the rower relates to its competitors
Once you use a NordicTrack product, it's difficult to downgrade or simply use fitness machines from other brands. This is certainly the case with the RW900. Still, it's only fair to have a look at what else you can get with a similar design.
NordicTrack RW900 vs Concept2 Model D
The Model D rowing machine by Concept2 is one of the most popular rowers for gyms around the world. Robust and with a higher weight capacity than the RW900, it's the top option for fitness centers. It might be too much if you only plan to row at home by comparison, however.
NordicTrack RW900 vs Concept2 Model E
The Concept2 Model E comes with a higher seat which is a bit better for home users and especially for the elderly who need to get up a bit easier after a rowing session. Both rowers from Concept2 are reliable and foldable. However, they don't feature the iFit benefits of online training.
NordicTrack RW900 vs Hydrow
We also like Hydrow rower. It looks like a real kayak and it feels like one when rowing. It even features an online training system and top Bluetooth and WiFi connectivity.
While it also uses a 22" HD screen, the rower isn't foldable. It works great for pro rowers' training classes but it just isn't as practical for home use as NordicTracks's rower.
The NordicTrack RW900 is the best rower from the brand.
It features iFit training, something the RW500 and the RW200 can't offer. This also means you have the liberty of choosing your workouts and favorite trainers.
We love all trainers on iFit since they're of elite level. You even get Olympic gold medalists on the platform to guide your workouts, which should speak for itself on what you can expect when training at home.