Made for daily home training, the Nautilus T618 treadmill runs at speeds from 0 to 12mph. This makes it one of the interesting treadmills if you want to step up your running speed and intensify your workouts.
The treadmill can now be purchased in stores and online. If you're planning to purchase it in-store, you need to know the box it comes in is quite heavy and you'll need a friend to help you carry it to the car.
If you love running, you have a few Nautilus options on your hands. You could choose the more expensive T624 or the Nautilus  T628, but the T618 is the affordable option you can still buy today. You don't have to spend as much as with these expensive alternatives if you simply want to get in shape.
The T618 is a treadmill that already includes good features such as a heart rate monitor. While it's not the sturdiest treadmill, it gets you started on your fitness path, which is always what you should be looking for at first.
Designed with 15% motorized incline adjustments
Designed with a 20" X 60" running path
Made with a dual backlit LCD screen
It includes adjustable handrails with speed controls
Based on a powerful 3.5CHP motor
It includes a wireless chest strap
Supports maximum user weight of 350lbs
It measures 78 X 37.6 X 62.8in when assembled
Made with a folding design
It supports adjustable speed between 0 and 12mph
Made with 26 onboard running programs
---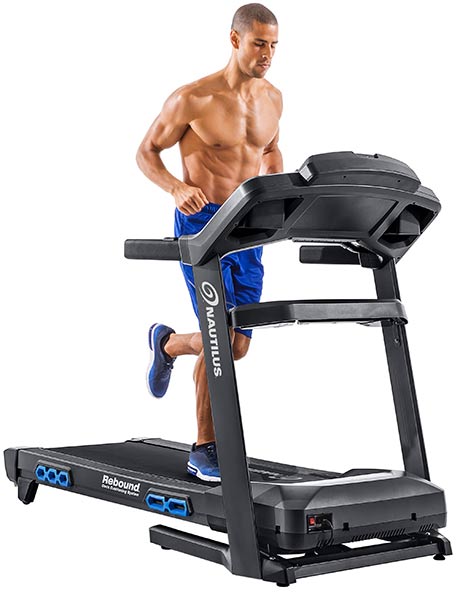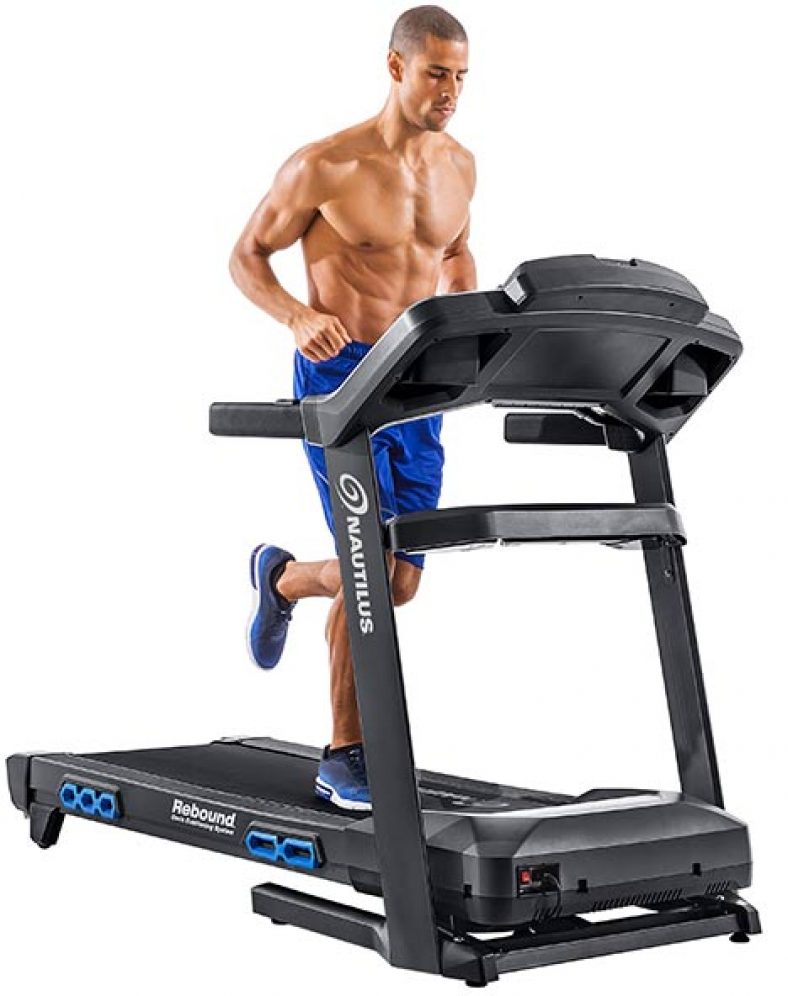 The treadmill has multiple benefits, some of which might even make it look a bit more expensive than it really is. For example, one of its features is pace training which allows you to enjoy the advice you'd normally get from a running coach when training for a marathon.
The pace rating function shows you when you're below the running pace of a certain goal. It also shows you when you're running too fast and when you need to slow down and take things a bit easier. This is a function normally seen in more expensive treadmills with at least 32 training programs.
But how do you use this function if you don't want to train for a marathon? The best bet is to simply try and set running objectives as you progress in your fitness goals. Since all workout data can be exported through Bluetooth, you can try and reach your 5 miles of running target a bit faster, for example.
Nautilus even gives you a fitness score.  This is the result of combining your running pace as well as the duration of your running at high intensity. Multiple parameters are taken into account when rating your running performance.
As a result, you can always know where you're situated in the big picture of fitness. Assessing your own running performance can be subjective and it helps to know exactly where you stand before thinking you've outdone yourself.
Travel the world with the Nautilus app
The treadmill comes with an included tablet holder that you can use to virtually run around the world. The Nautilus tablet app can be used to offer you images of certain famous or relaxing outdoor running locations from around the world, on the screen of your tablet.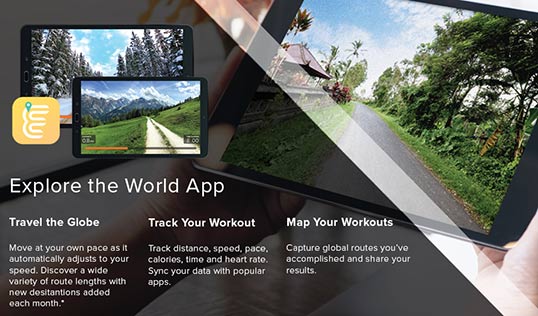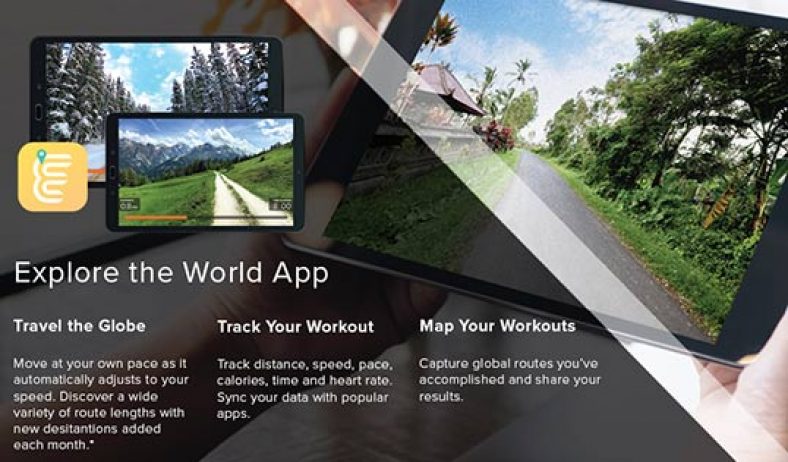 This function might not have any real running performance impact. But you can still benefit from it simply by choosing to run in a new location every day to make you forget you're not leaving your home at all.
Rebound cushioning kickoff
Another interesting characteristic Nautilus offers is its Rebound cushioning running surface. Simply put, it acts as a rebound surface instead of being similar to running on paved roads. This makes running a bit easier and more importantly, it limits all of the potential pain issues you might encounter in your knees when running every day as it absorbs shocks efficiently.
Adjust your incline to run uphill
With 15% incline adjustability, you can run uphill to challenge your fitness performance. This is a major advantage over the cheap entry-level treadmills that don't feature incline adjustability or that only offer a small degree of adjustability.
Of course, you need to find what works for you depending on your workout. Since the treadmill is made for the new and for the experienced user, it's worth considering the options you have during the workout if you plan to run above your normal pace or if you simply want to run at a steady pace. Running at the highest incline degrees is very intense and it could possibly burn calories faster.r
You need to consider that incline adjustability might also be required when running with the virtual Nautilus assistant on your tablet. Not all pre-loaded courses come with flat-terrain running. Some go uphill and for a realistic experience, you need to set the incline level accordingly.
Consider it's a quiet motor for 3.5 CHP
If most affordable treadmills come with a 2.5 or a 3.0CHP motor, the T618 features a potent 3.5CHP motor. This is what allows it to gain a small advantage in speed and overall reliability. It hosts a maximum running speed of 12mph when compared to the average 10mph maximum speed on an entry-level treadmill.
But the motor is impressively quiet, as many notes. It has the potential of being the treadmill for family homes where noise can disturb others as a result. With a high running speed capacity, it is also the main treadmill element that powers running on an incline.
---
If you are a music fan, you don't need to settle to low volume smartphone track playback. You can connect your smartphone to the treadmill to listen to your favorite bands as it comes with 2 small built-in speakers. While they're not high-fidelity speakers, they work for an undistorted sound even at high music volume.
Apart from accessories such as speakers, the treadmill's console also holds your water bottle. When you get thirsty on your 5k attempt, it pays to have a source of water nearby without having to get off the treadmill.  Even the built-in grip sensors are a top-level extra. But Nautilus also offers a free chest strap with the treadmill so that you get very specific heart rate readings. All of these accessories add up to a well-rounded pack.
The T618 comes with a 15-year frame and motor warranty. All parts are covered for 5 years for manufacturing defects. Labor costs on the treadmill are covered by Nautilus for up to 2 years. Sure, some of its alternatives come with better product warranty, but even these offerings aren't bad given the long-term potential of the treadmill and its solid materials.
With 2 large LCDs and 1 small display, you always know how your workout looks with Nautilus' treadmill. Your performance data display is something you also see on other treadmills. But these displays also help you see who's profile is loaded on the treadmill. Since it supports multiple user profiles, all family members can set up personal areas where all workout data is saved individually.
Since the treadmill isn't the top of the range form Nautilus, it does have a few shortcomings. For example, it's known not the be the sturdiest treadmill. But given its foldable design, it might not be something that can't be overlooked, since there are multiple moving parts on the treadmill.
Nautilus T618 vs. Nautilus T616 Treadmill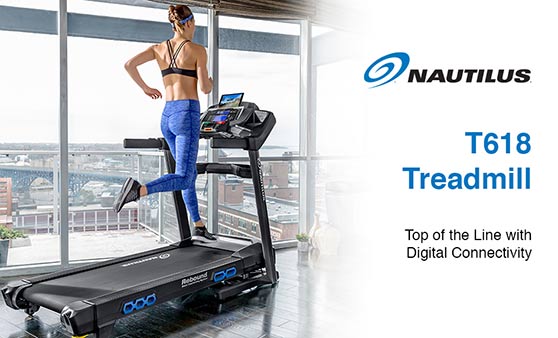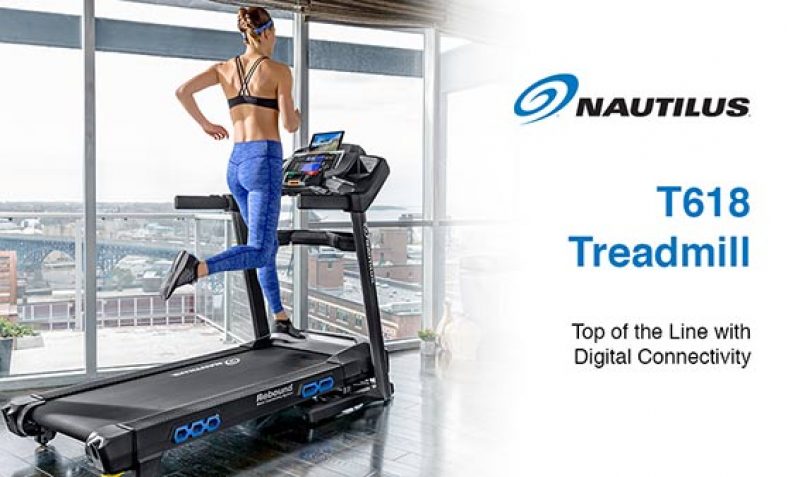 The differences between the T618 and the T616 are very small. The motor used on the T616 has a 3.0CHP capacity. It also handles a slightly lower maximum user weight with its 300lbs capacity. This means you won't miss out on much even if you choose the T616 treadmill. However, if you pay a bit more, the T618 offers a bit more motor reliability.
Both of these treadmills are frequently on sale. But you can find both are worth their full price, especially with the synchronized app which gives you a fitness score and which tracks your running performance.
---
Nautilus T618 vs. Proform 905 CST Treadmill
Another similar treadmill is the Proform 905 CST. It comes with a similar motor and a similar 12mph maximum running speed. It also features virtual running tracks but under the iFit app. However, the maximum 12% incline on the Proform might be limiting for a number of users.
One of the best options to get ahead when it comes to running gear is the right treadmill which can be useful even years from now. For maximum long-term versatility, the Nautilus T618 is the best choice again.
Nautilus T618 vs Nautilus T624
While the T624 has a smaller capacity of 2.75 motors, it is similarly priced to the T618. However, it doesn't feature Bluetooth connectivity which stops you from listening to your favorite music as well as from transferring your workout data to the smartphone.
The Nautilus T618 is one of the balanced proposals from the manufacturer. Fairly priced, it offers a good list of features to keep you busy day in and day out. Its biggest drawback is the wobbliness of the setup while running at high speed. But in this affordable price range, it can be difficult to even find something better.
The interesting part is that all viable alternatives are still mostly made by Nautilius. With its score-giving abilities and with its integrated virtual running functions, it has already set the bar high for anyone planning to offer a reliable affordable treadmill to compete with the T618.