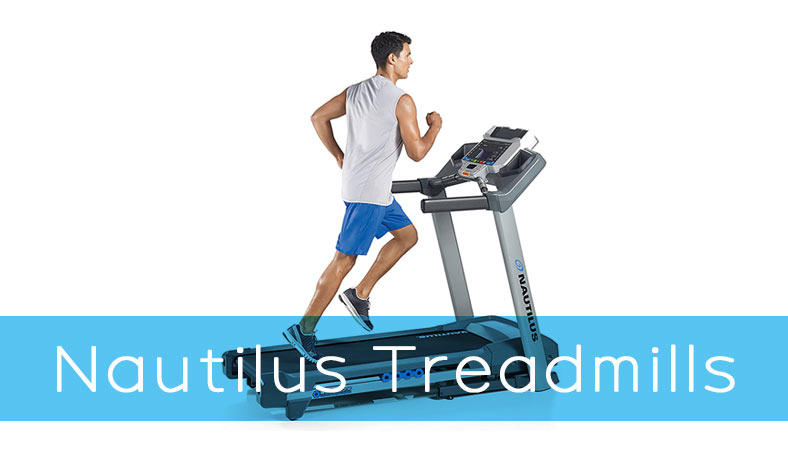 Choosing a treadmill is a big decision. Treadmills are the best workout aids, especially for indoor functions. There are several factors involved in selecting the best treadmill for your workout sessions. Most times, people stick with trusted brands rather than going for unknown brands.
The Nautilus brand is known for its durable and robust equipment. With every upgrade of the Nautilus treadmill, choosing has become more difficult. The Nautilus T614, T616, and T618 are known for a wide range of specifications.
In this article, we would help you navigate through these three brand favorites. If you are looking for a choice between the Nautilus treadmills, you should read further.
Benefits of Purchasing a Nautilus Treadmill
While branding is a huge factor in choosing a treadmill, there are other features that people look out for. The Nautilus brand has produced their workout equipment to be of top quality. Getting a good treadmill is a key to many health and physical advantages.
Running on a treadmill for at least 75 minutes per week is an effective way to lose belly fat and overall body weight. Coupled with this is the fact that using a treadmill is less strenuous on your joints than outdoor workout sessions.
Effectively working out with the Nautilus treadmill can help your cardiovascular system. There are added advantages to using a treadmill like the in-built workout programs and apps. Workout can never be boring and would last longer with the built-in guide.
Product Comparison Of The Nautilus T614, T616 and T618
Here we would look into the Nautilus T614, T616, and the T618. We would compare their specifications like size, appearance, function, durability, accessories, and built-in programs. In the end, we will also provide you with a purchasing guide as well as a final verdict. For now, let's look into the products, shall we?
If you need an entry-level treadmill, the T614 would be perfect. This treadmill was made with quality grade equipment to offer both comfort and support while working out. Here is why we love the T614:
The T614 mostly comes in ash and black colors. It has a length of 72.2″, 57.6″ in height, and 72.2″ wide. With a weight of 200lbs, it is strong enough to hold a large body of mass. Finally, the running surface is wide enough (20″ x 55″) to make you comfortable while running or walking.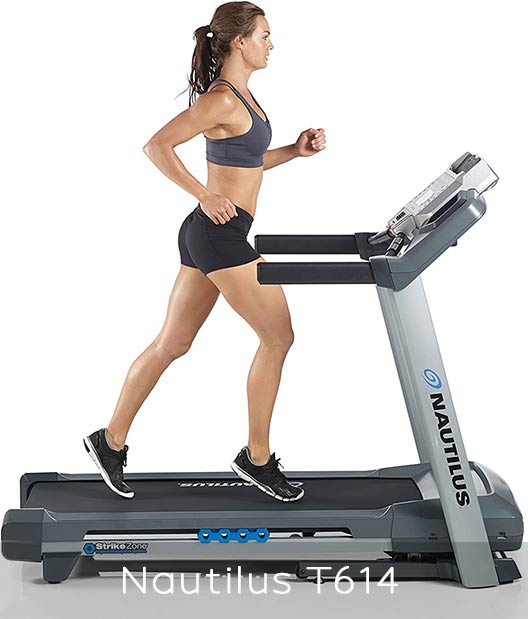 This product offers high responsiveness, reliability, and performance. The 2.75 motor provides a top speed of up to 12mph. It can withstand a weight of up to 300 pounds. The 1-ply running belt fits perfectly with a 2.5″ roller. The running area is wide enough (20″) and long enough (55″) to offer comfort and maximum support during sessions.
The Nautilus T614 treadmill has a dual-track multi LCD console. It also features a 3-speed adjustable fan, a USB media charging port, an mp3 input port, and in-built speakers. Now that's a catch.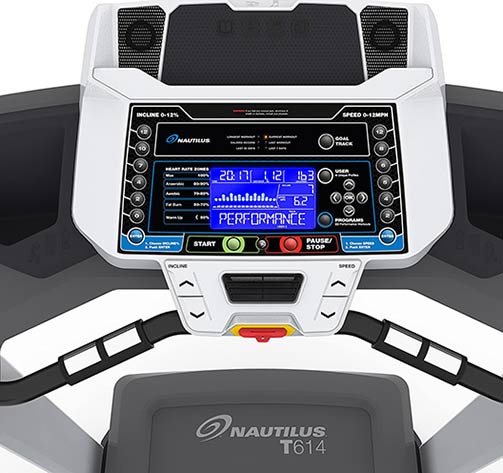 With a speed of up to 12mph and a weight holding capacity of up to 300mph, the T614 comes with high resistance. It also features up to 22 programs, which include weight control, heart health, and custom workouts. The overall high resistance contributes to the high performance of the treadmill.
The T614 is easy to fold up and down; however, it doesn't fold flat enough to be stored under anything. The product comes with a manual that guides you through assembling it quickly.
The T614 does not require extensive maintenance. The materials are high grade and durable. It is strong enough to hold a massive weight. It is foldable and can be stored properly.
If you're looking for a great treadmill on a budget, this would be the best choice. For under $1500, the T614 is affordable without affecting your budget too much.
The product company does not offer sales and shipping. The best deal would be getting the product from online retailers offering to ship. The treadmill is heavy and cannot be moved easily.
After purchase, the T614 comes with a 10-year warranty for the frame and motor. Nautilus T614 is an excellent offer for the price, but looking at the big picture, this is not the best out there.
| Pros | Cons |
| --- | --- |
| The folding design makes it easy and conveniently stored away. | The chest strap for heart rate monitoring does not come with the product. You would have to purchase it separately. |
| It is reasonably compact and comes with transport wheels to improve mobility. | The weight capacity of 300lbs is not the best out there. |
| It comes with a wide variety of programs to assist during a workout. You can also customize the programs for a personalized experience. | |
| The price is affordable for a lower budget. | |
| The console comes with necessary accessories like a full audio system, programs, an interface, and a fan. | |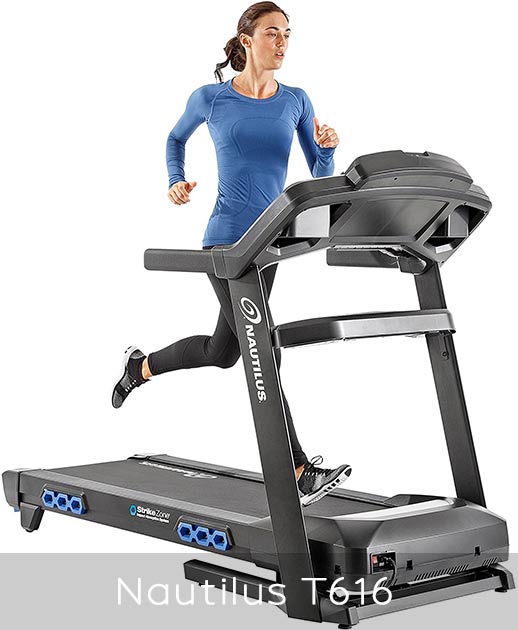 The T616 is a little upgrade from the T614. It is one of the elite models for residential treadmills from the Nautilus brand. Let's look into the specifications, shall we?
The T616 is 35.2″ wide, has a height of 57.6″ and a length of 77.2″. It weighs 215 lbs with a running surface of 20″ x 60″ which is very spacious. It has a 6-hex cell design, which makes it extra comfortable to workout with.
It has a 3.0 CHP motor, which can go as fast as 12 mph and a slow as 0.5 mph. It also includes incline functions and heart rate monitoring features.
The T616 has a DualTrack display with two high-resolution LCD screens. It is also possible to save workout data because it supports internet connectivity. It also has a Bluetooth-enabled console. Other accessories include a 3-speed adjustable fan, USB media charging port, in-built speakers, and even a water bottle holder.
The treadmill offers an incline of up to 15% and speed as high as 12 mph. The T616 makes for high performance, especially with a weight capacity of up to 300 lbs.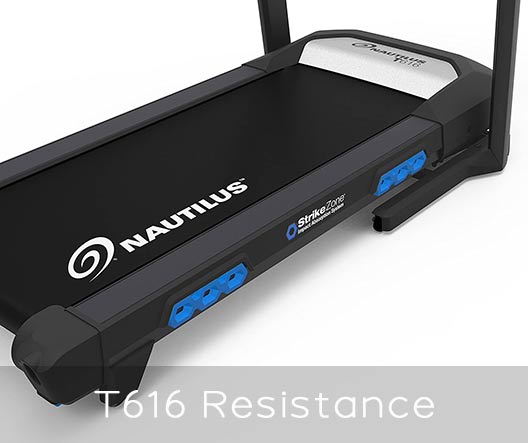 The product comes with a manual that would guide you with assembling.
The materials are durable and do not require too much attention. It can be folded and stored easily.
If you're looking for a treadmill with internet and Bluetooth connectivity on a budget, this is just right. It sells about $1200.
The company doesn't ship, and so you could purchase from other retail agents. It comes with a 10-year warranty on the frame and drives system and 2 years on the mechanical and electrical parts.
| Pros | Cons |
| --- | --- |
| The product has a SoftDrop folding design, which makes it easy to store away. | The warranty plan is not the best out there. There are other treadmills with a lifetime warranty. |
| It comes with a transport wheel. | The weight capacity is at 300, which is the same as the T614. |
| It comes with up to 26 programs, including those customizable to personalize your workout experience. | |
| It features accessories like Bluetooth connectivity, internet connectivity, audio system, and web-enabled touchscreen, which is not present in the T614. | |
| The T616 offers up to 15% incline for targeted muscle workouts. | |
The Nautilus T618 is an affordable high-end home treadmill. It is one of the best for runners. Let's find out what makes it different from the T614 and the T616.
The running area is 20″ x 60″ with a dimension of 72.5″ L x 35.25″ W x 57.75″ H. It has a large workout area and folds for secure storage.
The T618 comes with a high capacity motor of 3.5 CHP motor. It can support a bodyweight of up to 350 lbs.
It features a rebound cushioning, which is favorable to the joints.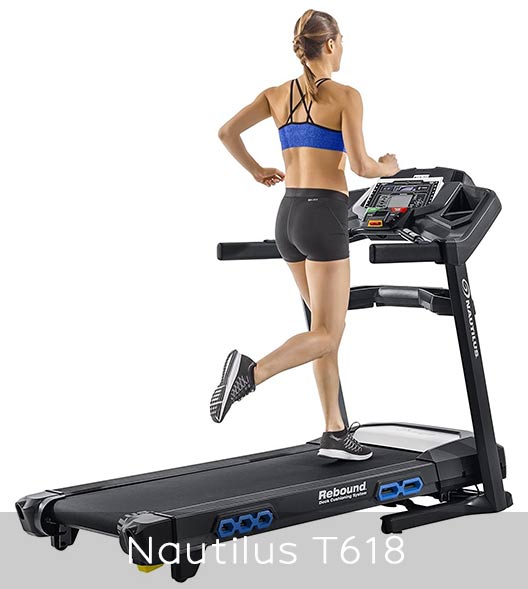 This product features all accessories present in the T614 and T616 and more. It integrates the Runsocial feature over Bluetooth connection and gives you the ability to run through virtual locations.
The T618 has wireless connectivity, a 3-speed cooling fan, and a good warranty for the accessories.
The incline angle goes up to 15% with a large workout surface. The workout surface is large and supports high performance.
The product comes with a manual for assembling the product.
The product does not require high maintenance and can be folded and stored easily.
For less than $1600, you can get the T618.
The product comes with a 15-year warranty for frame and drives system.
| Pros | Cons |
| --- | --- |
| It features a selection of up to 26 workout programs as a guide for sessions. | The frame warranty is 15 years, which is not the best deal but is better than the T614 and T616. |
| It comes with a high-end belt system with a higher length and a wider running surface. | |
| The rebound cushioning promotes comfort with less pressure on the knees and joints. | |
Similar Products on the Market
The Horizon brand comes with high-quality materials, which makes it durable. It is very simple to assemble, and its features are easy to use. It is designed for an easy and less strenuous workout.
Sole treadmills are known for their large running surface and a high HP motor. It also features accessories like Bluetooth connectivity, 6.5″ LCD display, and customizable programs. Finally, it features the ability to transfer progress data to mobile devices.
The Nautilus T614, T616, and the T618 are well-made and durable products. Getting yourself a treadmill that works best for you is most important. From our review, it is obvious that T618 has the best overall features. However, you may want to consider things like your budget before making a final decision.
Whichever way you go, we trust it'll be the best. Why not finalize your decision now by purchasing either the Nautilus T614, T616, or the T618.