When you want to train at home, both the MoonRun Cardio Trainer and the BodyBoss Home Gym 2.0 are valuable options.
You don't need an expensive gym to stay in shape and this is where these 2 training systems are best at.
Without a barbell, you can still get an effective workout using these cardiovascular trainers.
Based on resistance bands, they offer complex training routine possibilities with a combined number of 350 exercises that can rival the number of exercises you can perform at any gym.
But these training systems are different and both have their strengths and weaknesses.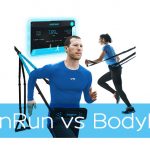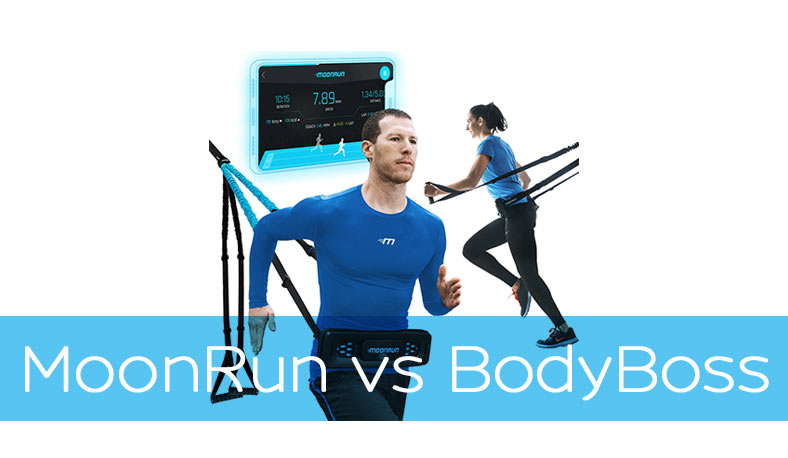 The following section looks into each training system so that you can choose the one which is better suited for your training needs.
MoonRun Portable Cardio Trainer
The MoonRun Portable Cardio Trainer is mostly a running suspension system.
It allows you to mimic running or run on the spot while being partially suspended with elastic bands you anchor on a door, on a wall, or a tree.
There are 4 bands in total that you need to anchor. 2 of these bands hold your core together with a motion sensor at waist level.
The other 2 bands can be held while running or they can be used for exercising.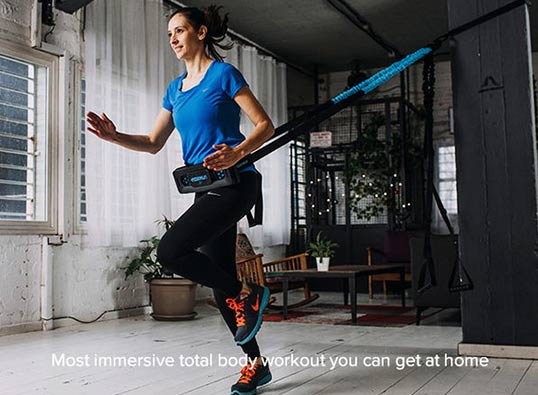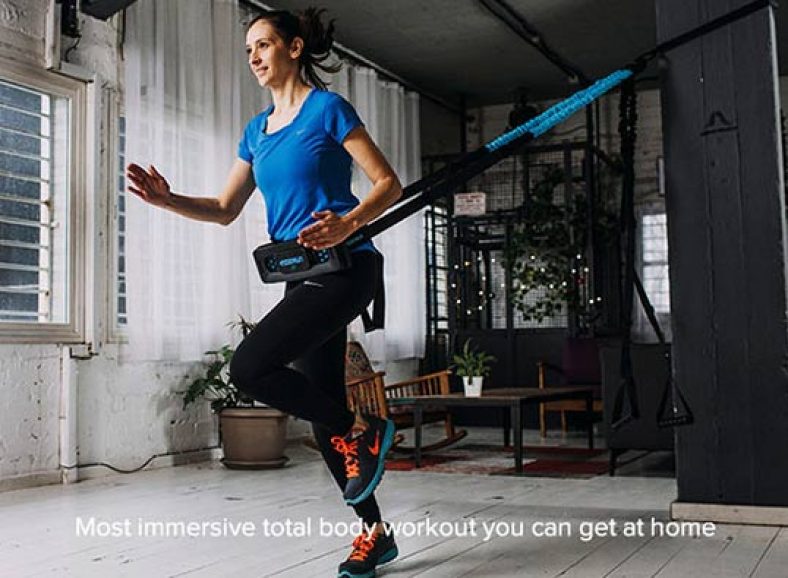 The main benefit of this unique cardio training system is that it allows runners to stay active indoors, even if they don't own a treadmill.
In the days where many gyms are still closed, you might want to consider training at home entirely. This is why the cardio system is such a great alternative to large and expensive treadmills.
You can also perform other exercises using this training system. Surprisingly, there are up to about 50 exercises you can perform using the trainer.
---
Jonathan Hoffman, the inventor of the MoonRun Cardio Trainer stated he aimed to create a training system that replaces the traditional treadmill.
This objective has been achieved as the training system can now be integrated into traditional running apps.
There are multiple benefits to integrating the Cardio Trainer with 3rd party running apps. Among them, it's worth noting users get to run around the world in different virtual locations recreated based on how they look in real life.
The capacity to share and meet other runners is also something the Cardio Trainer offers through the various apps it's compatible with. This is where users meet other runners and where they can race each other while being at home.
Many also see the MoonRun Cardio Trainer as fun. This is something that can't necessarily describe running sessions based on a traditional treadmill. There's a big community of indoor runners that simply struggle to find the right motivation to get on the treadmill every day.
The benefit of online training and the 3 apps you need
Since there's an advanced motion sensor installed on the trainer, you can even connect it to various apps for fun or to track your workouts.
The manufacturer recommends 3 apps that can make a difference when it comes to daily training.
Arcade Fitness is a multipurpose app that allows you to feel like a true runner right at home.
It sets you in a virtual running space, on the running track. It's here that you can exercise sprints or even run marathons.
Your virtual persona does exactly what you do at home with the MoonRun trainer which means you get to be more involved in the running space than you might think being stuck at home.
This app is a great solution if you'd like to stay connected with other runners while training.
It features virtual running locations where you can outrun others from any part of the world.
The app is easy to use and you can have it installed on your smartphone or you can view it properly when connected to a TV.
The virtual MoonRun app is one of the best compatible software solutions for serious runners. It shows all types of running statistics and it benefits from the input of a virtual coach.
One of the training modes it supports is a virtual running session where you have to keep up with your coach.
This training method can be efficient if you want to challenge yourself a bit more every day.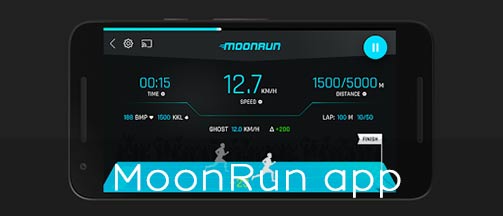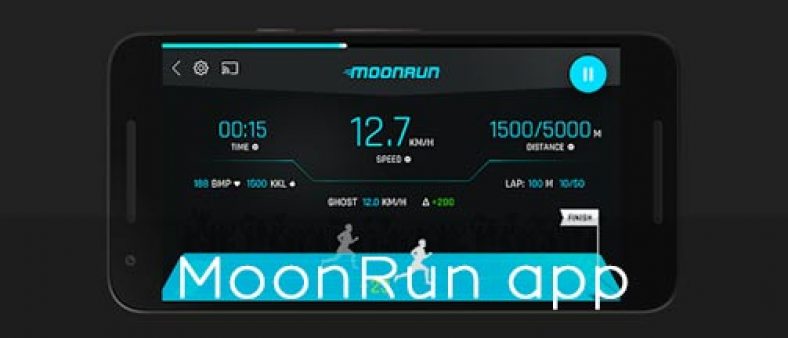 A different approach using resistance bands is being offered by BodyBoss Portable HomeGym 2.
This training system gathered a lot of momentum on a crowdfunding platform and it eventually metabolized into a full gym training system you can use as an alternative to weights training.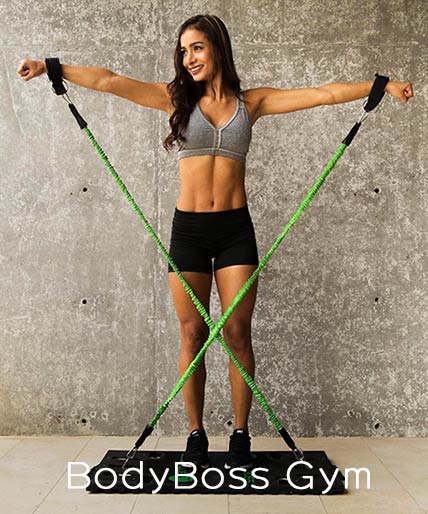 Its bands offer resistance anywhere between 1 and 30lbs, depending on how hard you pull the 2 handles. There's even a collapsible workout bar you can take anywhere you want whenever you leave home.
But why would you buy it instead of building your home gym?
A good squat rack and a complete set of dumbbells can cost a few thousand. These are costs that not everybody can justify.
But completely avoiding training isn't an option either.
You can choose BodyBoss's training system to perform over 300 exercises right at home.
You can perform squats, biceps curls, or triceps extensions without any dumbbells. You can even work smaller muscles such as the shoulders with effective lateral raises.
But the main advantage of this workout system is that it allows users to train both indoors and outdoors.
The small travel bag it comes with is an efficient option when you want to stay active regardless of your circumstances.
You can train in the backyard or on the patio. This type of location independence simply isn't possible with classic free weights.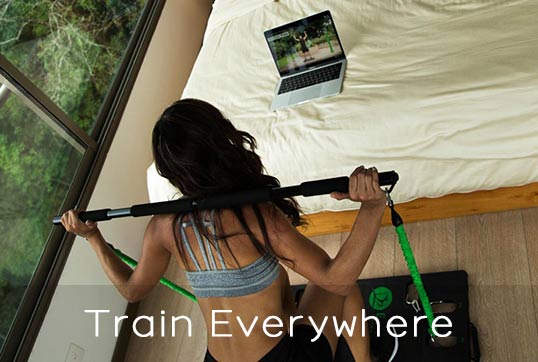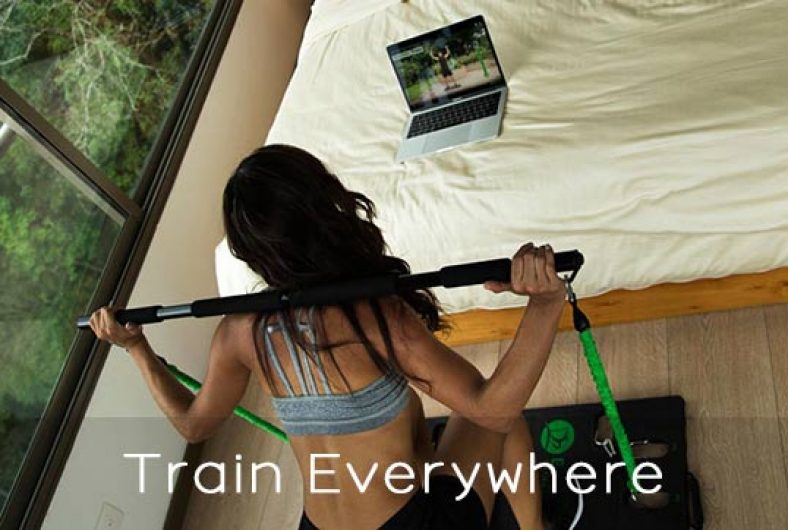 Apart from location freedom, the system can also be fun to use. The tension is progressive. The more you pull the bands, the harder the exercise becomes.
This is why it can even be seen as a complementary training solution for those who might already be lucky to own a personal home gym.
MoonRun Cardio vs BodyBoss Home Gym 2 – which fitness trainer to choose?
Now that you know what these training systems do, you can start to compare them to see which one is the best option for you.
If you love cardio training choose MoonRun
While we love both of these training systems, you might only have the budget to purchase one of them.
Since they're so different, the MoonRun Portable Cardio Trainer is the best option for those who want to run or for those who love intense workouts.
It allows you to maintain a constant elevated heart level which is a top approach when looking to lose weight as well. The fact that it's so compact and easy to set up is only a major advantage to alternatively consider.
---
If you love toning muscles choose BodyBoss
Not everybody is looking to run but using similar resistance bands gets you closer to BodyBoss Portable Gym 2.0, a training system that does wonders if you want to build muscle.
Mimicking some of the exercises you perform at the gym allows you to stay in good shape and even to build muscle at home using now dumbbells.
The training system doesn't need an anchoring point like the one from MoonRun. As a result, it's also a bit more versatile in terms of training location.
If you like to tone your body regardless of your training location, this is the system for you.
The alternatives if you want to stay in shape
If you aren't completely interested in these training systems, you can consider the following alternatives to stay in shape at home.
XTERRA Fitness TR150 Folding Treadmill
A traditional treadmill remains a high-value purchase when you want to lose weight or to stay active.
With its 16″ X 50″ running surface, the TR150 treadmill is superior to the MoonRun Indoor Aerobic Trainer for the feeling of running.
However, it might not be as fun by comparison.
Another good option comes with the Bodygym Core System. Its differentiating plus is its lightweight construction.
With a weight of just 3lbs, this is the resistance band training system you consider when you rarely train in the same place twice.
You can easily move it around the house and even train in front of the TV given its low weight.
Staying fit at home is an old trend with a new beginning during the current pandemic.
But there's hope for all of those who want to get in shape and not all forms of training involve moving around a lot of weight of purchasing equipment too large to store indoors.
As seen with the training systems mentioned above, there are solutions regardless of your training profile.
If you like cardiovascular workouts the MoonRun Indoor Aerobic Trainer is a compact solution that can't disappoint.
If you love bodybuilding-style workouts more, the BodyBoss Portable Home Gym 2 is the right alternative to heavy and expensive dumbbells.
Both work well on their own even if they can be combined for a complete approach to health and fitness which incorporates different styles of training.