You have numerous options when it comes to picking equipment for exercising and staying fit. If you want good results, you should consider using cardio trainers.
The MoonRun Portable cardio trainer is one of the best options available for those who want to spend more time engaging in rewarding and valuable exercise.
This review will explore essential details about this portable cardio trainer, highlighting its excellent features, appearance, how to use it, and the benefit of buying this high-quality MoonRun CONNECT trainer.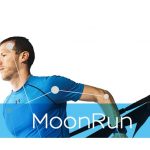 Overview of the MoonRun Portable Cardio Trainer
The MoonRun trainer is an excellent trainer that promises to help you stay healthy. This is a portable cardio trainer designed for home gyms.
Irrespective of the space in your home, this trainer can be used with ease. It is easy to set up and designed to help you stay healthy.
MoonRun trainer is a portable option that offers great value for your money.
---
How to Use MoonRun Portable Cardio Trainer
MoonRun Portable Cardio Trainer is straightforward to set up and use in your home gym.
You can connect the trainer to your door, wall, beam, pillar, ladder, or other solid structure.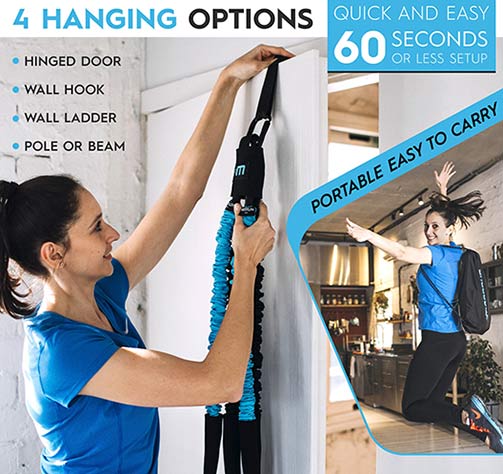 To use the trainer after fixing it as provided in the manual, ensure that the cover logo faces you.
The bar should also not face upside down when it is lifted.
For your safety, carefully check to ensure that the straps and elastic units are not entangled or twisted. Ensure that all buckles are well fitted and facing the right direction.
When all inspection is done, then you can now put the trainer on.
To use, you need to attach the elastic band to your waist.
Ensure that its bar is located on your pelvic bone under your stomach, and try stretching forward until you can comfortably balance your weight on the straps without falling.
The arm handle should be held with your fingers relaxed. You can go for short straps if you need more arm resistance and longer straps for less arm resistance.
Tighten the seat belt tightly, and by relaxing, lean forward as you start your Moon Running.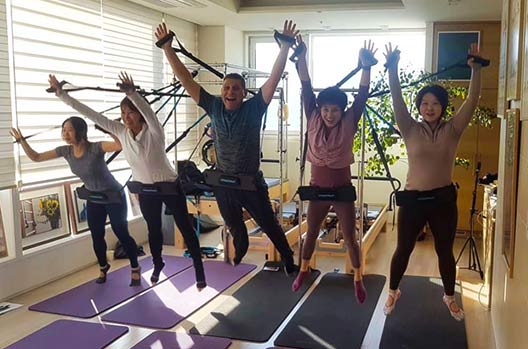 You can visit the exercise page of the product to explore several other exercise routines and procedures.
If you are confused about setting up the cardio trainer, follow the manufacturers' unboxing picture.
How well does the MoonRun CONNECT perform?
The MoonRun Portable Cardio Trainer is perfect for indoor cardio training.
This exercise tool is designed by expert physical therapists that seek to improve the health condition of everyone.
The MoonRun CONNECT features an upward elastic pull that helps you reduce your body weight.
It is also designed to help you enjoy reduced knee impact. When working out, you will also experience reduced landing impact.
It helps in strengthening your arms, abs, glutes, and chest.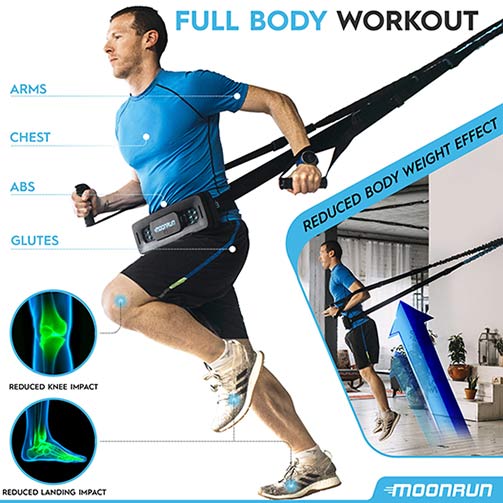 This exercise tool combines cardio and resistance exercise, which helps you enjoy full-body workouts as you strive to improve your health. The exercise options include jumping, running, squatting, etc.
The versatility of the MoonRun makes it a top option for you.
---
Features of the MoonRun CONNECT
MoonRun CONNECT exercise is an interesting one. It features an embedded technology that helps it work perfectly in keeping you fit and healthy.
It features an application that turns you into an avatar. As such, you will be able to interact with virtual coaches or other runners.
You can choose a virtual coach that can help you get a more detailed exercise. With the help of the virtual workout feature, you can overcome the troubles of exercising alone in your home.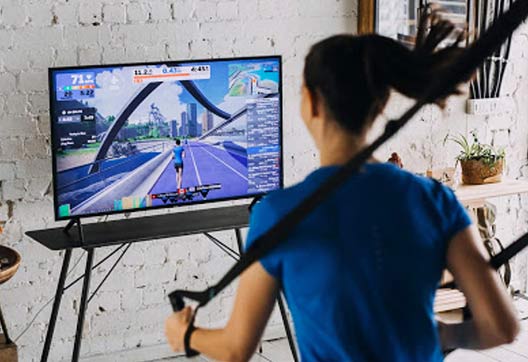 This device's exercise options allow you to run, jump, squat, and help to avoid obstacles that come your way.
The exercise options you have are limitless, and you can track your speed and time.
There are regular events arranged for runners in some locations. You can join this regular event and run with people from different parts of the world.
A MoonRun cardio trainer is a technological tool that comes with some exceptional features.
This includes the Bluetooth feature that makes it possible to connect it to your smart Tv, phones, laptops, and other compatible devices.
Other accessories in the package include a MoonRun bar unit, an electronic box, handle and arm straps, a buckle cover, elastic sets, medium bar units, medium arm units, top carabiner, top carabiner cover, door straps, a triangular wood warning, branded bags, and cable for charging.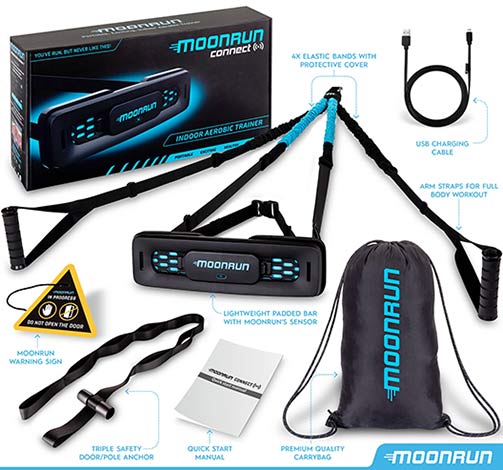 To help you operate the electronic efficiently, the device comes with notification lights.
The device shows a green light when the device is on and not connected.
It shows a blue light when on and when the Bluetooth is connected.
The device shows a red light when charging, and it flashes red when the battery is low.
When you see the yellow notification light, it means your memory card is full, and you need to connect to the MoonRun application.
Additional Important Information about the Cardio Trainer
This is a portable device that can easily fit into small rooms and spaces. The cardio trainers weigh less than 4 pounds. As such, you can easily set it up in your home.
This is an affordable exercise tool for all. This product is $299.00; the MoonRun is considered budget-friendly.
---
There is not a long list of dos and don'ts attached to using this trainer. However, it is essential to keep it in a safe place after every workout session. Also, make sure that the straps are not tangled when you are working out.
The package comes with instructions that will help you set the trainer up easily. Additionally, you can make use of video tutorials that will make assembling easier.
For some users, this is the best workout equipment that can help them stay fit and healthy. Even when recovering from an injury, one can still enjoy working out with this trainer.
Another thing mentioned by users includes the versatility of this trainer. Each person can customize the training session to suit their individual needs. For some, the low price is the incredible thing about this MoonRun Cardio trainer.
Some users feel the applications should improve, making it more detailed for working out. Also, the battery is said to wear out quickly by many users.
Pros
Cons
Lightweight and portable, making it perfect for small spaces.

Compatible with different workout applications.

Perfect for exercising the whole body.

Virtual coaching improves your workout experience.

Versatile workout device.

The MoonRun price is affordable.

This workout tool is not safe for pregnant women.

Replacing elastic bands is difficult.
Frequently asked questions about the MoonRun Cardio Trainer
Is this device a suspension trainer?
Many often wonder if the cardio trainer is a suspension trainer. You'll be happy to know that it is a combination of both. It allows you to engage in all forms of aerobic exercise and comes with varying levels of resistance.
Which running application should I use?
The MoonRun trainer comes with its fitness application. It is designed to work with other applications like Zwift running, Arcade fitness, KinoMap, Run social, Fitbit, etc.
What is the maximum weight capacity?
This trainer, although portable and lightweight, can support quite a bit of weight. It has a maximum weight capacity of 350 pounds.
How easy is setting up this trainer?
This trainer is straightforward to set up; as long as you follow the attached manual, you will quickly get it done. You can attach it to concrete structures in your home.
Another excellent way to turn your home into a gym is to use BodyBoss Home Gym.
It simulates numerous gym equipment and helps you work out with more ease. It helps you work out your upper and lower body with maximum ease.
With this device, you can enjoy up to 300 exercises.
With a traditional treadmill, you also have numerous exercise options.
It offers you the opportunity to run for a more extended period and enjoy exercise like jumping. With a treadmill, you can run for as long as you want.
You can alter the speed and keep track of time when running.
While several exercise tools will come to your mind when you want to improve your health and exercise experience, MoonRun should stand out.
This MoonRun CONNECT review has talked about the excellent features of this workout tool. We have also explored ways to use it in your home, including an easy way to set the training up.
Considering the pros and cons shows that this is an excellent device for helping you stay fit, why wait any longer? Buy the MoonRun Cardio Trainer today!