The Marcy Diamond Elite Smith Machine MD-9010 supports full-body training. It incorporates elements of a Smith machine with the versatility of a multi-purpose home gym to support a wide range of exercises.
It aims to provide enhanced exercise variation for users of all fitness levels. This is achieved with durable materials with an all-steel construction.
Marcy is one of the most popular names in the home training equipment industry. But its Diamond Elite machine is among its most successful releases as it supports various exercises. These include squats, shoulder presses, hammer curls, or leg extensions.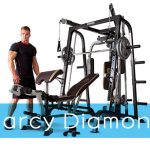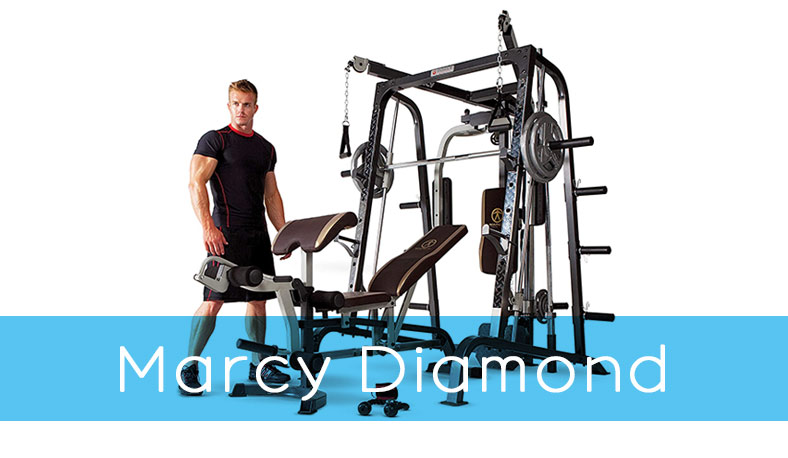 The main features of the Smith machine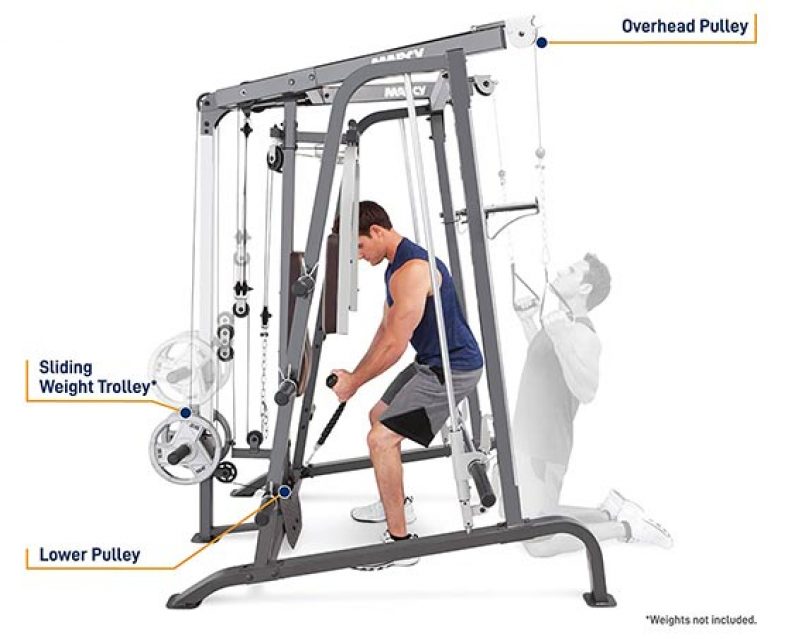 Made with a steel frame
Includes pulleys with a tensile strength of 2,000lbs
Designed with a pop-in adjustable bench
Uses linear bearings for smooth bar travel
Includes weight plate storage pegs
Ships with accessories such as a lat bar, a shiver bar, and ankle straps
Includes a Preacher curl station
Supports exercises for the chest, back, arms, shoulders, and legs
Includes a detailed assembly manual
It works with Olympic and standard weight plates
When ordering the Smith machine online, users need to input the shipping details information and the warranty details information. The machine comes boxed with a total weight of 430 pounds and it requires assembly.
---
Installing the Marcy Diamond Elite Smith Machine MD-9010
Before installing the fitness machine, users should ensure they have sufficient space inside their homes or in the garage. Apart from the space of the machine, there should be at least some clearance around it to easily access the weight plates. When fully assembled, the machine comes with a length of 95inches, a width of 79 inches and a height of 86 inches.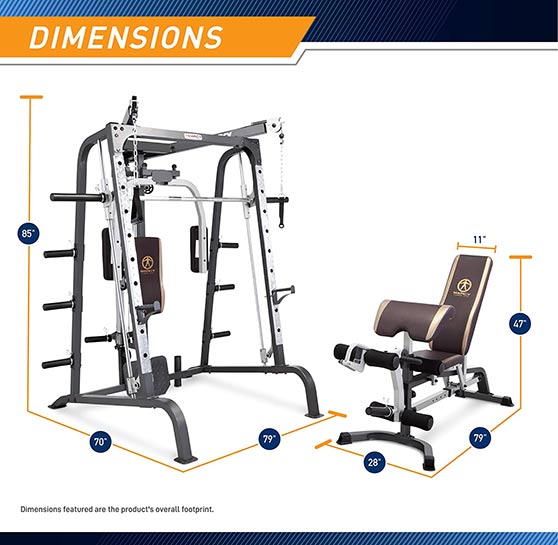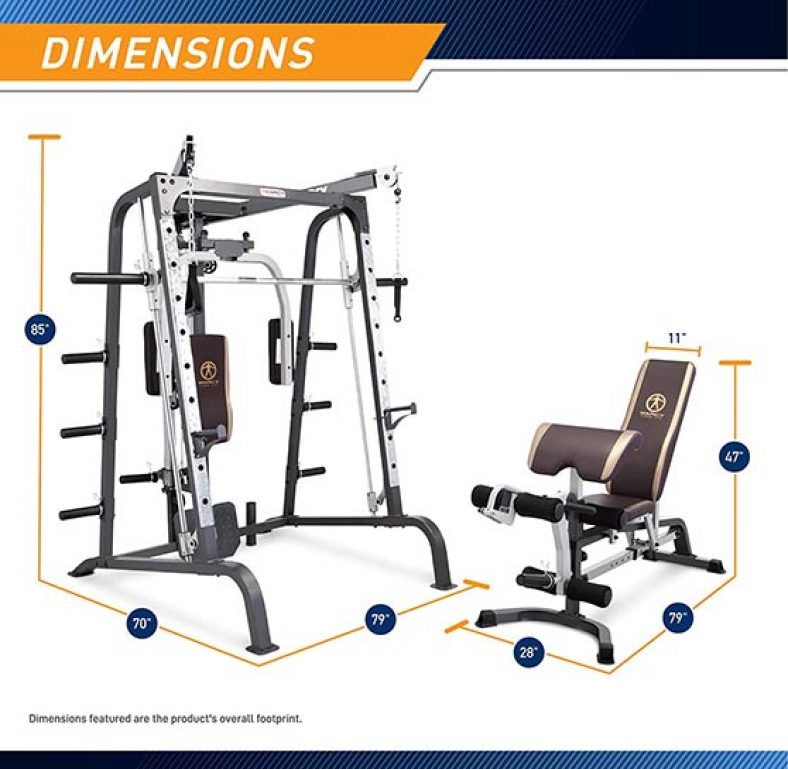 The Smith machine can certainly be assembled by yourself. It doesn't come with very heavy pieces which can be put together by one person. However, having a second person help is going to be beneficial, especially with large-piece installation such as frame elements.
While everybody can install the fitness machine with or without help, professionals are always going to know how to assemble it better and quicker. Amazon's Home Gym Assembly Service can help. However, it's not yet available across the country and users should check if the service is viable in their area with a simple ZIP code search.
Installing the machine is a comprehensive process and users should take their time unboxing all of its elements and organizing them for installation. The machine is built from the bottom first. Its base needs to be put together.
To begin the installation process, users need to have 2 adjustable wrenches and an Allen wrench at hand. The base frame is assembled first. Once in place, the front vertical frame is added on top of the base. The rear vertical beam with the glide frame is installed at the back of the machine next. Users then install the butterfly base on the rear vertical beam. The cables of the butterfly base are attached next. The rest of the weight cables are attached next followed by the main weights bar. In the final steps of the installation process, users put together the bench. When the bench is fully assembled, the Preacher curl section is added on top.
Popular Diamond Elite Smith Machine exercises
The multi-purpose Smith machine is more than fitness equipment for legs or lower body training. It supports upper body exercises and users note some of the most popular among the,
Squats

There are a few types of squats to be performed with the fitness machine. The Smith machine bar is going to be the obvious choice for squats. But Marcy also added Olympic bar attachments to their fitness machine. Anyone who already owns an Olympic bar can also use these attachments for free-weight squats.

Kick-backs

With a floor-level pulley, users can also perform kick-backs. These glute-building exercises are among the best for proper muscle isolation. The accessories for this exercise are already included with the Smith machine.

Leg extensions

Moving on to the workout bench, users can continue working lower body muscles with leg extensions. Performed with or without weights, the help build quadriceps. These exercises are performed from a safe seated position.

Biceps curls

From the same seated position, users can also work biceps. The thickly-padded Preacher's curl station is where these exercises are performed. Pure muscle isolation recommends the exercise for low injury risks.

Chest flyes

The classic chest flye can be performed with the aid of the butterfly press station or with the pulleys on top of the machine. Targeting pectoral muscles, these exercises can be measured in strength progression by using extra weights as needed.

Seated rows

Back exercises can either be performed with the included lat bar or with the kick-backs pulley which also comes with a footplate. From a seated position on the bench, facing the Smith machine, users can perform seated rows to enhance the back muscles' definition.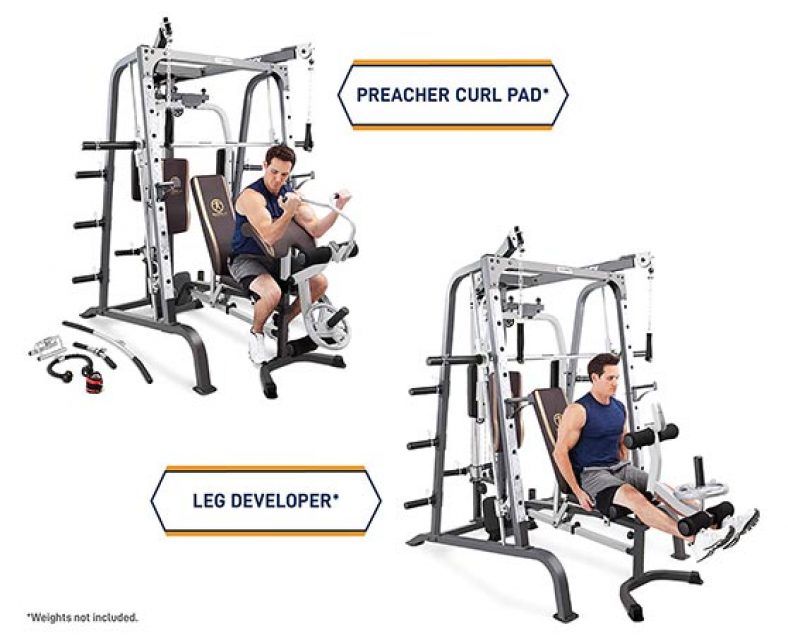 Recommended reading:
Is Marcy's Daming Elite Smith Machine MD better than its competitors?
Any fitness equipment investment needs to be justified. The Diamond Elite Smith Machine is complex but it also has man notable alternatives. Among these, there are even a few good options from the same manufacturer.  Here's how the machine compares to others.
Marcy Diamond Elite vs SM-4008
Both of these machines are very versatile and durable. Made with pure steel, they're ready to support complex exercises both for beginners and for advanced trainees.
At first glance, users can not the SM-4008 doesn't include a Preacher's curl platform. This doesn't mean it can't be used for biceps' exercises. It only means it has one less exercise option for biceps than the Diamond Elite.
But the SM-4008 is also considerably smaller. Its dimensions are 68.25in x 26in x 45.5in (compared to 95in x 79in x 86in of the Diamond Elite. Anyone training in an apartment, garage or smaller home is going to save space constraints. In this situation, the SM-4008 proves a bit more versatile as it doesn't take up as much space.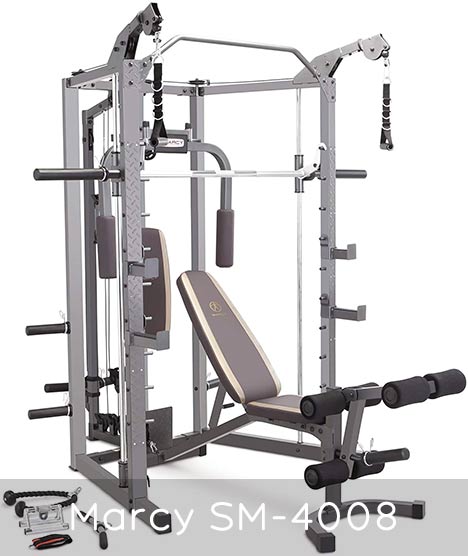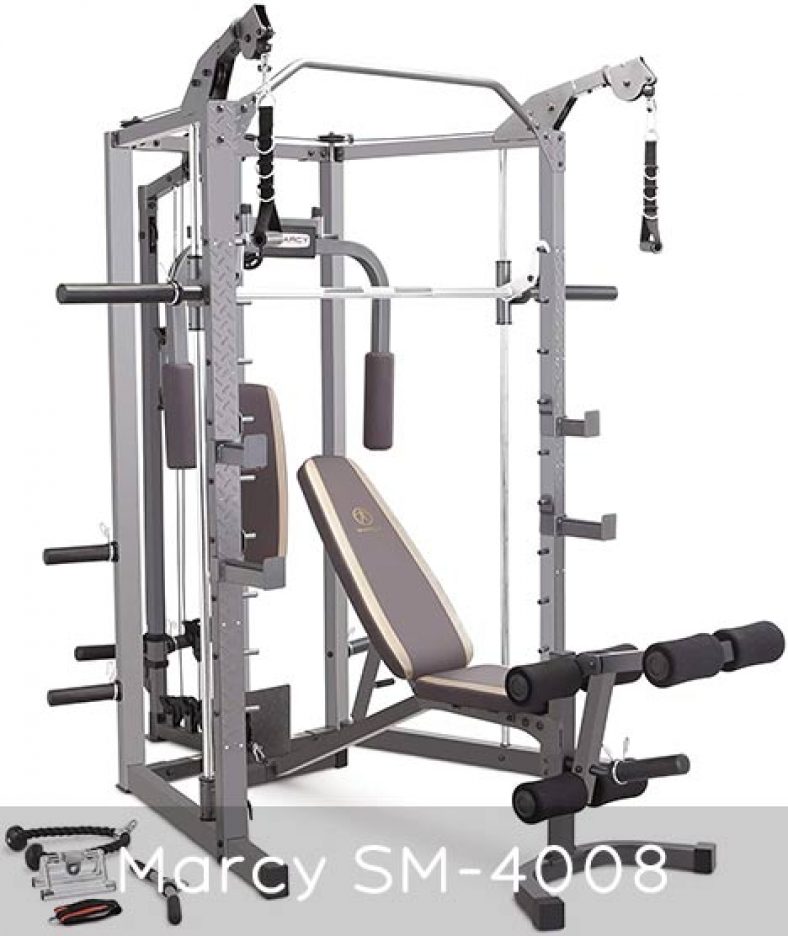 In terms of weight performance, the larger Diamond Elite is the same as the smaller SM-4008. Both of them have a maximum load of 300lbs on the push bar. This supports every type of push exercise for chest and shoulders for any fitness level. The weight capacity of the benches is also similar. Both Smith machines have a 600lbs maximum weight which includes the weight of the user.
Bodyweight exercises can be performed on both of these machines. Simple triceps dips can be performed on the bench without weight. But the SM -4008 proves a bit better here as it includes a pull-up bar as well. Anyone looking to develop back muscles with bodyweight exercise is going to find it a bit more interesting.
---
Marcy Diamond Elite vs Marcy Combo
Marcy Combo is the hybrid between the SM-4008 and the Diamond Elite Smith machine. It uses the same design of the SM-4008 but the dimensions of the Diamond Elite. As a result, it comes with a 98in length, 59in width, and 82in height.
Those who like its design and who also have the space to store it are going to be particularly interested in this machine. However, the Marcy Combo still lacks some elements only seen on the Diamond Elite. For example, its bench is not as complex and it doesn't include the versatility of the Diamond Elite's workout bench.
However, both of these Smith machines come with no weights. All weight plates need to be purchased separately. The drawback here is that most weight plates are not cheap and they are going to add to the final cost of the multi-purpose home gym.
Once purchased, they can be stored on any of the 2 machines. However, even with included weight plate pegs, not all users should store the weights on the machine itself. For example, those placing the machine on tile or a surface that can easily be damaged from the high weight on the 4 legs such as hardwood floors should store the weights separately. As some users note, the weight plates are most likely to be stored next to the machines to avoid high pressure on a specific point on the floor.
---
Marcy Diamond Elite vs Weider Pro 8500
Weider's Pro 8500 is even larger. Its 110in X 83in, X 84 in means it's the longest fitness machine. Both machines are solid home training options. Even their benches are similar with full support for leg exercises with the added benefit of a Preacher curl pad.
A low pulley and 2 high pulleys are seen on both fitness machines. Anyone into kick-backs can use both Smith machines with success. For glutes and quads, both offer the versatility of squats and their variations. Fixed-bar squats are supported on both machines. But free-weight squats are supported as well with the help of height-adjustable Olympic bar attachments.
Isolation exercises such as triceps extensions can be performed on both fitness machines. They both work for compound exercises such as chest presses with the bar or with the butterfly press. However, they also suffer from a lack of included weight plates. Those preparing a budget for a home multi-gym is going to need to calculate weights as extra purchases regardless of the choice between the two.
An area where not many users think about investigating is with core abs exercise. Both machines offer similar exercises. For oblique muscles, the high pulleys on these Smith machines are going to be the best as they benefit from adjustable weights. But these exercises can also be performed on the bench with any type of leg raising movements.
Hanging leg raises might a better variation to engage the core. Since the top bar on the Diamond Elite is a bit too large to grip comfortably, Wider Pro 8500 is going to be a bit more comfortable for this movement. However, Marcy Combo is the best for anyone in love with hanging leg exercises due to its thin top pull-up bar grip.
---
The Marcy Diamond Elite Smith Machine MD-9010 is a versatile performer. It offers one of the best solutions for home training in the fitness industry. While it has very strong competitors such as the Marcy Combo fitness equipment, it remains truly versatile and made for impressive comfort.
With a thickly-padded bench, it supports arrange of seated exercises such as leg extensions or biceps curls, which are not sustained by most other alternatives. It also includes a good range of accessories. Among them, the la bar and the rope have good versatility for multiple exercises as well.
As most users note, the assembly should not be complicated. Once every piece is laid out on the floor, putting the fitness machine together is not complicated. It's up to the users to make the most of the machine and perform workouts that target both large and small muscle groups.