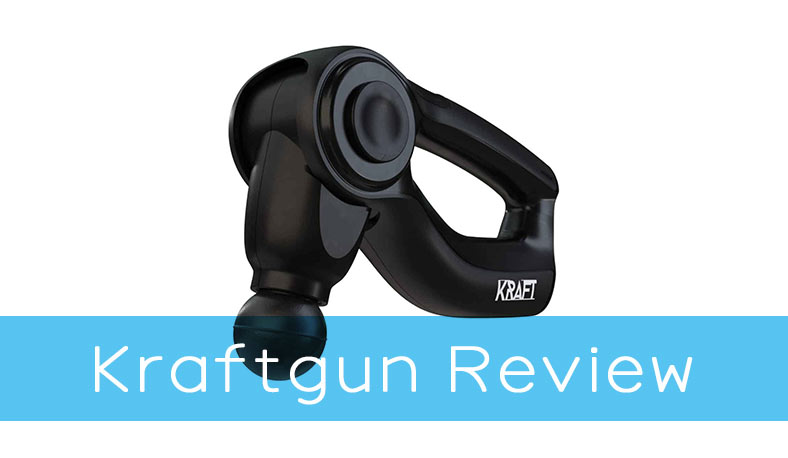 Kraftgun is one popular massage guns used by athletes, gym-goers, or other active people. It aims to help the muscle relax and since it's shaped like a gun, it can be gripped by the user directly or by another person performing the massage.
With a large handle and multiple attachment heads, it offers complete massage solutions for small and large muscles. It may even be used to alleviate muscle pain since one of its listed benefits is improving blood flow and muscle oxygenation.
Running on rechargeable batteries, the gun is among the tools athletes might use for faster recovery. In line with what other muscle massage guns offer, Kraftgun is defined by the following characteristics.
Features and characteristics
Speeds up muscle recovery
Improves blood flow
Powered by a rechargeable battery
It runs up to 3.5 hours before recharging is needed
Runs with low noise based on its brushless motor
It runs on 3 speeds
The lowest massging speed is 1,800 precautions per minute
The highest speed is 2,4000 revolutions per minute
Ships with 4 attachments for various muscles
Included carrying case
66-80lbs pounds stall force
It weighs 2.2lbs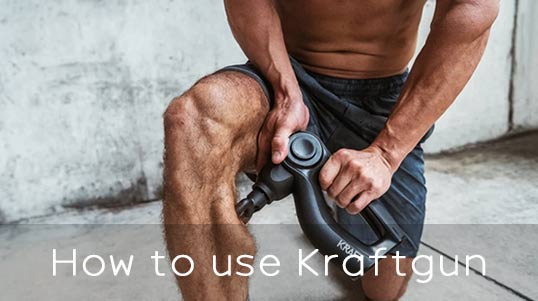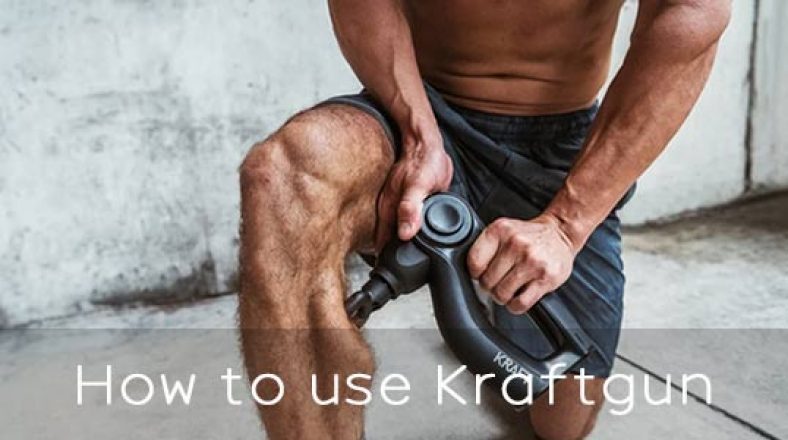 The massage gun has a unique advantage that it can be used without too much effort on most of the body with no help. Users can even use it on their legs, hands, and shoulders. It's on the back and glutes that users need the most help with the massage guns.
Based on a moving head that travels at high speed for 16 mm before retracting, the massage gun is easy to use, even if it's not always comfortable. With its 3 running speeds, the Kraftgun can be adjustable for both beginners and those who are used to the process and who can tolerate high-speed massages.
Muscle relaxation massage can be performed up to 15 seconds in a spot, area, or on whole muscle groups. This type of short massage is the easiest to tolerate for those who only want to relax the muscles for those who don't need to undergo rigorous daily training routines.
Muscle activation massage can be performed in sessions of up to 30 seconds on a certain body part. Those who might go through muscle fatigue or spasms can consider this type of massage either on themselves or performed by someone else.
Muscle pain relief massage sessions can be performed in sessions of up to 2 minutes per muscle group. This is the type of massage session that can be helpful by those who do intense training such as athletes training multiple times per day. CrossFit trainees may also need to perform these longer massage sessions to reduce muscle inflammation and to help a muscle recover faster through better blood flow.
To perform these massages, users have a choice of various heads or attachments. A round attachment, a flat attachment, a U-shaped spinal attachment, and a precision point cone-style attachment are included. These attachments can be adjusted in 2 angles.
The large round attachment is the most popular option. Made from rubber, it is also seen on most other massage guns as it's the least painful and highly reliable for most users. It can be used on small and large massage areas and it may be one of the few attachments to carry with the massage gun while traveling.
The flat head attachment is an alternative for those who can't tolerate the pain of the massage. It doesn't feature a sharp profile which means it doesn't hurt as much when running it over bones or thin muscles.
With a U-shape attachment, users can the spine massaged for them. It runs along with the spin and it helps relax essential support muscles which can be overworked in multiple training sessions.
The precision point cone attachment is used on very specific pain areas of the body. It's not made to be used on large muscles as its quite painful even for those who're already used to the gun.
When to use the massage gun
If there's a perfect time to use the massage gun, it probably is right after a workout. Many gym-goers already experiences muscle pain after training. This is why a massage gun should not be used for more than a few seconds in a single area. Even a minute of massaging can help with muscle recovery time.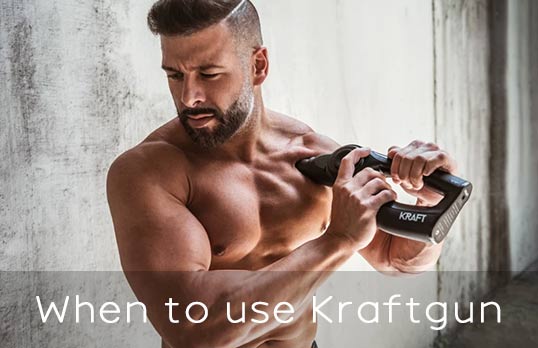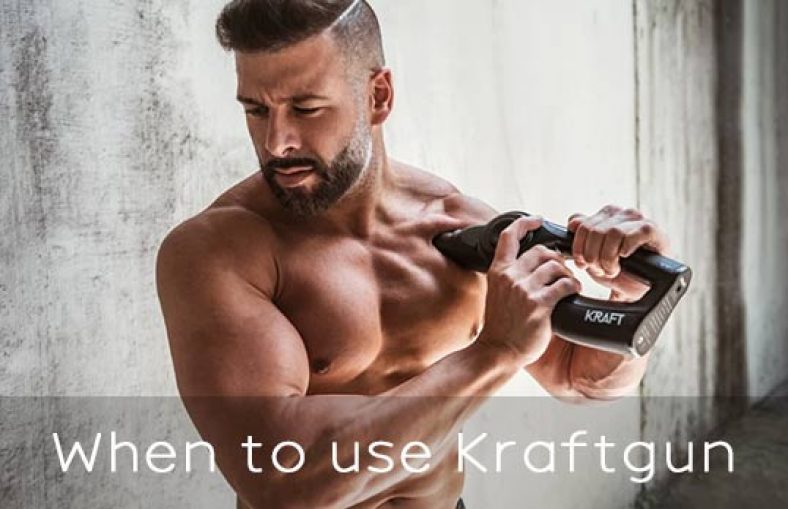 One of the problems of overusing such a gun is with injury risks. Users should not focus on a single muscle for more than 2 minutes as this can fatigue the tissue further increasing injury risks. But together with a good diet with plenty of minerals and water, it can be a tool to speed up recovery time.
The massage gun can also be used on rest days for short intervals. Users who like active recovery can also rely on Kraftgun. Certain muscles which still show signs of tensions can be massaged even when completely away from training.
Where to use the Kraftgun?
Users can rely on the Kraftgun both at home and at the gym. Ideally, those new to gun massagers would have an experienced user apply it on the muscles which are hard to reach. Personal trainers are normally those introducing massage guns to gym-goers.
However, Kraftgun can also be used in physical recovery. Specialist knowledge is better in terms of knowledge on which muscles to massage with what intensity and in which timeline. In physical recovery, massaging muscles is often based on larger aspects of recovery, such as stretching, ice massages, etc.
How Kraftgun compares to its competitors
Muscle massage sounds like a good idea for those experiencing severe muscle fatigue. Most of these users are those with an athletic life and who go through a rigorous training session for long periods. For these users, finding the right massage gun is most important. Here are 2 other options with similar performance.
Also based on percussion therapy principles, the Hypevolt massager is a similar choice for the modern user. Mainly known for its flat head massager, it also includes multiple other massage attachments. Made to promote blood flow the massage gun can be used for warmup sessions as well.
With a battery life of 3 hours, it needs to be charged slightly faster compared to Kraftgun. However, it includes an elegant charging base together with a zipped travel case for all of its accessories. As Kraftgun, it can be used at home or the gym on the chest, forearms, calves, quads, feet, and traps. Ideally, even the Hypervolt would have to help hands to massage the muscles of the back and to massage all other muscle groups from varying angles. At the moment, this is hard to achieve regardless of the muscle massage gun.
No products found.
Kraftgun vs Theragun G3PRO
The massage gun has the same 16mm amplitude, with similar effects and muscle benefits. It even looks similar to Kraftgun. However, the G3PRO features 6 foam-made attachments. With a softer profile, the gun can easily be used for a wide range of massage sessions.
It features multiple rounded attachments and a flat attachment of various sizes for various muscles. For example, its smaller heads can be used on the forearms which don't need large attachments for thorough massages.
Those new to massage therapy with a massage gun can also benefit from the Theragun in-app knowledge. Its official app shows users how to massage different parts of the body. Users can learn everything about using the gun on the back's muscle, on the glutes, and even on the hands. The app also includes information on the best timing for these massages.
However, the disadvantage of the G3PRO is that it only features 2 speeds. Some users would even prefer more speeds for a higher degree of massage variation.
Available with a soft travel case, the massager might be an option easy to carry in the gym bag. Those who want to enjoy a good muscle massage away from home have all the accessories in one place using its carry bag.
Which massage gun to choose?
Kraftgun remains a very versatile massage tool given its 3 speeds and 16mm head travel. While the G3PRO and Hypervolt have similar performance, they're still a bit behind in speed adjustments.
When it comes to varying workouts, users need varying massage speeds. For example, in CrossFit, EMOM and AMRAP workouts can be different. This is why they need different attachments and different massage speeds.
Kraftgun operates at a low 65DB noise level. This is mainly possible through its brushless motor. The technology of this motor is already recognized for its high durability. Used occasionally or a few times per week, Kraftgun has a durable profile with sufficient customization options for users in different sports.
With 66-80lbs pounds stall force, Kraftgun offers reliability. While some users say it reduced the noise level from 125DB to 65DB, other massage guns operate at low noise as well. But its biggest advantage is its versatility, long battery life, and its user-friendly design.