The Human Trainer is a suspension training kit that helps you get in shape.
Human Trainer exercises can be performed anywhere as you only need an anchor point to hang the 2 independent straps of the training system to begin training.
The Human Trainer Essential Kit is the starting base to get in shape with this product. With included handles and foot cradle handles, it can be used for hundreds of various exercises that help you stay in shape.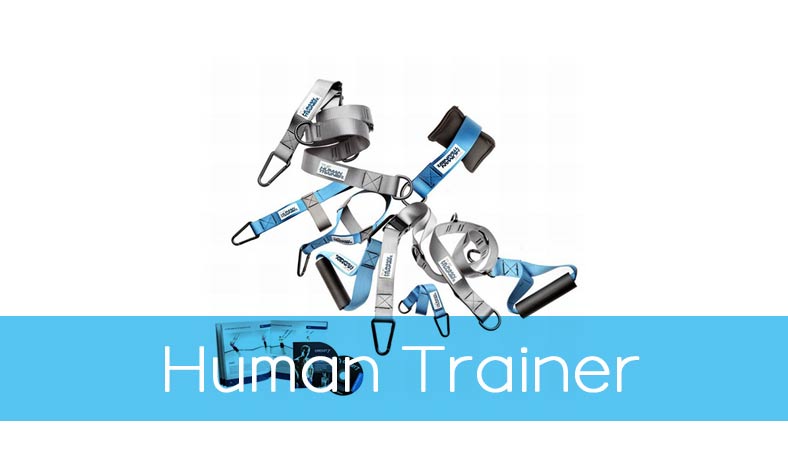 What is the Human Trainer?
The Human Trainer is a suspension training system that allows you to train anywhere.
Used at the gym, at home, or in the park, this training system is one that impresses those who love bodyweight exercises.
Often compared to TRX training, the Human Trainer is among the systems that are the easiest to train with us you can carry it in a travel bag wherever you go.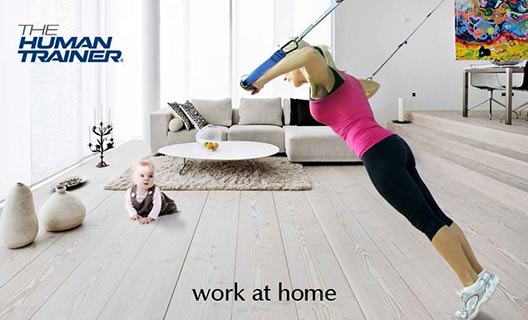 The Human Trainer is one of the most versatile training systems if you like stretching as well. It's not all about sculpting muscles as mobility is also important. All of these exercises and stretches are detailed in the Hyman Trainer Suspension Gym DVD.
---
TRX is the most popular suspension gym training system. However, it's not exactly similar to Human Trainer. Both can be used without a doubt for a sculpted body and better mobility.
Better weight distribution
But the main difference between these training systems is how they anchor.
The TRX straps are joined at the base or the anchor. The Human Trainer straps are anchored in a parallel position separately.
This equates to better weight distribution on several exercises such as suspended push-ups as well as rowing exercises.
The superior weight distribution also makes it easier for you to use the system in exercises that require asymmetric hand movements. You can even perform the exercise using one strap only on the Human Trainer.
While TRX is a bit cheaper, it doesn't allow you to anchor the 2 straps separately.
3 ways to train with the Human Trainer
When it comes to starting with the Human Trainer, you can benefit from knowing what to expect.
Most of those training with the suspension system think Human Trainer exercises are simply based on these bands.
But you can easily incorporate other fitness accessories into your training routine as seen below.
Bodyweight exercises can be performed in addition to weighted exercises. But they can also represent the only form of exercise you rely on. Here's the main benefit of this style of training. Bodyweight exercises can be performed from different angles.
When you train with dumbbells, you have to take a break or lower the weights when you reach muscle fatigue. The Human Trainer exercises allow you to continue training simply by adjusting the angle of your exercise.
The position of your feet also impacts exercise difficulty. The higher you sit on your feet, the easier the exercises are. The more parallel you are to the ground, the more muscle strength you need to perform these exercises.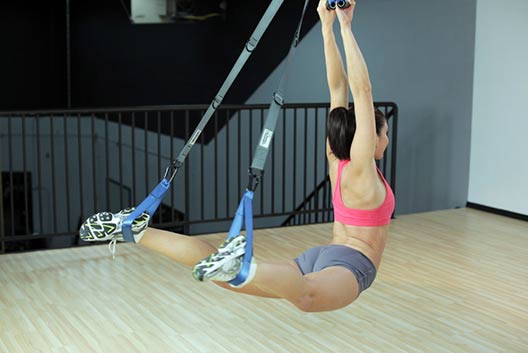 In a workout, you can simply move your feet to stand a bit higher to make the exercise easier as your muscles fatigue so that you can continue training. Furthermore, you can adjust the angle of your hands to change the recruited muscles for each exercise and still keep going.
But it's not just about the position of the feet or the angle of the grip with Human Trainer exercises. It's also about how you can integrate it with other training systems.
Once you start to see progress with the strength of your stabilizer muscles, you can use balance balls during or after your workouts.
Some Human Trainer exercises can be performed on a balance ball. Others simply allow you to rest while performing exercise on these balance balls to challenge your core stabilizing strength from a different angle. This is a completely new approach compared to old-school weight training.
High intensity vs low-intensity training
Another aspect to remember with the Human Trainer is that it favors high repetition exercises.
These are the exercises you perform when you want to see high benefits in the area of fitness and muscle sculpting.
Since you can do all of these micro-adjustments when training, the suspension systems allow you to do more than 9-10 repetitions you'd normally do with weighted exercises.
Since you can do so many repetitions, they aren't often counted by number but by time.
This is why you can do 1-minute push-ups, followed by 1-minute back rows, and completed by 1-minute plank isometric holds. These are the types of workouts where the Human Trainer shows the best results.
Top places to train with the Human Trainer
Apart from the physical training benefits, you can also gain good experience with the Human Trainer based on your training location. You can train anywhere with the Human Trainer and this is what can also give it a social aspect since it can get you moving in any location.
Gym

The gym is the place where you can easily suspend the Human Trainer and start performing your workout. Most gyms have pull-up bars that offer the best location to anchor your Human Trainer. But you might also use other areas of the gym to hang the training system from such as the top bar of the squat rack.

At home

You can train with the Human Trainer right in your bedroom. The Human Trainer Kit comes with 2 main straps with integrated anchors. But even the extra 2 short versatility anchors come with small door anchors. You can simply use your door to hold you up during a workout.

In the park

You can also train in the park. The best location to hang your Human Trainer from is a strong tree branch. However, the small versatility straps can be used as an anchoring strap so that you can set your training system on the tree trunk as well just in case you don't find any reliable branches to count on.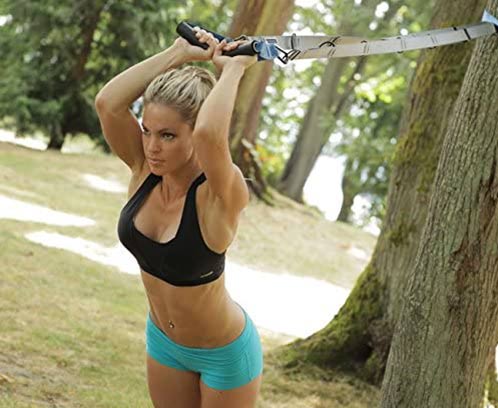 ---
Human Trainer kit maintenance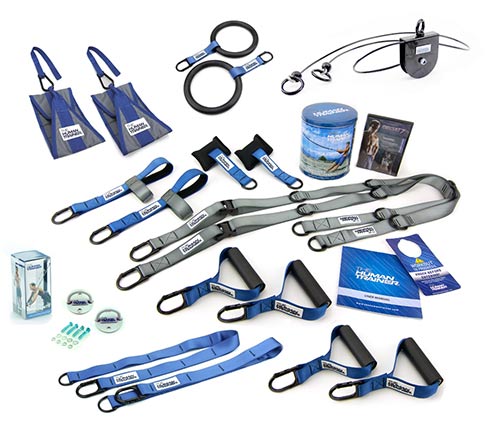 There aren't too many reasons to worry about the Human Trainer maintenance steps. You can even use it for an entire year with minimum maintenance.
But given the current pandemic circumstances, we recommend cleaning it with a disinfectant before and after you take it to the gym.
You can also wash your Human Trainer with soap and water when and if it gets dirty.
Users who wash their Human Trainer are those who typically train in parks and outdoor spaces.  Since the straps get dirty outdoors, you can wash them as often as needed by hand, not in the washing machine.
Human Trainer vs Gorilla Bow Resistance Training Kit
If you're looking for training systems that are sold at a similar price to the Human Trainer, you'll also come across Gorilla Bow. This is the type of training kit that doesn't require any suspension. Shaped like an actual bow, Gorilla Bow also uses bodyweight training but it adds resistance bands to the equation.
You might still prefer the Human Trainer if you're looking to build core or abdominal muscle strength. Since you are training in a partially-suspended position, the Human Trainer recruits more stabilizer muscles. Gorilla Bow is more similar to traditional methods of training which tend to focus on more isolated muscle groups and low repetitions per set with each performed exercise.
Human Trainer mobility benefits
One of the areas where the Human Trainer proves considerably better than Gorilla Bow and other training methods is with mobility gains. It can even be used for posture gains which make the Human Trainer an excellent tool for those who work long hours sitting in front of a computer.
There are entire routines on the Human Trainer DVD that detail how you can use the training bands for mobility and stretches.
We recommend stretching both before and after a workout so that you allow your muscles to warm up and cool down. Stretching also prevents stiff muscles, a condition that is very common especially in those who like to train every day.
The Human Trainer allows you to stretch multiple muscles at once or small muscles individually.
You don't need any other weights such as dumbbells or barbells for proper stretching.
At the same time, you can combine stretching movements with Human Trainer exercises for a complete workout with benefits both in muscle strength improvements and in joint mobility.
Your posture needs both types of benefits so that your spine supports your body in a correct position not only during training but throughout the day as well.
---
The Human Trainer is not revolutionizing training in the way you'd expect. It uses your imagination and the current strength level your muscles have to offer a custom workout.
This means no 2 people use the same angle and the same training routine when training for progress. This customization and the high versatility of the training system that allows you to train anywhere is what makes it an attractive option for most people.
Related Articles:
MoonRun – Portable cardio trainer for home workout