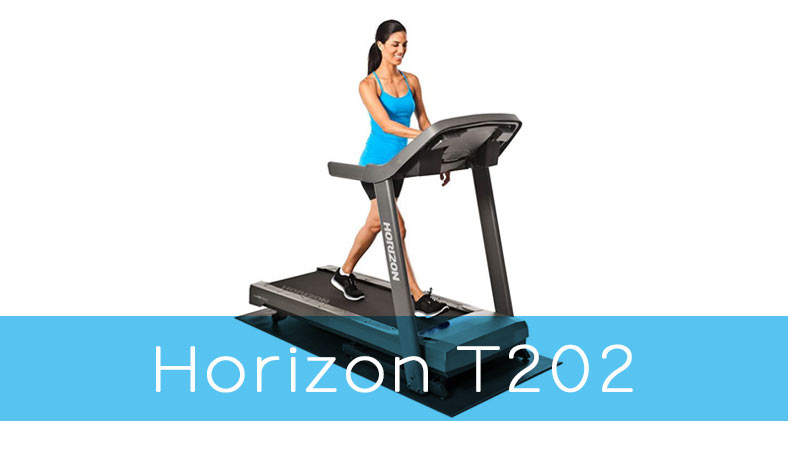 If you want to stay in shape by running, the Horizon T202 is a popular treadmill. Indoor running doesn't depend on weather conditions and it allows every user to run every day. But is the T202 a good treadmill for daily running? Find out in the article below.
Let's start with the basics first. A treadmill is a type of fitness machine made with a running belt that spins around the deck while running or walking. From here, treadmills become different in features, materials, and extras.
Modern treadmills are made with various adaptations such as cushioning systems which can make them more comfortable.
The Horizon Fitness T202 treadmill – fast and practical
Horizon makes 3 types of treadmills. The T202 and the T101 are part of the affordable Go Series. Studio Series and Elite Series are their high-end alternatives. These 2 treadmills are similar in construction but they offer features that make them slightly7 different at the same time.
Horizon T202 – main features
Runs on a 2.75 CHP motor
Designed with a 60" cushioned deck
The deck is made with 3 cushioning zones (walking, running, and jogging)
Built on a hydraulic folding frame
10 resistance levels with
Integrated pulse grips
Made with a speed-adjustable fan
Designed with a clothing-attached quick stop safety pin
Includes 2 hand rests
Moves around using 2 transportation wheels
Included fitness app compatible with third-party fitness apps
Bluetooth-enabled for quick smartphone connectivity
Integrated speakers to play music and podcasts
Compatible with smartphone charging via USB
Backed by a lifetime warranty for both the frame and the motor
187lbs maximum weight capacity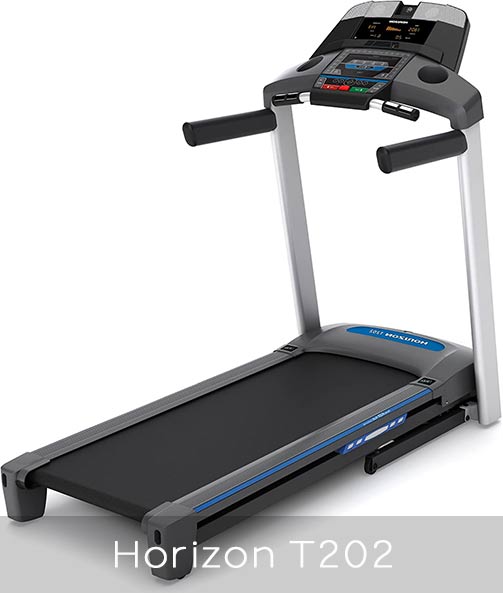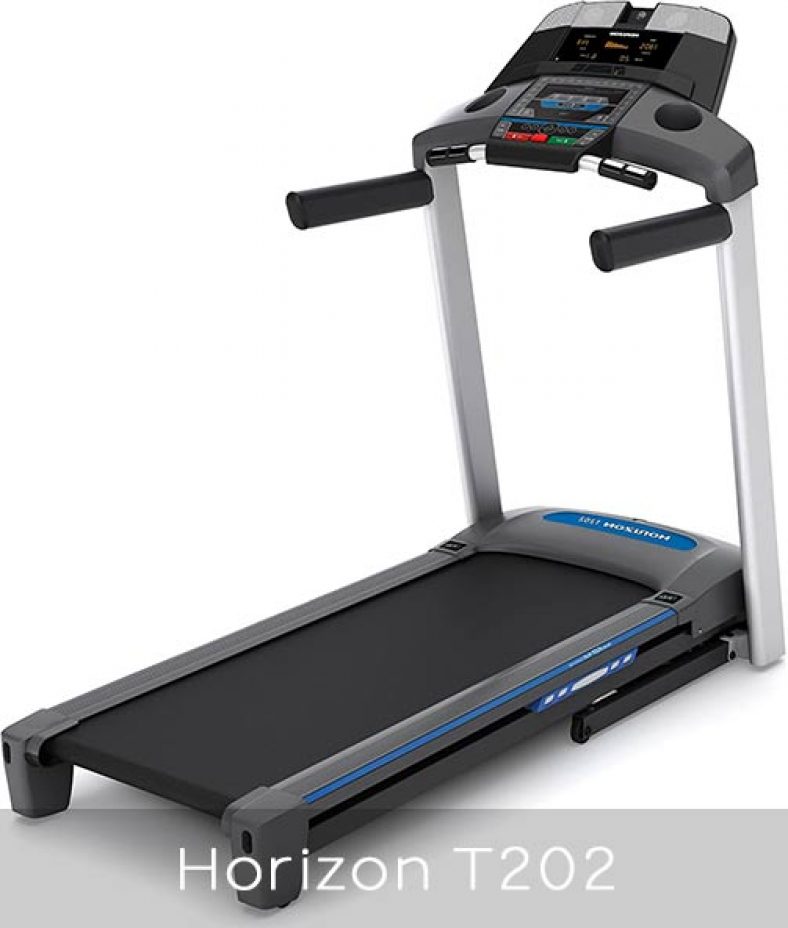 The T202 is slightly more robust than the T101 treadmill in weight capacity (325lbs compared to 300lbs). Assembly is easy on both treadmills. Since its compact (75″ x 34″ x 58″ when assembled and 47″ x 34″ x 65″), it can be used at home.
Its folding capacity is something to look forward to, especially for those with limited storage space. Without the folding capacity, the treadmill would not be comparable to its competitors (Total Gym treadmills) since they also fold.
There are a few instances where a folding design might be something new users would feel cautious about. Moving parts are usually associated with reduced durability. However, the T202 comes with a full lifetime warranty.
Moving a heavy (187lbs) treadmill might not be easy. There's a durable handlebar that allows users to lift one end when they want to move the treadmill to another location.
3 running zones – optimum cushioning for every runner
Apart from its practical aspects, the treadmill is comfortable to run on. It features 3-zone cushioning which maximizes its performance.
Impact zone – Situated in front of the deck, right next to the console, the impact zone is where maximum cushioning is added to enhance shock absorption. The deck is split into 3 equal parts where the impact zone is made with the thickest cushioning. Why is this important? If you like to run at high speed, it's here that feet need to land.
Transition zone – Situated in the middle of the deck, the transition zone is an area with in-between cushioning. It allows runners to concentrate on making the move from walking to running. You can still run in this zone, but you won't benefit from the highest cushioning.
Push off zone – As its name suggests, the push-off zone is where your feet start the pushing movement of running. Long stride finds this area's rigidity the best when it comes to traction.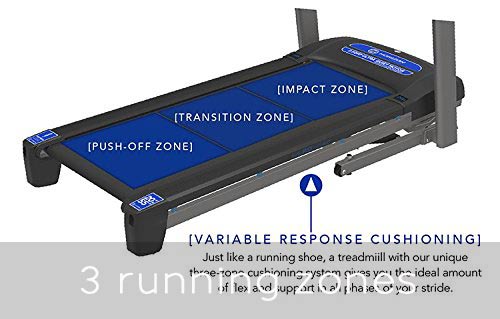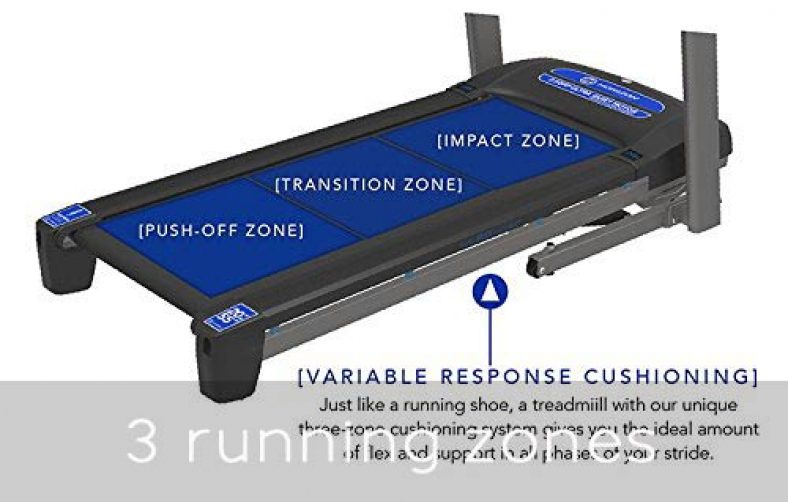 Depending on your running shoes, you might not feel a considerable difference between these areas, however. Cushioning shoes come with thick midsoles and they also do a good job at absorbing shocks. It's users that run every day that appreciated these running zones and what they have to offer the most.
ViaFit app and Bluetooth connectivity
Since the treadmill supports smartphone Bluetooth connectivity, you can transfer all your running statistics to your device. This enables weekly, monthly, and yearly progress statistics. But it can be more than just a statistics app.
ViaFit (Horizon's official app) is compatible with third-party apps and its running data can be exported to programs that also offer other statistics. Among them, you can rely on RunKeeper, FitBit tracking, and MyFitnessPal to get a better understanding of your cardiovascular system.
The Horizon T101 treadmill – is it better?
A simpler and more affordable Horizon treadmill is the T101. Still reliable and comparable to the T202, it can be a pocket-friendly option for many home users. It still has the right qualities to be run on daily.
Horizon T101 features and characteristics
Based on a 2.5 CHP motor
Made with a 55" running deck with 3-zone cushioning
Charged smartphones and tablets
Includes a hydraulic folding mechanism
Plays music via Bluetooth
Assembles in 30 minutes or less
Covered by a lifetime warranty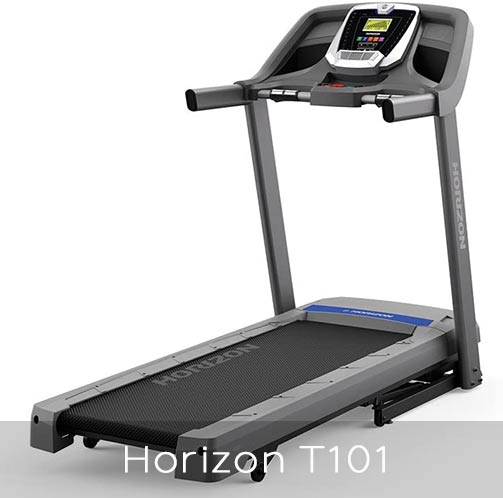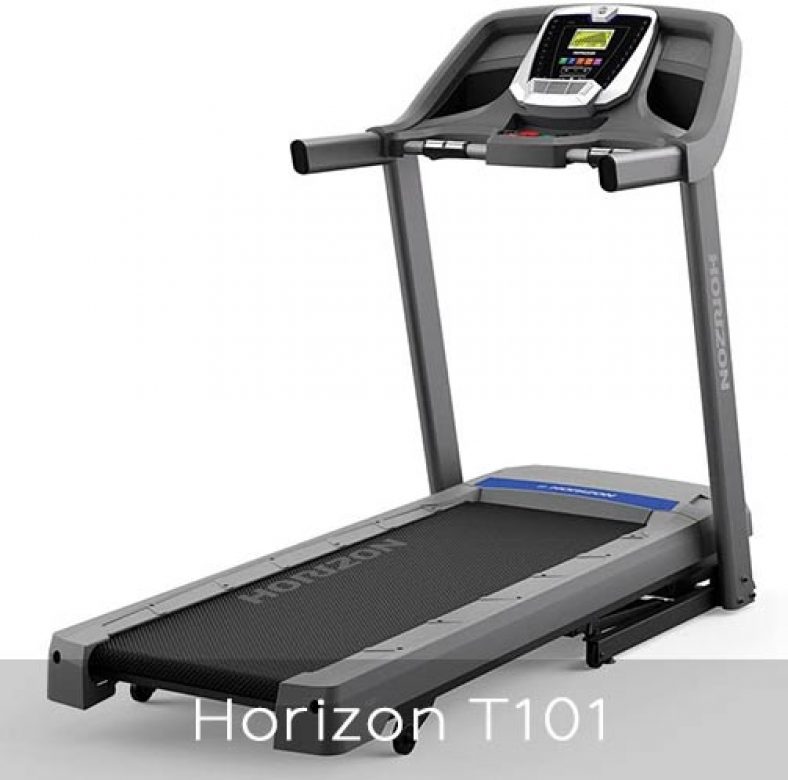 If you're debating between the 2 treadmills, you need to know the 3-zone cushioning system is present on both. This means both treadmills feel the same. There's room for considerable improvements in areas such as assembly simplicity. But once installed, the treadmill is reliable.
Slightly smaller (70″ x 34″ x 55″ assembled and 46″ x 34″ x 61″ when folded), the treadmill offers good reliability with space-saving advantages. Maybe it's better for those who also own other fitness equipment such as a workout bench and they don't have too much storage space. It may even be better for shorter users who don't need the largest treadmills to run on. But most choose it over the T202 for its lower price.
Calories, distance, and other workout feedback
Even if it's smaller, the treadmill still tracks calories and running distance. You can view this data in real-time on the small built-in backlit LED display. You may also download it to your running app to analyze later on.
With an adjustable incline from 0 to 12%, the treadmill offers varying resistance. You may count on it for enhanced weight loss efforts or you may use these levels to mimic hiking, walking, and running.
You can use various incline levels to increase the heart rate faster. This allows you to focus on short and intense workouts, with weight loss benefits. Walking or running uphill also builds cardiovascular endurance playing its role in a better overall fitness level.
Regardless of the incline angle, the treadmill is ready to compete with top treadmills as most also offer similar 0-12% incline.
Horizon T202 vs Horizon T101 – speed makes the difference
You can look at treadmills from different perspectives. You can consider entertainment options such as built-in speakers. But in the end, it's the basics which matter for the runner. This is where running speed separates these treadmills.
The speed range of the T202 is 0.5 to 12mph. The speed range on the T101 is 0.5 to 10mph. This might seem like a small difference on paper. But various user reviews show how the T202 is considerably better when running at a fast pace.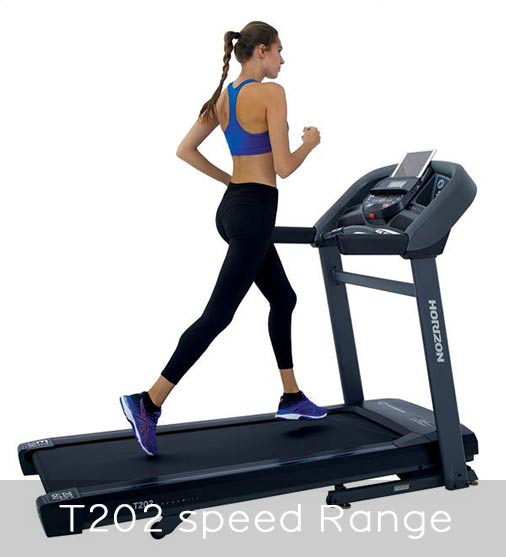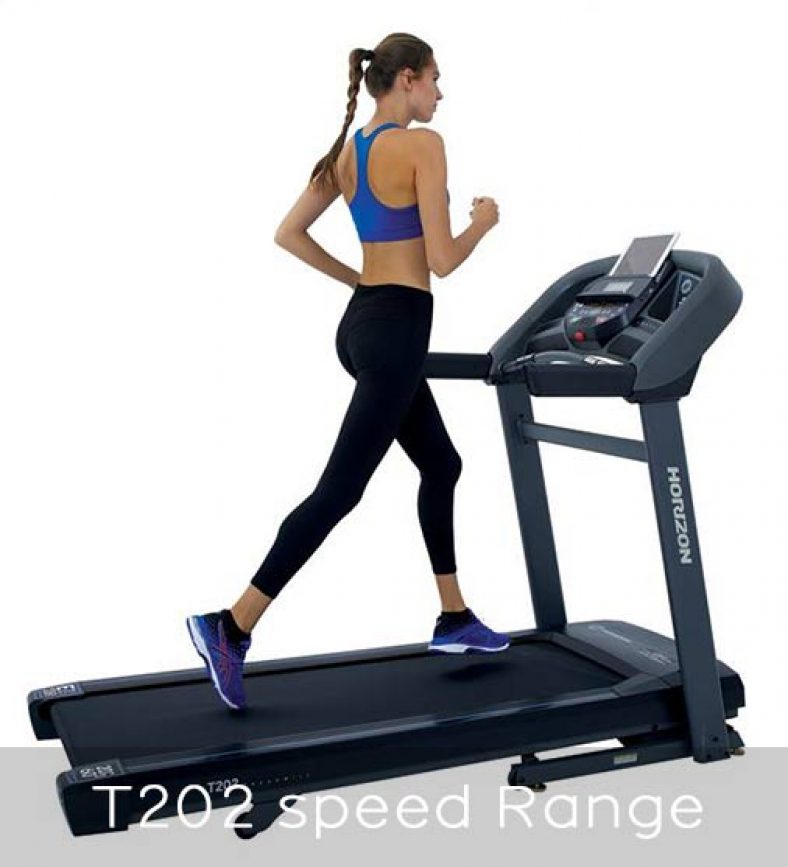 Those interested in running performance can't downgrade to a 10mph maximum treadmill from Horizon or other manufacturers. Users who are not specifically interested in running performance or the maximum speed can also consider the T101 as it offers incline resistance with a similar performance, but not the fastest speed on a perfectly flat deck.
A few words on the warrantye
Largely hidden behind flashy features, the impressive Horizon warranty is worth having a look at. With full lifetime frame and motor warranty, these treadmills are the ultimate at-home fitness machines. Offering peace of mind to those interested in long-term health and fitness, the 2 treadmills are rarities in the world of home workouts.
Compared to other treadmills
There are many fitness machines to stay in shape. Treadmills are just one example of workout machines to be used away from the gym.
Xterra's treadmill also comes with a 50" treadmill which makes it similar to the T101. But it only features 3 incline settings which are a bit more limiting than on Horizon's treadmill.
Usability is also inferior to the affordable Horizon treadmills. For example, its digital display is not backlit which considerably limits its visibility when running in the evening.
Final considerations and verdict
Both the T202 and the T101 Horizon treadmills are made for the ultimate home workout. They aren't as complex as the Elite Series Horizon treadmills with their 3.25 CHP motors, but they are real performers on a budget.
Both treadmills are covered by a lifetime warranty which means they are made with durable materials. The folding design also makes them a bit more versatile than other affordable home treadmills.
Going back to the question at the beginning of the article, the T202 is very good for daily running. Apart from its tangible benefits, it also tracks daily running progress with its Horizon app. While it's affordable, it doesn't give the impression users miss out on much when compared to others, which makes it a solid blind buy for those ordering it online.
As an alternative, the T101 treadmill can be a bit more affordable. It offers the same appreciated 3-zone running deck. Most importantly, it can be part of a wider fitness equipment purchase plan. Since the number of home, runners is on the rise and since the treadmill can be purchased together with other fitness equipment at the same time, the T101 can be a bit more affordable when building a garage gym or a home gym from scratch.