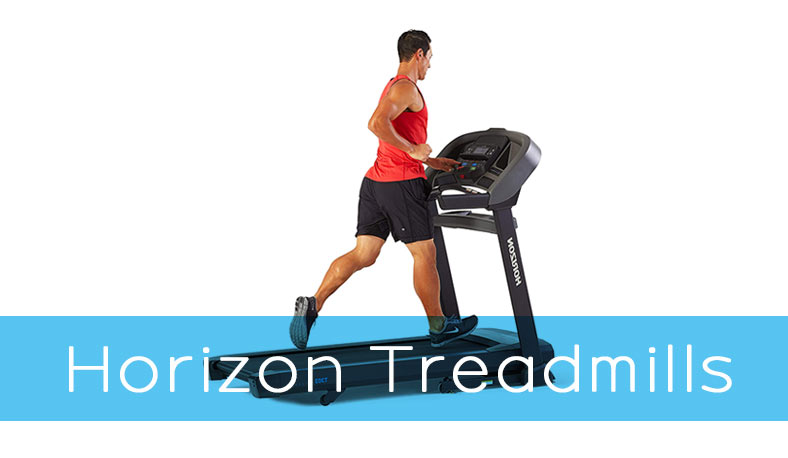 Horizon Fitness is a reputable, award-winning fitness company with highly rated equipment. If you're looking to start building a home gym and you've done some research on fitness brands, then you've probably seen Horizon on the web. Now, when getting a home gym together, people do a lot of different things based on their different fitness goals. One thing universally helpful thing is to have a solid, reliable treadmill to help you build up your cardio.
Having a treadmill in your at-home gym space can either be a great starting point to losing weight, or it can be a tool that adds extra intensity to your strength-building and body-toning goals. So, if you've already decided to go with Horizon for a treadmill, you're left with three basic options to choose from. You can either get their T101 model, their T202, or their T303. There are plenty of costs and benefits to each model, and while they have many similarities, there are bonus features to each that can help you decide on where to start.
Before You Examine H1/H2/H3, Decide What You Can Accommodate
When you set aside a part of your house to work out in, you must consider three things.
First, figure out how much equipment that part of the house can hold. You don't want to get a treadmill that takes up your whole room, especially if you're trying to squeeze in a Bowflex machine or some other big piece of equipment.
Second, you want to take your budget into account.
And third, you need to know what your goals are.
Those factors, when taken together, will be crucial in deciding which Horizon treadmill you want, as they differ in price, in running deck size, and in the amount of incline and speed available.
Main Review Of The T101, T202 and T303 Models
In comparing these three treadmills, we'll be looking at several key features, such as size, price, accessories, maintenance, and other properties. You'll then get a list of pros and cons for each treadmill model, and a description of what circumstances would make those models ideal for you. In the end, you'll get our final decision on which one of these treadmills stands out the most.
Each of the treadmills, whether it's the T101, T202, or T303, will have a 1.4mm belt and a roller size of 46mm/42mm. However, while both the T202 and T303 feature a running area of 20″x60″, the T101 has a smaller running area of 20″x55″. The assembled dimensions of the H2 and H3 are 75″x34″x58″, while the assembled dimensions of the H1 are 70″x34″x58″. The folded dimensions of the H1 are 46″x34″x61″, with the H2/H3 measuring at 47″x34″x65″.


The shorter dimensions of the H1 model make it a good option if your goal is to keep up a good paced walk, or a moderate jog. It's also very easy to store, and the fact that it can be easily folded makes this even more so the case. However, the H2/H3 dimensions and deck size allow for a more convenient running space. While they are a little bulkier than the H1, they are also capable of being folded easily to conserve space.
One of the most significant differences between each of these three treadmills is the accessories each model offers. In this, the H3 definitely has the most to offer, exclusively featuring an accessory tray, multiposition tablet holders, and custom interval keys. H1/H2 offers identical accessories, which include audio in/out jack, Bluetooth speakers, energy saver mode, fan, tablet racks, and water bottle holders. All of these treadmills feature the audio jacks, Bluetooth speakers, and energy saver modes.
All of these accessories allow you extra convenience during your workout. You can listen to music through the speakers or through the headphone jack, which provides you the freedom of not having to keep your phone on your person. You're also free to quickly change the speed or incline of your treadmill, allowing you variation for your workout. And, of course, you can hydrate efficiently, thanks to the addition of the water bottle holder.
However, while the H1 and H2 offer plenty of conveniences, the H3 model allows for a much more engaging experience through custom interval keys and multiple position tablet holders. If you happen to be following along with a class or a video workout, you will be able to place your phone or tablet at any convenient angle to follow along while also being free to continue working out with ease. This feature is definitely an advantage to choosing the H3 over the H1/H2.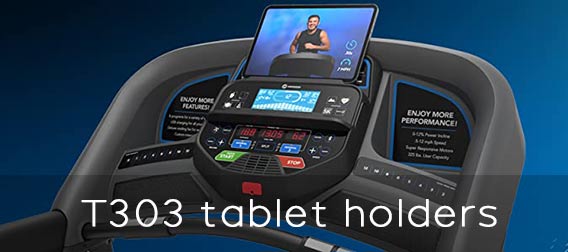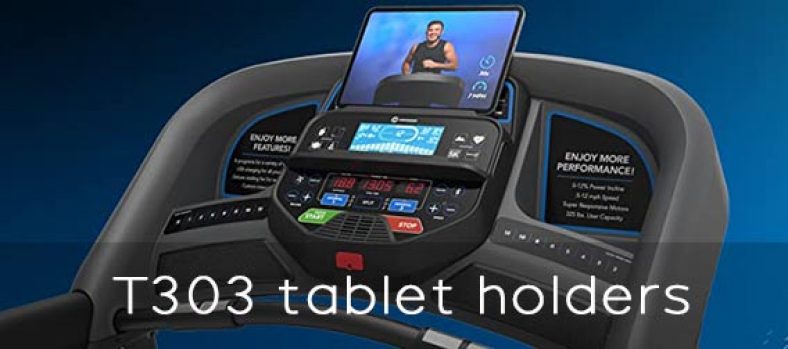 Maintenance and Assembly for HT101 and H2/3
All three treadmills come assembled in a box, which is set on your porch, garage, main entrance, or driveway by a two-person team. You should not take apart the treadmill to carry it more easily, as there are wires that run through the right mast, connecting to the speakers and other functional parts of the machine. Instead, it is recommended that you and one other person carry the box where it needs to go; if going up or downstairs, do your best to slide it along the stairs.
The frame, motor, and design of these treadmills make for very little necessary maintenance. The frame and belt are all very sturdy, and the motor, in particular, is well designed so that, unlike other machines on the market, it does not require any fans to be on it. Instead, due to Johnson Fitness's designs, the entire treadmill is built as one unit in such a way that the motor is protected. For more information on this, watch treadmill-elliptical-reviews' video review of the T101 here.
Speed and Incline Variations Between the T101 and H2/H3
There are variations in the three treadmill models' ranges, both when it comes to speed and incline range. The H1 offers a speed range from 0.5-10mph, while H2/H3 provides a range of 0.5-12mph. The same is true of their incline, with the H1 providing a range of 0-10% incline. The H2/H3 models, however, offer an incline range of 0-12%.
While this is not a particularly drastic range difference, it does point to the fact that the H2/H3 models are designed for more intensive workouts than the H1 model. However, this does not mean that the H1 cannot be used for that kind of exercise. It just means that there are more limitations on it than there are for the other models.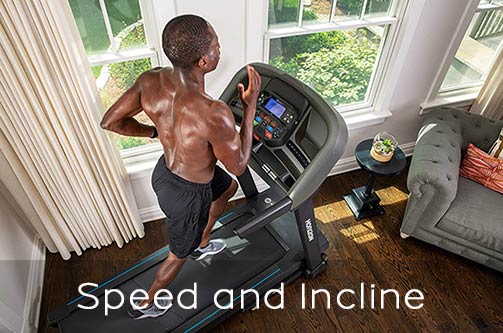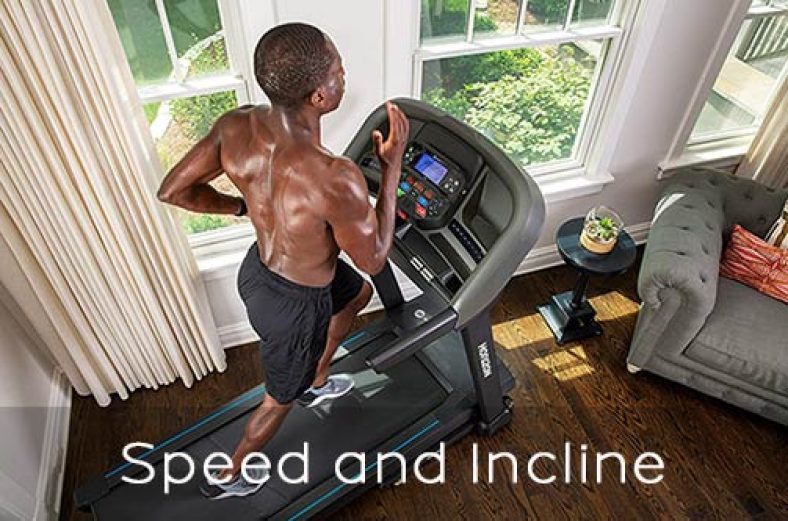 Regardless of which treadmill you purchase, it should be noted that you'll get the same level of cushioning in each. Each of the Horizon treadmills hosts 3-Zone Variable Response Cushioning so that whether you walk, jog, or run, you will be well-supported. The three do not, however, have the same type of motor. The H1 model has a 2.5 Continuous Horsepower Motor, the H2 a 2.75 Continuous Horsepower Motor, and the H3 a 3.00 Continuous Horsepower Motor.
Additional Information On H1/H2/H3
The H1 model is the one to win the most awards, boasting four: The Award BestBuy Treadmill Reviews.Net, FitProf BestBuy, Treadmill Doctor Best Buy Award, and the BestBuy Treadmill Treadmill Talk. The H2 has won no awards. The H3 has won a single award from FitProf Best Buy.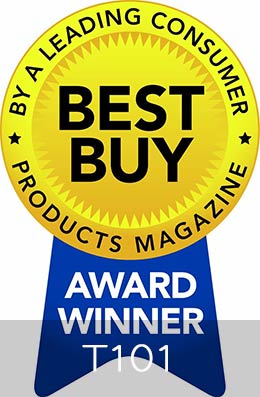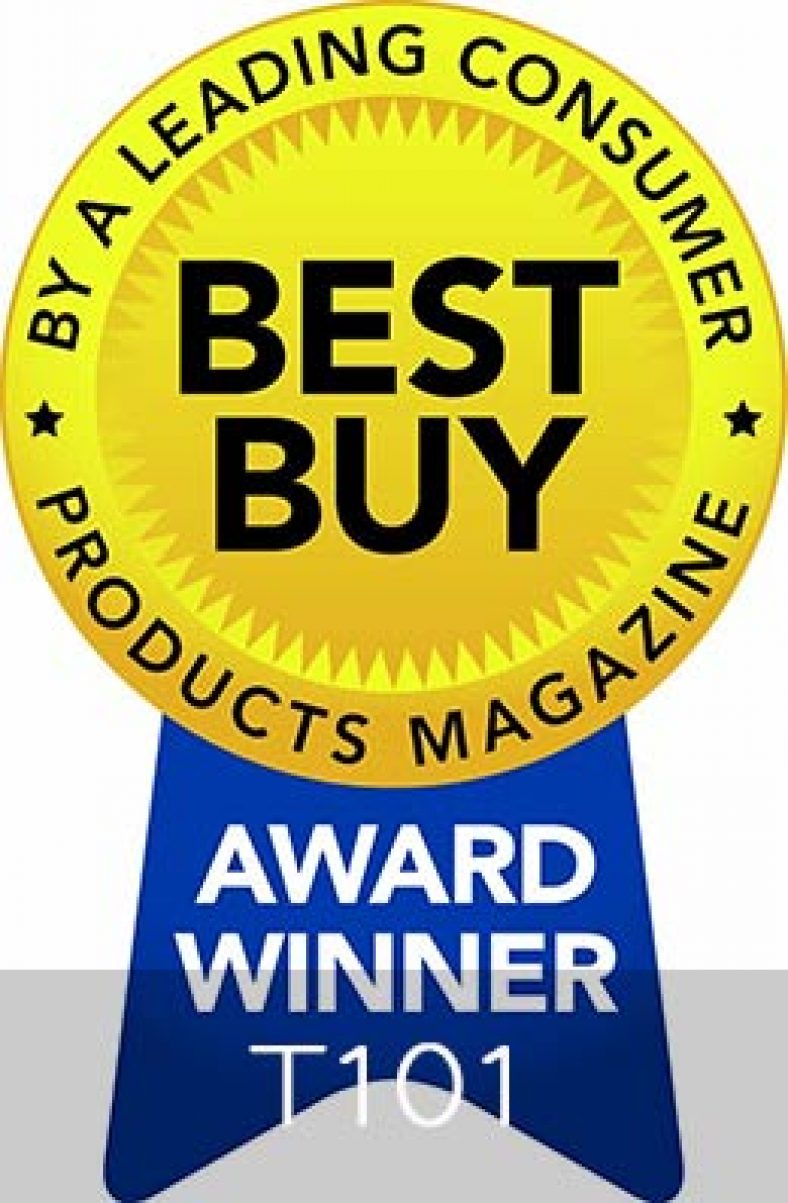 Pros and Cons of the H1/H2/H3 Models
| Pros | Cons |
| --- | --- |
| More compact and easy to store | Weaker display with only three LED |
| Same level cushioning as H2/H3 | Smaller deck, making running a little more difficult |
| The motor allows for consistent speed and quieter footfall | The weakest motor of the three models |
| It has enough accessories to allow you to work out with ample storage space. | |
| Has the lowest price, currently on sale for $599 | |
| Pros | Cons |
| --- | --- |
| Has the same number of accessories as the H1 | More expensive than H1, with a sales price of $799. |
| The motor is a 2.75, and also allows for consistent speed and quiet footfall. Bulkier than the H1 model. | |
| The display interface is more varied, with three LED Windows, an LCD backlit screen, and a free phone/tablet sports app that interfaces with the machine. | |
| Still able to be conveniently stored. | |
| The deck is longer than H1, allowing a more convenient running room. | |
| Pros | Cons |
| --- | --- |
| Offers the best motor of the three, with a 3.0 | Most expensive of the models, costing $999 on current sale |
| The longest home warranty on parts: 3 years compared to 1 year for H1/H2 | |
| Offers the most accessories of the three models | |
| Features the most advanced display, workout feedback, and programs of the three | |
| The extended running area makes for a more convenient running space. | |
Similar Products On The Market
Obviously, there are several fitness companies in the world, not just Horizon. Because of that, we want to mention a few other products on the market that may catch your attention. In particular, there are two other such products to mention: Sole treadmills and Nordictrack treadmills.
The Sole F63 Treadmill is one of the most highly rated treadmills on the market. It has a heavy-duty steel frame that's built to last for life. Furthermore, like the Horizon models, it has a powerful motor that allows for smooth and quiet use. On its current sale price, this treadmill costs $999. The treadmill can be purchased here.
No products found.
The Nordictrack Commercial X32i is a high-level treadmill that features up to a 40% incline, easily the highest of all the others covered here. It also has a 32-inch interactive touchscreen with HD quality. Lastly, it runs on a SMART response motor. However, it is easily the most expensive of all the models that are featured here, costing $3,999.
MoonRun Portable Cardio Trainer
Not all running requires a treadmill. Alternative running equipment includes MoonRun's Portable Cardio Trainer. Based on suspended elastic bands, the system allows you to run on the spot and even jump around. Its secondary advantages include the capacity to join online training classes guided by seasoned personal trainers as well as a unique fun training method.
If you're tired of the same running drills on the treadmill, the Portable Cardio Trainer from MoonRun can offer a fun alternative.
---
Which Is Best Of The Models?
While all of the models presented above could probably fulfill your fitness needs well, the Horizon T202 model seems to be the best bet. While it is true that the H1 is cheapest, and the H3 has the most special features, the H2 is a perfect balancing act between the two. You can purchase it without breaking the bank, it offers many of the same features as the H3, and it still has some advancements over the H1 model. Moreover, it is also much cheaper and more universally usable when compared to the Sole F63 treadmill and the Nordictrack Commercial X32i.