These days, it's commonplace to hear people say stuff like, "I don't have time." Does the phrase sound familiar to you as well?
That's because people say it for a lot of different reasons, and according to research results, it tops the chart of reasons people give for not exercising. Yes, a traditional workout session can take time; that's why there are several workout routines and schedules you can do at the comfort of your home and in a short time. An example of such a workout routine is the Focus T25 Workout Schedule.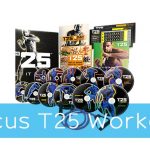 What is the Focus T25 Workout Schedule? Does it truly work? How do you get it?
We attempt to provide answers to these and some other questions you might have concerning the Focus T25 Workout Schedule in this guide. Read on to know what we found.
What is the Focus T25 Workout Schedule?
The Focus T25 Workout Schedule is a breakthrough in-home fitness program designed by super trainer Shun T;
For those who don't have plenty of time left out of the day to workout–if you have 20 to 30 minutes daily to spare, then the Focus T25 Workout Schedule is for you.
To deliver the result of a one-hour workout session in less than that amount of time
For those who care about the insane result and can consistently dedicate a small amount of their time to getting it
For those who can go in and get the workout done in a short time of about 25 minutes
To provide high-intensity cardio, core training, and strength training. in other words, you get it all in 25 minutes using a little space
To use focus interval training to deliver the result you want. It's a sequence of moves without rest that focus on one muscle at a time.
A lot of people think the longer the workout session, the better the result. But that's not true! Check this video for a better understanding of the concept.
The Focus T25 Workout Schedule Source
So, a 20 to 30 minutes intense workout session has done consistently over a given amount of time is more efficient and burns fat than 60 minutes of exercise; Shun got to work. He spent a year developing the Focus T25 Workout Schedule and created hundreds of new moves doing experiments with sequences using trial and error. In the end, he perfected the ultimate time-saving workout schedule.
Today, we have a focus interval training schedule that delivers the workout result you want in only about 25 minutes, 5days a week, and ten weeks of consistency. Everything is recorded for you to follow, and you can do it within the comfort of your home.
Focus T25 Workout Schedule Amazing Effects and Success Stories
T25's results are there, you can see it for yourself, and there are several success stories to tell about it. The summary of it all is that the Focus T25 Workout Schedule works!
That's because the T25 program is a form of focus interval training. It combines several workout moves and routines that focus on one muscle simultaneously—sequencing from one move to another without rest. You may begin focusing on your Glutes and then move on to the Core, Back, Quads, Biceps, Triceps, Oblique, Lower Abs, etc., and other body muscles as the program directs. In other words, the T25 gives a full attack on the body without any rest!
Check out this video to watch what people are saying about the T25 program? The truth is, anyone can do 25 minutes!
Workout Stages in the Focus T25 Program
No doubt that the T25 program is a fast approach to workout, but you can't also move from fat to fit overnight; you'll have to go through stages and phases. The program is divided into three stages, namely;
T25 Alpha Schedule
T25 Beta Schedule
T25 Gamma Schedule (optional)
Each of these stages is designed to achieve different workout results. When you follow the routine described in the calendar and the video diligently, T25 promises to take you from point "where-you-are" to "where-you-want-to-be" in no time. Watch this unboxing video to get an idea of what's in the T25 program box.
T25 Alpha Schedule
The alpha schedule is the stage you go through for the first five weeks of the program. The schedule involves five workouts, which include;
Cardio workout
Speed 1.0
Abs Interval
Lower Focus
Total Body Circuit
The Alpha Schedule is very easy to do, and anyone can embark upon is because it's not too intense. Check out a testimonial from someone who went through the schedule here.
T25 Alpha Schedule Calendar
The Alpha phase would last for five weeks. So in the Alpha schedule, you will find five days of workouts in the week. The sixth day, which can fall on a Saturday, is referred to as the "Saturday." It's a day for taking statistics. So, that day is used for taking measurements and tracking your progress.
The seventh day is typically used for stretching and getting yourself prepared for the next round of the 5-day routine. According to the calendar, the workout switches days every week, so you might do the Speed 1.0 on day one, and week one, but it's combined with AB intervals on day five-week or four.
Check out a user of the Alpha schedule going through her day one workout routine in this video.
Download T25 Alpha Schedule Calendar HD PDF
Would you like to have a copy of the T25 Alpha Schedule? Then you'll have to download a copy. To download;
Visit this website and check the calendar preview
By the left-hand side of your screen, you'll find the download button
Click on Download, and you will be taken to another page where you'll confirm your identity.
Click on the box provided to indicate you're not a robot
Then right-click on the icon that says "Download to your local"
Go to your download folder to access the PDF
That's it!
T25 Beta Schedule
T25 Beta Schedule is the second phase of the program. It also consists of five workout routines such as;
T25 Core Cardio
Dynamic Core
RIP't Circuit
Speed 2.0
Upper Focus
The primary focus of the T25 Beta Schedule is your core. Therefore, you'll be kicking up your cardio, focusing on your upper body, increasing your speed, and concentrating on defining those muscles.
T25 Beta Schedule Calendar
The T25 Beta Schedule Calendar follows the same pattern as that of the T25 Alpha Schedule Calendar—you'll work out for five days, take statistics on the sixth, and stretch on the seventh.
The Alpha's workout content is different from that of the Beta schedule, and it also changes from week to week. So, you could be doing Speed 2.0 on the second day of week one, but you won't do it again until the third day of week two. Like that, the routines are scattered across the days of the week and throughout the five weeks.
Download T25 Beta Schedule Calendar HD PDF
The T25 Beta Schedule Calendar download format is the same as that of the Alpha schedule listed above. If you downloaded the PDF as directed above, you'd discover that you have it all. That's because the PDF contains the calendar for all the T25 phases. You might only need to print it out separately.
T25 Gamma Schedule (Optional)
T25 Gamma is a follow-up schedule on the previous two schedules. The Alpha and Beta schedules are the main workout schedule, but you can also get the Gamma schedule to work out your body in a different dimension.
So, if you're looking to get a great workout routine to give your body great shape, you should follow the T255 Gamma schedule. It will work your muscles and make you slim down to more unwanted weight.
The T25 Gamma Schedule consists of workouts like;
The Pyramid
Rip's up
Extreme Circuit
Speed 3.0 workout
The schedule, because it's a step higher than the other T25 schedule, requires some props. So, the routine may have you carry dumbbells, using a resistance mat, and several other pieces of equipment as the routine demands.
T25 Gamma Schedule Calendar
If you choose to opt for the T25 Gamma package, you've subscribed to an eight-week-long workout. You're going to invest 25 minutes a day, and at the end of the Gamma schedule, you're going to be feeling great. It's high-intensity cardio PLUS strength training.
The Gamma package comes with two schedules: "Pure Gamma" and "Pure Strength Hybrid." You can do one of the schedules, or you choose to do both.
Download T25 Gamma Schedule Calendar HD PDF
Go back to the "Download T25 Alpha Schedule Calendar HD PDF" above and follow the instructions to download the entire T25 Workout Schedule. The Gamma schedule calendar is also inclusive.
Focus T25 vs. Insanity Max 30
Focus T25 and Insanity Max 30 are both created by the same person; therefore, you can expect some similarities. For example, both workout schedules come with a great diet plan to complement your workout routines and provide a great experience. Also, you don't need any equipment for the programs.
However, Shaun T releasing a different version of the workout routine tells that each one has different goals to achieve. These differences are the cause of the contention and why it might be challenging to determine which of the two products is the best.
Check out some of the differences we found below. You can also watch this video for a more detailed comparison.
| Focus T25 Workout | Insanity Max 30 |
| --- | --- |
| You'll need to invest 25 minutes a day. | You require 30 minutes daily. |
| The workout schedule covers 70 days in total. | The workout schedule covers 60 days in total. |
| You'll have five days of workouts in the week. The sixth day is to measure and take note of how you're progressing, while the last day is for stretching and resting. | You'll work out five days in the week, one day for stretching and the last day for proper rest. |
| The fifth day of T25 demands a double workout session, which means you'll do two workouts. | Insanity has none of such. |
| It gives room for mediocrity–you can either choose the "Nailed it" or "Barely made it" options available on the calendar. | The concept behind Max 30 is to max out. The goal is to go hard! |
| Recommends a simple meal of only about five ingredients each. | It has a great meal plan for a balanced diet. |
Both the T25 Schedule and Intensity Max are relaxed. So, if you are a beginner, you should start the journey of getting yourself in shape with the T25 workout schedule. That's because the T25 is more comfortable and gentle enough for a beginner. When you complete the T25, you can then shift the gear to Insanity Max 30. It's more hardcore than the T25. So, the journey for you will be like scaling from small to big!
In Summary
The T25 workout schedule is not garbage as some people will want you to believe. Those who are traditional about workouts will want you to get a gym membership and get things done. While that's a great option, the T25 Workout schedule is undoubtedly another way to get the result you want.
If you stay committed to it—following the calendar, eating accordingly, etc., you'll get where you want to be in no time!