Fitness smartwatches are a tech-friendly means of tracking exercise routines and keeping users motivated, no matter if you are a weekend warrior or you enjoy walking around your neighborhood.
"Wearable tech" can help wearers meet and exceed health and performance goals, but in an on-demand marketplace, fitness smartwatches offer far more than just mileage tracking and heart rate readouts.
GPS capability, real-time information and updates, and more sophisticated and accurate heart monitors provide you with a more accurate assessment of your workout and fitness levels.
Today's market is flooded with a variety of fitness watches, ranging from the simple step counters to wearable tech with higher functions and internet access. It can be confusing to determine which piece of wearable tech is right for you and your exercise level.
Our buying guide can help you find the proper fitness smartwatch to achieve and surpass your performance goals, whether that goal is a marathon or building up your endurance to walk many miles at once.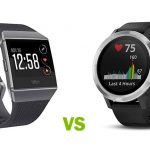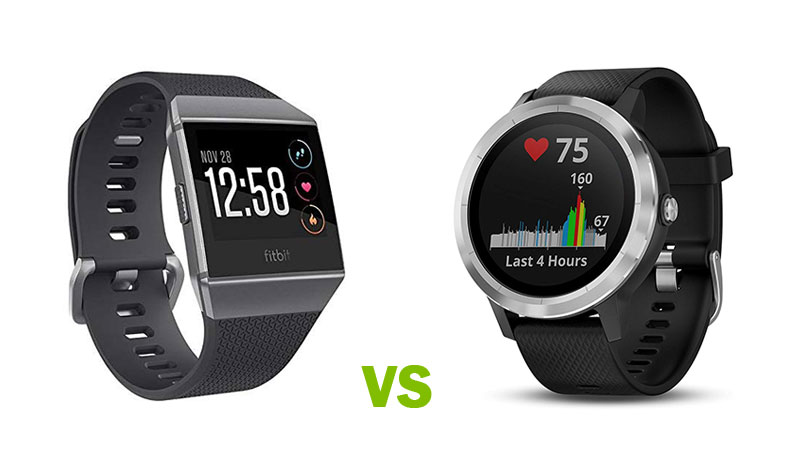 The Fitbit Ionic GPS Smartwatch and the Garmin Vivoactive 3 GPS Smartwatch are the two pieces of wearable tech that this guide will examine.


Since the company was founded in 2007, Fitbit has been at the forefront of a movement using sensors and technology with wearable products to improve exercise performance and personal health. In particular, Fitbit focuses on creating fitness technology that fits easily into consumers' lives so users can achieve their fitness and performance goals no matter where they are.


Garmin works to create technologically enhanced fitness gear that moves with the user during any exercise. With wearable tech for fitness markets, including water, auto, and air, Garmin has long been recognized as a prime mover in fitness wearables. With top-notch GPS navigation in its products, Garmin continues to strive to help consumers live life with passion.
Features to Look for in a Fitness Watch
While there are many fitness smartwatches out there, not all offer the same value to a buyer. Smartwatches have changed and improved significantly, and many offer options that even five years ago seemed impossible to imagine. Whether you want a smartwatch that offers the basics or you want one with all the bells and whistles,  you want to make sure the watch offers the features you need so you don't have to upgrade anytime soon. These are the five standard features you want to have in a fitness watch.
Comfort and Design

When you are in the middle of a 5K or hiking up a rocky path, you want your wearable tech to be comfortable to wear and to stay in place. Bulky and awkward watches take the enjoyment out of your exercise and are less likely to be used. Most fitness watches track your number of steps or your sleep habits, so comfort and design are of utmost importance for the wearer, especially if you choose to use your smartwatch for more than just your workouts.

Computer or Smartphone Integration

Fitness smartwatches and other wearable tech capture the exercise and performance details you want during and after your workout. Unfortunately, the smaller screens on some watches make it difficult to read the recorded data. Watches that include smartphone or computer integration are capable of transferring workout data to an easier-to-read platform. Make sure you choose a fitness watch that is compatible with your computer or smartphone so you can make the most out of your fitness watch's abilities.

Accuracy

If you want a fitness watch that provides precision tracking and timing, look for a watch with GPS capabilities. Most fitness watches have a built-in accelerometer to detect and record your movements, and some have gyroscopes and altimeters to give more precise, in-depth reports on performance and activity levels. Not all watches are created equal; therefore, you may get different results if you wear two different fitness watches while exercising.

Durability

A fitness smartwatch worth its price will be one that is built to endure and last through all types of exercise and performance. If your activity is cycling around the neighborhood or walking on a treadmill, you are unlikely to need waterproof wearable tech. Other watches offer coverage for specific exercises and sporting events, such as swimming. Regardless of the purpose, all fitness watches should have durability, but how much will depend on what types of fitness you are doing while you're wearing it.

Tracking Modes

Your wearable tech should offer you much more than just the basics of simple activity monitoring. Most fitness watches now include heart rate monitors to ensure you are working within the correct heart rate for your chosen exercise. The exact range will maximize the benefits of your workout. Additionally, many watches also have sleep trackers to help you study and learn from your sleep habits. These reports often provide information on how well and how many hours you sleep at night, and the trackers can indicate when you are suffering from poor sleep or insomnia.
If you are looking for a practical and affordable way to track your fitness and motivate you to achieve your health goals, consider purchasing a fitness watch that matches your lifestyle and fitness level.
You may also like:
Fitbit Ionic GPS Smartwatch
The Fitbit Ionic GPS Smartwatch packs a ton of amenities into a sleek frame with an enlarged and easy-to-read screen. This fitness watch offers precision GPS and heart-rate monitor technologies, as well as access to apps, the ability to store and play music, and multi-sport features with on-the-go personal coaching. Throw in extended battery life and a reasonable retail price, and it's hard to go wrong with the Fitbit Ionic GPS Smartwatch.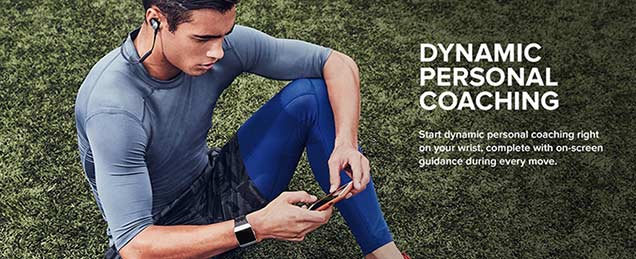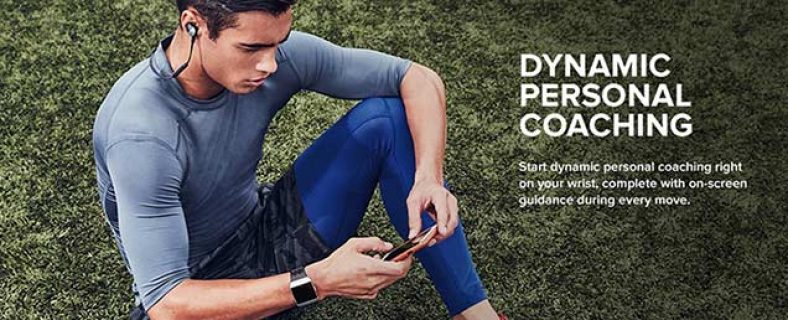 Pros
The unique body surrounding the watch face
Comfortable and lightweight watch face and band
Rich, bright OLED panel display
Reasonable battery life
Speedy operating processor
Budget-friendly price
Cons
Android Wear is bloated with extra apps and software
Lacks NFC (Google pay)
For the fitness enthusiast who wants a watch that has it all, the Fitbit Ionic GPS Smartwatch provides the ultimate in wearable tech with lots of extras that set this watch ahead of most other models on the market. From GPS tracking to heart rate monitoring to a watch that is an extension of a smartphone, the Fitbit Ionic is the ideal fitness watch for consumers who want more than just a basic sports watch.
No products found.
Here are some of the top features of this model:
Built-in GPS
The built-in GPS/GLONASS capabilities allow users to track distance, routes, and pace. All of these components are displayed clearly on the watch face. Additional displays include elevation climbed, complete maps of your routes, and split times.
PurePulse heart rate technology
Using the PurePulse heart rate technology system, the Ionic's heart rate monitor offers more precise tracking for calories burned and intensity during workouts. The program also stores past workouts and heart rates for you to compare over time.
Multi-sport modes and Adidas personal coaching
No matter what type of exercise you're into, the Ionic has you covered. This fitness watch has multi-sport modes for Run and Bike, as well as other sports such as Swimming, and the SmartTrack program accurately tracks every second of your workout. Personal step-by-step coaching via Adidas is available through on-screen workouts.
Extensive battery life
The Ionic features a multi-day battery life of 4+ days, and the watch keeps continuous track of all your steps and workouts along the way.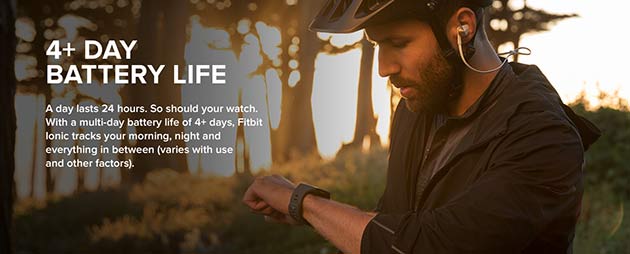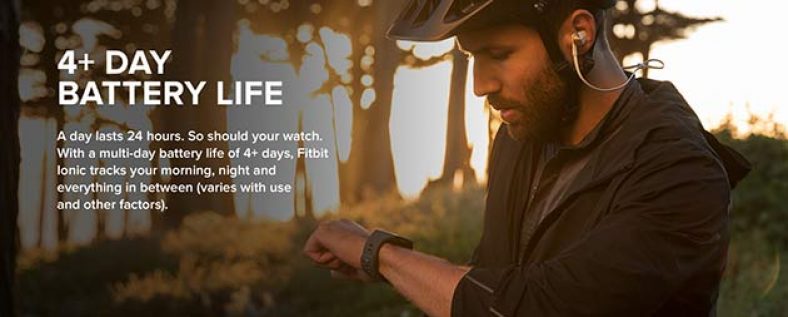 Store and play music
The Fitbit Ionic helps keep you motivated by allowing users to download 300+ songs to play while you workout. You can also download or create playlists from Pandora stations.
---
Garmin Vivoactive 3 GPS Smartwatch
The Garmin Vivoactive 3 GPS Smartwatch offers a more sports and performance-oriented fitness watch for users. With pre-loaded sports apps, a VO2 Max tracker for performance assessment, and built-in GPS, the Vivoactive 3 is every workout enthusiast's dream watch. Internet and smartphone-compatible, the Vivoactive will keep you in your social media loop but is truly designed for the athlete who is too focused on exercising to worry about incoming texts.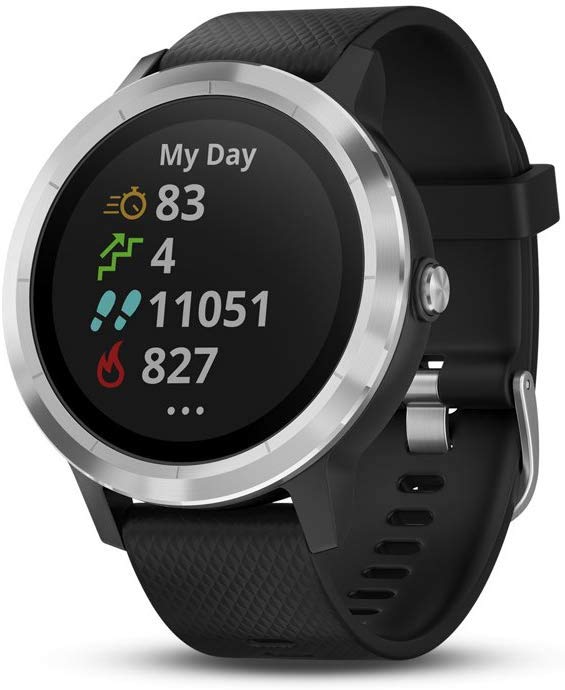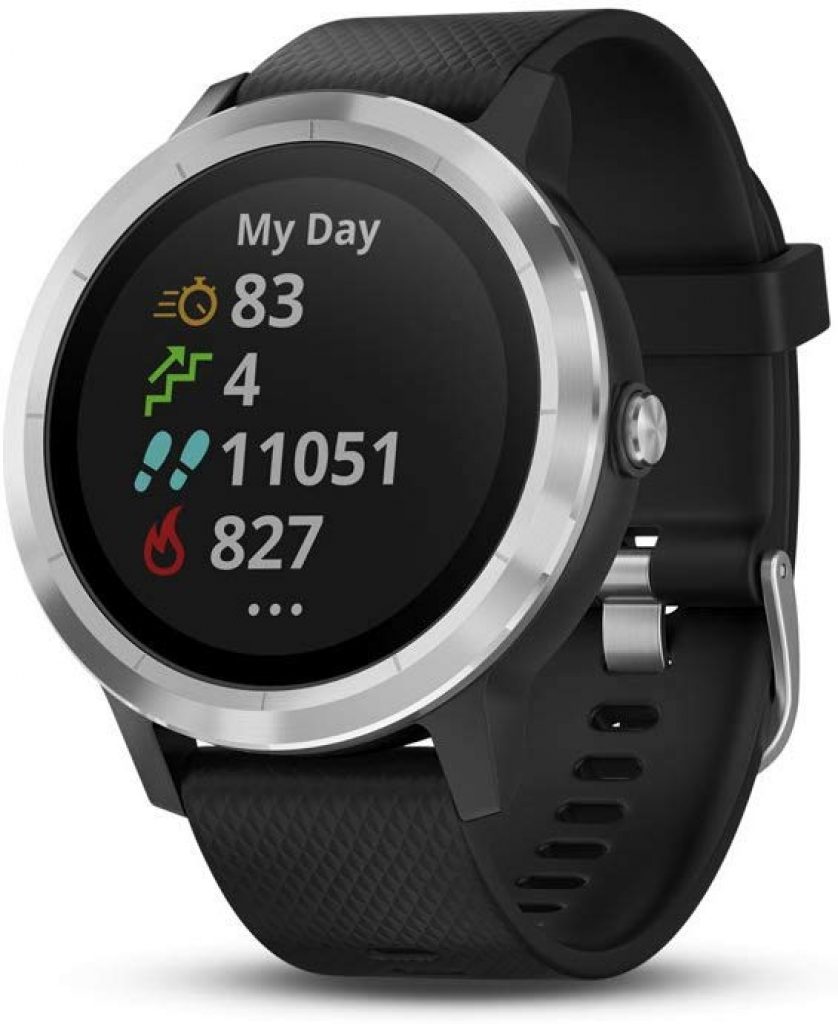 Pros
Built-in GPS technology
Download and create specialized workouts
Interface is waterproof
Chroma Display is readable even in direct sunlight
Contactless pay solutions
Personalized watch face
Pre-loaded sports apps
VO2 Max and stress level trackers
The long battery life of up to 7 days, or 13 hours using GPS
Ability to play music from personal downloads or through Spotify
Cons
Phone and text notifications affect the battery charge
Notification syncing problems may occur
No turn-by-turn voice features are available for GPS
The backlight is not particularly bright
For the serious runner, cyclist, or swimmer, the Garmin Vivoactive 3 is a great fitness watch to help you achieve your goals and get you across the finish line. With specific, precise tracking and reporting on everything from mileage to heart rate to VO2 Max and stress levels, the Vivoactive 3 will keep you on your game and improving with each workout.
These are some of the top features for this model:
Integrated GPS
With integrated GPS and precision tracking, the Garmin Vivoactive 3 will give you an accurate report for each workout you complete.
Convenient and customizable watch interface
The Vivoactive 3 has a customizable and interchangeable watch interface with thousands of faces, widgets, and apps to choose from. You can make this watch truly a reflection of you and your health goals.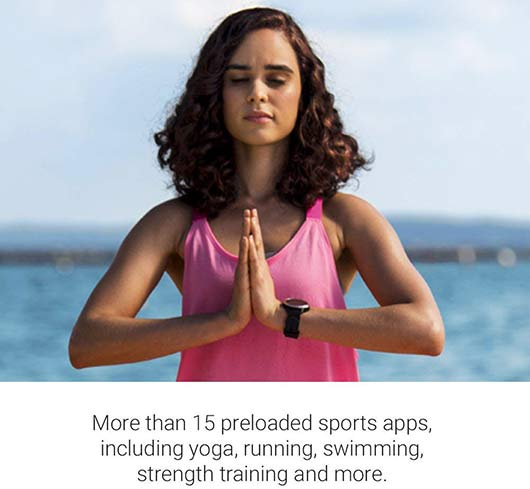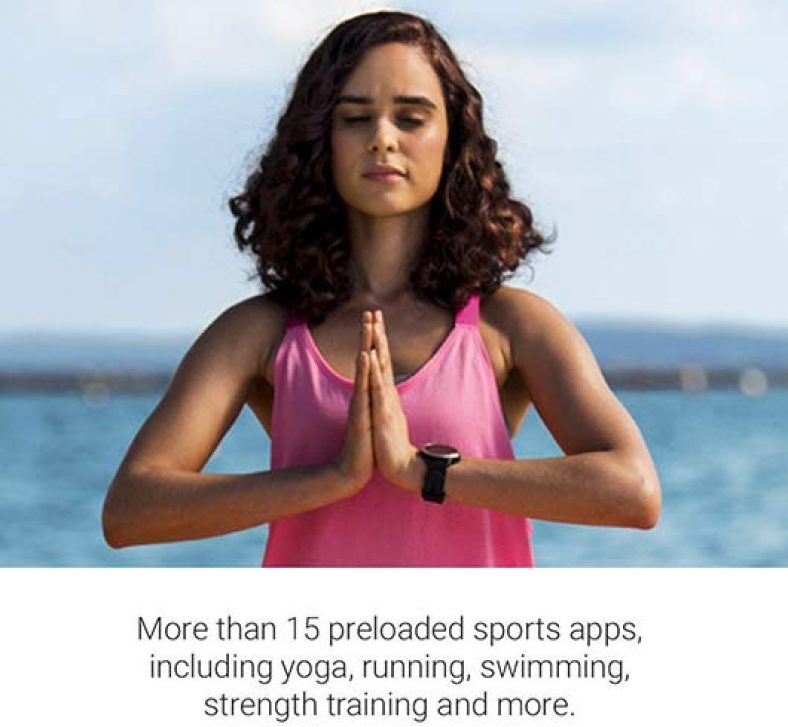 Wrist-based heart rate monitor
Using Elevate wrist-based technology, the Vivoactive 3 allows you to monitor all aspects of your fitness closely. This wearable tech lets you know whether you are training in the right heart rate zone, and also provides estimates of your stress levels and fitness age.
Contactless payments and preloaded sports apps
This Garmin watch is equipped with Pay Your Way so you can make and pay for purchases using the watch. You can use the Vivoactive anywhere you need to pay for something by tapping it where you would normally use a card to pay. This feature is highly convenient for users who don't want to carry cash or a wallet with them when they are exercising.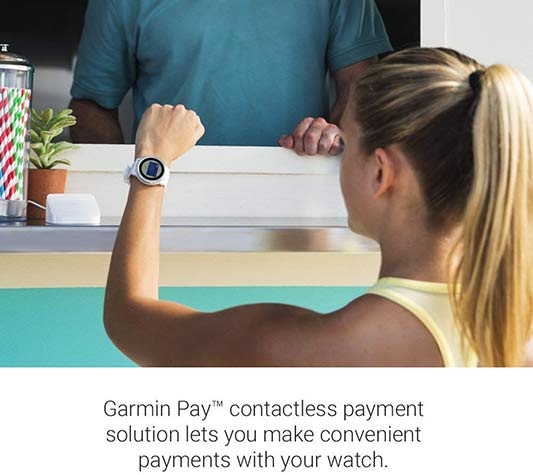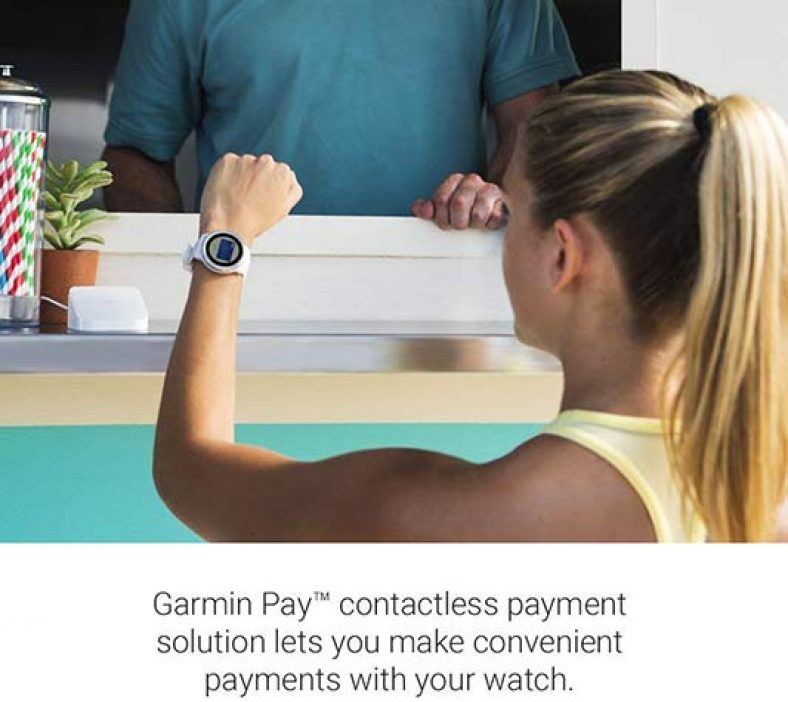 Smartphone compatible
The Vivoactive is smartphone compatible, and you can receive calls and texts on it. The watch is also linked to the Contact IQ store where you can download extra features for the watch face and apps.
Long battery life
In smartwatch mode, the Vivoactive 3 has a battery life of over 7 days. In GPS mode, it works for 13 hours, making it an ideal watch choice for ultramarathoners and hikers.
---
What's the Difference Between these Fitness Smartwatch Models?
Which model is better: the Fitbit Ionic GPS Smartwatch, or the Garmin Vivoactive 3 GPS Smartwatch? The answer depends on your primary purpose for using the watch.
If you are a more casual exerciser or want to use your fitness watch for more than just tracking mileage and monitoring your heart rate, the Ionic GPS Smartwatch offers sleep tracking and easy integration with your smartphone. With moderate battery life and the ability to receive calls, texts, notifications, and download music, the Fitbit Ionic is a smartwatch designed for the consumer who wants to use it for more than just exercise.
The Garmin Vivoactive 3 is a fitness watch better suited to competitive performers and hard-core exercisers. This watch offers many of the same features as the Ionic watch; however, it has far more precise GPS tracking features as well as more in-depth health monitoring, from heart rate to VO2 Max rate to stress levels and fitness age. The Vivoactive 3 has a built-in payment feature for on-the-go purchases and has a battery life of up to 13 hours using GPS and 7 hours just on watch mode.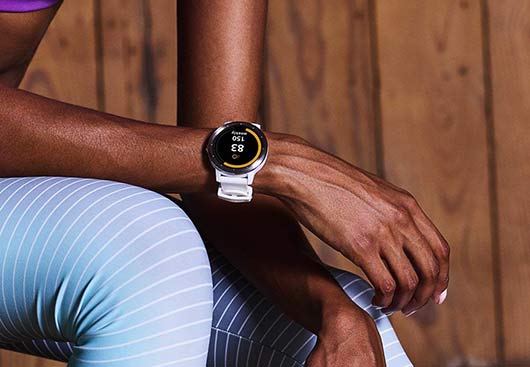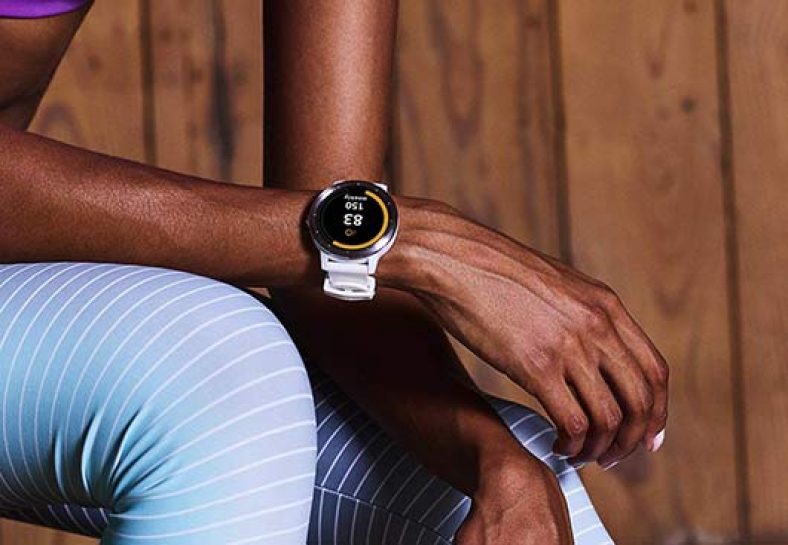 While both of these fitness smartwatches offer the standard features expected from wearable tech, they also offer features that go above and beyond the ordinary. For people who want more than just tracking from their devices, or for those individuals who are starting an exercise program, the Fitbit Ionic is a perfect smartwatch to get you up and moving. Veteran competitors or regular exercisers who want a more measured performance of their activity will want to look at the Garmin Vivoactive 3 to give them an added competitive edge.