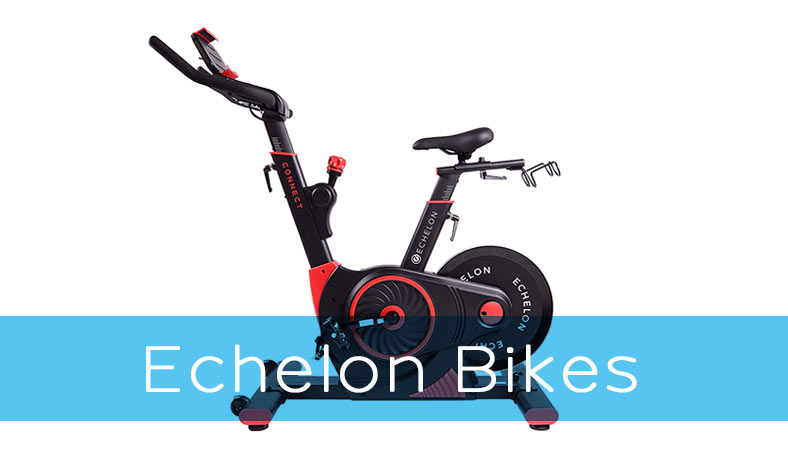 The competitive Echelon Bikes are made for home training. The EX1, EX-3, EX-5, and EX-5s bikes are now used for remote training and online cycling. While these bikes are similar, they have their characteristics which are detailed in this post.
Before deciding on the best Echelon bike to purchase, those into cycling should know they offer different characteristics. As a starting point, they're all SPD-compatible, for efficient cycling. The bikes also feature 4-way seat adjustability. But each of them also has different strengths.
The Echelon EX-1 bike is fully equipped to offer solid workouts for a vast range of users. Those just starting in the exercise bike world know many entry-level bikes simply don't rise to the expectations when it comes to adjustability. The EX-1 is different as it offers good adjustability, very similar to the features or characteristics of the EX-3.
32 resistance levels power the workouts on the bike. Even those who train frequently can consider these resistance levels to add workout variation and to cycle power cycling day with recovery cycling days. Most importantly, these resistance levels don't give the user the impression of missing out on features from commercial bikes seen at the gym.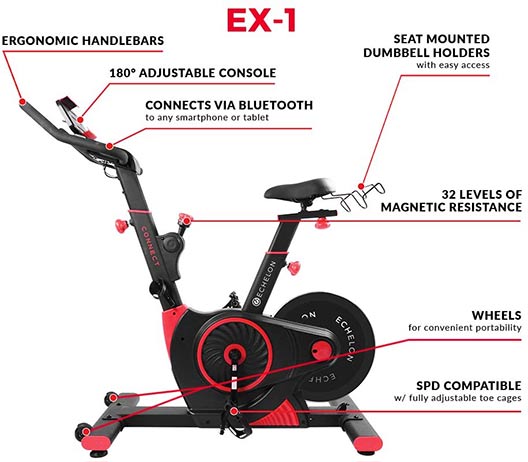 Bluetooth connectivity is also added to the bike. It comes as a top feature to transfer workout results to various cycling apps. Users who want to keep an eye on their personal best as well as on a range of other workout statistics such as the total weekly cycling time can rely on various apps and the Bluetooth compatibility to take a better look at the numbers.
An ergonomic handbrake is added to the bike as well. The feature allows users to quickly stop and get off the bike in case of an emergency. The function is not available on many competitor-made bikes.
Most importantly, there's good adjustability on the bike. The seat adjusts forwards and backward as well as up and down, just as seen on the bikes in spin classes. Even the central console is 180-degree adjustable. As a result, there's good adjustability to find the right cycling position.
Built-in wheels are added to the front of the bike. It allows the EX-1 to be moved around the house, in front of the TV, next to a window, or even outdoors for a workout scenario change.
Echelon EX-1 characteristics
3 x 11.2 x 35.3 inches dimensions
Compatible with on-demand classes
32 levels of magnetic resistance
No products found.
Ergonomic handlebars make the Echelon EX-3 easy to use for an hour or even more. Since it connects to the online Echelon training community, long cycling events which last a few hours are popular with this bike. These events are based on the right posture due to the right ergonomic handlebars design and high seat adjustability. But even in short rides, its ergonomics are something many applaud, especially coming from low-quality bikes.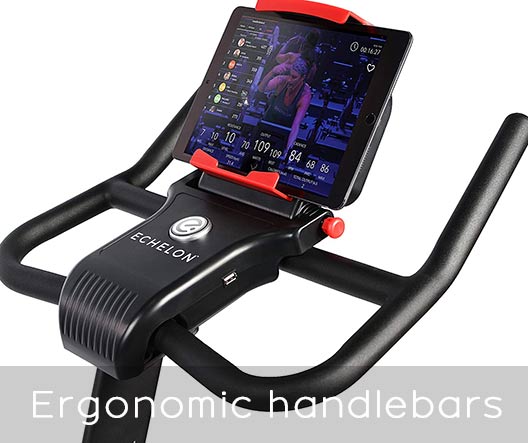 A large resistance knob makes the bike very versatile. Practically, there are endless resistance options the user can set according to personal preferences. With a simple knob turn, users can detect the type of resistance they encounter and those partaking in online Echelon classes can adjust their bikes according to the indications of the personal trainer.
An upgraded motor makes it a smoother ride compared to the EX-1 bike. Made for dedicated users more than the EX-1, the EX-3 comes as a suitable performer for those planning to ride at least a few times per week,
SPD compatible, the bike is ready to support proper cycling shoes. These shoes are not specifically expensive and they can be the right choice for users who want to ensure feet stay in the pedals even when simulating demanding climbs.
Echelon EX-3 characteristics
Available on black and red
44 x 12 x 33 inches dimensions
Compatible with the Echelon Fit app
Magnetic resistance powers this dedicated bike. It offers the right platform for those into cycling who need to stay in good shape and to those interested in performance workouts. Most users don't need all of its functions but dedicated cyclists require a bike that can resist intense daily cycling sessions. This is where the EX-5 and the EX-5s bikes stand out.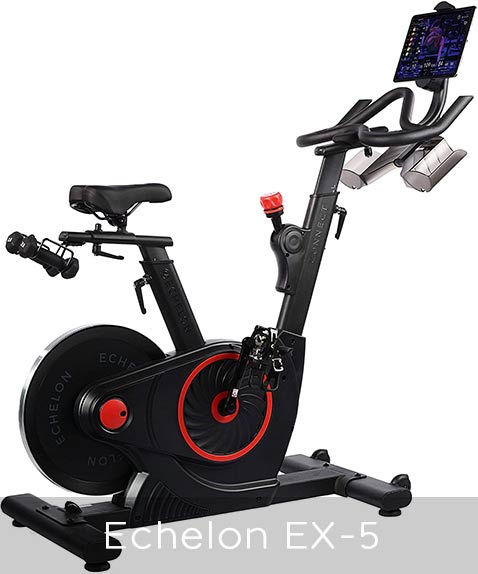 New aero bars make it similar to aero road bikes. Its multi-grip design is what attracts many users and for most, it's the right opportunity to get into cycling like a professional. The bars are used for different sections of the cycling rout such as climbs and descents. But the bars also ensure cyclists can find the best riding position without any discomfort or back pain.
A competition seat is added to the bike. With proper adjustability and a new handheld rack, the seat offers the support users of various heights need. At home, where multiple users can cycle on the bike, the seat is also easy to adjust with no tools.
An included tablet mount makes the bike ready for immersive online cycling classes. With more people training from home, it offers just the right profile for those interested in developing superior cardiovascular strength.
With 54.92 x 19.85 x 57.87 inches, the bike is a bit larger than its Echelon alternatives. 2 bottle holders make the bike a friendly design with a long workout. Hydration is key in sweaty cycling sessions and having access to 2 bottles of water covers even the longest online classes.
Echelon EX-5 characteristics
Made with aero handlebars
Heavy 13kg flywheel
SPD-compatible adjustable toe cages
A 21.5" FHD screen makes the EX-5s the right option for users solely looking to train online. With the help of Echelon trainers, the bike becomes part of a spin class even when cycling at home. The large screen trainers via the Echelon Fit app and full classes are available online. They come with varied training styles and they include basic pre-class and post-class stretching instructions.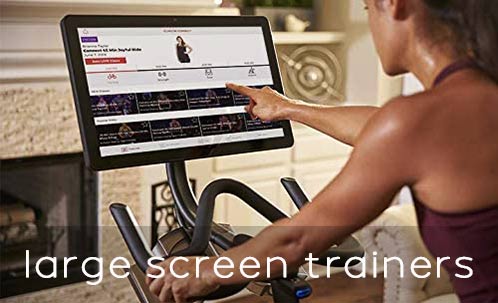 New bottle holders have been added just underneath the HD screen. Users can stay hydrated while pedaling along with other riders from across the country. The water bottle holders are the most robust in the EX series.
A competition seat is added for the ultimate posture adjustability. With 4-way adjustability, the seat is among the most interesting designs in its class, offering a large area of adjustability for tall, short, and average height cyclists.
A USB charger keeps smartphones charged as well. Devices connect via Bluetooth and they can be used to assess personal workout statistics and even to record them in the Echelon App leaderboard.
Echelon EX-5s characteristics
4 x 21.2 x 56.3 inches dimensions
Includes a 14-day Echelon Fit app trial
Compatible with Google Play and Apple Store apps
Why choose an Echelon bike?
Echelon bikes are still very popular among home users. While they can be used in gyms, they have a ranger of benefits which makes them a suitable option for home use.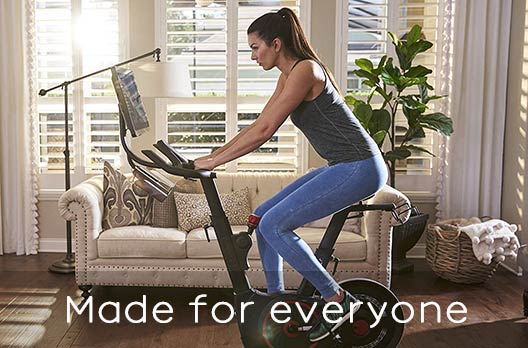 Echelon bikes are made for everyone. Regardless of the cycling background, the bikes can easily be used by those seeking the ultimate fitness workout with minimum impact on joints. Since they're also compatible with online classes, the bikes are perfect for beginners who might need a bit of guidance for efficient pedaling.
Taking part in Echelon classes is fun. All Echelon trainers are experienced and they offer guided workouts so that every user makes the most out of the bike. There's a subscription plan to join for those who want to take part in the online classes, even if it's just an extra.
Users can also enjoy the French countryside or the sunny California C roads from the comfort of their home on the bike. With virtual cycling options, all users are ready to enjoy long workouts in pleasant scenery.
Echelon Bikes EX-1 vs EX-3 vs EX-5 vs EX-5s – which bike to buy?
Before investing in an Echelon EX bike, fitness fans should think about the types of workouts they plan. These workouts then determine the absolute value of the bikes.
HD screen vs tablet holder
Only the EX-5s comes with a built-in HD screen. The screen supports online workouts. But even the other bikes can be used for online training with a tablet. However, users should consider whether they are keen to join the online training community or simply cycle on their own.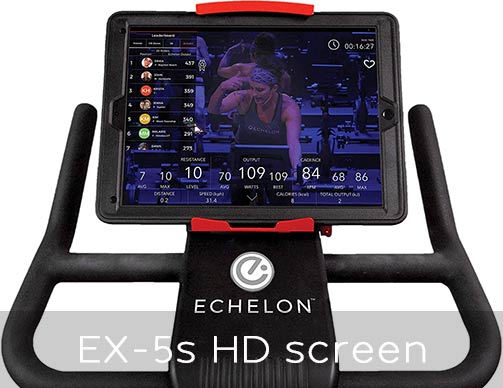 Making the right choice between the bikes is not easy
The EX-1 is the bike of choice for those on a budget. Even as an affordable option, it still offers high versatility. The EX-3 bike comes with small improvements and it can be the step-up option for those looking away from entry-level models. Both the EX-5 and the EX-5s are feature-packed. With aero handlebars and HD screens, the bikes offer the most complete cycling package.
How bikes compare to Peleton and Keiser alternatives
There are other spin bikes to consider in the online training community. But before deciding on the purchase, users should also consider most alternatives also come with monthly subscription plans to access the online classes.
The Peleton bike is very popular. It features online classes streamed from the New York Peleton cycling studio. However, the range of affordable EX-1 and EX-3 bikes makes Echelon the right choice for budget-conscious users.
Keiser bikes such as the M3i are also popular alternatives. Since the bikes come with a smaller footprint, they could be an alternative to the Echelon bikes if storage space is considerably restricted. Otherwise, the bikes don't feel as sturdy as the larger Echelon bikes.
Echelon bikes from the EX series are made to cover a vast number of needs. From the simple user who simply wants to cycle with the EX-1 to the dedicated looking to reach new fitness heights on the EX-5, Echelon makes bikes for all fitness objectives.
Those who want to push fitness objectives can choose between the EX-5 and the EX-5s for maximum versatility. Otherwise, the affordable but reliable and adjustable EX-1 or EX-3 models represent a solid alternative. When it comes to training from home, all of these bikes can still benefit from guided classes through the Echelon Fit app.