Fitness lovers around the world are ditching their treadmills and replacing them with rowing machines. Why is this?
Rowing machines combine strength training with cardio to offer a full-body workout with a much lower risk of injury due to their low impact nature. Indoor rowing machines help burn fat and build muscle at the same time, resulting in a workout that burns more calories than running or cycling.
Concept2, a world-renowned, top-quality exercise equipment manufacturer offers some of the most revered rowing machines on the market. In this review, we will evaluate and offer insight for the Concept2 Model D vs Concept2 Model E Rowing Machines.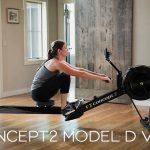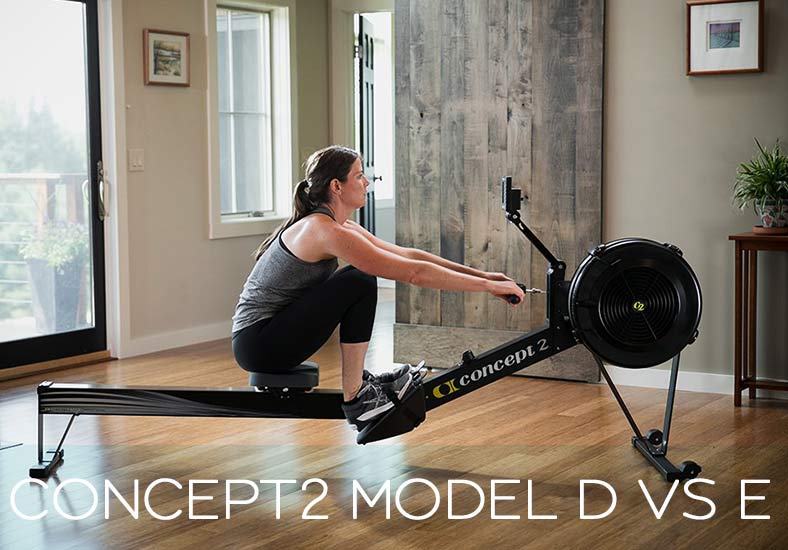 Concept2 Model D Indoor Rower has been recognized as the world's number 1 indoor rowing machine and a best seller for over 40 years. This model sets the standard for indoor rowing machines internationally and is used by professional and competitive rowers around the world. It is built to last for a lifetime with its sturdy components, and its intuitive design makes it easy to use.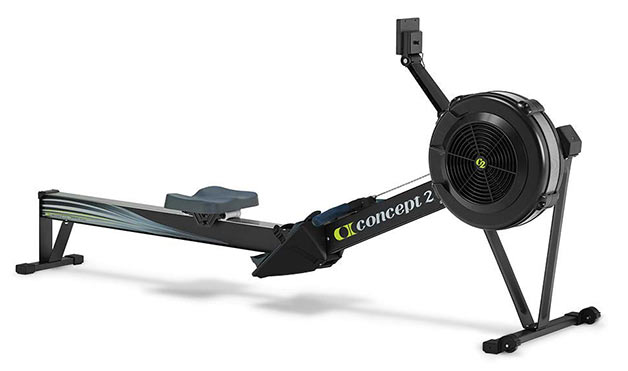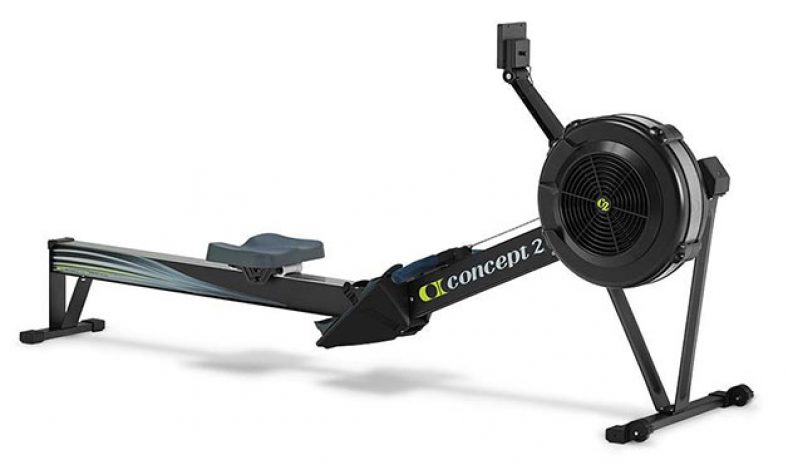 The machine receives endless praise for its smooth, seamless operation. The only noise that the rower produces when in use is the quiet airflow of the fan, which provides a much-appreciated breeze during a sweaty workout, as well as the hum of the flywheel.
Concept2 Model D Indoor Rower is designed for all ages and body types, anyone can comfortably use the machine and obtain a rewarding workout. Footstraps are adjustable and the ergonomic handle is comfortably designed for any grip angle. The machine can safely support up to 500 pounds. The low, 14" seat height gives the machine a low-profile design, making it compact enough to fit in most spaces.
The machine can be assembled quite simply, requiring only 8 screws to be put into place upon set-up and taking less than 20 minutes to assemble. It can be separated into two pieces for easy storage. The lightweight (57 lbs) design with roll-able caster wheels allows it to be moved around easily. A limited 2-year and 5-year warranty are included with the purchase.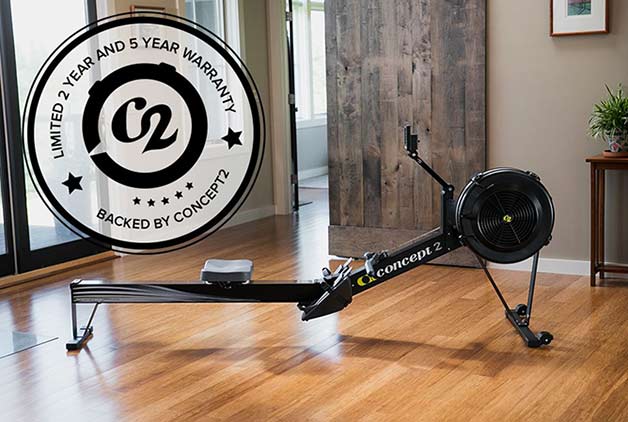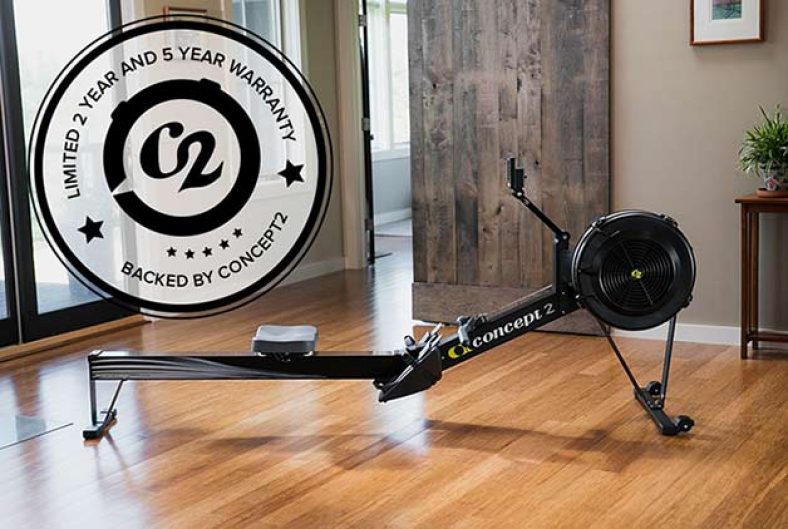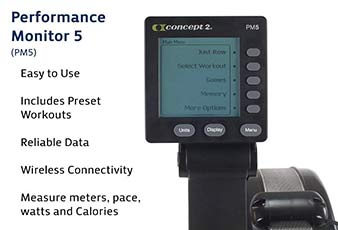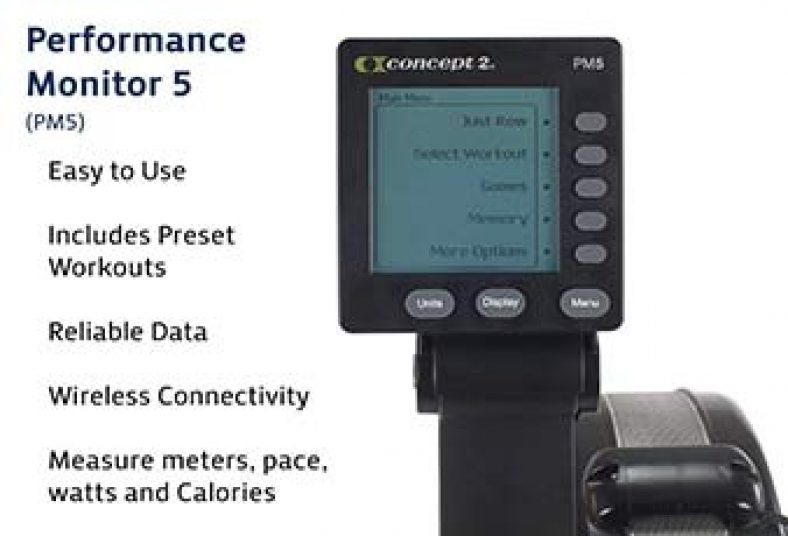 Performance Monitor (PM5) allows you to measure your workout progress with numerous data options, including distance, intervals, and calories burned. The LCD monitor can be pivoted to different angles or even tucked away. The PM5 is powered by the motion of the flywheel but can use power from two D-batteries as well.
Quick and simple assembly
Compact storage and easy movability with caster wheels for moving around.
Nickel-plated steel chain requires minimal maintenance. Only needs to be oiled after 40+ hours of use.
Commercial-grade quality makes it ideal for any space, including homes or gyms.
The spiral damper can be easily adjusted to control airflow to the flywheel, allowing the machine to be customized to your preferences.
Footrests can accommodate nearly any shoe size.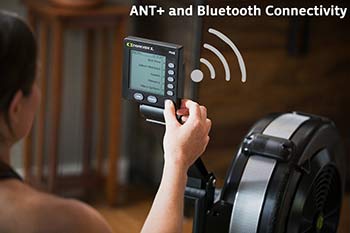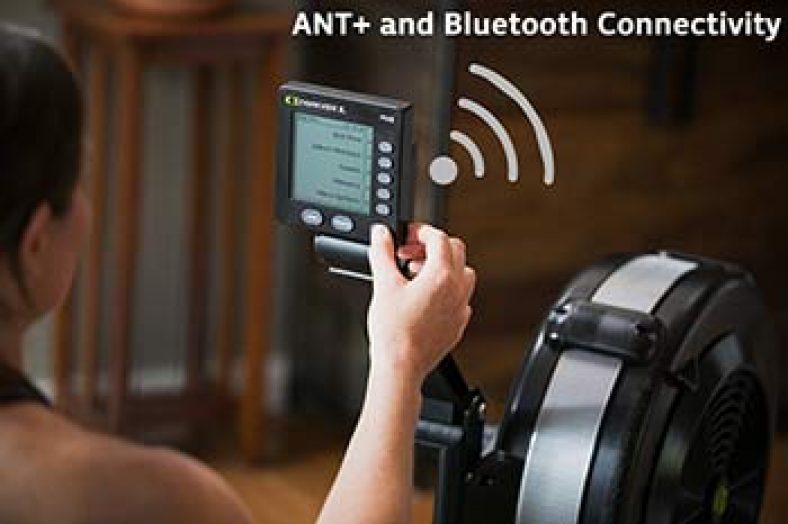 Ergonomic design
Relatively low-cost for such a high-quality piece of gym equipment
Built to last, easy to maintain
Bluetooth capabilities
Quiet when in use
No magnetic resistance, only air resistance
Easy assembly, storage, and movability
Low-impact, full body workouts
Customizable resistance gauge to suit personal preferences and strength levels
The low-to-the-ground design may not be ideal for someone with back problems, bad knees, or limited movability
Somebody types may find the seat to feel hard and uncomfortable (cushion covers are a solution to this issue)
Some may consider the software and display of the PM5 to be outdated technology
The versatility, quality, and durability of the Concept2 Model D Indoor Rower are viewed by many to be the best rowing machine on the market.
The machine offers a range of full-body benefits for both competitive athletes and at-home workouts, including strength-building, endurance, calorie burning, weight loss, and cardio.
The air resistance technology is very personalized, as it responds accordingly to the strength and speed of each individual stroke.
The monitor is mounted on a flexible arm which can be adjusted to accommodate different heights and angles.
---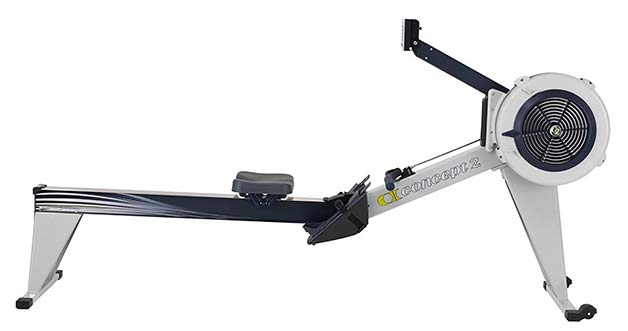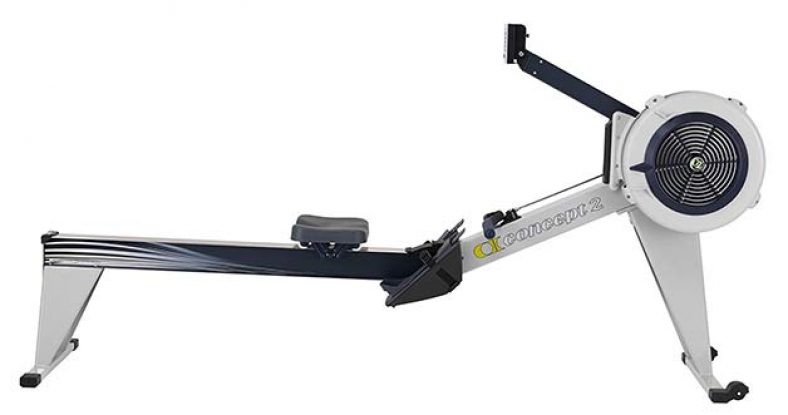 Concept2 Model E is, in most ways, very similar (and often identical in functionality) to Model D, but there are a few major differences which set them apart.
While Model E is considered to be an upgrade to Model D, it is also considered to be equal in terms of durability, smoothness, functionality, and customizability than its sister model. In the end, it truly does come down to personal preferences, so the differences should be taken into consideration while making a purchasing decision.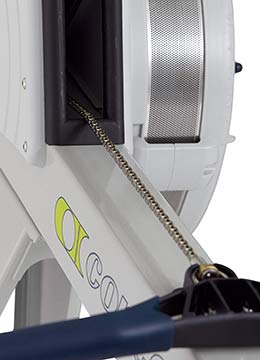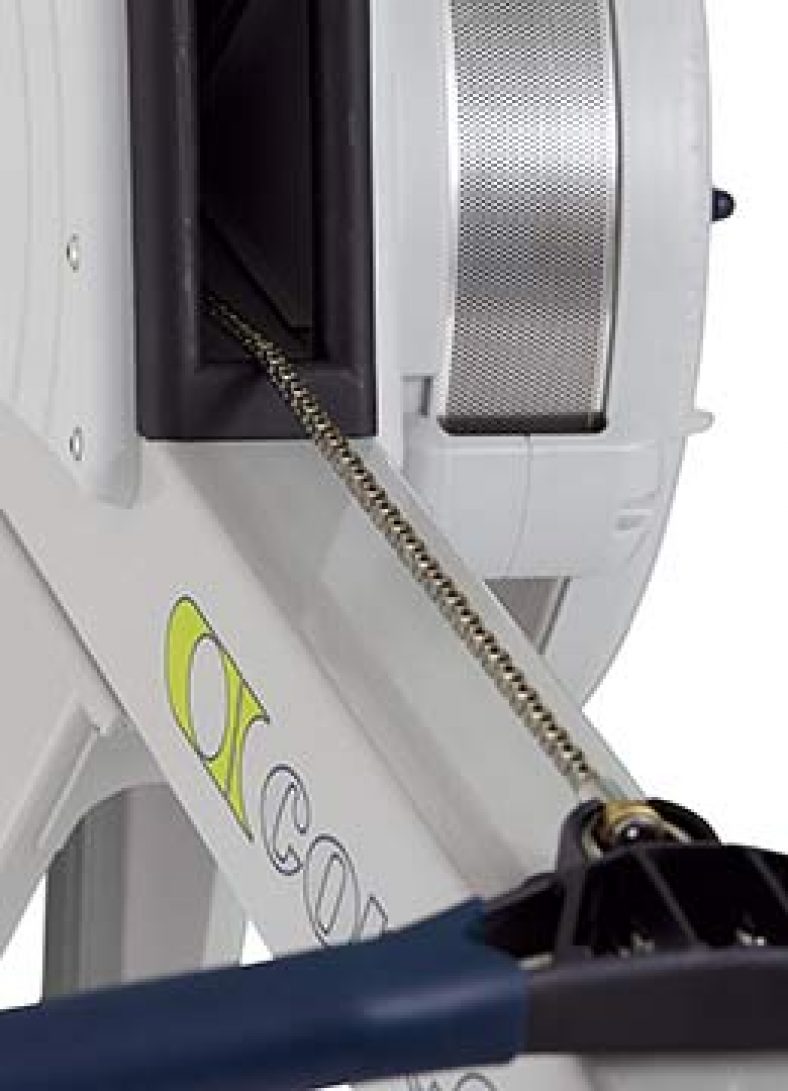 Although the functions of Model D and Model E indoor rowing machines are nearly identical, the first notable difference is the price. Model E is quite a bit more costly than Model D, with a 20% price increase. This price increase reflects the slightly higher-quality use of materials, including the exterior finish, chain, and welded steel legs.
The second most notable difference is the seat height, which is about 6" higher on Model E than on Model D. This feature is ideal for individuals with limited mobility, elderly people, disabled, or people with bad knees or back issues. The seat height for Model D sits just 14" off the ground, requiring a slight squat when positioning oneself into the seat. However, the raised seat height of Model E, which sits at 20", or roughly the same height as a normal chair, is easier to maneuver in and out of.
The third and last of the "major" differences between the two machines is the monitor arm. Model E's monitor arm is longer in length but is fixed and can not be adjusted or moved about. Some may view this as a drawback, however, the increased length of the monitor arm provides easier readability of the data on the monitor since it is fixed closer to the individual using the machine, hence it is easier to see. In contrast, the monitor arm on Model D is moveable and can be folded back for storage purposes, which some may see as a benefit.
The remaining differences are somewhat superficial notations but do have their own individual benefits. For example, Model E has a higher-quality exterior finish, a double powder coat plus glossy clear top coat, giving it somewhat heightened durability.
An LCD Performance Monitor (PM5) shows an easy-to-read screen with multiple options for tracking data such as distance, intervals, and calories burned.
Simple set-up guide with easy-to-follow instructions
Can be separated into two pieces for convenient storage and has caster wheels for easy moving
Nickel-plated steel chain (only needs to be oiled after 40+ hours of use)
20" seat height (roughly the height of an average chair) makes this machine easy to use even for individuals with mobility limitations, elderly, and individuals with back or knee issues.
Footrests can be adjusted to fit all shoe sizes.
Extra-long performance monitor arm for easy readability of data on the monitor.
High seat (20") makes it easy for individuals with mobility issues to comfortably position themselves into the seat
Minimal noise while the machine is in motion
Covered by a limited two- and a five-year warranty
Compatible with RowPro software and Bluetooth
The high-quality exterior finish gives the machine added durability
Easy to assemble
Built to last a lifetime
Only air resistance, no magnetic resistance mechanisms
Lightweight and easy to store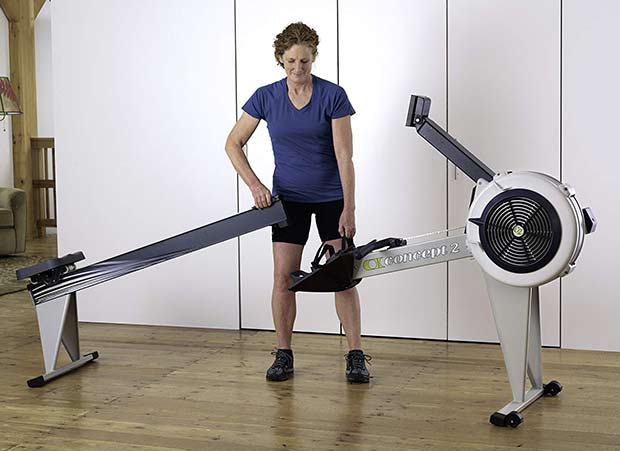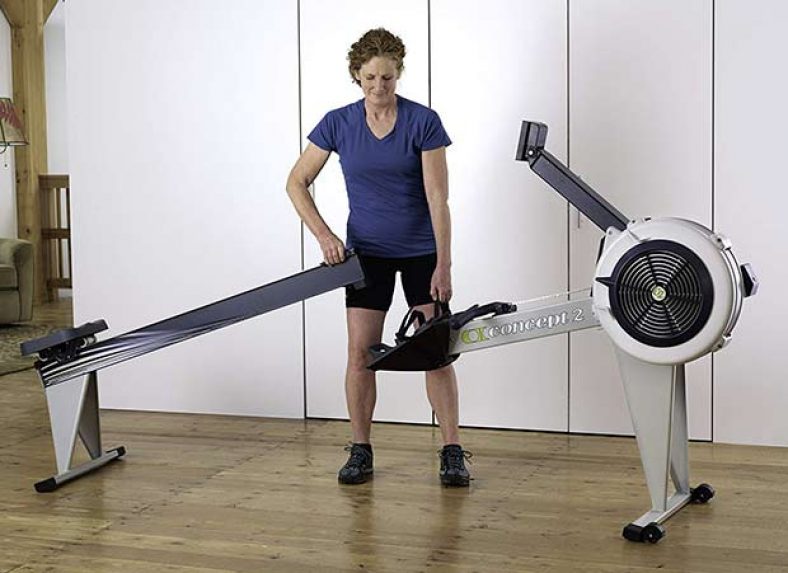 The monitor arm is fixed and not adjustable
Many individuals finding the seat to feel quite hard (this can be solved with the use of cushions)
The increased seat height of this model makes it a bit bulkier, as it takes up slightly more space
Just like its sister model, the Model E rowing machine is seen as one of the best on the market. The slight increase in price is compensated for with specialized features, such as the heightened seat, the longer monitor arm, and higher-quality exterior finish.
In terms of functionality, the two models perform nearly identically with no noted differences when the machine is in use. Both machines offer a smooth rowing workout with air resistance mechanisms.
---
Comparing Concept2 Model D vs Concept2 Model E Indoor Rowers
Model D and Model E share more similarities than differences. But it is these few notable differences in features which distinguish each machine from the other.
Similarities between the two models
Both operate the same when in use, offering the same full-body workout with the same fitness benefits
Each machine is lightweight, with Model E only weighing in a few pounds heavier than Model D. The weight difference is not significant.
Both machines are easy to store, move, and assemble
The performance monitor LCD screen is the same on both machines and offers the same data options
Both machines are quiet when in use
Each machine features the same ergonomic handle with a 10-degree grip angle
Both machines come with a 5-year warranty for the frame and a 2-year warranty for the monitor and moving parts
Each machine has a 500-pound user weight capacity, but no height limit
Both machines are durable and can be used for commercial spaces or at home
The chain for each machine is nickel-plated and only requires minimal oiling
Each machine is available in two colors (gray and black)
Differences in features & specs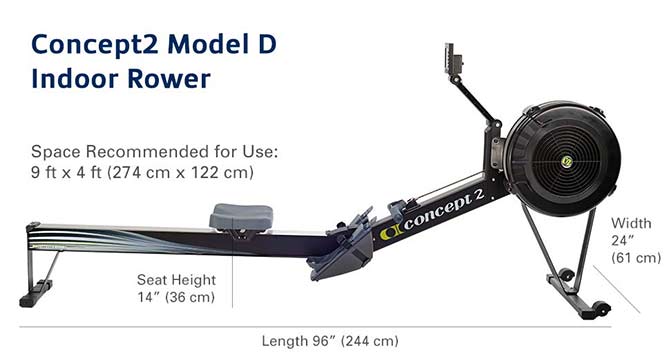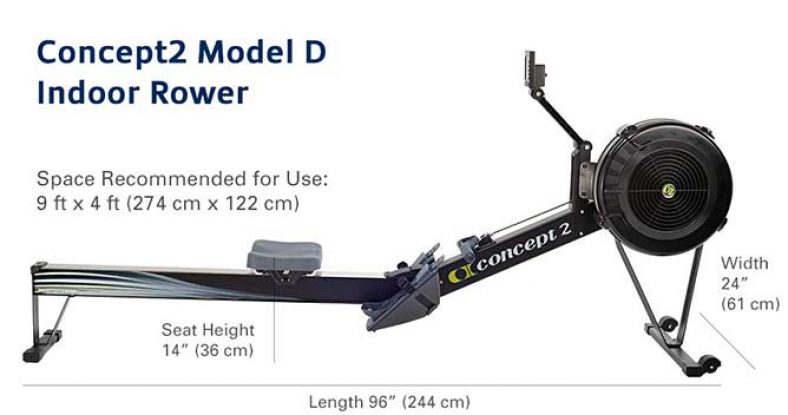 Monitor arm in Model D is adjustable and can be moved to accommodate different heights, it can also be folded back for storage purposes. The monitor arm in Model E is longer but cannot be moved as it is fixed in place.
The seat height in Model D sits at 14" while the seat for Model E sits at 20"
| | CONCEPT2 MODEL D | CONCEPT2 MODEL E |
| --- | --- | --- |
| Price | 120 | 310 |
| Weight | 57 lbs | 63 lbs |
| Monitor Arm | Flexible monitor arm can be adjusted. | Fixed monitor arm. |
| Functionality | Same | Same |
| Chain material and chain housing | Nickel-plated, partially enclosed | Nickel-plated, fully enclosed |
| Exterior finish | Powder coat | Double powder coat with clear top coat |
---
Buyer's Guide for Model D and Model E
The decision to purchase an indoor rowing machine is an investment that will last a lifetime, but before making the big purchase, it is important to make sure that you are informed on which features of each respective model best suit your personal preferences.
Here are some key questions and answers to take into consideration when deciding on purchasing a Concept2 Model D or Model E Indoor Rower.
How easy is it to set up the indoor rower?
Both machines only take 15-20 minutes to assemble. You will just need a screwdriver to screw the 8 screws (included) into place. A user's manual is included with an easy set-up guide.
Can the resistance be easily adjusted to customize workouts?
Yes. Located on the right side of the flywheel you will find an adjustable lever that shows resistance levels 1-10.
When taken apart to be stored, what are the dimensions?
Both machines can be easily separated into two separate pieces for storage. When taken apart, they roughly measure: 15 in X 22 in X 56 in (38 cm X 56 cm X 142 cm) and 13 in x 25 in x 28 in (33 cm X 64 cm X 71 cm)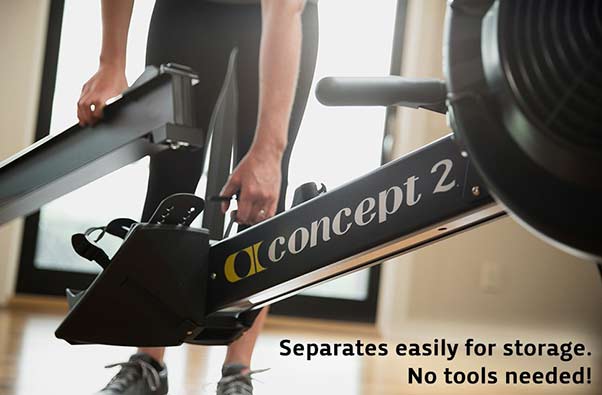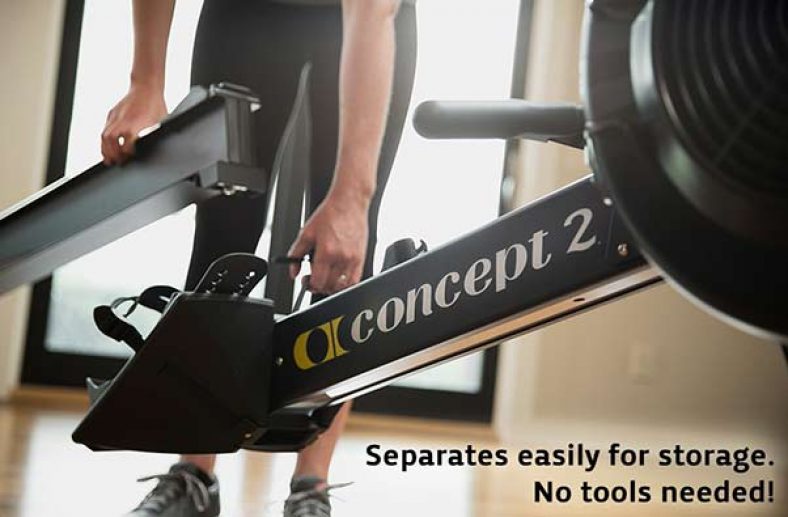 How much floor space does it take up when in use?
Both machines require around 9 feet x 2 feet, with some extra wiggle room for your arms while you are using it.
How do I know which model is right for me?
Have a thorough look to review the differences in specs for each model. But overall, both models are great for anyone looking for a full-body workout with low impact and low risk of injury. Model D has a much lower seat, which should be taken into consideration. If you have mobility issues or bad knees or a bad back, the Model E, with it's higher seat, would be a better option.
I am over 6 feet tall, will this product be able to accommodate my height?
Both machines are designed to accommodate persons from 4 feet of up to 7 feet tall. So anyone under 7 feet tall can comfortably use both Model D and Model E.
Concept2 is a world-renowned fitness equipment manufacturer, so no matter which product you purchase, it guarantees a top quality experience that will last a lifetime. But since all bodies are built differently, some individuals may have a more comfortable experience with one of the two respective models over the other.
The main difference is the seat height, so if you don't face mobility limitations, consider going with Model D, but if you do face mobility limitations, then the heightened seat in Model E will provide a more comfortable experience.
Both models provide the same high-quality, full-body indoor rowing experience with the same high-quality results. The durability and quality of materials are nearly the same, with both models built to last a lifetime.