The Bowflex Xceed Home Gym we explore in this review has gone through tremendous changes from the 2006 model, which was the first one.
The vertical 7*6 work out area is convenient for change in position and angles. You get to explore the 65 exercises that it supports comfortably.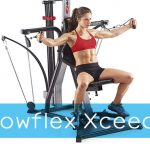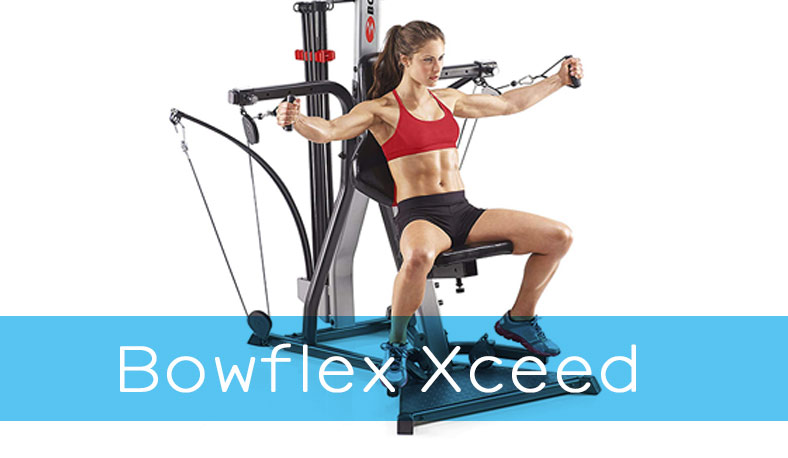 While everyone has individual targets, this equipment supports a vast range of exercises on various parts of the body. Some of them are:
Abdominal
Arms
Back
Chest
Legs
Shoulders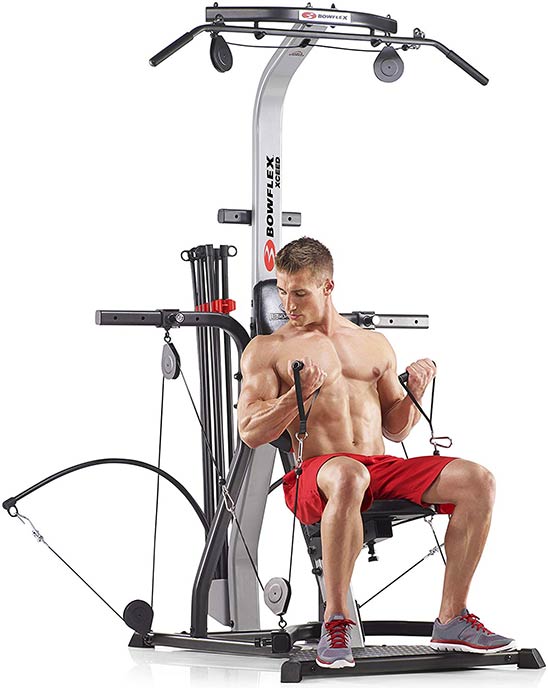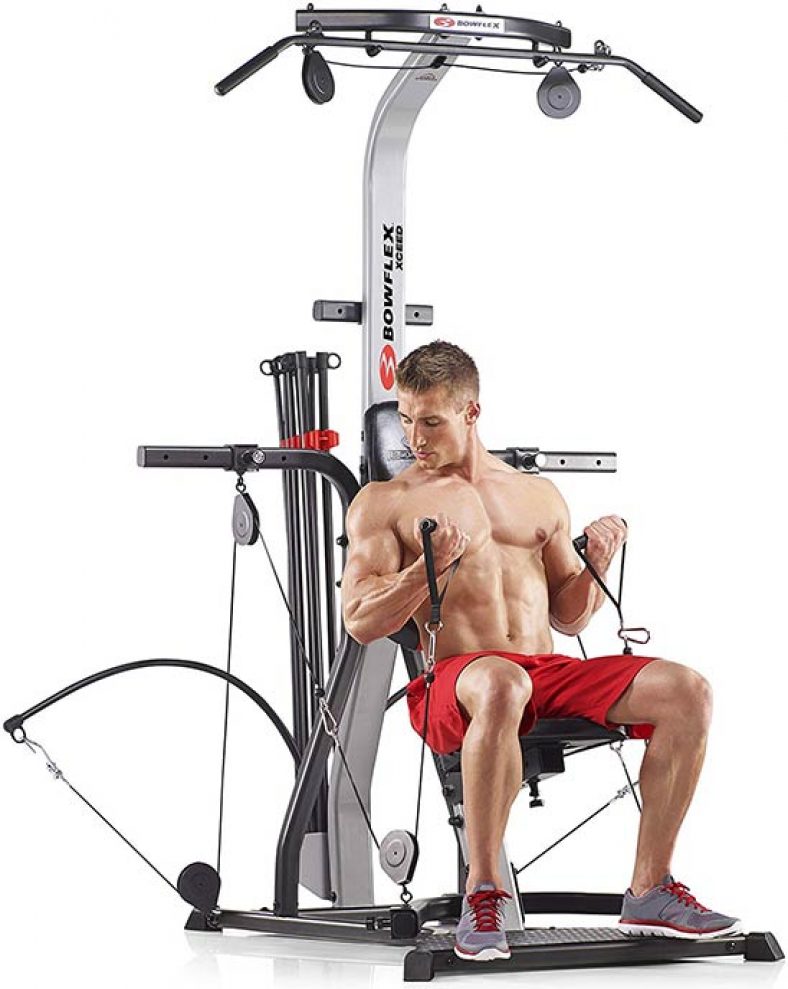 ---
Benefits of the Bowflex Xceed
The reason why most people prefer the gym is because of the various equipment allows you to work on different goals. However, the Bowflex Xceed has combined separate entities to enable you to work on:
Improving strength
Power
Coordination
Endurance
Weight training
With this, you get to choose whether your focus is on the upper or lower body.
Max Weight
300 lbs
Exercises
65+
Warranty
Lifetime – power rods

7years – Frames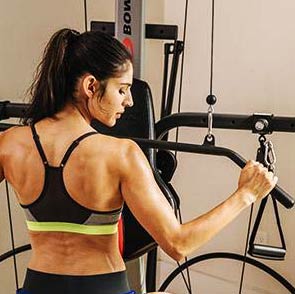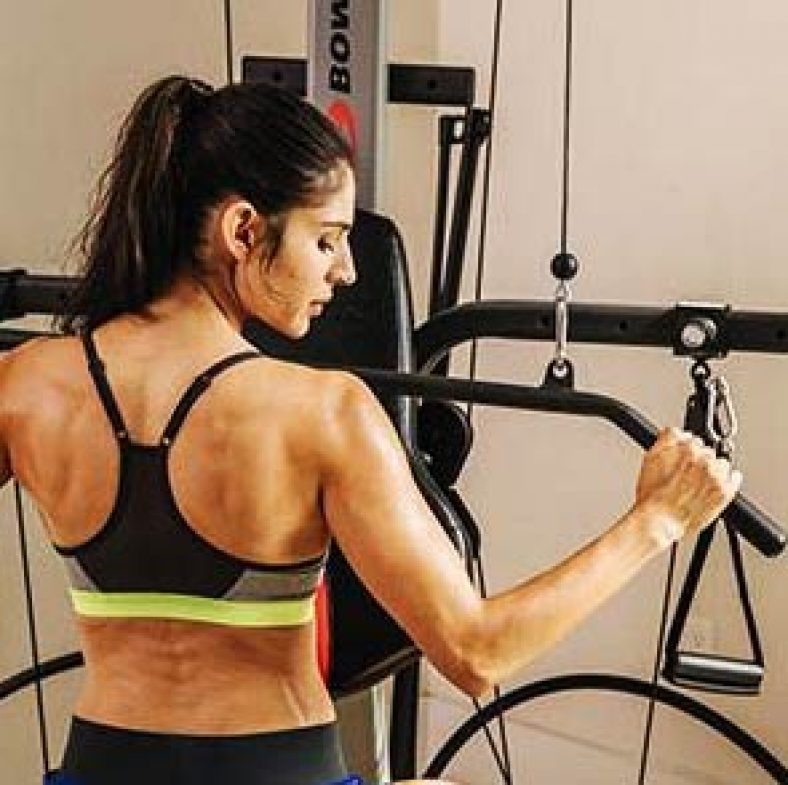 All the Bowflex Xceed accessories are designed to enhance its performance and provide you with comfort and efficiency. It is also ideally sized for small workout areas. Some of them include:
Vinyl-covered high-density padding
Ankle cuffs and hand grips which are triple functioning
Quick-release cushioned adjustable seat
Vertical workout position
X-shaped based whose reinforcement ensures maximum stability
7*6 ft workout area
The height, length, and width are 82.7' by 55.1' by 51.2'.
Heavy-duty steel frame which is powder-coated
Pros and Cons of Bowflex Xceed Home Gym
Strong steel frame
The smooth operation is made possible by the pulleys integrated with stainless steel ball bearings
Optimal comfort ensured by the foam cushioning and leather upholstery
The adjustable height on the seat and the 300lbs maximum weight limit makes it convenient for use by a vast range of people
Convenient as it is inclusive of several necessary elements such as the leg attachment, multiple grip handles, and lat and squat bar
It supports multiple mid-positions for the pulley
Has a weight resistant power rod system that eliminates the need for weight stacks
It offers a multiple-resistance range with a maximum of 105 per arm
It grows with you, and you have the option to upgrade to 310 lbs and 410 lbs in total weight
You get a guide that helps you through the journey. Bowflex Xceed's workout videos come in handy when you are learning the ropes of what you can do on the machine
Numerous exercise options that cater to a large number of goals
Easy assembly
Quiet when being used
Great warranty
Cons
Requires multiple cable and attachment changes when doing various exercises
Some assembly tools aren't included
No ab crunch harness
Doesn't cater for intense muscle training
Maintenance and Assembly of Bowflex Xceed
The machine comes in several boxes and requires a few hours to complete assembling. If you use the Bowflex Xceed assembly video, you will find that the process is smooth and easy. The precise instructions are easy to follow.
When it comes to maintaining it, there is a need to unhook the power rods to ensure they remain straight. Their upright position is essential for proper functioning. Always check that your bolts are tightened since it's easy to loosen them when making adjustments for different exercises.
Comparison of Bowflex Xceed with Similar Products
Market research will reveal that several machines are closely similar to the Bowflex Xceed. These models have minimal variations, and it is common for buyers to want to explore the diverse aspects. Below are some of the competing models in the market.
Bowflex Xceed vs. Bowflex Xtreme 2SE
Features of the Bowflex Xtreme
More than 70 exercises
The power rod resistance stands at 210 lbs and can be upgraded to 310 or 410 lbs
Quick Change Power Rod system
The frame is made from heavy-duty steel
Lat tower that has an angled lat bar, which helps you build back and shoulder muscles
It has lower pulleys that are great for glutes and quads. Also, the four-position pulley adjustments allow you to customize your work out
The reinforced X-shaped base gives maximum stability
Three-position leg extension attachments that give you five extra leg exercises
Cushioned quick-release, adjustable seat
Both machines have a resistance of up to 210lbs
Bowflex Xceed power rod upgrade goes to a resistance of 310lbs or 410lbs, which is the same for the Xtreme
Both have a leg attachment
The maximum user weight is 300lbs
You get more than 70 exercises on the Bowflex Xtreme 2 SE while the Bowflex Xceed offers 65.
Features of Bowflex Pr1000
More than 30 exercises
210lbs resistance
The lower pulley has four positions. It is also the squat station
The resistance is the same
Both come with leg attachment
They both have the same limit on weight
The Bowflex Pr1000 comes with a built-in cardio tow and a media rack. It is also easy to fold, making it convenient when it comes to storage. It, however, comes with fewer exercises than the Bowflex Xceed. Although a little creativity in adjustments will allow you to find a few more exercises, this is not guaranteed. Furthermore, you get to use the Bowflex Pr1000 resistance as it is. The Xceed allows you to make upgrades that come in handy as you progress through your fitness.
Has more than 60 exercises
Upgradable power rod resistance from 210lbs to either 310lbs or 410lbs
Comes with lat and squat bars
The bench can be folded. This, together with the wheels, help in making storage easy
The resistance is 210lbs and can be upgraded to the same capacity
Come with leg attachment
The weight limit is 300lbs
The Xceed has more exercises than Bowflex Blaze. You should consider your long-term needs before choosing between the machines. Bowflex blaze comes with a built-in cardio row, which might come in handy.
Bowflex Xceed Home Gym Buyers Guide


Picking the right machine is challenging, especially with the various equipment that performs similar tasks. This means that before you complete a purchase, you need to outline concerns and list the things you seek. This can be in terms of goals, flexibility, longevity, and sustainability of a routine once you begin. Bowflex Xceed is designed to meet all these goals. With the resistance level and numerous exercises, it is a home gym choice.
Factors to Consider when Buying a Bowflex Xceed
Some of the factors that come to play include:
The materials used contribute to how long you can use the machine. You always want to look for a reinforced product. This is especially necessary for features that are installed to ensure comfort, such as the padded set on the Bowflex Xceed.
Experiencing frustrations when exercising might drive you to quit on the dream of having a home gym. Always ensure that the seller/ manufacturer has open channels of communication you can use in case of a challenge. Also, they should offer a long-term warranty. Bowflex Xceed comes with a 7-year warranty, which is enough time for you to get acquainted with the machine and identify any possible issues.
When it comes to home gyms, you need to utilize the available space and budget. As such, the machine you select should offer various benefits based on the goals you have. The more the number of exercises you can do on it, the better. Bowflex Xceed comes with 65 exercises, which are great when you are trying to figure out what works for you.
With the many options on the market, machines with great features such as the Total Gym variety and the Bowflex Xceed are not only differentiated through their functions but also user reviews and needs. Bowflex Xceed has received positive responses, especially when it comes to the effectiveness of using all the tools that come with it.
---
Frequently Asked Questions
1. Can it help with weight loss?
With the proper discipline, you will begin to see changes in your weight within a few weeks. On top of following the Bowflex Xceed workout video, strict adherence to the meal plan will help you lose weight. The bonus advantage is that while you are cutting down, you are building on strength, and that too can be felt several weeks after you start. You get to improve your physical outlook and capacity at the same time.
2. Is it better than free weights?
While using the Bowflex Xceed restricts the number of movements you can make, free weights tend to be more demanding to your stabilizer muscles. It is easier to target specific muscles with the machine, and this allows you to put the effort into achieving your goals. It is also easier to learn how to use the machine than the free weights. Those who are starting in fitness also find the Bowflex Xceed to be more efficient since you can start easily and grow with it.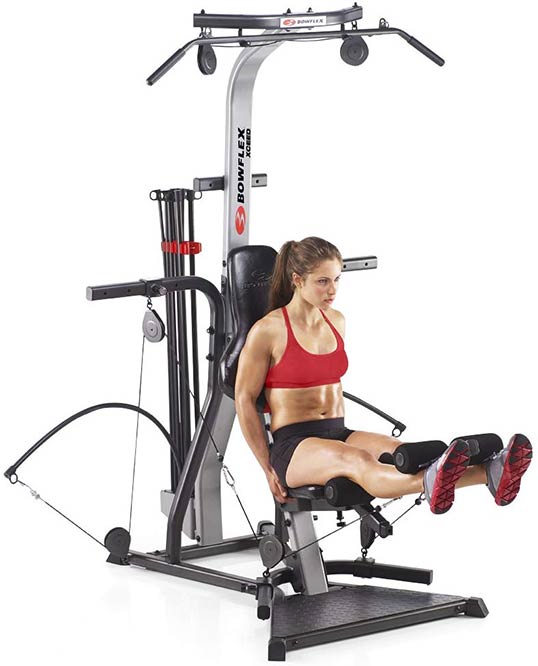 3. When did the Bowflex Xceed come out?
The first model was first introduced to the market in 2006. However, some numerous changes and improvements have been made to the newer versions. You get to analyze the differences in features, compare prices, and pick the one that works best for you.
4. How does it work?
The machine allows you to structure your body in various ways to enable practice and exercise, which is fixated on developing a particular area. With most activities, due to the bolstering you get, rarely require the use of stabilizer muscles.
5. Can it be used in muscle building?
Whether you want to tone muscles or maintain the ones you have, this machine is equipped with the necessary parts to help you.
6. How much does it cost?
This Bowflex Xceed home gym price is considered budget-friendly. You will spend around $600, and the value and quality are guaranteed.
Bowflex Xceed Home Gym not only looks good, but it also has impressive features such as the many options in exercises and resistance levels. It also has an excellent work out area that gives you enough room to adjust through the different positions. With a little practice of how to move through various exercises, you will learn how to come up with an effective routine that doesn't require too many adjustments. If you are looking to purchase it, you will find recommendations on additional accessories that might contribute to your comfort and progress.