Each month you are spending money on those gym fees. What if you could make a one time purchase and gain a gym inside your home?
No more would you be traveling to the gym each day or paying the fees involved in a gym membership.
If this sounds good to you, then keep reading to learn everything you need to know about the Bowflex Revolution Home Gym.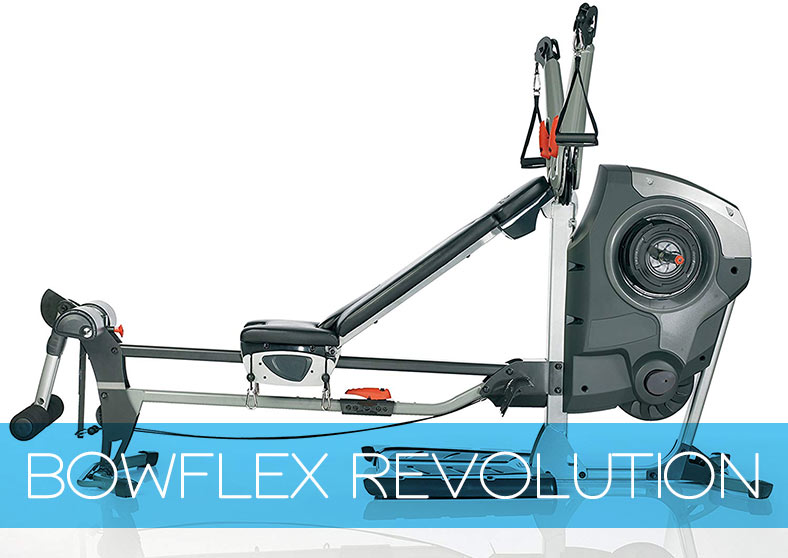 Purchasing a home gym is a big decision. You could be spending a substantial amount of money and wondering if you will get your money's worth out of it.
You should weigh the cost and time spent at the gym each week. Think about the commitment you are making to lose weight or maintain a healthy state.
Making the choice to purchase the best home gym will give you the flexibility and privacy you are looking for.
You will not have to wait for someone to finish with a machine or deal with the public shower space to rid your body of sweat.
If you take the dive into a home gym, the time spent working out will be centered around you.
You have a private place and no fees to pay.
Why Should You Consider A Bowflex Home Gym?


Staying healthy can be a struggle for some of us. We can make our grocery lists based on healthy eating habits, but what about exercise?
Finding time in our busy schedules to exercise seems to be the biggest struggle.
With a Bowflex Home gym carving out time becomes easier.
With the different models available, consumers can find something that meets their needs. It has never been easier!
The innovative technology used in the making of this machine has given consumers the ability to purchase a home gym made for the home.
The size and features are perfect for the person who has only a small space to work with.
Those who live in an apartment or condo can even reap the rewards from this compact machine.
You may also like other Bowflex Home Gym products:
Bowflex Revolution Specifications
| | |
| --- | --- |
| Length | 112" |
| Width | 38" |
| Height | 73" |
| Resistance(Standard configuration) | 220 lbs (100 kg) |
| Resistance(Maximum configuration) | 300 lbs (136 kg) |
| Design | Compact/Bench |
| Workout Area | 10′ L x 7′ W (305 x 214 cm) |
| Folded Footprint | 4′ 7″ L x 3′ 2″ W (140 x 97 cm) |
| Assembled Machine Weight | 336 lbs. (153 kg) |
| Maximum Capacity | 300 lbs. (136 kg) |
| Warranty | Parts: 10 years, Labor: 90 days |
Features of Bowflex Revolution Home Gym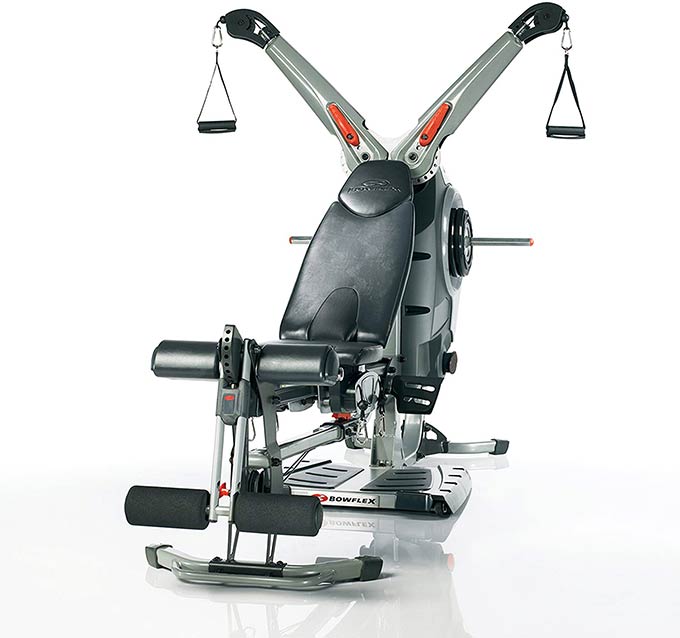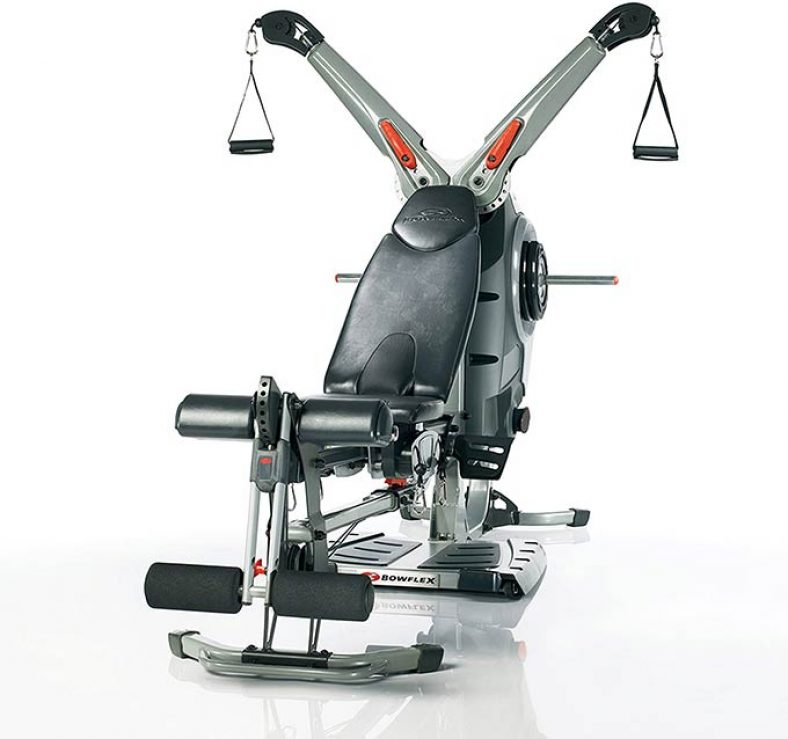 More than 100 exercises with 400 variations

The ability of the Bowflex Revolution models to change shape easily allows you to exercise daily without getting bored. You can personalize your workout to fit your needs and all from your home.

Adjustable Bench

An adjustable bench usually means you are able to incline or decline the bench. In this case, the bench is fully adjustable. Not only can you incline or decline, but you can also remove it for standing exercises or slide it up or down to obtain the perfect range of motion. This feature makes this home gym user-friendly for all types of people.

Platforms

The Bowflex home gym comes with platforms that are standing or seating. This allows you to perform a variety of exercises, no matter what position they require.

Cardio Row Ability

Because of the fully adjustable bench, you are able to reap the benefits of a cardio row exercise.

SpiraFlex Resistance Technology

This innovative technology allows for a constant flow of resistance throughout your range of motion. With Spiraflex Resistance Technology, there is no need to purchase weights.

Freedom Arms

The Freedom Arms use the smooth resistance of the SpiraFlex Resistance technology. You will be able to train at numerous angles with a full range of motion. The arms have 10 different settings and will adjust to 170 degrees.
---
Bowflex Revolution Home Gym Review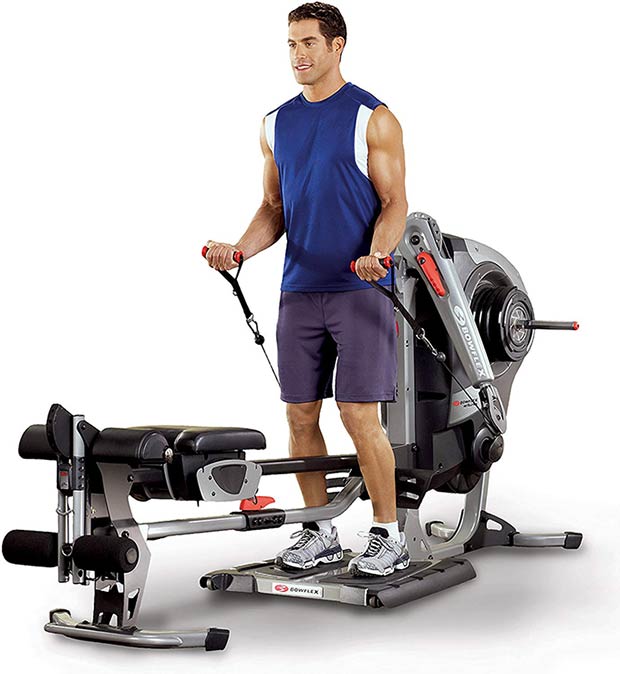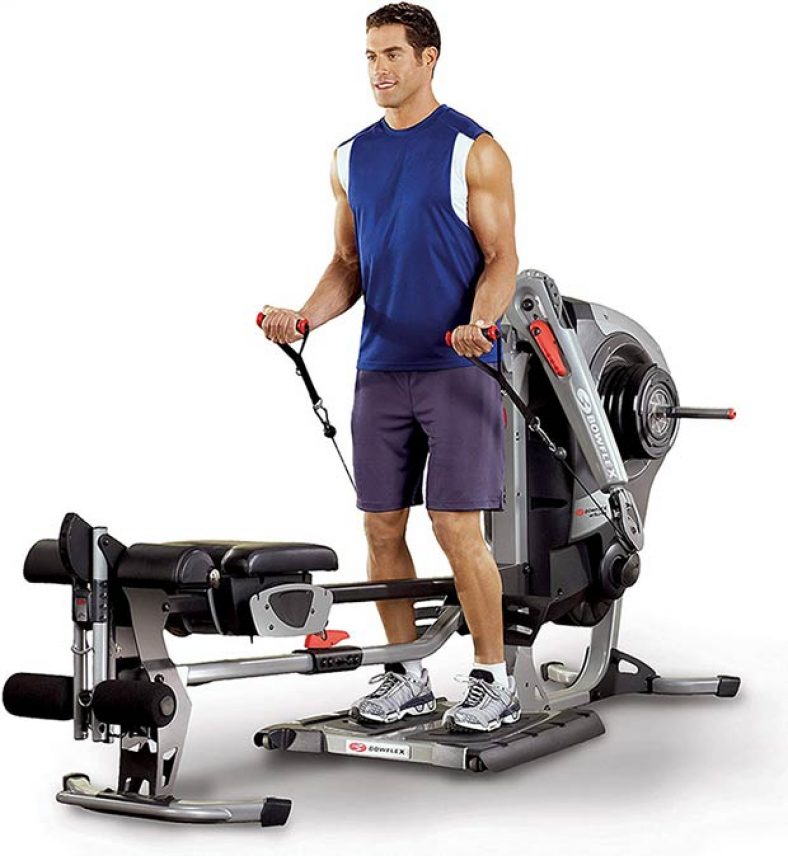 Technology: Bowflex is dedicated to creating a machine that is centered around safety and easy to use. You can have an abundantly diverse variety of exercises while not worrying about your safety.
Resistance: Exclusive SpiraFlex technology to provide resistance without inertia. The resistance bands place consistent tension on your muscles.
A Strength Resistance Curve: Every exercise a person performs has a strength curve. This curve shows the amount of force produced in your joints during a range of motion. This machine will give you a smooth feeling throughout.
Compact: Because there is no need for extra weights with this machine, less space is needed in your home. It also sports a shorter height creating one of the most compact machines on the market. The Bowflex Revolution XP is an excellent option for people who live in apartments or condominiums.
Limitations: According to Bowflex Revolution consumer reviews, there are a few limitations to this machine. It has been noted that some of the most common movements are difficult with the Bowflex. Lat Pulldowns and curls are just a couple that seems difficult with this machine.
Costly: The Bowflex Revolution can cost up to $3,000. This can be a lot to pay for a home gym. While the cost of this machine is higher, there are less costly options in the Bowflex line.
Let's Make A Quick Comparison
| Comparison Chart | Bowflex | Total Gym |
| --- | --- | --- |
| Strength Building Potential | Good | Fair |
| Equipment Size* | Larger | Smaller |
| Exercise Variability | Good | Fixed monitor arm. |
| External Resistance | Cables | Bodyweight |
| Storability | Poor | Good |
| Weight Capacity | 210 lbs. | Not Listed |
| Ease Of Use | Easy | Moderate |
| Agility Benefits | No | Yes |
*Precise sizing will depend on the version of the machine you choose.
How Well Does the Bowflex Revolution Perform?
The Bowflex Revolution is a machine wrapped in SpiraFlex technology. This innovation uses plates that allow a resistance band system that creates the perfect level of difficulty that you desire.
Because this machine is based upon elastic bands, you can expect to encounter a smooth workout.
There is little risk of injury or falling weights while working out. This has become a safer and more effective alternative to weight plates or free weights.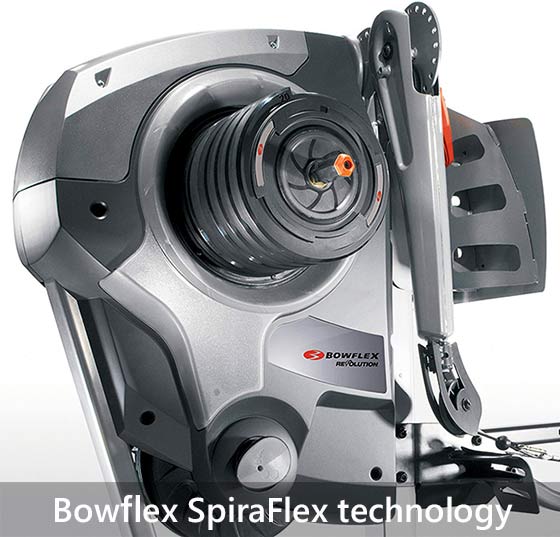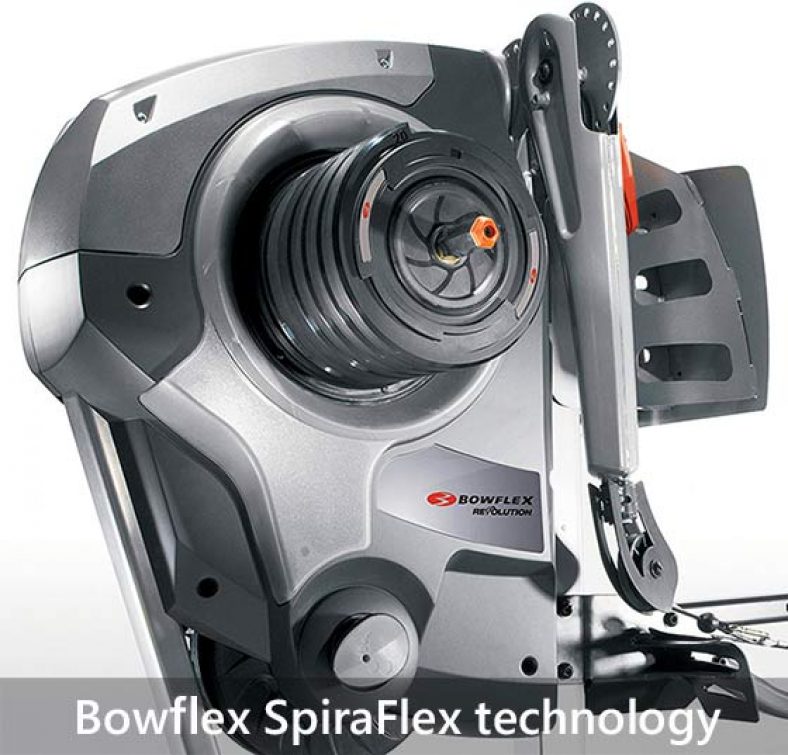 Comfort is always important when using an exercise machine. The Bowflex Revolution home gym system strives to create a comfortable environment when the machine is in use.
After listening to the consumer, Bowflex has created a slim machine with a wider seat area.
This enables you to avoid backaches and saddle sores associated with a thinly cushioned seat.
Bowflex has included a detailed manual that allows the user to easily begin reaping all the benefits this machine has to offer.
Bowflex Revolution vs. Extreme
Have you considered Bowflex Revolution or Bowflex Xtreme 2SE Home Gyms?
It's not easy to choose between these two options; however, we're here to evaluate both products so that you can see the one that's best for you.
Without much delay, let's get into it!
Differences between the Bowflex Revolution and Xtreme 2SE
The Revolution and Extreme 2SE are both made by Bowflex, so, by design, they have some similarities. Let's take a look;
Similarities
Both the Bowflex Revolution and Xtreme 2SE;
Offer a wide variety of workout options
Come with a perfect base—a reinforced X-shaped base
Made with heavy-duty steel frame
Have user weight of up to 300lbs.
Offer high resistance level with optional upgrade
Readily available accessories
Differences in Features and Spec
| Bowflex Revolution | Bowflex Xtreme 2SE |
| --- | --- |
| Offers over 100 exercises | Offers a little over 70 exercises |
| 220lb. advances SpiraFlex resistance | 220lbs. Power Rod resistance |
| Requires 10 X  7 feet workout area | Requires 8 X  6 feet workout area |
| Offers vertical bench press | Does not provide vertical bench press |
Buyers Guide for Bowflex Revolution and Bowflex Xtreme 2SE
When you're trying to decide between the two products, there are quite a few things you might want to consider. They include;
Available workouts, and
Size
Resistance Level
Warranty
Price
Both machines are quite incredible for a home gym; of course, they are manufactured by Bowflex—the leading manufacturer of home gym machines—so, there's assurance for quality, durability, and functionality.
You only need to pick the one which suits your needs from the two great options.
Frequently Asked Questions
Can a Bowflex Revolution help you lose weight?
Yes. The Bowflex Revolution is an excellent addition to your weight-loss program. Because of the SpiraFlex technology, this machine is capable of giving users a sound resistance training workout. This will need to be supplemented by cardio activity.
Is the Bowflex Revolution better than free weights?
The machine is designed to support the body while allowing you to exercise within a certain range of motion. This tends to isolate specific major muscles. The secondary stabilizing muscles are not required to work. When using free weights, you can target more muscle groups and strengthen the secondary stabilizer muscles. This means that free weights are more effective for exercise focusing on the major muscle groups.
When did the Bowflex Revolution come out?
Bowflex Revolution Home Gym was introduced in 2015.
How heavy is the Bowflex Revolution home gym?
The Bowflex Revolution comes across as a large home gym. It has a workout space of 10′ x 7′, but it folds to the compact size of 55″ x 38″. The machine is heavy but easy to assemble.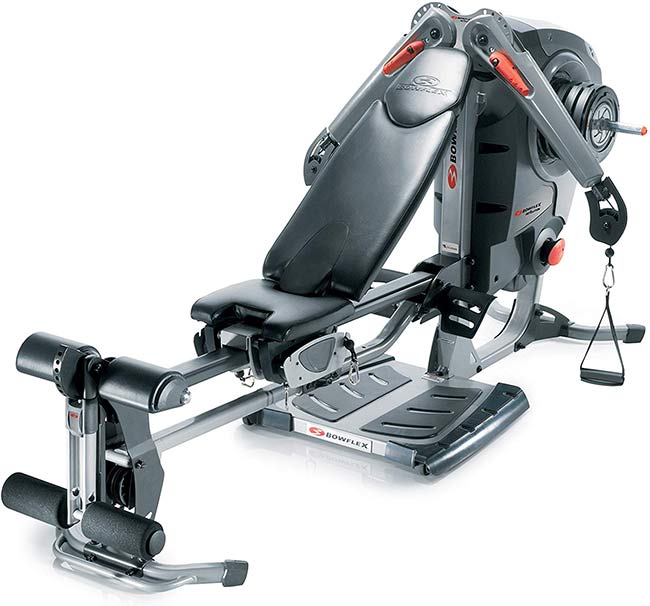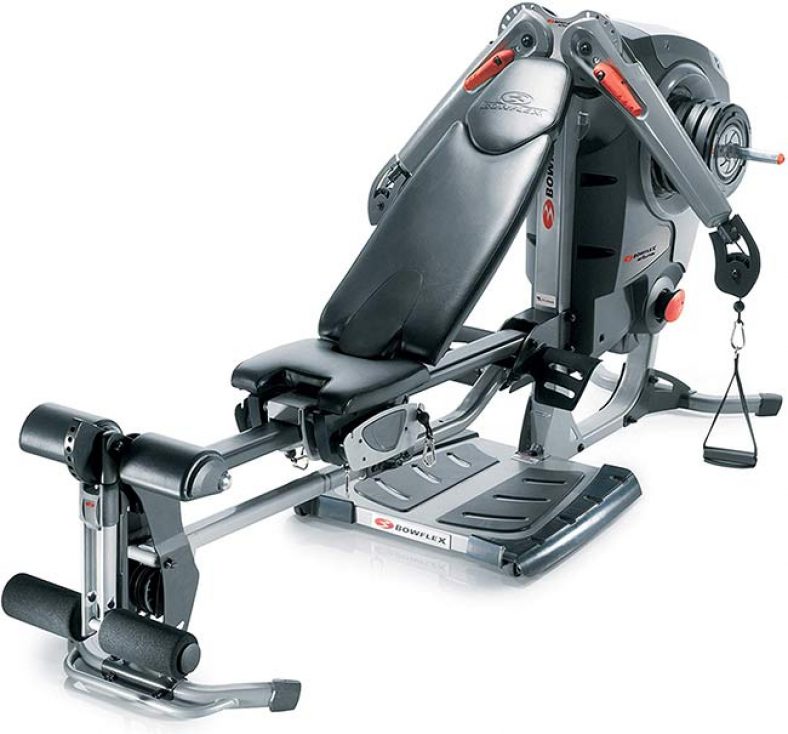 Are their Bowflex Revolution accessories included in my purchase?
No. Your purchase of the Bowflex Revolution comes with just the machine. If you are wanting accessories, they will need to be purchased separately. You can browse and purchase accessories at the official Bowflex website.
Is Bowflex good for building muscle?
The Bowflex is very good at building muscle mass. The one limitation it has is that it only provides up to 410 pounds of resistance. The Bowflex uses SpiraFlex technology instead of weights to give resistance.
What are Bowflex Revolution Customers Saying?
For the most accurate thoughts on the Bowflex Revolution, let's see what actual customers are saying about it.
I love my new Bowflex. There are so many different variations of exercises that you perform on the revolution. I exercise daily and I use the revolution as an addition to my
spin bike
and
free weights
. I bought the extra eight pack as well so I can do heavier work however, I love the fact that you can do lighter weight/more reps workouts on this machine as well. I highly recommend it.
-Joel
It really provides a great workout. You definitely feel it the next day. I thought free weights were better but I have to say I really love the Bowflex!
-Michelle
I've been using the Revolution home gym to focus on various muscle groups I've been unable to build up and maintain with other workout equipment. I no longer have to make trips to a 24-hr. fitness center and can exercise more conveniently in my own time. I love the variety of exercises available and the ease with which you can transition between exercises. Overall, this was a much-needed addition to our home exercise equipment.
-Fairie
---
To Buy or Not to Buy? That is the Question
Buying a home gym is a huge decision. It is also an investment in your health. To make the best decision, it is important to take some time and review your options. The above reading has shown what the Bowflex Revolution home gym has to offer.
The compact size of this system, which includes the Bowflex Revolution, Bowflex Revolution XP, and the Bowflex Revolution FT is good for those with a small space to work with. These home gyms enable you to complete up to 100 different exercises. The use of SpiraFlex technology allows you to get a smooth and consistent resistance throughout your full range of motion.
Even though this compact design and innovative technology are appealing, there is the price to consider. At the minimum, you would spend $2,000, and that number could rise to $3,000. The high cost may not make this machine accessible to everyone. It should be looked at as an investment. The investment in your health and well-being.
If you are ready to make the investment, you can find the Bowflex revolution for sale at the official Bowflex website. Start today and change your life!