Based on powerful power rods, the Bowflex Power Pro is an all-in-one fitness machine.
If you want to start training, it's the type of machine that guides you through multiple exercises and workouts with ease.
It combines the features of multiple machines such as a workout bench with those of a rowing machine to offer a complete workout solution you can use at home at any age.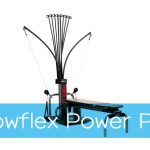 Top Bowflex Power Pro features
60 supported exercises
210lbs of total resistance
Based on 20-minute daily workouts
Included workout guidebook
6 feet 11.5 inches height X 7 feet 9 inches length x 4 feet 2 inches wide
Power rods – what are they and can they replace actual weights?
The first thing you notice about the Bowflex Power Pro is that it comes with no weights. There are no weight plates and no dumbbells attached to it. So where that is resistance come from? All exercises with this training system benefit from innovative power roads and how they are mapped out. They come in different resistance level so that you can use them for various exercises.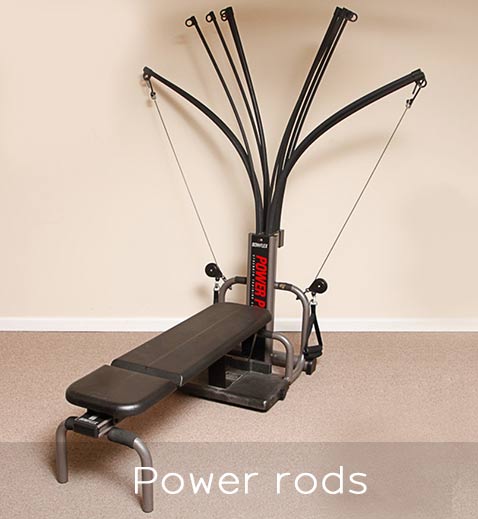 5lbs, 10lbs, 30lbs, and 50bls resistance is attributed to these power rods. This is more than enough if you are just starting. Just doing a classic chest press is difficult enough if you haven't trainers before. But most users combine multiple exercises in the same routine for a full-body workout with these power rods.
Combining power rods with an incline bench
The power rods could be used on their own for certain exercises. But Bowflex adds an adjustable workout bench to the machine as well. It supports you during all types of exercises such as back rows. There's even a lat pulldown attachment that you can use from a sitting position to develop your back muscles further.
New fitness machine – can you use it without a personal trainer
You shouldn't feel intimidated by the Power Pro fitness machine. Sure, it doesn't look like the machines you see at the gym. But it comes with printed information under the form of a guidebook with illustrated exercise examples. You can follow this guidebook to learn how you can maximize your training results on the Bowflex Power Pro.
Bowflex Power Pro workout program
If you're new to the fitness scene, you can make very quick progress depending on your training frequency. Bowflex recommends at least 3 workouts of 20 minutes per week. That's a total of 60 training minutes every 7 days. But if you want to progress, you'll need to increase workout duration or workout frequency.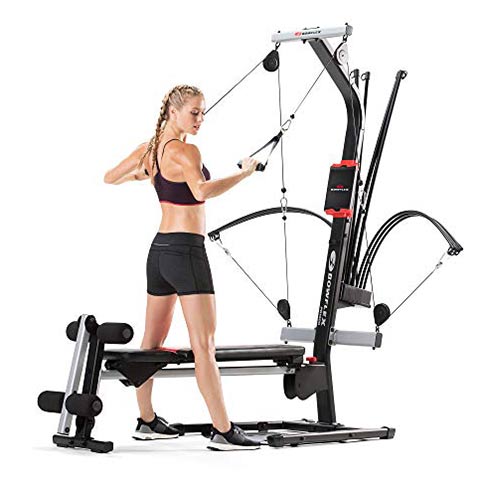 Your workout can start with the classic bench press. The height adjustability of the workout bench is going to impact the part of the chest that's activated the most during this exercise. At the same time, you can choose different power rods for added or reduced resistance.
In general, it's recommended to keep your repetitions between 8 and 12. Bowflex recommends a maximum number of repetitions with a shorter break between sets when your fitness objective is to lose weight.
The classic leg press can follow your chest press. This is the most demanding exercise as it recruits the most muscles in the body. You can choose one of the higher resistance power rods such as those of 30lbs for these exercises the better you get at performing it correctly.
Seated leg curl 8-12 reps
If your quads are activated during the leg press, the following exercise can be the seated curl. You need the workout bench to be in a horizontal position to perform this exercise. Since the muscles at the back of your legs are smaller than your quads, you can choose lower resistance power rods on your fitness machine to keep up.
Seated abdominal crunch 8-12 reps
Not many know they can exercise their abs on the Bowflex Pro. But there are multiple angles in which you can target your core muscles. Among these important techniques, you need to look at how your abs are contracting and how they feel between 8 and 12 reps with different resistance rods and different tension. You can easily do more repetitions with this exercise.
Seated deltoid rows 8-12 reps
Working the back muscles is at least as important as working as the front muscles such as the chest. These are postural muscles and they help you stand up straight properly. You can perform seated rows on the Power Pro with a similar number of repetitions.
Fold the Power Pro at the end of your workout for storage
Once your workout is done, you can fold the Power Pro fitness trainer for it to take up less space in your home. This is done easily as the bench needs to be raised next to the power rods.
A considerable advantage is given by this versatile design for those who live in homes where there's no space for a complete gym.
For most users, it's the capacity to have practical fitness machines at home that allows them to organize a proper workout space.
Create your own Power Pro workouts and watch your safety
You can create your own Bowflex Power Pro and Bowflex Power Pro XTL workouts depending on your fitness goals. You can learn more about how to define your fitness goals in the machine's guidebook. But all of the recommended workouts come with some exercise variation. Making the most of the Bowflex Power Pro specs equals training with multiple exercises at a time.
Bowflex Power Pro reviews also show users tend to train with full-body workouts. These are the workouts where you train multiple muscles at once. For most users, it's the perfect approach to losing body fat and staying fit.
Both Bowflex Power Pro and Bowflex Power Pro XTL are 2 home gyms that have been in production from the mid '90's to early 2003. The main difference between them is that you can't do lat pull-downs on the Bowflex on the Power Pro. These home gyms are still available at a number of retailers and highly available on the second-hand market. Lat pull-downs are possible on the Bowflex Xtreme XTLU together with leg extensions and leg curls.
Recalls have also been an issue for Bowflex Pro XTL. The US Consumer and Product Safety Commission received a few complaints regarding the backboard breaking unexpectedly and product recalls have been issued for a few batches. The Nautilus, the company behind Bowflex, has improved it.
Does Bowflex Power Pro come with a warranty?
The Bowflex Power Pro now comes with a 10-year warranty. But this wasn't the case when the machine first launched. It was only covered for 5 years back in 1997. Since then, it has proven itself and many now sell it with a longer warranty.
However, you are not highly likely to have a direct Bowflex warranty on your product if you still find it in stores. You might only get the seller's warranty which means the shop that sells it for you is responsible for all of the terms of the warranty.
Bowflex Power Pro weight capacity
There's no explicit information on the weight capacity of the Bowflex Power Pro, specifically of its bench. But there's information that states you can lose your warranty if you add more than 300 pounds to your fitness machine. 300lbs or 136kg is the maximum weight of the machine judging by this statement.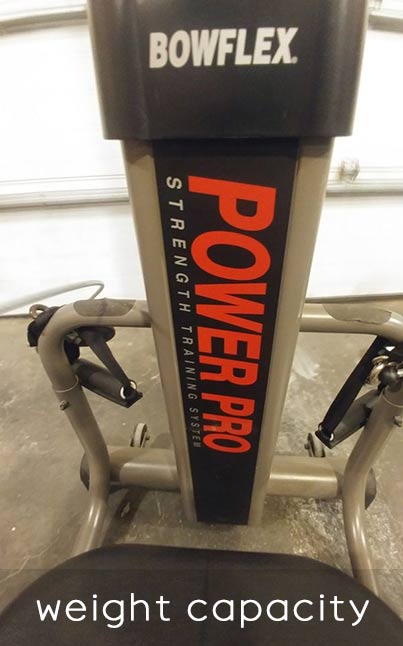 It's also your maximum weight limit and we don't recommend using the machine if you weigh more. If you weigh more, we recommend choosing a machine from the Bowflex Home Gym Series that comes with a maximum weight capacity of more than 300lbs.
Bowflex Power Pro accessories
There are not too many accessories you can purchase for this fitness machine. However, there are additional 50lbs power rods that you can buy to increase the total resistance capacity to 410lbs. If you're just starting, this might not be a concern for you. However, those who have been training for a while might need extra resistance to see fitness progress.
Bowflex Power Pro vs. Bowflex Blaze Home Gym
Bowflex's Power Pro release date was in early 1997. Since then, the fitness industry made small improvements and even Bowflex launched different fitness machines for home workouts. Among them, there's the Bowflex Blaze Home Gym.
There are small improvements on the Blaze Home Gym by comparison. For example, the lat tower is always mounted on the machine. The finishing of the materials is also better. But the core of the Blaze Home Gym is similar to the Power Pro. Both use around 60 exercise variations to keep you in shape.
The Bowflex Power Pro is a fitness machine that impresses with its versatility. But there are a few things you need to know to have a clear picture of what you're buying. This is not a muscle-building machine. The power rods system is not comparable to the stacked weights you see on the fitness machines at the gym. They have limited capacity to activate your muscles and to increase muscle size.
But the Power Pro is an excellent body-shaping fitness machine. You can stay in shape using its innovative range of exercises. You can also increase the strength of your joints by following a complete workout routine with a few workouts each week.
For a better understanding of how to install the Bowflex Power Pro, we recommend following the instructions manual. It also comes with valuable exercise information where every exercise is detailed and where it comes with an attached graphic that explains the correct position on the fitness machine. Once you perform these exercises correctly a few times you can start moving up from the small 5lbs rods to the high resistance power rods for extra strength gains.
Want to learn more about the newest Bowflex home gym? Click Here: