With more exercise equipment becoming available specifically for at-home usage, the demand for more home gyms is increasing significantly. It has become the most affordable and convenient way to work on your physical and health goals.
Gyms are increasingly becoming more crowded with more expensive gym membership fees that have you paying for features you don't need. That is why investing in the BodyBoss Home Gym 2.0 is the next best thing to own.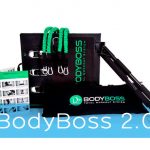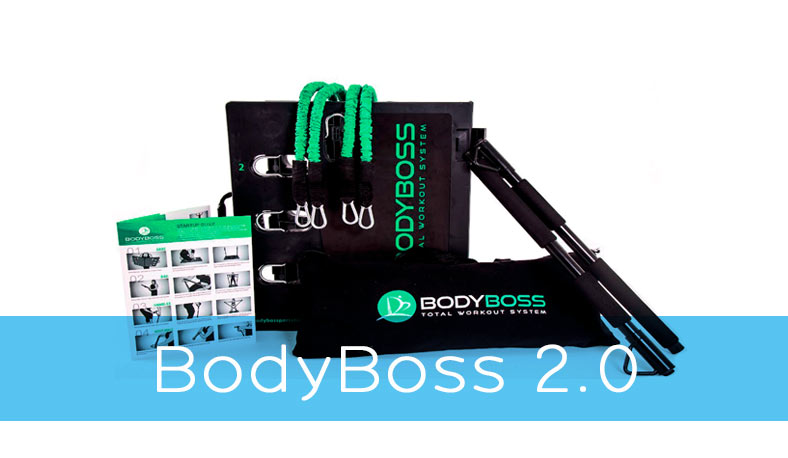 How to Use the BodyBoss Home Gym 2.0
The BodyBoss 2.0 gym system includes seven pieces of equipment that offer versatile techniques to engage in a variety of different exercises as you would at a gym.
Although, its sole purpose is to not compete with gyms but rather provide a unique system that will enable you to enhance your fitness and health performance from your own home. This system will enable you to perform your favorite exercises in your living room, office, kitchen, and anywhere else you'd like with its compacted size.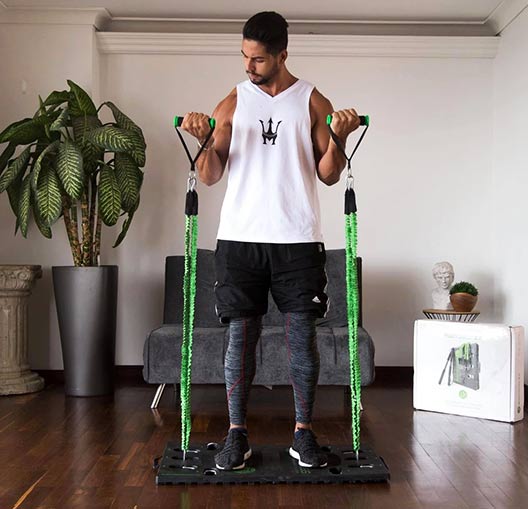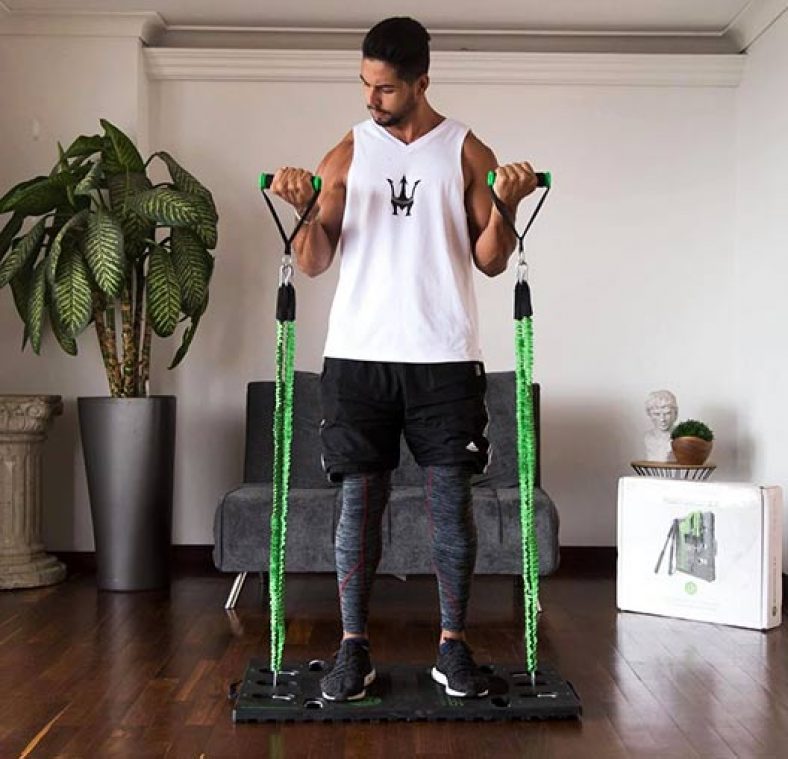 Essentially, you will set down the VectorFit Base at your feet, attach the resistance bands, and use the ankle and wrist straps to pull against your set resistance in a variety of stances to make sure you are exercising each muscle. This equipment will enable you to perform your favorite gym workouts with its adjustable and customizable equipment.
This system also has adjustable settings to meet all shapes and sizes to ensure all users can get a challenging and safe workout.
What makes this BodyBoss 2.0 home gym system so unique is the variety of items that come in each package when purchasing. The BodyBoss 2.0 gym package includes features such as:
durable accessories carrying bag
folding VectorFit Base
workout bar that can be broken down
set of 2 handles
set of 2 ankle and wrist straps
set of 2 custom resistance bands
anchor for the door with a ring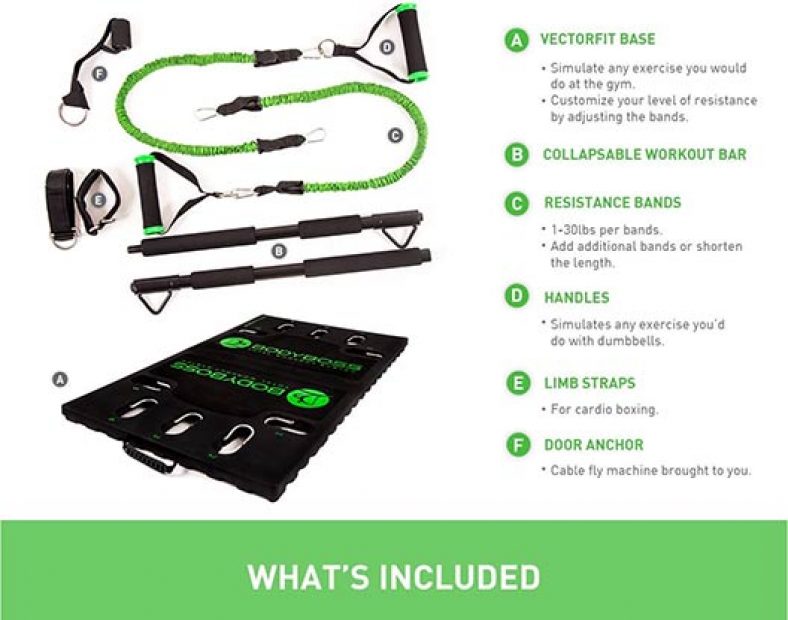 Each of these items includes adjustable and customizable options to ensure you get the workout resistance you need to work out and build muscle. It also includes an instruction manual with visuals of possible workouts for every body muscle.
Further reading: BodyBoss Portable Gym 2.0 vs MoonRun Home Gym
The BodyBoss 2.0 comes with the necessary tools to perform a variety of workouts, making this product universal and customizable to your fitness needs. You can perform all of your favorite gym workouts that stimulate heavy-lifting exercises, dumbbell workouts, bench workouts, and many more.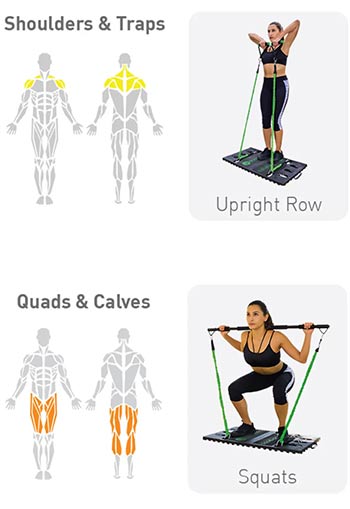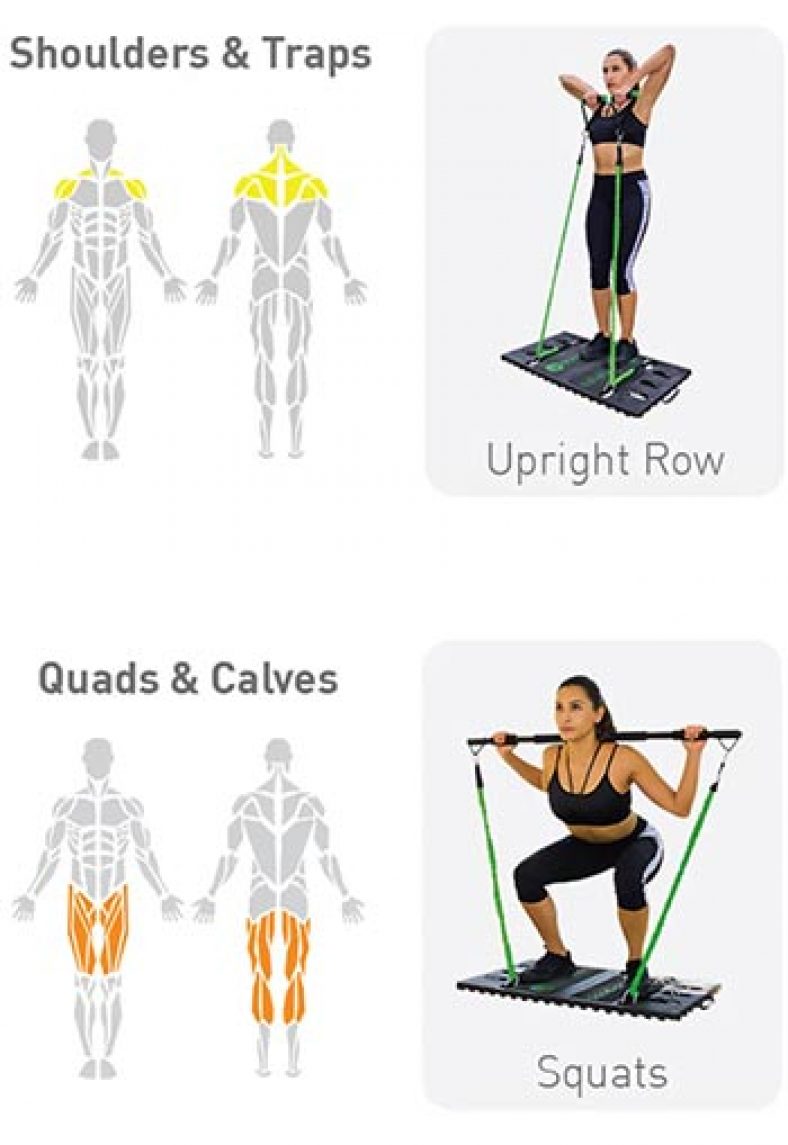 Here are just a few of the exercises you can perform with the home gym:
ab crunches
boxing
mountain climbers
chest press
resistance push-ups
deadlifts
shoulder press
and hundreds more!
Whether you plan on exercising your upper body or lower body, the BodyBoss 2.0 home gym can be used to do just that.
There are also videos on the BodyBoss Home Gym website where trainers demonstrate the similar workouts you would do at the gym and how they can be done with the BodyBoss gym system.
To further enhance your BodyBoss 2.0 experience, there are a few accessories that will help you get the absolute most from this system.
Many buyers have suggested you purchase a few accessories including:
Extra resistance bands – are needed to increase resistance if you are looking to complete more challenging exercises, especially if you are a heavy-lifter. Many heavy-lifter customers recommend purchasing bands that are insulated by a bungee to help protect against breakage.
Ab-wheel – for the best ab workout, the ab wheel is a necessity to create stronger and more toned ab muscles. This is also important to create and maintain your overall body balance.
1Loop RepLoops – for a more tech-savvy buyer, the RepLoops contain optical sensors and motion accelerometers to control force and track your workouts. This is a great way to track your progress over time and stay connected to your devices.
Although the BodyBoss 2.0 system is a valuable asset to your fitness journey, there are a few things to weigh before purchasing this item. Here is a list of pros and cons we put together from customer reviews and ratings:
Pros
Cons

Various functions
Portable
Safe
Compacted gym system
Light-weight
Easy-to-use
Easy to assemble
Easily stored

Some balance issues when exercising legs
Tutorial videos are only available with membership
Limited guidance manuals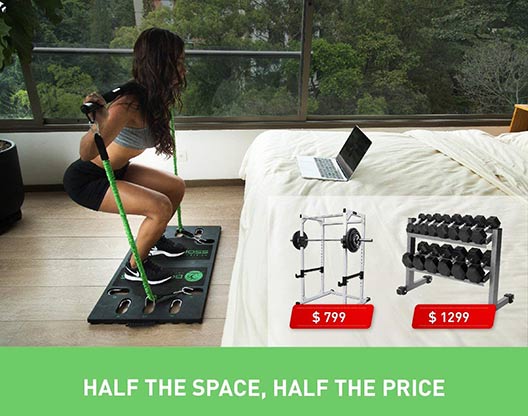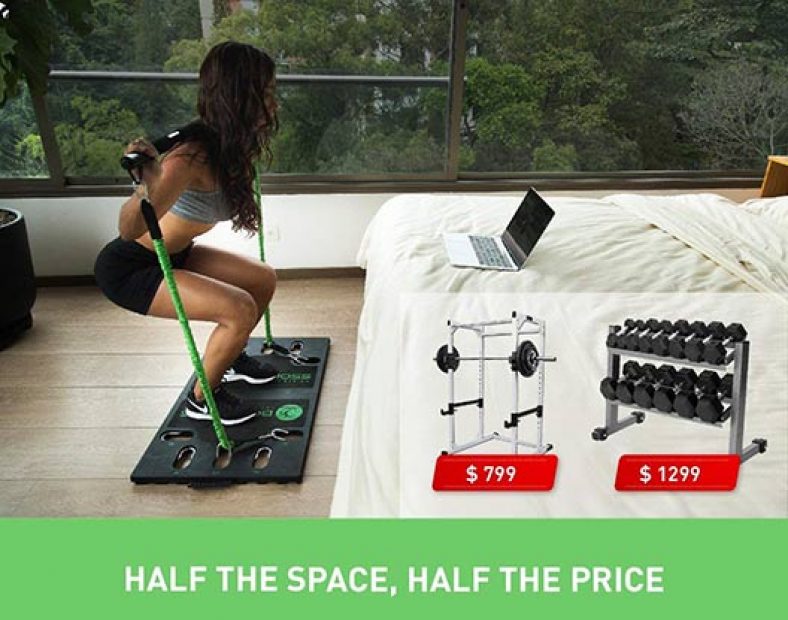 When picking out gym equipment, weighing the cost is essential, especially when there are plenty of options to choose from. Thankfully, with the current sale of BodyBoss 2.0, the entire system only costs $179, while originally $255!
With this item, you will be purchasing free workouts, a 1-year warranty, trainer support, and hassle-free returns.
You'll also have the option to purchase a BodyBoss TV + Live Trainer Replays that offer a workout program that will run for eight weeks. This offer, which is $10, will be directly emailed to you every quarter, along with a nutritional grocery list, new workout videos, and live trainer recordings.
In the long run, this gym system and BodyBoss email subscription will save you money on gym membership fees and personal trainer costs.
Maintenance and Assembly of the BodyBoss Home Gym 2.0
This home gym system is notable for its compactness and adjustability, making maintenance and assembly an ideal feature.
When you've completed a workout, you don't have to worry about using more of your energy breaking down this gym system. This item is easily foldable to store anywhere in your home without taking up too much space. Many customers claim to store this item underneath their bed, closets, and garage.
With the VectorFit Base and collapsible workout bar, you can easily fold the majority of this system in half and easily unhook any of the attached equipment. There is a carrying bag that is included with each purchase. This is used to store the rest of the equipment, such as bands and handles.
According to recent buyers, there are a few concerns to consider before purchasing this home gym system.
Due to the current pandemic, many buyers have been experiencing delayed deliveries for weeks. Meaning if you are going to invest money into this home gym, keep in mind that the delivery won't be as instant as you might be hoping for.
Another concern users had is the need for more resistance bands, meaning you will likely have to make a second purchase after receiving the home gym. BodyBoss now offers a home gym package with extra resistance bands already included due to the high demand.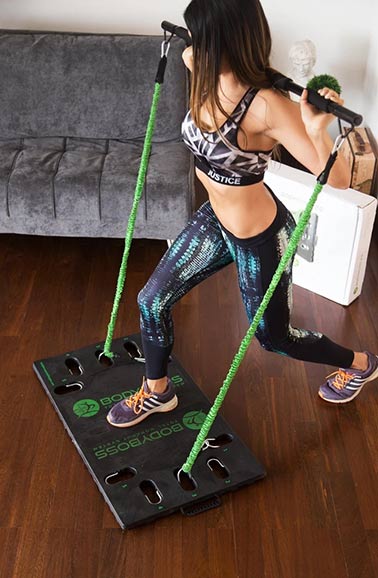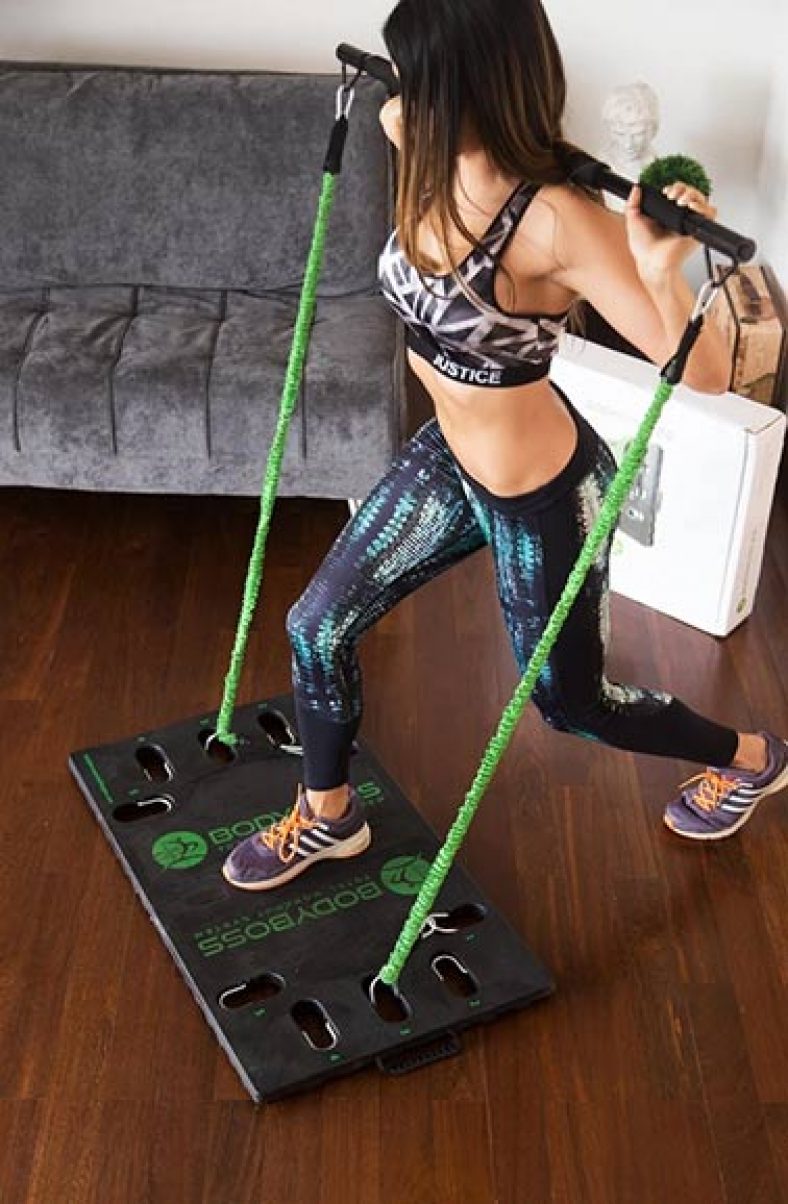 Potential Questions You Might Be Asking
1. Is a workout DVD included?
No. There are various workout videos you can find on the manufacturer's website and YouTube.
2. Can the equipment damage floors?
No. This item comes with small discs that are placed underneath the VectorFit Base to avoid scratching against floors.
3. What are the dimensions of the package?
The BodyBoss 2.0 weighs about 18.5 pounds all together. The dimensions are as follows:
Height = 4.5 inches
Width = 18.75 inches
Length = 22.5 inches
4. Do they ship overseas?
Yes. BodyBoss will ship its products all over the world. However, the shipping costs will be determined by the location that you are shipping the equipment too.
5. Can I return after purchasing?
Yes. You will just need to email BodyBoss directly to be given step-by-step information.
Comparison to similar products
The tension toner is also another competitive home gym system. The basic package only includes a workout bar, two resistance bands, handle attachments, a door anchor, and a cinch bag. Compared to the BodyBoss 2.0, it does not have as much equipment, although it is a cheaper option starting at $119.99 for the basic package and $134.99 for the deluxe package.
Instead of offering a VectorFit Base for your workouts, the Tension Toner's main tool is the workout bar, meaning you'll need to get creative to find new workouts.
Another similar product is the X3 Bar. The X3 Bar is meant to stimulate a complete gym system. Its package includes an X3 elite bar made of steel with internal bearings for grip, a ground plate to protect the ankles, and four custom-engineered resistance bands ranging from extra-light to heavy.
This home-gym system is meant for heavy-lifters and only offers a limited amount of workouts with its rigidness.
This X3 Bar package starts at $549 for the home gym system, a 12-week program, 4 X3 resistance bands, and a heavy-duty steel X3 ground plate. If you're looking for flexibility and a cheaper option, this might not be the home gym for you.
Although the Tension Bar and X3 Bar home gyms are similar products on the market right now, the BodyBoss Home Gym 2.0 offers the best home gym system for a reasonable price. If you're looking for a more versatile home workout experience that stimulates a gym, the BodyBoss Home Gym 2.0 is the right choice for you, if purchased with the accessories listed in this article. If you are ready to begin a unique fitness experience, the BodyBoss Home Gym 2.0 offers affordable packages on their website, including related accessories to make the most out of your home gym.