Losing weight can be complicated but as it's a task of discipline, nutrition, and exercise. Bistro MD is a meal subscription plan you can join specifically targeting meals you can eat to lose weight. You can join 7-day and 5-days programs as well as any other custom delivery plan so that you always know what you eat and how much you eat every day.
A few basic characteristics of the Bistro MD meal plan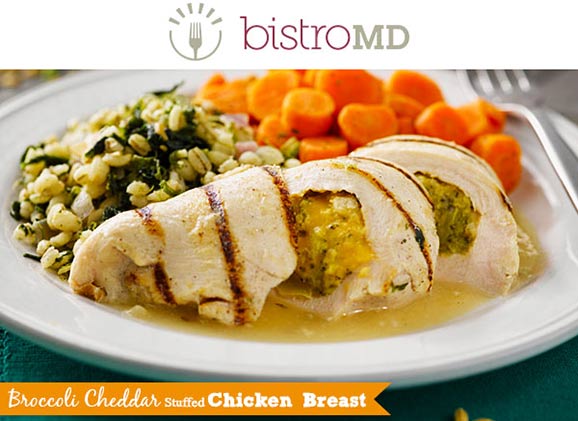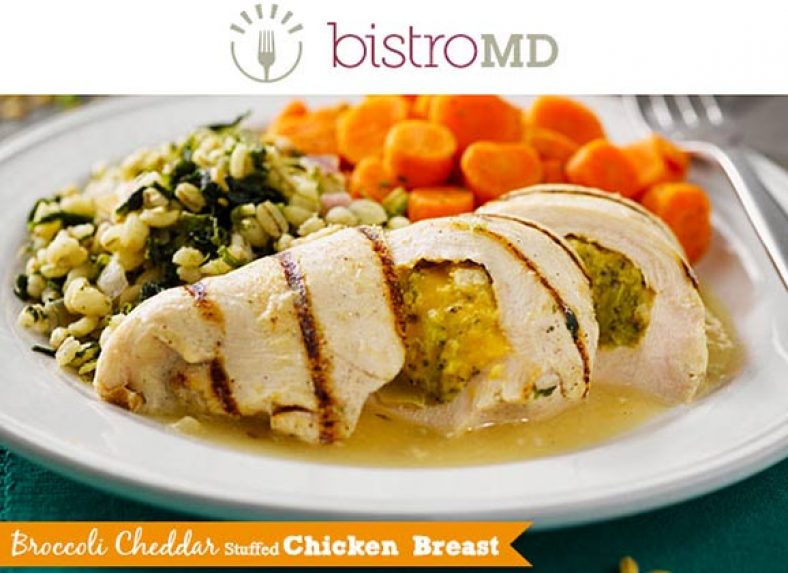 You can choose from over 150 chef-inspired recipes
Bistro MD ships the ingredients for your chosen meals
You get the nutritional information inside the pack
Nutritional guidelines include fats, carbs, and protein content
A meal subscription plan made to eliminate fad diets
---
The basics of a weight loss meal plan
Not all meal subscription plans are created equal. Some of them are purely made for those who don't want to cook. Others are made for those who want to stay in top shape and even lose weight. This is certainly the profile of Bistro MD, a plan that has been made for those who want to lose weight the right way.
The concept of the meals shipped to your home is not new, however. It takes a healthy approach to weight loss in which you eat controlled-size portions instead of starving yourself. As a result, Bistro MD is quite popular and with the right motivation and fitness plan, it can be a sustainable solution to those who struggle with extra weight.
Bistro MD Meal plans for women
The nutritional needs of women are different from those of men. Simply put, women don't need to eat as much as men. This is why there are differentiated plans offered by Bistro MD.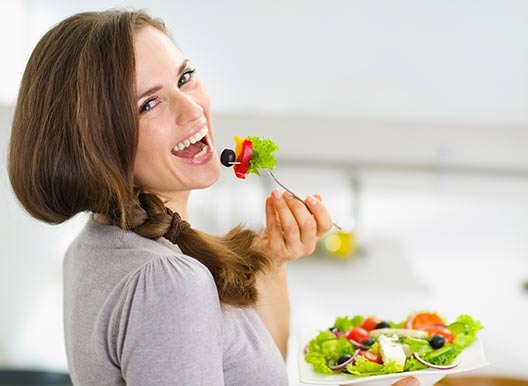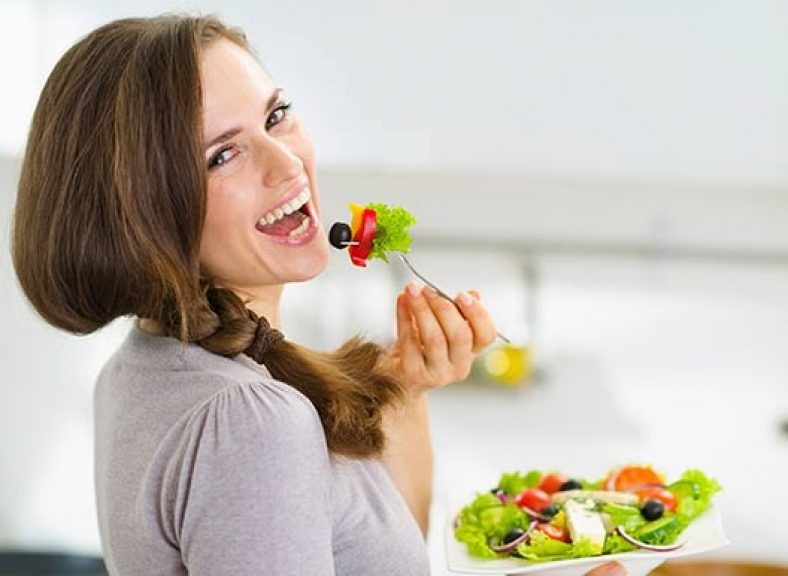 Women can choose their daily meal plan based on an average of 1,200 calories. Exercising calorie restrictions is not easy, however. Women used to consume more calories per day are going to go through an adaptation period. The main advantage here is that you can eat delicious healthy food in the process.
The meals you can choose are the same as the meals catered to men. However, most of these meals are based on simple principles of variation including some type of protein and a source of fiber or carbohydrates.
Bistro MD meal plans for men
Men eat a bit more than women. But Bistro MD still limits the daily caloric intake of men to around 1,400 calories. This means men eat fewer calories they need so that they can burn off the excess weight faster.
In the long term, such a low-calorie diet might be too restrictive. But from time to time, men can join the program for a few weeks to see weight loss benefits.
You can install the Bistro MD app on your smartphone to see the types of meals you can expect. At the same time, it's also important to keep track of your weight loss journey by weighing yourself and comparing your results with certain meals.
What can you eat with Bistro MD?
Both men and women get to eat some of the tastiest foods from Bistro MD. Unlike other weight loss subscription programs, Bistro MD's food is highly rated when it comes to flavor. Here are a few examples of what you can expect in the box.
Salmon with Dill mustard sauce
Salmon is one of the healthiest foods you can think of, especially when trying to lose weight. Its high fatty acids content is beneficial to skin and joints. Its protein is perfect to feed your muscles in this restrictive calorie period.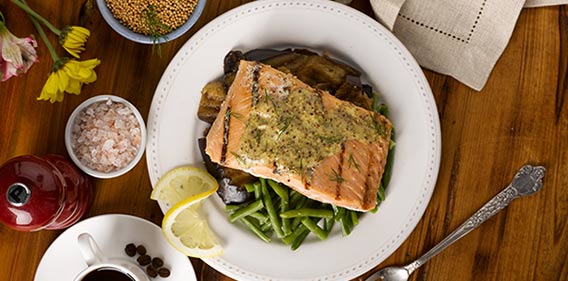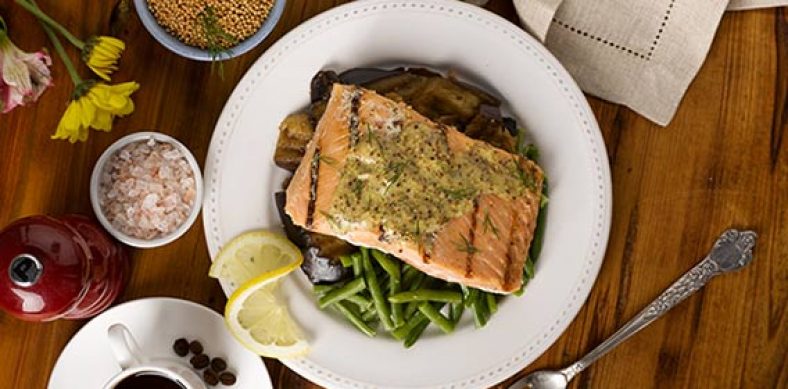 This meal is served with spiced eggplant and whole green beans. These sources of fiber, vitamins, and minerals are essential for proper digestion and good health, especially since you might also be more active while on the meal plan.
Blacked chicken with smoked paprika sauce
Another tasty meal that is highly popular at Bistro MD is the chicken with paprika sauce. The grilled chicken is prepared with bell peppers, onions, and cayenne pepper. It sits on top of delicious fresh brown rice as a source of protein. The controlled portion of this meal means you can consume it without regrets.
---
This is what these meals have in common
One of the basic denominators of these meals is just how easy they are on your digestive system. All of these pre-packaged meals need to be heated up in the microwave, gas, or electric oven. What we like most about healthy meals is that their nutritional breakdown is clearly printed on the packaging. You know exactly how much you're eating, which is often not the case when you cook at home and when you feel like eating more.
These meals are also very tasty. Inspired by doctors with proven weight loss experience, these meals are free from potentially harmful ingredients.
There are no artificial ingredients in the meals. Everything you eat is natural and even the seasoning is kept to a minimum to maintain the healthy profile of the meals.
You won't find any preservatives in the meals either. Since they get shipped out every week, they only last a couple of days before you have to consume them or throw them out. This means they aren't your regular supermarket meal that has been filled with preservatives for longer shelf life.
No refined sugars are added to these meals either. This is helpful. Consider your weight loss efforts as a diabetic. It almost seems impossible to lose weight and stay away from different types of foods with refined sugar. This is certainly not applicable to Bistro MD as you won't find any sugar or sweeteners in these meals.
What is Balance by Bistro MD?
If the Bistro MD plan is already known for its weight loss meals, Balance by Bistro MD is the maintenance program. Using the same principles of meal delivery, it aims to offer maintenance nutrition for those who don't want to lose any more weight.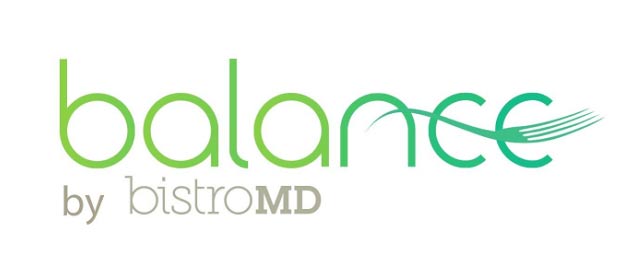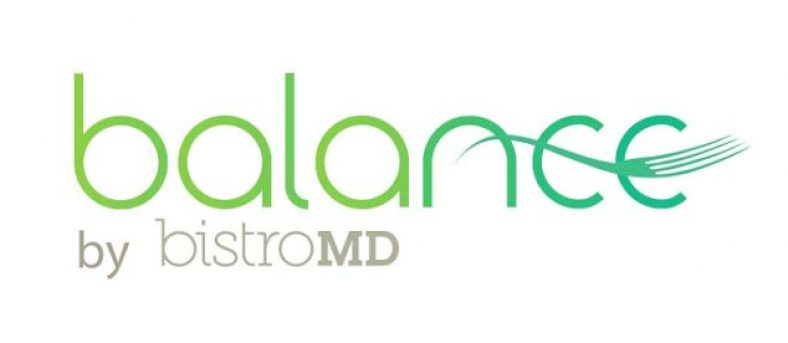 Balance uses a different ordering process and it also doesn't require you to sign up for a meal delivery plan. You simply order the foods as you go.
Balance by Bistro MD – how it works
You need to create a user account to be able to order from the website. This account takes you straight to the meals section where you can start adding them to your virtual shopping cart. You only need to add your payment details at the end, which is a bit different to how most other meal delivery plans work as they as you for your credit card details in advance. From this perspective, Balance is more similar to online shopping than the average alternative.
Balance by Bistro MD has no subscription plans
There's no minimum meal order value when shopping at Balance. Typically you'd be tied to a certain number of lunches or dinners, but that's not the case here. You are not limited to 4 meals or to 7 meals as with other services. If you simply want one more meal, you add it to your cart.
Then there's the benefit of not having to abide by different lengthy subscription plans. One of the problems of these plans is they charge your credit card for another delivery if you forget to cancel the plan when you want to stop the meals. One-off orders are how Balance by Bistro MD works and it eliminates this inconvenience. It's the perfect plan for people who don't have time to cook.
---


Bistro MD has a growing base of customers and everybody seems to see positive weight loss results after a few weeks on their plans. Furthermore, there are thousands of success stories you can follow online where customers lose weight and get to learn the basics of healthy nutrition.
Most importantly, Bistro MD is a brand that is recognized for its healthy flavorful food. You won't eat tasteless meals while on one of their plans. Plain broccoli or simple chicken with rice is not the path to follow if you want to keep eating healthy over a longer period.
One of the main characteristics of Bistro MD is just how natural the company's approach to weight loss is. You are not buying supplements or other types of pills for weight loss. You are simply eating better and healthier.
However, for the program to truly work you need to start exercising to your level of fitness. If you haven't exercised in a long period of time, it's worth it to go on a simple walk every day. At the same time, you can recognize that you need to maintain these healthy habits even after you end your subscription plan.
One of the biggest issues customers face with their extra weight is seeing it pile back up after quitting the meal plan. This is why you need to try and replicate these meals at home, together with following an enhanced activity level schedule.
How Bistro MD compares to other meal delivery plans?
As mentioned above, Bistro MD did not invent meal delivery plans, even those for diabetics or for people with heart problems. But the company does well on what it promises. Here are a few other options you can consider.
Freshly Diet is another popular meal subscription plan. Its differentiating factor is that it only ships 1 meal per day, which makes it the better choice for those who don't have time to cook rather than for those who try to lose weight.
The company ships out a maximum number of 12 meals per week (at a cost of $7.99 per meal) compared to the 20 meals you get per week with Bistro MD that cover breakfast, lunch, and dinner.
Nutrisystem also ships out meals to cover breakfast, lunch, and dinner throughout the week. It even gives you the opportunity to choose your meals after the first week of the program. There are thousands of customers adhering to both Nutrisystem and to Bistro MD programs and you'll have to compare meals and the foods that appeal to you the most to choose between these 2 plans.
Bistro MD offers one of the best experiences to those who want to enjoy complete meals you can heat up and lose weight. The customization level of these plans is impressive as you can select from over 100 recipes each week.
But weight loss is not the only objective of Bistro MD. The company also offers meals for those with certain heart conditions. You can even choose your meals based on your type of diabetes. As a specialized food service, Bistro MD can make your life easier. It saves you time researching foods and cooking them. It also puts you on the right track in terms of healthy eating. Customer service is also appreciated at Bistro MD as you can get your personalized meal plan within a day as well.